Summer is a great time to spend together as a family! We've found the best movies for an outdoor movie night. From rom-coms to nostalgic movies, there is something for everyone!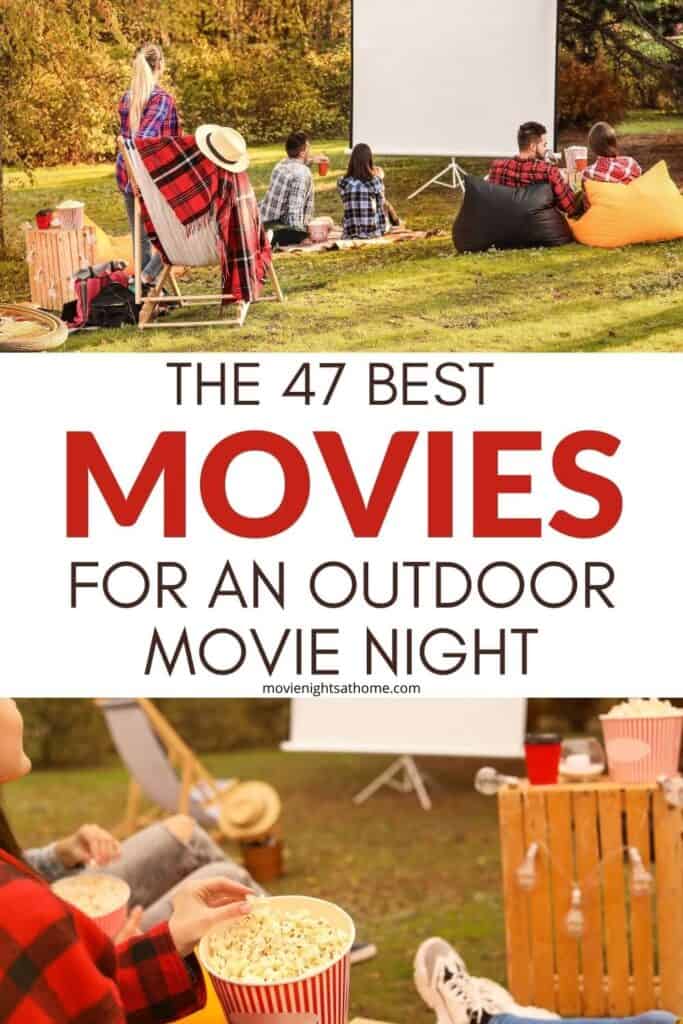 Our backyard is our favorite place to be in the Summer and Fall. Now more than ever before, it's super easy to host an outdoor movie night with just your phone, a small projector, and a screen (or white bedsheet)!
In case you missed it, we did a complete guide on how to host an outdoor movie night or pool movie night with our favorite tools if you need some help planning!
How to Choose the Best Movies for an Outdoor Movie Night
When you're choosing the best family movies for outdoor movie night, there a few things to consider.
Your Audience. The age of your family, friends, or guests will greatly determine the type of movie you'll want to choose. While our list of outdoor movies are fun for everyone certain choices will be better than others depending on your crowd.
The Length of the Movie. We've found a movie under 2 hours is the best to watch outside. Anything over that, you may have guests feeling antsy, uncomfortable, or needing extra bathroom breaks.
Theme. We love to do a theme around the time of the year. If it's the Summer, why not plan a July 4th movie night outdoors? If it's the Fall, try a Halloween movie night! You could also do themes like 80's, a slumber party, Disney, or a franchise like Back to the Future.
What should I bring to an outdoor movie?
If you're hosting the outdoor movie night, you'll want to have a movie, projector and screen ready to go. You may also want speakers.
You should also bring:
drinks,
layers and blankets,
fluffy pillows,
chairs,
and bug spray or citronella candles.
We also have a great list of movie night essentials you will love!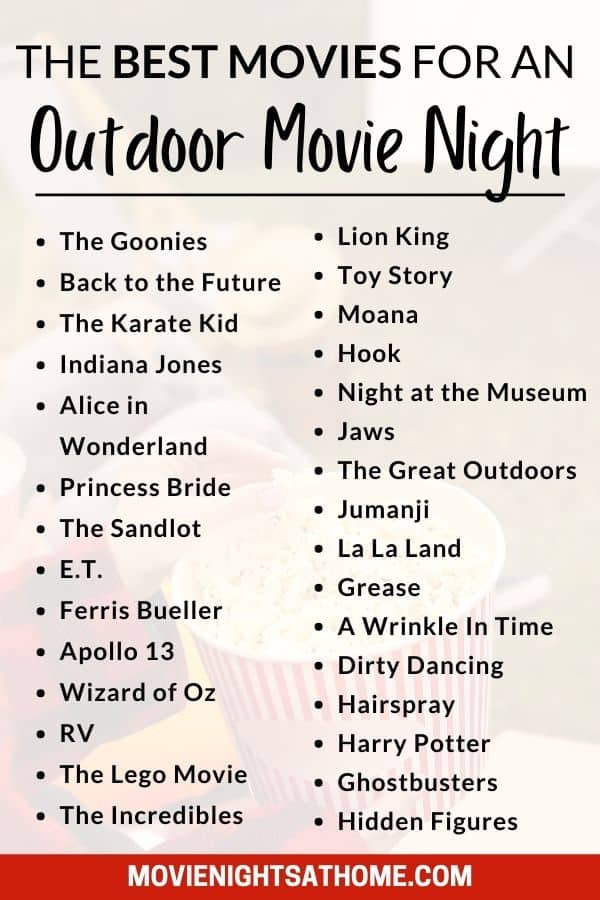 What is a good outdoor movie?
A good outdoor movie is something everyone can enjoy! We put together a list of the best family movies for outdoor movie nights so that you'll have a winning selection of options to pick from!
Nostalgic Movies
Why not take movie night up a notch with one of our themes? We have some great theme snack ideas: Homemade Goonies Candy, E.T. Reese's Pieces Bar, Lion King Snacks, Incredibles Cookies, Moana-themed recipes, and a full Karate Kid Movie Night Menu!
Older Kid Movies
You may also like our 40 Magical Harry Potter Desserts & Snacks for Movie Night!
Seasonal Ideas
Grab our favorite July 4th Movies, Halloween Movies, Christmas Movies, Valentines Day Movies, or Easter Movies!
Just for Adult Friends
We also did a fun podcast episode about planning your outdoor movie night that you might like!
If you love this list of best family movies for outdoor movie night – you may also like our Guide to a
Fun Virtual Movie Night with Friends
,
Sports Movie Ideas
, or our
list of family friendly movies for movie night indoors!
We'd love to see your outdoor movie night too! Tag us on Instagram @movienightsathome