One of the best types of movie nights is a slumber party! We've found the best sleepover movies for girls and tweens!
So grab the popcorn and enjoy!
Hosting a sleepover is so much fun for girls and tweens.
And one of the biggest parts about any sleepover is watching a movie!
But you can't watch just any movie when you're throwing a slumber party – you have to pick the perfect film for the occasion.
The next time your kid is planning to invite their friends over for a night of fun, try watching one of these amazing sleepover movies at your party.
Popular Movies to Watch at a Sleepover
There are a handful of movies that are timeless sleepover classics.
These tried and true movies to watch at a sleepover are sure to be a hit with your guests – no matter what their taste in movies is.
Rated PG-13
Between the amazing fashion and adorable love triangle, Clueless is a timeless rom-com that shows the power of friendship and love.
Rated PG-13
When 13-year-old Jenna makes a wish to be a grownup on her birthday, she's surprised to wake up at the age of 30 with everything she's ever wanted – minus her best friend.
Rated PG-13
Another movie that is perfect for a sleepover is the Barbie movie! We have a guide on how to host a Barbie movie night party!
Rated PG-13
When a smart and socially awkward Cady gets accepted into the popular group, she fights her way to the top of the social ladder to catch the eye of her dream guy.
Rated PG
As four best friends go their separate ways the summer before they all turn 16, they vow to share a magical pair of pants that give them the courage to face their fears and accept new love.
Rated PG
When two best friends discover a mermaid living in a swimming pool, they embark on an adventure to find love for their new friend.
Rated G
After the death of her father, an awkward 15-year-old discovers that she is the princesses of a small country in Europe and must take over the throne.
Rated PG
A modern take on the classic fairy tale, this cute movie follows a high school student who scrubs the floors at a diner, has a wicked stepmother, and dreams of attending Princeton.
Rated PG
When polar opposites Troy and Gabriella try out for the high school musical, an unlikely romance begins to bloom through some amazing musical numbers.
Rated PG-13
When her college boyfriend dumps her right before graduation because she's too blonde, Elle Woods decides to prove him wrong by getting into – and graduating from – Harvard Law School.
Rated PG
Based on the popular J.K. Rowling series, this magical movie series follows Harry Potter, a boy who learns he has magical powers on his 11th birthday, as he develops his magical abilities and makes new friends. We also have some fun Harry Potter recipes you may like!
Rated PG
In this fun teen comedy, four best friends go on an all-night scavenger hunt in hopes of beating their popular high school rivals.
Rated PG
When strait-laced Sandy falls for Danny, the leader of the school gang, she decides to do whatever it takes to get him back in this rock-and-roll filled musical.
Inspirational Girls Sleepover Movies
With the help of these inspirational movies, the girls at your sleepover will leave feeling empowered.
From strong female characters to inspiring true stories, these movies are great way to show your slumber party guests the meaning of girl power.
Rated PG-13
An 11-year-old girl from South LA makes it to the National Spelling Bee competition in this inspirational movie.
Rated PG
Women baseball players take over the major leagues when the men go off to war in this fun movie based on real-life events.
Rated PG-13
Packed with action and romance, Wonder Woman tells the origin story of one of the world's most popular female super heroes.
Rated PG
This amazing movie tells the inspiring true story of surfer Bethany Hamilton, who lost her arm in a shark attack and went on to become a champion again.
Rated PG-13
Based on the bestselling books, the Hunger Games series follows Katniss as she fights in a battle to the death against a group of other kids.
Rated PG-13
This action-packed movie based on a best-selling book series shows what life would be like if people were divided into different social classes based on their skills and virtues.
Sleepover Movies for Younger Kids
Not all sleepover movies are good for a young audience. If you'll be hosting young girls at the next sleeper, try turning on one of these cute kid-friendly movie options.
Rated PG
Princesses Anna and Elsa must go on a magical mission to save their kingdom in this popular Disney feature.
Rated PG
Based on the fairy tale Rapunzel, this adorable animated movie features amazing songs and a cute love story.
Rated PG
Follow princess Moana on a journey across the ocean in this song-filled animated classic.
Romantic Movies for Slumber Parties
Most girls love watching a cute rom com or sweet love story. That means romantic movies are always a hit at slumber parties.
This tween-friendly romantic movies are a great choice for the next sleepover.
Rated PG
This is a classic romantic comedy where two bookstore owners struggle to both survive in NYC only to fall for one another through email.
Rated PG
Set as a grandfather reading a book to his sick grandson, this action-packed love story features everything from giants to pirates.
Rated PG
At birth, Ella was given the gift of obedience. But after being taken advantage of for years, goes on a quest to find her fairy godmother and give back her gift.
Rated PG
The live-action version of the popular Disney move tells the story of a beast who falls in love with a girl, breaking his curse.
Rated PG-13
A sheltered journalist enrolls in high school to do research for a story and falls in love along the way in this cute rom com.
Rated PG-13
Hazel and Gus share a love that transcends everything – even cancer – in this thought-provoking love story.
Rated PG-13
When Bella falls in love with Edward, she's surprised to find out the he and his family are actually vampires in this popular teen love story.
Netflix Movies for a Sleepover
To All the Boys I've Loved Before (1 & 2)
Lara Jean is put in an awkward situation when letters she's written to her previous crushes are accidentally mailed without her knowing.
The Perfect Date
A high school entrepreneur creates an app to become the perfect date for girls, but in the end will he find the perfect date for himself?
Dumplin
A movie based around Dolly Parton's famous songs, you're in for life, laughs, and love!
Scary Movies for Girls and Tweens
Watching a scary movie is a popular activity at slumber parties. But when you're hosting a party with girls and tweens, it can be difficult to find an age-appropriate scary movie.
These spooky movies are a great choice!
They offer just the right amount of fright without being too scary for a young crowd.
Rated PG
When the characters from the popular Goosebumps book series come to life, the kids must work with author R.L. Stine to come together to get them back in the books.
Rated PG-13
Longtime friends and ghost hunters start their own agency working together to rid New York City of ghosts and ghouls.
Rated PG
Don't say the name Beetlejuice in the mirror three times or you'll be haunted by an undead ghoul in this spooky comedy.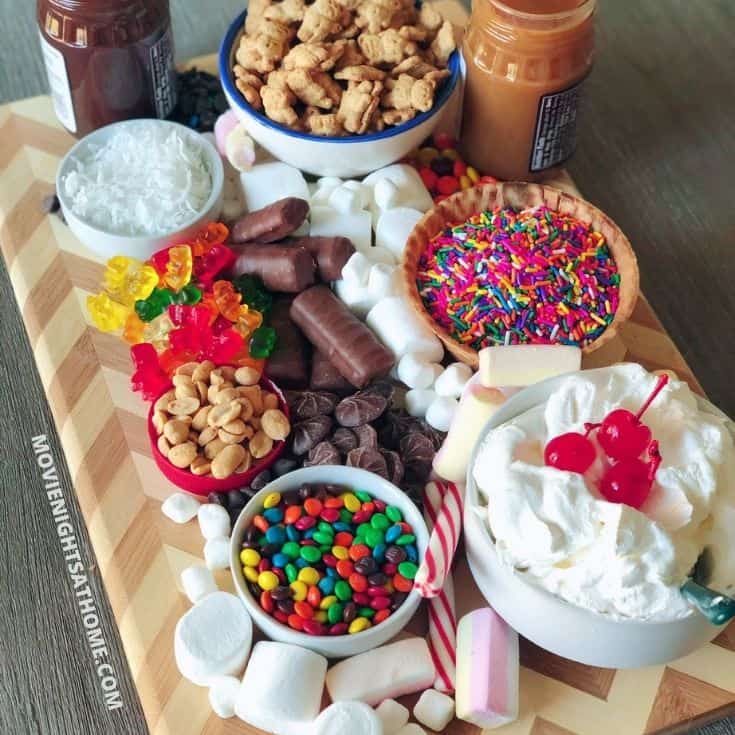 Once you have your sleepover movies selected, don't forget to plan the food and activities to go around it!
You can grab our super fun slumber party ideas here to create the ultimate special night!
More ideas that you may love:
What are your favorite sleepover movies?