If you host a regular family movie night at home, coming up with ideas for movies to watch can sometimes be difficult. As Valentine's Day approaches, having a few family-friendly movies ready to go is a good idea when you can't find a good movie to watch. These 10 cute Valentine's Day movies are the perfect way to enjoy time with your kids this month.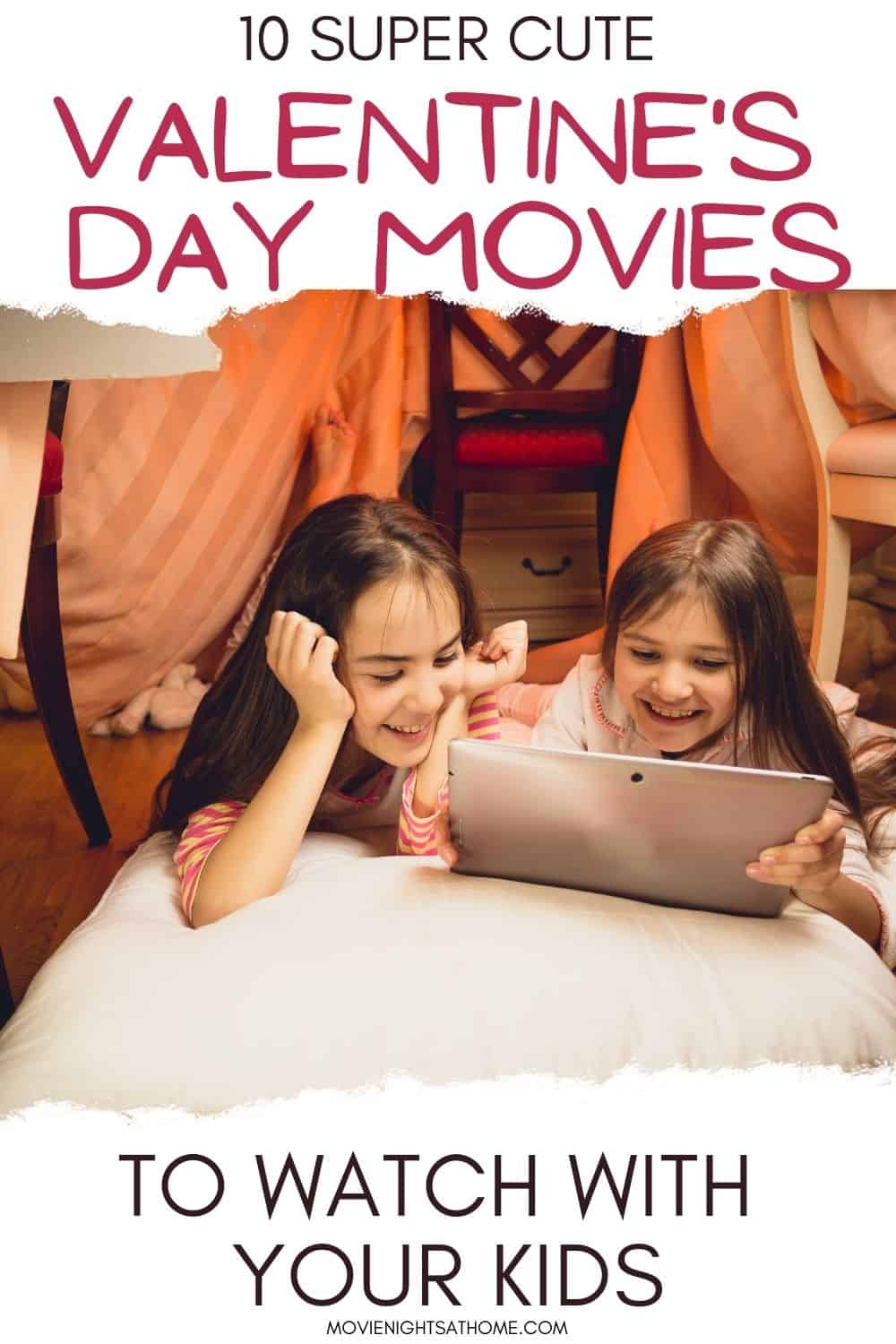 If you're ready to up your movie night game, we recommend printing movie night invitations and serving themed-snacks to go along with the movie!
We put together a list of 29+ Fun Valentine's Day Recipes for Kids that are easy to make, adorable, and delicious!
10 Valentine's Day Movies for Kids
1. Be My Valentine, Charlie Brown
Rated G
You can't go wrong with a holiday themed Charlie Brown movie. That means Be My Valentine, Charlie Brown should be at the top of your viewing list. This cute movie follows Charlie Brown and the gang as they celebrate Valentine's Day. Your kids will love watching their favorite characters celebrate the day in classic Peanut style.
2. Gnomeo & Juliet
Rated G
Starring James McAvoy, Emily Blunt, Michael Caine
This kid-friendly adaptation of the classic love story Romeo and Juliet. Watch two lovebirds from feuding families traverse obstacles like a backyard fence and lawnmower to come together and fall in love. The silly storyline and fun characters in Gnomeo & Juliet are sure to be a hit with all the kids at home this Valentine's Day.
3. Lady and the Tramp
Rated G
Starring Barbara Luddy, Larry Roberts, Peggy Lee
What could be more fun to watch than two dogs falling in love on Valentine's Day? This year, watch Lady and the Tramp together to enjoy a classic love story with the family. This cute Disney film features an adorable cocker spaniel who falls for a scrappy mutt, making it a great choice for family movie night viewing.
4. A Cinderella Story
Rated PG
Starring Hilary Duff, Jennifer Coolidge, Chad Michael Murray
While animated features are a solid choice when watching movies with kids, if you're looking for a live-action film to watch on Valentine's Day, give A Cinderella Story a try. The movie follows Sam, a teen who lives with her evil stepmother and stepsisters. In spite of her bad living situation, Sam falls in love with a boy online, making this fun love story a perfect option for family viewing.
5. The Prince and Me
Rated PG
Starring Julia Stiles, Luke Mably, Ben Miller
Another fun adaptation of a fairy tale classic, the Prince and Me shows what would happen if an average girl falls in love with a prince. In this cute love story, Paige, a pre-med student falls for a real-life prince. But when she meets the royal family, she's not sure if she can handle all the obligations that come with becoming a princess.
6. Beauty and the Beast
Rated PG
Starring Emma Watson, Dan Stevens, Luke Evans
Whether you watch the classic animated version or the newer live-action movie, Beauty and the Beast is a great option when celebrating Valentine's Day. This amazing love story shows that love can come in all shapes and sizes – even between a girl and a scary beast. Watch Belle as she slowly falls in love with a beast and breaks the spell that has cursed him for years.
7. Little Rascals
Rated PG
Starring Travis Tedford, Kevin Jamal Woods, Jordan Warkol
When a boy named Alfalfa falls for a girl named Darla, his friends won't have it. That's why they'll do anything they can to sabotage their relationship. Your kids will love watching all the silly traps and set-ups these goofy kids come up with in Little Rascals to stop true love from happening.
8. The Princess Bride
Rated PG
Starring Cary Elwes, Mandy Patinkin, Chris Sarandon
Although love stories are a great option for Valentine's Day, sometimes your kids need more than a sweet story. The Princess Bride gives them a classic love story paired with an adventurous tale that will keep them on the edge of their seat. The adventure and romance in this fairy tale classic, which features all sorts of adventures including fencing to pirates, is perfect for family movie night.
9. The Princess and the Frog
Rated G
Starring Anika Noni Rose, Bruno Campos
This modern take on a classic fairy tale is another fun love story your kids will love. Set in New Orleans, The Princess and the Frog follows Princess Tiana who befriends a prince in a frog's body. In order for the frog to become human again, the two must go on an adventure through the bayou, which leads to a fateful kiss to end the spell.
10. Enchanted
Rated PG
Starring Amy Adams, Patrick Dempsey, James Marsden
When Princess Giselle is banished to Manhattan by her evil stepmother, she struggles to fit in. But during her time in the strange land, she finds love in an unexpected place. This cute live-action fairy tale features a fun love story and plenty of song and dance to keep all the kids entertained, making Enchanted another solid choice for Valentine's Day this year.
What cute Valentine's Day movies do you love to watch with your kids?
If you host a Valentine's Day movie night, we'd love to see it!! You can tag us on Instagram @movienightsathome
You may also like:
You'll also love our Mickey Mouse Party Food Ideas!