Disney movie night dinners are such a fun way to make tonight special, and these ideas are simple enough to do even on a busy weeknight! With over a dozen easy ideas below, you pick the movie, and we'll share a delicious, Disney-themed recipe to go along with it!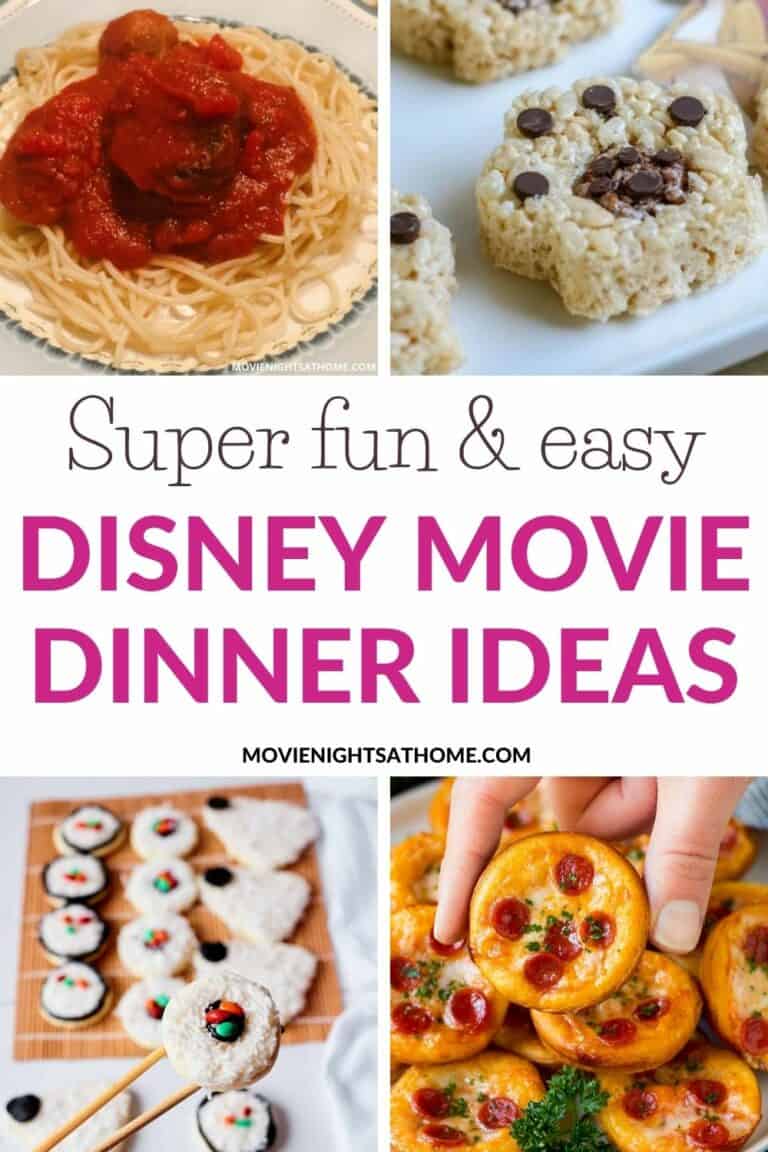 Dinner and a movie is a great way to have some family fun at home. And when it comes to family-friendly movies, it doesn't get much better than a Disney movie! With these fun Disney dinner and a movie ideas, you can create a memorable evening for your family. Use these recipe ideas to put together an amazing menu to go with your favorite Disney movie.
Planning Your Disney Movie Night
Planning a Disney movie night doesn't have to be hard!
1) Pick a movie and a night!
The movie is likely on Disney+ to stream. Amazon also has most of the Disney movies to rent or stream.
2) Decide whether you'll make a Disney movie night snack, dessert, or entire menu.
Below you'll find over a dozen easy and delicious Disney movie night dinner ideas, as well as, snacks and desserts!

Disney Movie Night Recipes
Before we share our specific Disney movie night dinner ideas, we wanted to offer a few simple pairings to get you inspired!
Remember a Disney movie night doesn't have to be hard! We're talking about using the same time you'd cook a normal dinner and transforming it into an experience!
You can also TOTALLY use pre-made options like a frozen pizza or a pie from the grocery store's bakery to save time!
What should I eat when watching Disney movies?
Snow White – Apple pie
Winnie the Pooh – Biscuits with Honey Butter
Ratatouille – Cheese and Fruit
The Princess and the Frog – Beignets
Enchanted – Pizza
Toy Story – Pizza
Fox and The Hound – Hound Dogs and Corn Pups
Sleeping Beauty – Breakfast Foods
We also have a full list of fun desserts for a Little Mermaid movie night you might like!
Now that your mind is focused on movies and food, here are some of our favorite Disney themed recipes!
35+ Disney Movie Night Dinner Ideas
With so many different Disney movies to choose from, you'll have your pick of fun movie night ideas. Use these amazing recipes to create a delicious Disney dinner and a movie menu for your family.
What's your favorite Disney movie? Does it differ from your family or friends?
I have to say our favorite is probably Beauty and the Beast cartoon or the live-action Cinderella. The only thing that makes either one Disney movie better is enjoying some Disney inspired food with it!
These Free Disney Movie Coloring Pages & Printables for Kids are perfect for a Disney movie night activity as well!
Love these Disney movie night ideas?
You may also like these additional Disney themes as well!