Host your own outdoor movie night with these outdoor theater ideas, as well as, delicious snacks and movies! You'll want your family and friends, a great movie, a comfy seat, and plenty of popcorn and candy! Don't forget a trash can and hand sanitizer to keep the night fun, memorable, and clean!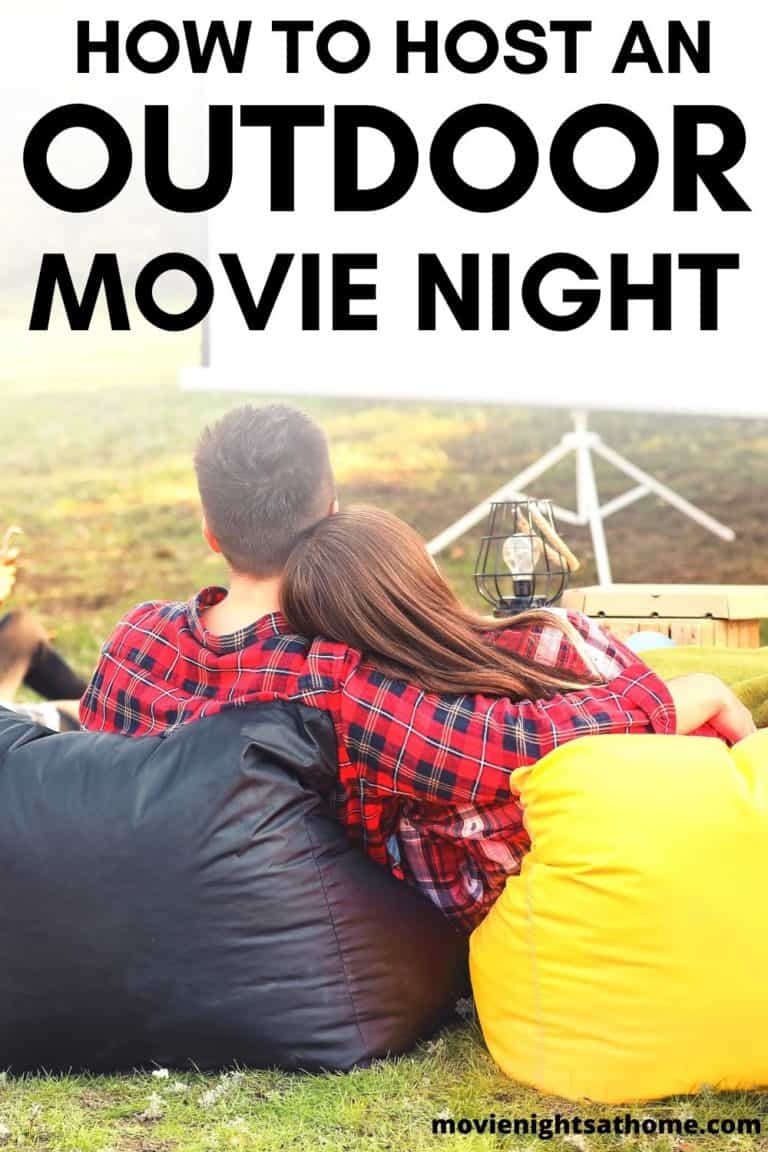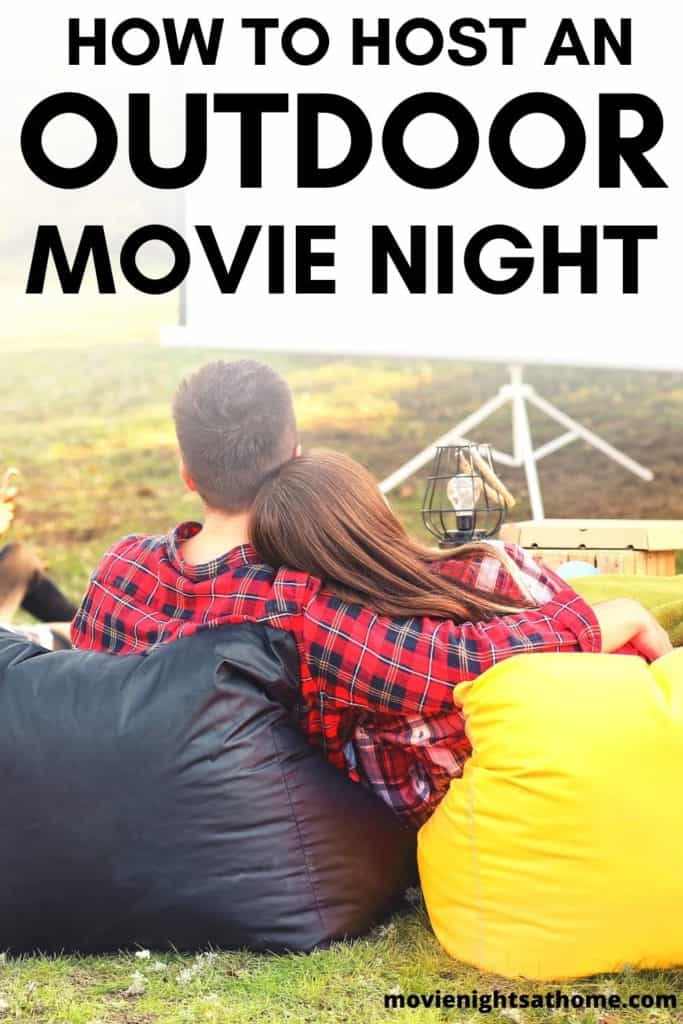 When the weather's nice outside, there's no reason to stay cooped up indoors to watch your favorite movies. With a few simple alterations to your backyard, you can enjoy watching movies outside with your friends and family. Here's everything you need to host an outdoor movie night.
These ideas would also work for a pool movie night party too!
Outdoor Movie Theater
The most important part of hosting an outdoor movie night is figuring out how you'll show your movie. Luckily, it's pretty easy to set up an outdoor theater if you have the right equipment on hand.
There are three basic components to an outdoor movie theater:
The first thing you'll need to show your movie outdoors is a projector. If you're in the market for a new projector, look for one that is compatible with your favorite streaming device, allowing you to access all your favorite services right on your projector.
Once you have your projector ready to go, you'll need a screen to project the movie on. You can purchase a screen specially designed for outdoor movies, or make things simple and just project the movie onto the side of your house or garage. Hanging a white sheet over the side of the building will ensure the movie looks great as it plays.
Even if your projector has a built-in speaker, it's a good idea to add a few Bluetooth speakers around the viewing area to ensure everyone watching the movie can hear the sound as well. Small wireless speakers are a great option because they can be place discreetly throughout your yard without being in the way.
Backyard Movie Seating
After getting your screen setup, it's time to start figuring out where everyone will sit.
There are a few seating options to choose from when it comes to planning your outdoor movie night:
1. Pillows and blankets
Tossing a few pillows and comfortable blankets around your yard is a quick and easy way to provide your guests with a place to sit.
2. Patio furniture
Another simple option for outdoor movie night seating is to arrange your patio furniture in front of the screen.
3. Bring your own seats
And if you don't think you'll be able to come up with enough seating for all your guests in your yard, asking your friends to bring their own seating is another simple option.
Snacks for Your Outdoor Movie Night Party
When it comes to finding the best backyard movie night ideas, you can't forget about the snacks! A movie night wouldn't be complete without a few sweet and salty treats to enjoy while you watch your favorite film.
What's a movie night without popcorn. Help your guests satisfy their own snack cravings by setting up a popcorn bar for your movie night. Make a big batch of plain popcorn, then set out a variety of toppings and mix-ins, like melted butter, salt, butter salt, caramel sauce, cinnamon sugar, ranch seasoning, and cheese.

2. Serve movie theater candy
Head to the candy aisle the next time you're grocery shopping and grab a bunch of movie theater candy boxes. Make sure to pick a variety of candies to ensure you get something for everyone on your list. Some popular movie theater candy to consider are Twizzlers, Junior Mints, Swedish Fish, Reese's Pieces, and M&Ms.

3. Make some appetizers
If you're hoping to serve your guests something more than simple movie theater snacks, setting out an appetizer spread is a great option. Go for easy-to-eat finger foods, like pigs in a blanket and meatballs, to ensure your guests can easily enjoy their food while they're watching the movie.
4. Fire up the grill
Being outdoors and grilling go hand in hand, which makes grilled foods like hot dogs and hamburgers are another great option for a backyard movie night. Serve your grilled main dish with other easy-to-eat sides, like potato chips, for a delicious and filling dinner idea for your outdoor movie.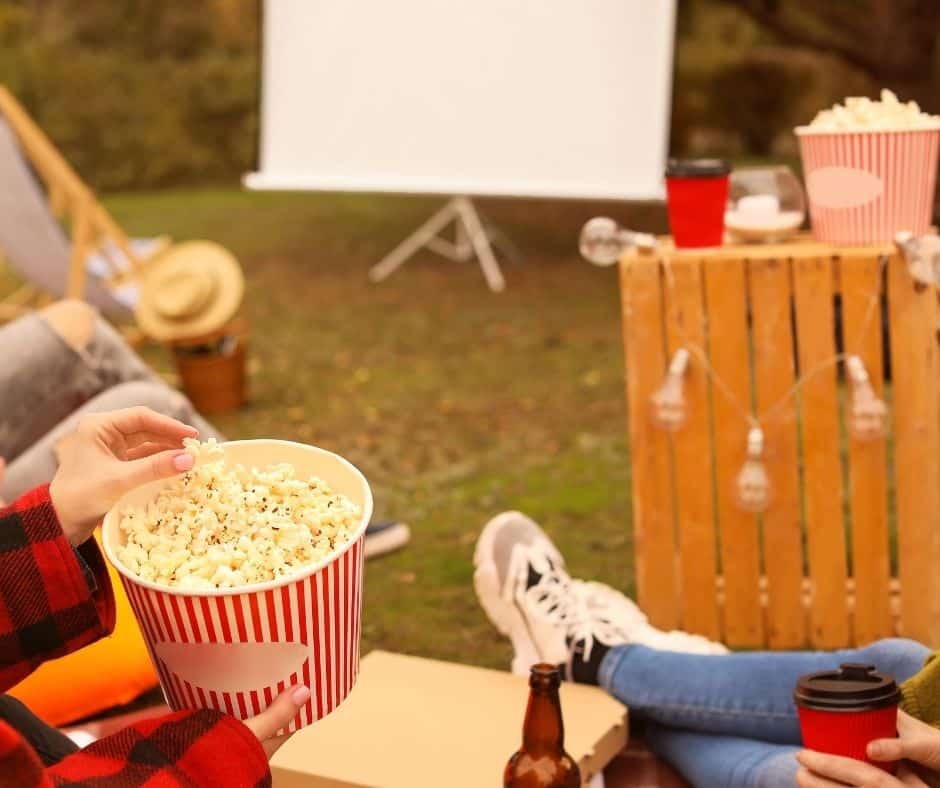 Outdoor Movie Ideas
Finding the perfect movie to show for your backyard movie night is another important aspect to consider. Before you decide on a movie, it's important to think about the audience and try to find a film that everyone can enjoy.
When looking for a good movie option, you can't go wrong with some of these ideas:
1. Marvel movies
Everyone loves watching super heroes! Playing a Marvel movie, like Captain America or the Avengers, is sure to be a hit for your outdoor movie night. Black Widow would be a fun choice!

2. Star Wars films
Another popular option to consider for your backyard movie is a movie from the Star Wars franchise. Whether you watch a classic, like A New Hope or a pick from the new trilogy, like The Force Awakens, your audience is sure to love watching one of these action-packed films.

3. Classics
You can't go wrong by showing a classic. Everyone in the crowd can enjoy re-watching one of their favorite movies. Films like The Goonies, Indiana Jones, or E.T. are always popular choices when you're trying to come up with outdoor movie night party ideas.

4. Themed movies
When planning your backyard movie night, consider going with a theme like Hawaiian Nights. You could plan your theme around the time of year and show a scary movie, like Friday the 13th, for Halloween or a summer classic, like Dirty Dancing, during the summer to make your movie night a little more interesting.
You can also grab our full list of the 47 Best Movies for an Outdoor Movie Night, sports movies, or pool movies to help you pick too!
Also – Don't Forget
We've covered the big aspects of hosting an incredible outdoor movie night, but there are a few more details you may want to add in!
Here's our full checklist to hosting an outdoor movie night!
Projector
Screen
Speakers
Comfy Chairs or Pillows
Blankets
Snacks
Cooler of Drinks
Extension Cords if needed
Bug spray
Flashlights or a lit pathway for bathroom breaks
Hand wipes or sanitizer
Trash can with a lid (keep animals out!)
You can also grab our movie night essentials checklist for more ideas!
We also did a fun podcast episode about planning your outdoor movie night that you might like!
We'd love to see when you host a outdoor movie night! Tag us on Instagram!