Watching a movie outside is a great way to spend a summer night. And if you have a pool in your yard, why not take your movie night up a notch with a dive-in movie night? Hosting an epic pool movie night party is a great way to spend time with your friends and enjoy a fun movie at the same time. If you're wondering how to put together a dive-in movie, check out these amazing pool party ideas.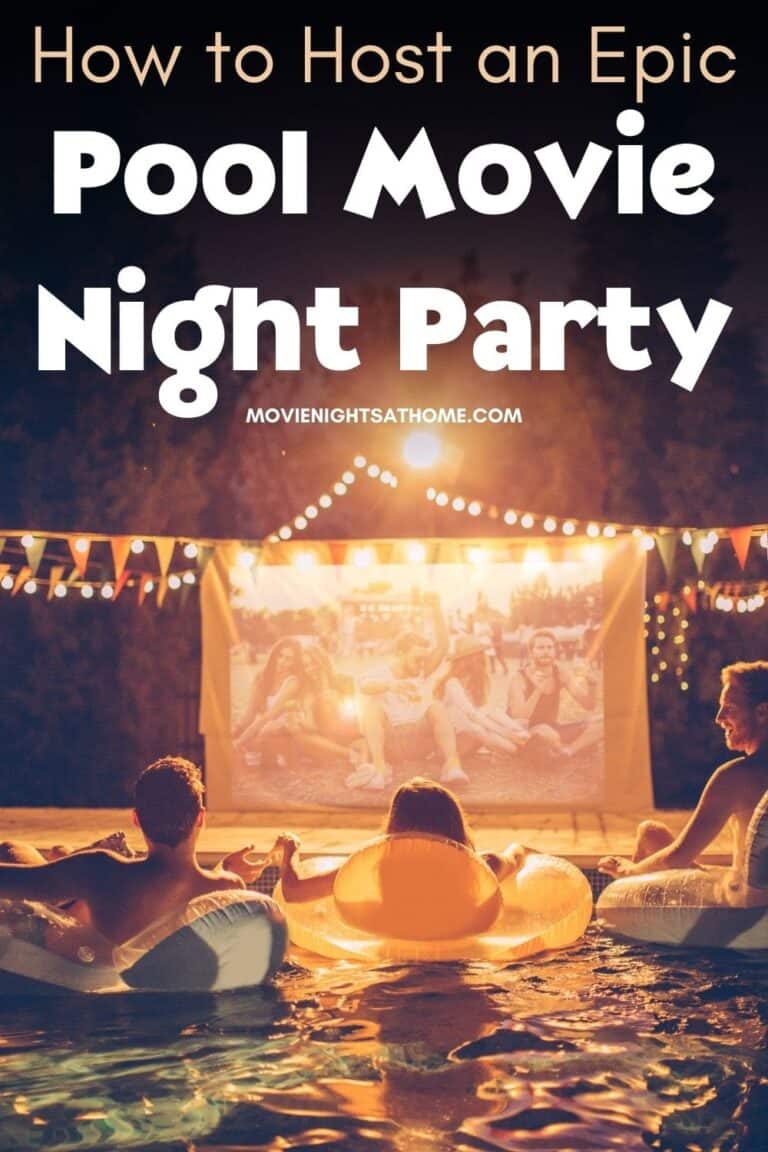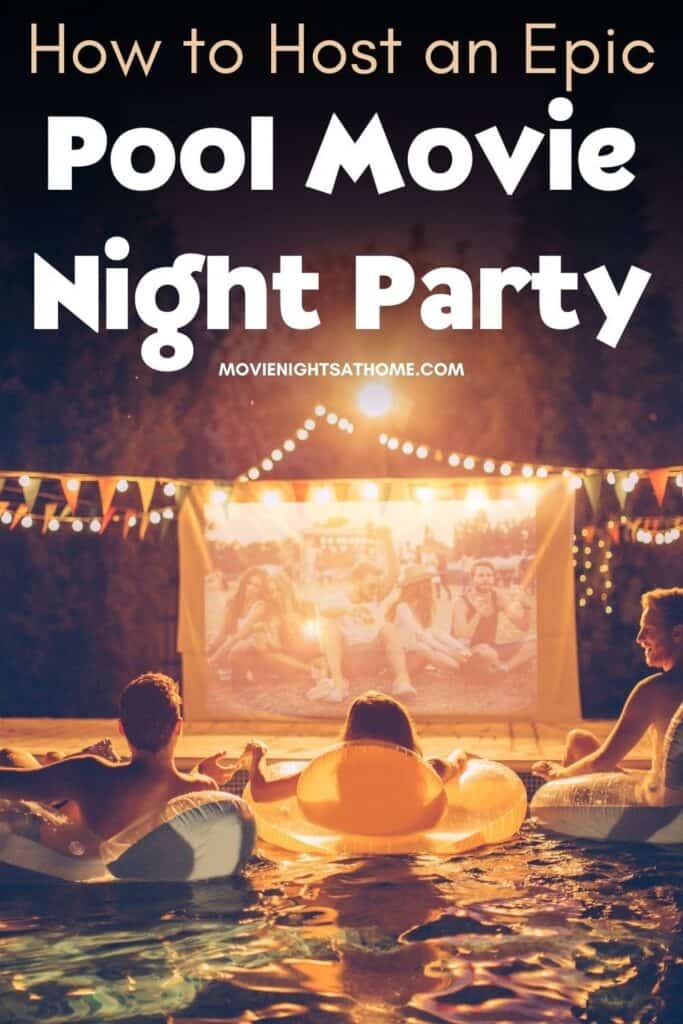 What You Need for Movie Night Pool Party
Before you start sending out the invites for your next movie night, it's a good idea to know exactly what you'll need to get your party set-up.
These items are a must when hosting a dive-in movie night:
Pool.
You can't have a pool party without a pool! Make sure your pool is big enough for your guests to swim or float comfortably together as they watch the movie.
You can purchase an inflatable movie screen for your party or make your own by hanging a white sheet to serve as a screen. As you set up your movie screen, make sure it's in a good location that's visible from the pool and the deck.
Once you have your movie screen set up, you'll need a way to project the movie for your guests to enjoy. Set up your projector in a safe location, away from the water, to ensure it works properly for your movie night.
In addition to a projector, you'll also need speakers so your guests can hear the movie's sound. Waterproof Bluetooth speakers are a great option for a pool party because you don't have worry about them getting damaged if they get wet.
Seating.
Make sure your guests are comfortable while they're watching the movie by providing them with different places to sit. Lawn chairs and loungers are great for guests who don't want to be in the water while they watch the movie. And pool floats are the perfect spot for your guests to watch the movie while they're swimming in the pool.
Snacks.
You can't watch a movie without snacks! Make sure you have plenty of snacking options for your guests to enjoy while they watch the movie at your pool party.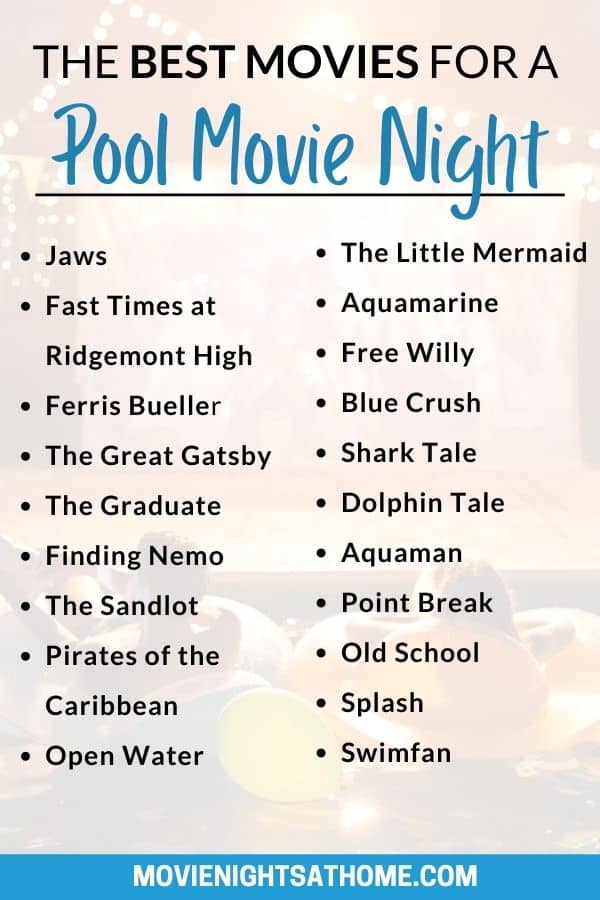 Pool Party Movie Ideas
One of the biggest decisions you'll make as you're planning your pool party is what movie to watch!
As you're picking your movie, think about who you'll be inviting to your party. If you have little ones coming to swim, a family-friendly movie, like Little Mermaid or Aquamarine, is a great choice.
If it's an adults-only party, you can get a little more adventures with your film, like picking a scary movie like Jaws or risqué movie like Cruel Intentions.
These fun pool party movie ideas are perfect for your backyard movie night:
Each of these fun movies feature a pool or water scene, making them great choices for movie night!
We also have a great list of of outdoor movies you could pick from! We also love to do a Hawaiian theme in the Summer!
You may also like our Barbie Movie Night ideas!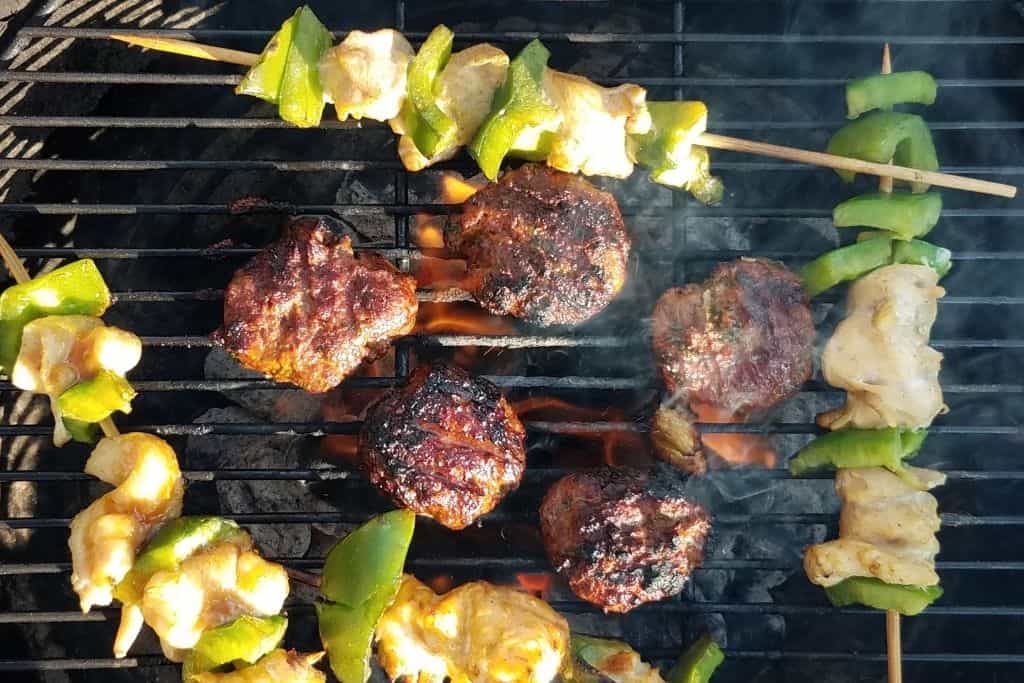 Dive In Movie Night Snacks
Once you have your movie picked out, it's time to come up with a menu for your pool party.
Try these pool party snack ideas for your movie night:
Classic movie snacks.
You can't go wrong by serving classic movie snacks at your pool party. Set out popcorn, candy, pretzels, and nachos for your guests to snack on while they watch the movie.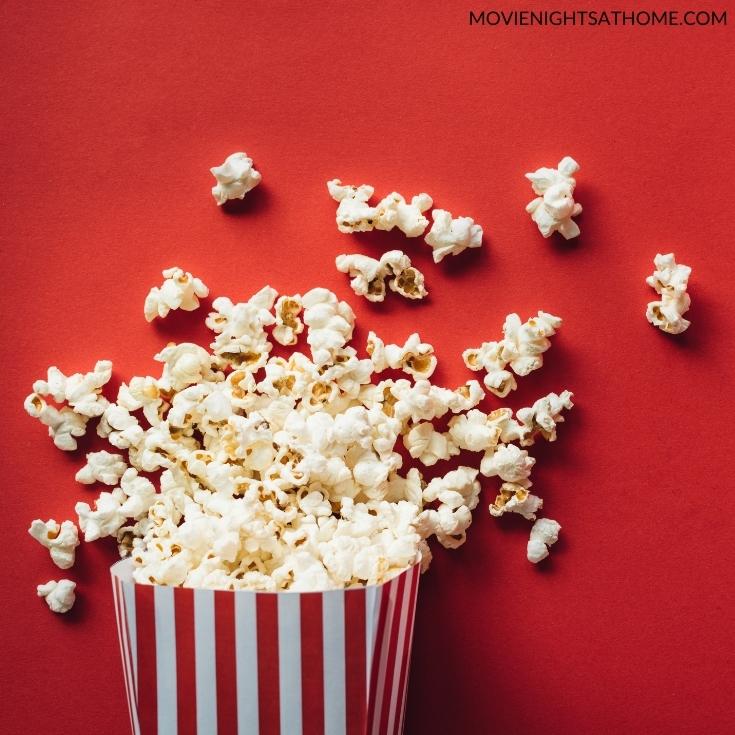 BBQ foods.
Barbeque and the pool go hand in hand, making it perfect for movie night. Grill up your favorite meats and set out some sides to serve a full meal to your party guests. We love these loaded BBQ Totchos!
Pizza.
Serving pizza at your pool party is perfect for a quick dinner idea. Order a few different topping options so your guests have plenty to choose from when dinner time rolls around.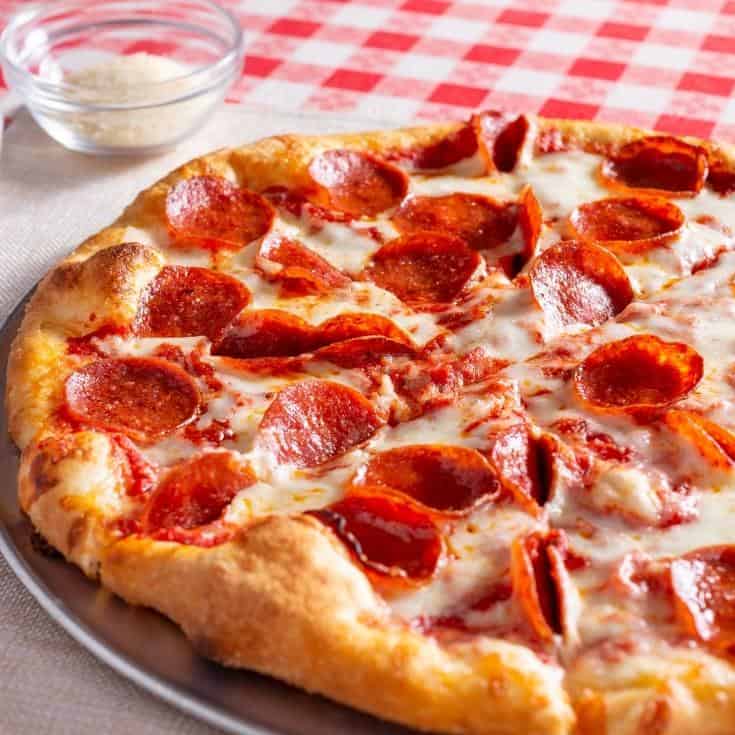 Movie-inspired treats.
Use your movie selection to inspire your snacks for a fun themed party menu. Use an ocean theme for your party treats while watching Finding Nemo or serve mermaid themed treats if you plan on screening Aquamarine.
Tropical drinks.
When hosting a pool party, tropical drinks are a must. Create a signature cocktail for the adults at your party. Or serve kid-friendly punch with tropical garnishes to create an easy drink for your guests to enjoy.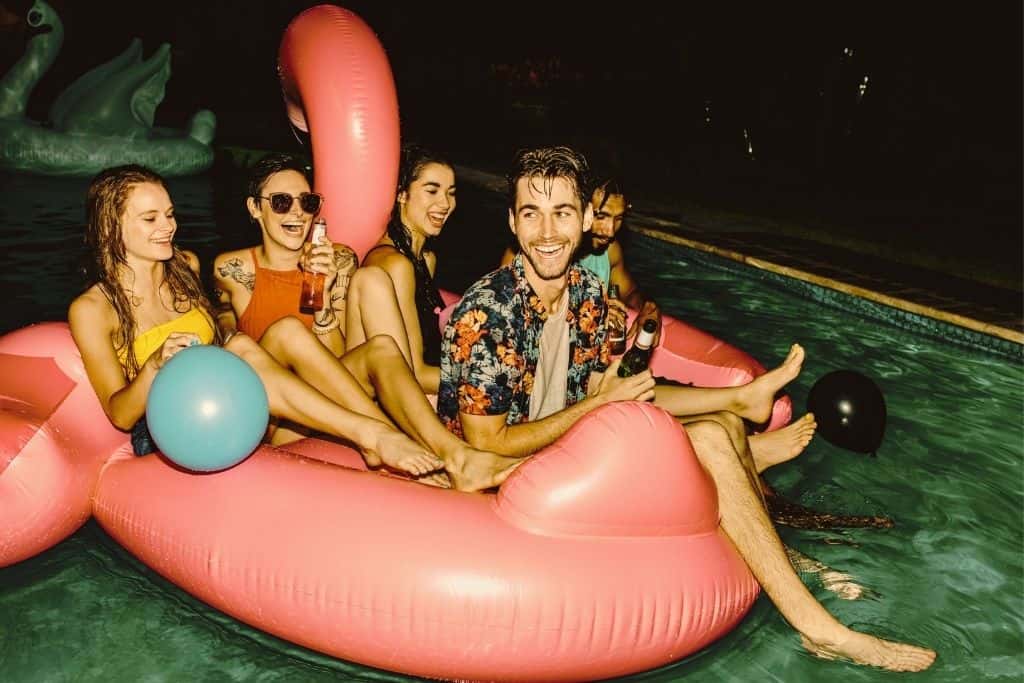 Movie Pool Party Viewing Area Ideas
When you're ready to start setting up your party, creating a viewing area for your movie is essential.
While some of your guests might want to watch the movie from the water, there will be others who would rather be dry during the screening.
Consider these tips when setting up your movie pool party:
Provide seating outside the pool.
For the guests who don't want to watch the movie in the pool, make sure to have seating ready to go. Poolside lounge chairs and lawn chairs are a good option. Or set out comfortable blankets and pillows on the deck for your guests to lay on.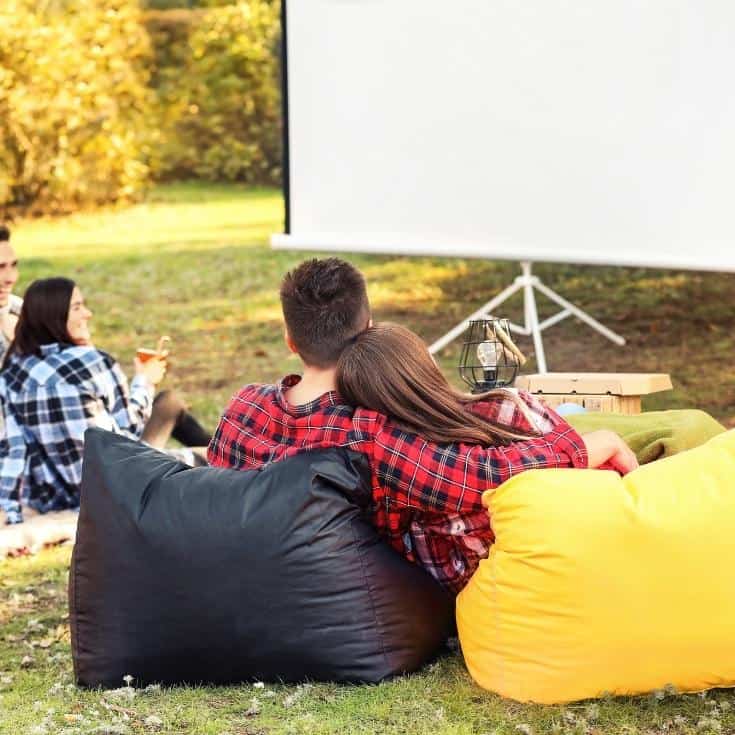 Let them lounge in the pool.
Make sure the guests in the pool are comfortable while they watch the movie with the help of pool floats. Loungers and innertubes are great for movie watching in the pool!
Provide extra towels.
It's a given that at least one of your guests will forget to bring a towel. Make sure you have plenty of dry towels available so your guests can dry off when they're ready to get out of the pool.
Offer a changing area.
Give your guests a place to change if they want to get out of their wet clothes before the movie starts. Make sure your pool house is open or direct your guests to a nearby bathroom inside when they're ready to change.
You may also like these outdoor movie night essentials!