We're sharing how to host a fun and stress-free Halloween Movie Night party with our favorite spooky foods, drinks, decor, music, and invitations!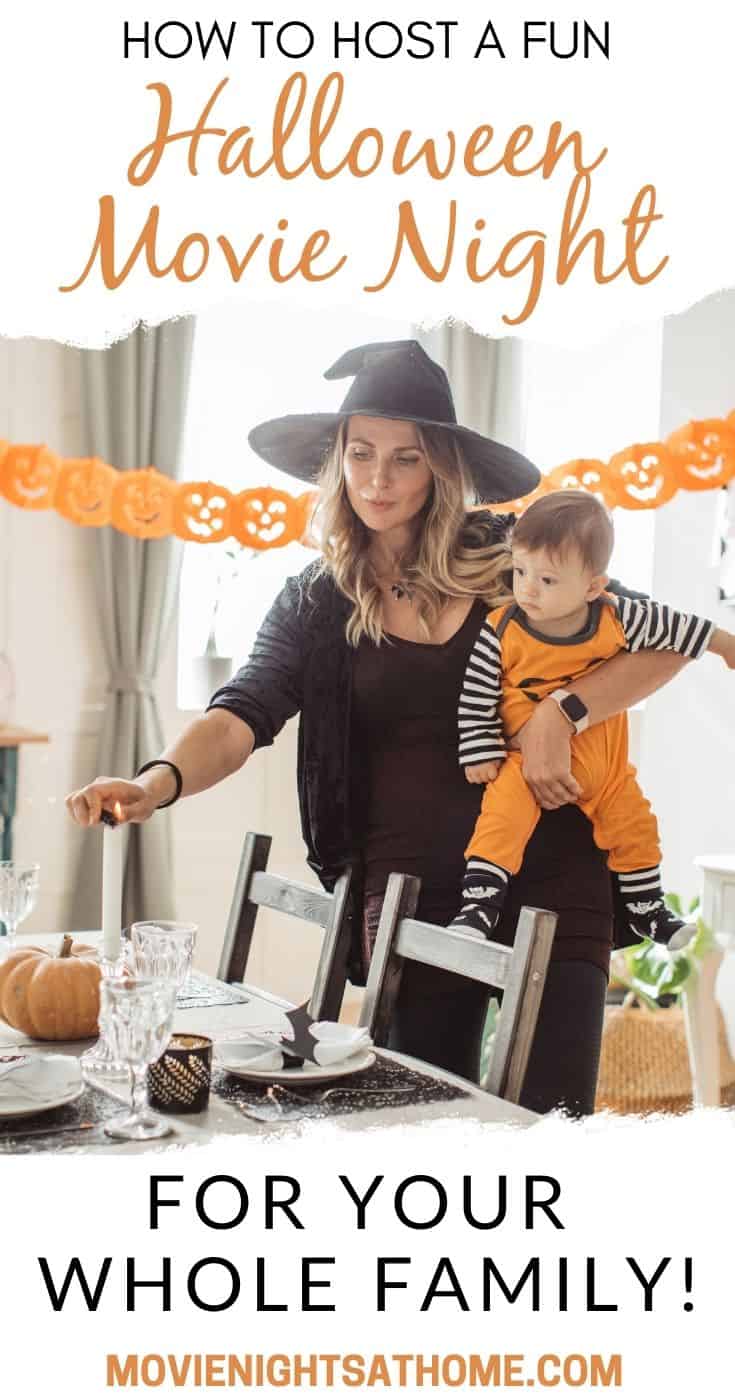 What should I do on Halloween night?
We love staying in and watching Halloween movies, but you could also carve pumpkins, cook a meal or spooky dessert together, create a Halloween-inspired cocktail, hand out candy to trick or treaters, make s'mores, host a wine and candy tasting party, or play games!
A theme like Beetlejuice, Ghostbusters, or Tim Burton films can be a lot of fun too!
How to Host a Halloween Movie Night Party (Ideas for Kids & Adults!)
We love hosting a Halloween movie night party each year! We usually keep it small and mostly adults, but you can really use this list of ideas to create an epic party of your own!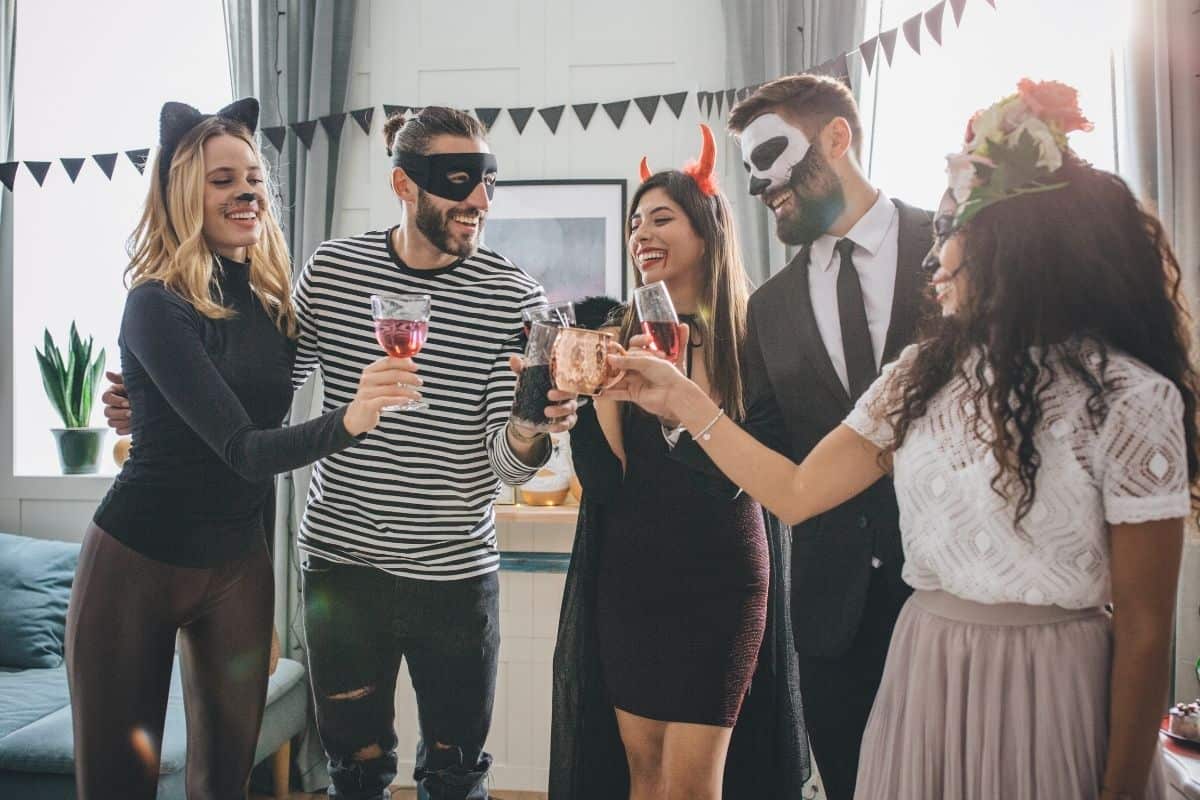 1. The Perfect Location & Movie
The first decision we recommend making is deciding WHERE to host your Halloween movie night! If you live in a warmer climate, we love the idea of doing an outdoor party!
If you have kids attending, Hocus Pocus or Casper are our two go-to's!
On the other hand, nothing is better than a slasher movie like Texas Chainsaw Massacre while you and your friends cuddle up under blankets if you're doing an adult-only party!
If you decide to go with an outdoor spot, we suggest having an outdoor movie projector, a bunch of blankets, cozy pillows, and twinkle pumpkin lights!
This
movie projector
actually has Bluetooth and screen-mirroring technology and is offered on Amazon Prime!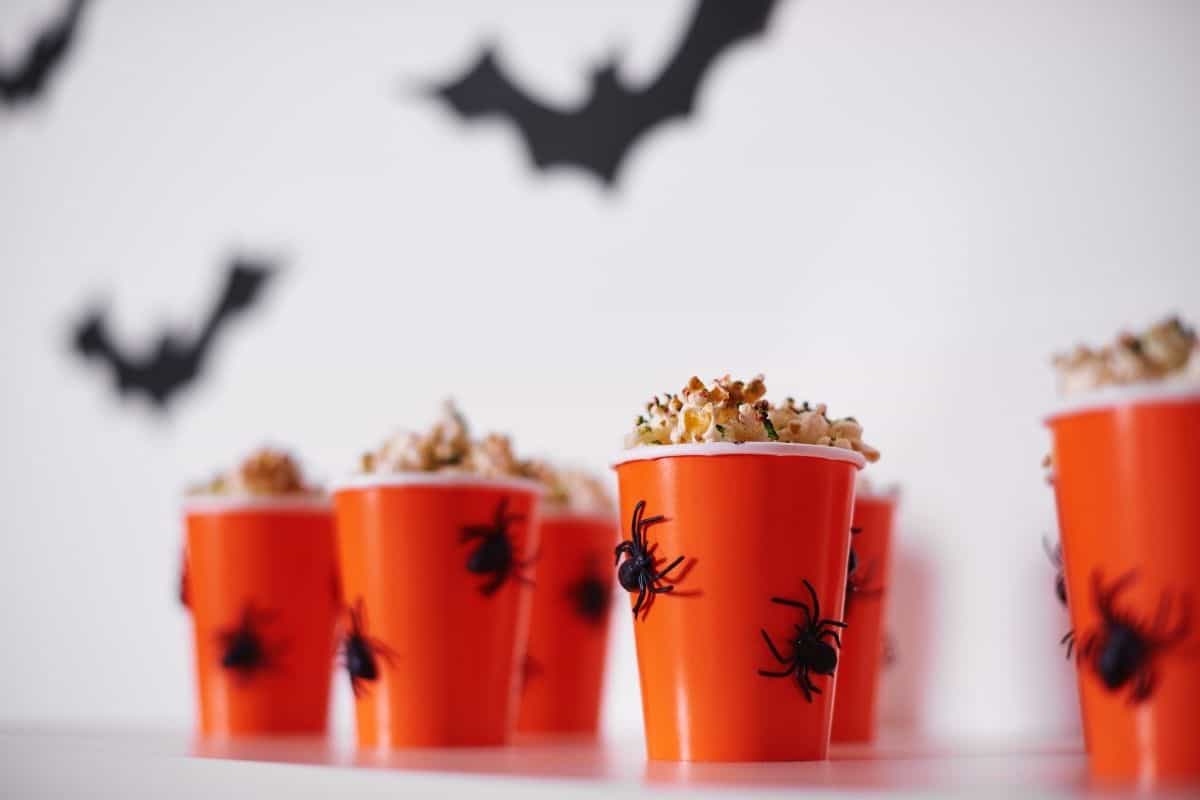 2. Spooky Foods
We put together a list of our favorite Halloween movie snacks which have everything from Hocus Pocus brownies to bloody cupcakes and cocktails!
It's also super fun to include a popcorn machine or create your own popcorn variety like the Goosebumps one we have featured on the snacks post.
Cute Food Ideas on Amazon:

3. Unique Drinks
There is everything from spooky milk glasses to jello shot syringes out there to help you plan your Halloween movie night!
We love this melted witch martini or this spooky Halloween punch that can be made alcoholic or non-alcoholic.
Don't be afraid to go a little wild with how you dress up your drinks as well. Adding a few props like a gummy worm or plastic spider can go a long way in carrying out a theme!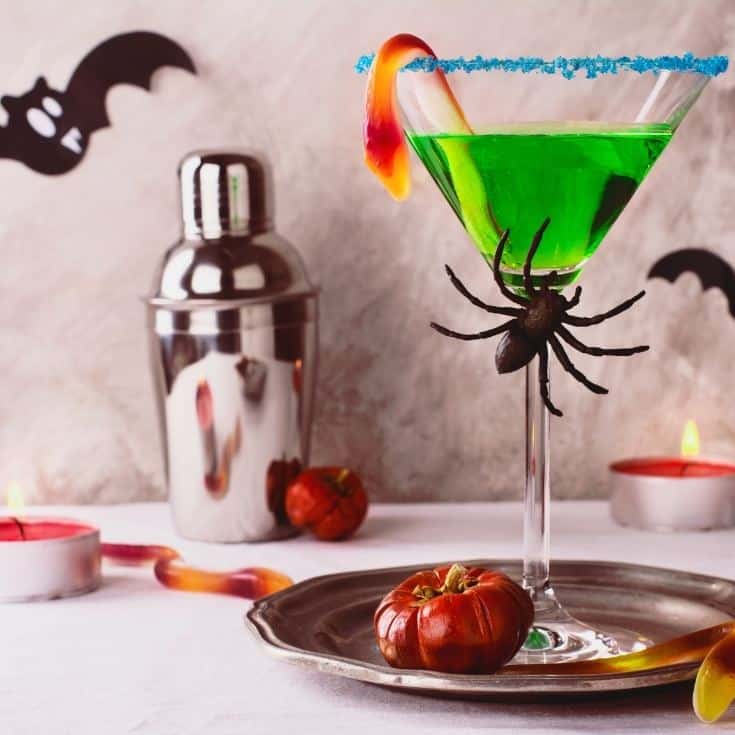 Cute Drink & Glassware Ideas on Amazon

4. Creating the Cozy Atmosphere
You don't have to spend a fortune to decorate for your Halloween movie night!! We suggest grabbing a few pumpkins at the local grocery store when they go on sale to get started.
Then, we suggest adding in lots of blankets, throws, and cozy pillows to help make the room feel comfortable and cozy for your guests!
These Halloween pillow covers are affordable and something you can put on your existing pillows year after year!
Turning down the lights and using candles and spooky pumpkin lights instead can also add to the spooky-vibes without spending a lot!
The other thing we recommend is finding Halloween pieces you'll use year after year — like a cute Fall doormat or Halloween banner.
Other decor ideas on Amazon:
5. Play Music as Your Guests Arrive
Hearing that creepy organ music as a guest walks in can really set the mood for the whole party!
If you are an Amazon Prime member, you can stream dozens of Halloween-specific playlists easily. They included Haunted House Sounds, Kids Halloween, Halloween Party Music and Scary Songs, and that's just the first few we saw!
You can also make your own creepy playlist or find more playlists using YouTube, Spotify, or Pandora!
6. Make it "Smell Like Halloween"
We really like to incorporate all 5 senses when planing a movie night! So we suggest lighting a cinnamon apple or pumpkin candle to help set the mood!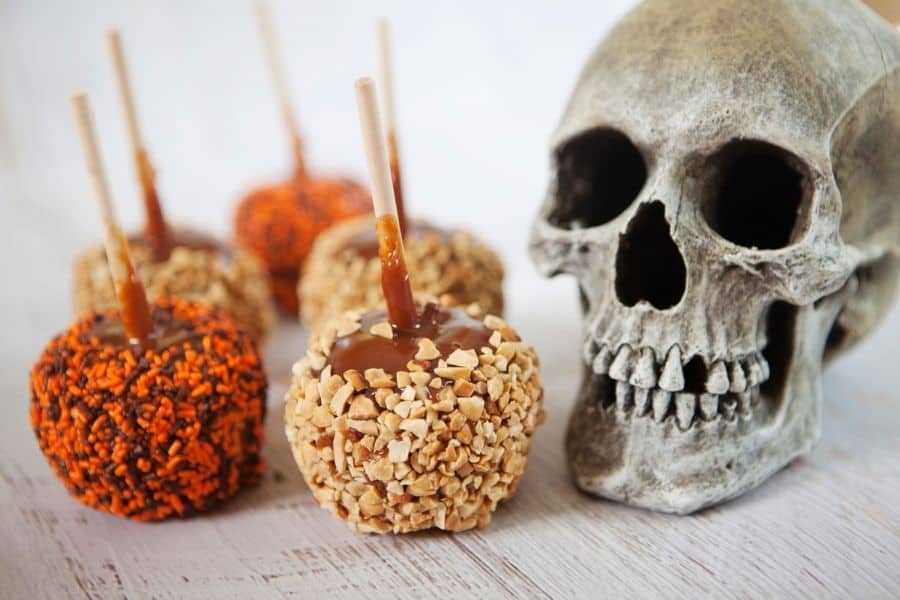 7. Activities & Goodie Bags
Your movie will be the main activity of the night, but you could also add in other activities and contests at the beginning of the night if you wanted!
Grab our Favorite Halloween Party Games, Scary Movie Drinking Games, or Halloween Charades Printable to have some fun!
We also love these funny costume awards that go on wine bottles for a costume contest or try your hand at FEAR PONG!
A kid-friendly idea would be to set up a bobbing-for-apples station or help them do caramel apples!
We like to use a crockpot to heat the caramel, then after you dip them, you can top them with your favorite candies, sprinkles, or coconut flakes!
They're not only delicious but also a pretty party favor to take home!
An idea that is great for both kids and adults is creating a photo booth!!
We love this spiderweb backdrop because it's something you can use over and over again at Halloween!
BONUS TIP:: Send Halloween Movie Night Invitations
Thank you for reading until here!! We hope you have some great ideas planned out! As a thank you — we wanted to offer you 2 FREE printable invitations to use for your Halloween Movie Night!!
Now that you have these amazing Halloween movie night planned out, all you need is to invite your friends!
How to Use the Halloween Movie Night Invitations
Just click for the full-size, high-quality invite that is printable! You can also save it on your iPhone, click Edit, then Markup to add your date and address!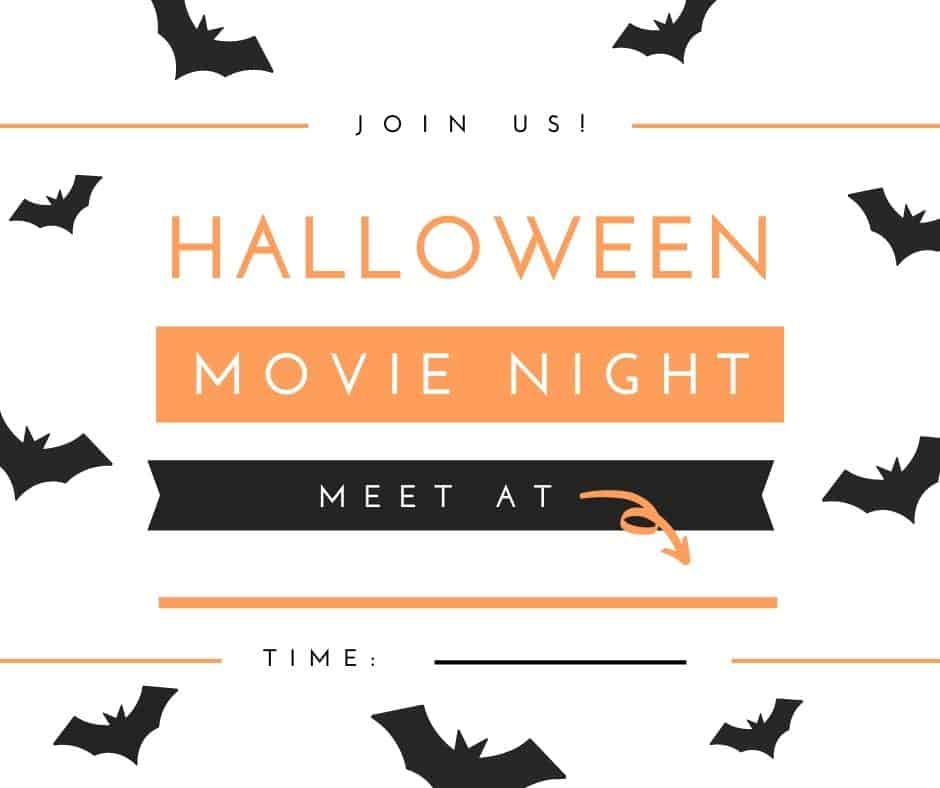 Looking for something a little more creepy or adult? Check out our Fright Night Invite!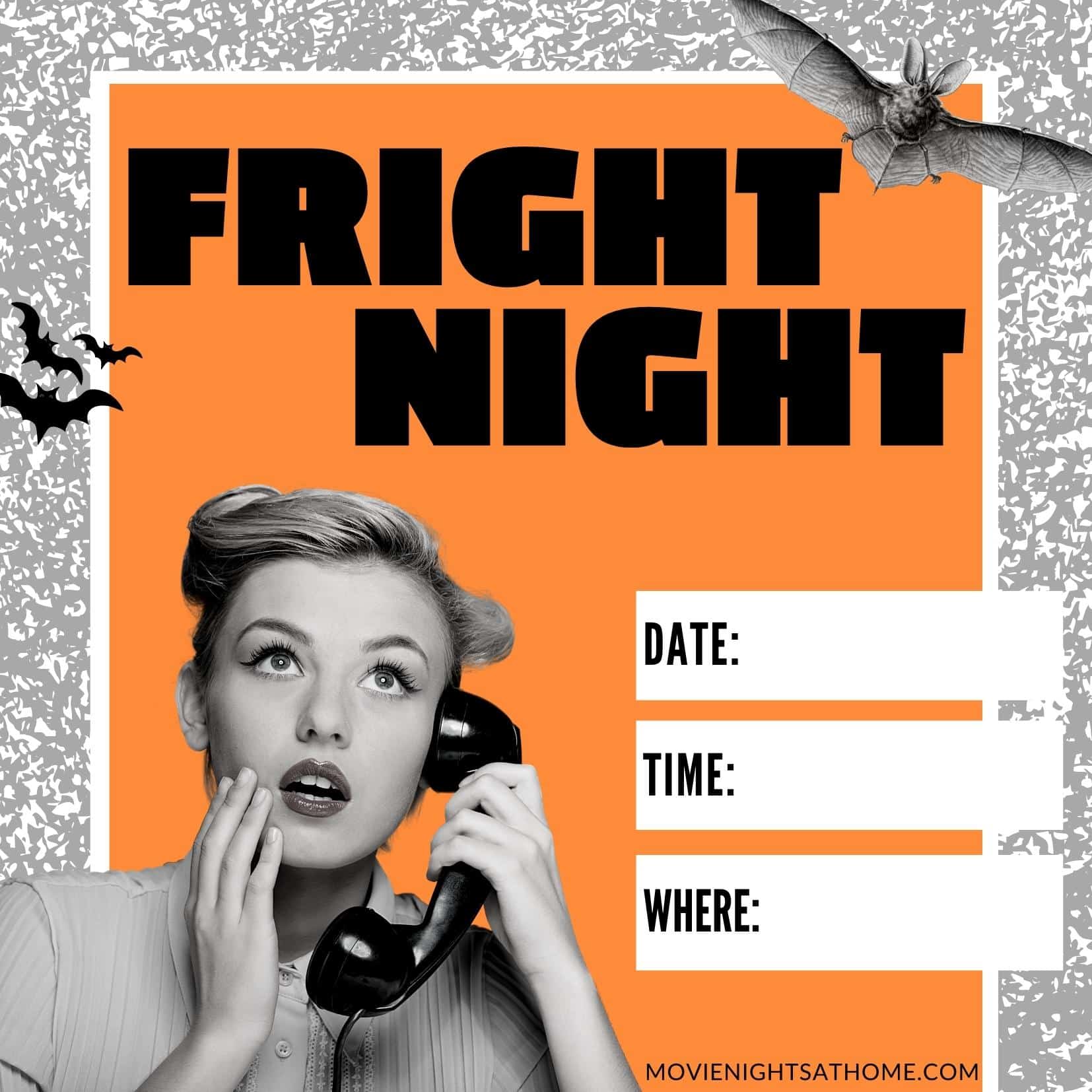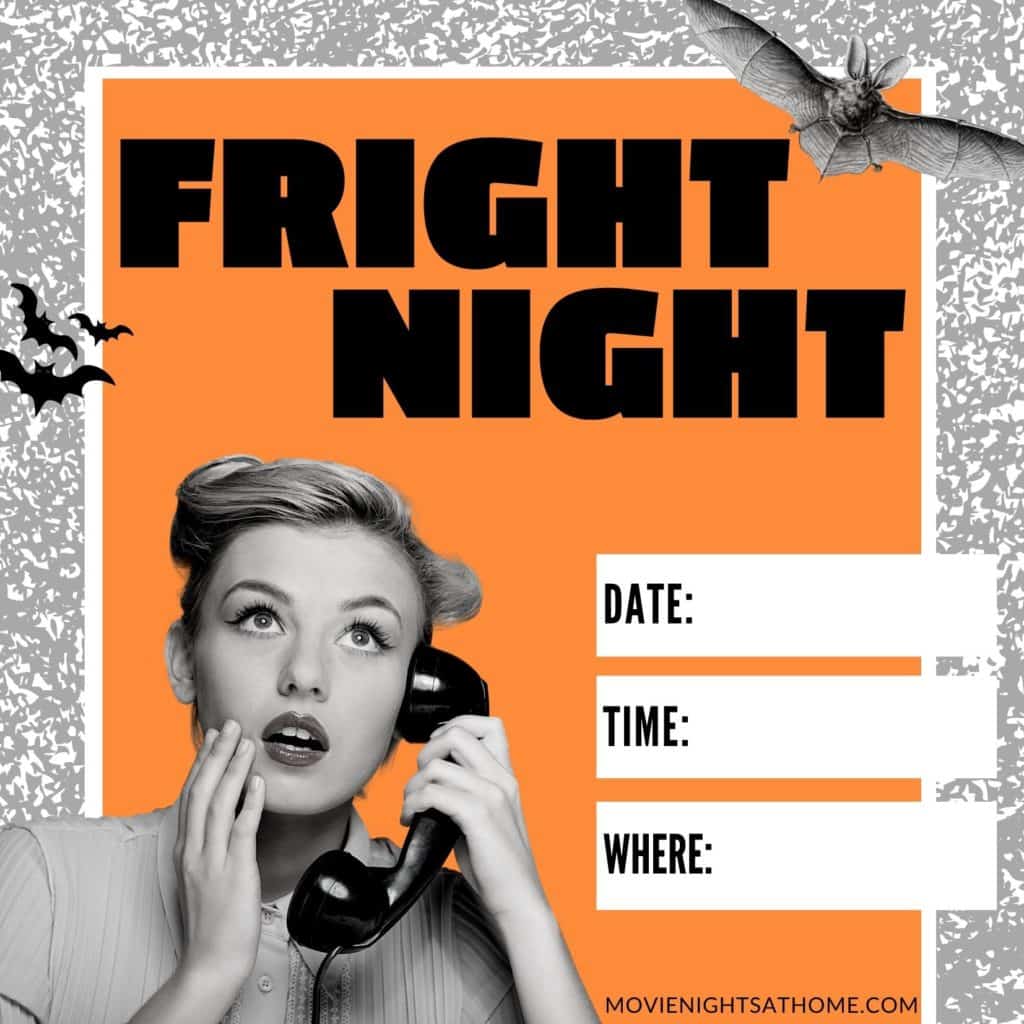 Love these ideas? Pin them for next year too!