Middle school might be an awkward time for your tween. But it also makes a great setting for a movie! That's why these middle school movies are a fun way to enjoy family time with your pre-teens. From silly comedies to tween dramas, this big list of middle school movies to stream is packed with ideas for your next movie night.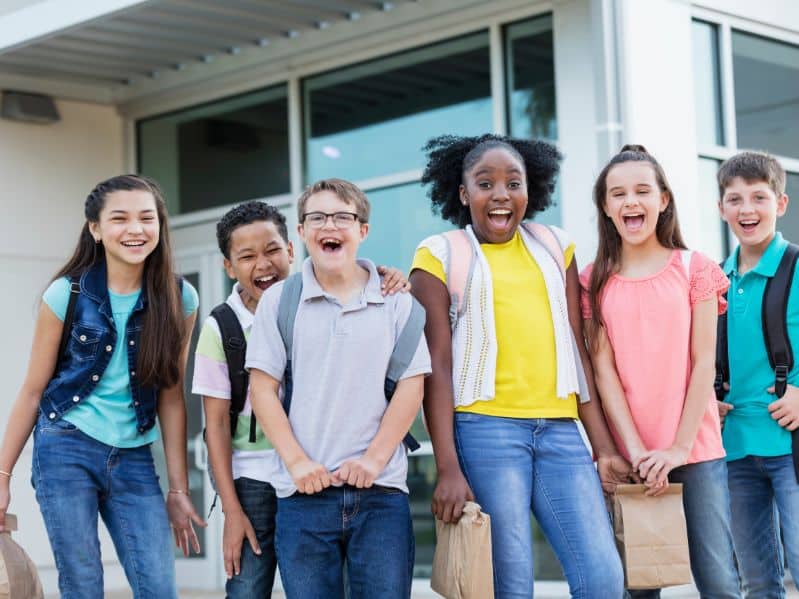 If you're looking for family movies for a night-in, we believe these films offer something for the whole family! It's also so much fun to do a themed movie night dinner or movie snacks.
60 Best Middle School Movies List to Stream
Being a tween isn't easy – that's why middle school movies are so great! Whether you have a pre-teen at home or just want to relive that special time in your life, you'll love streaming each of these films at your next movie night.
Rated PG-13
After a disastrous 13th birthday party, a middle school girl wishes she was an adult. And her wish comes true when she wakes up as a 30-year-old version of herself (Jennifer Garner) in this fun rom-com.
If you love this movie, you may also like our list of slumber party movies!
Rated PG-13
An illegitimate substitute teacher turns his middle school class into a rock band in order to compete in the local battle of the bands in this Jack Black comedy.
Rated PG
Middle schoolers will love the wizarding world of Harry Potter! The first movie starts with the main character being accepted into a magical school for wizards. Harry is an orphaned boy (Daniel Radcliff), and in this movie he begins to piece together the mystery of his parents' death.
You may also like our 48 Magical Harry Potter Desserts, Snacks & Recipes or Ultimate Harry Potter Movie Trivia!
Rated PG
A young boy with facial abnormalities starts class at a new school, where his parents (Julia Roberts and Owen Wilson) worry about whether he'll fit in.
Rated PG
When he moves to a new town, a tween boy (Griffin Gluck) enrolls in a rule-heavy middle school where he decides to take on the controlling principal and break all the rules.
Rated PG
A pair of brothers (Sean Astin and Josh Brolin) uncover a treasure map leading to a subterranean sea and hidden gold in this kid-friendly adventure.
Make it a Goonies Movie Night at Home with these fun ideas & menu!
Rated PG-13
Four life-long friends (Demi Moore, Rosie O'Donnell, Melanie Griffith, and Rita Wilson) come together in their home town to discuss their lives and reminisce about an unforgettable summer in the 1970s.
Rated PG
After being bitten by a spider, Miles Morales becomes Spider-Man. But he soon learns that there's more to the universe than meets the eye in this superhero movie.
Rated PG-13
A gentle alien becomes stranded on earth and it's up to a young boy (Henry Thomas) to get the visitor back to its home planet before it's too late.
Make it a movie night with our E.T. Reese's Pieces Chocolate Peanut Butter Fudge Bars!
Not Rated
A 12 year old boy (Eli Golden) struggles to fit in at his new school after his parents' divorce in this movie based on a popular Broadway musical.
Rated PG-13
A single mom and her two kids (McKenna Grace and Finn Wolfhard) move into a run-down farmhouse, and soon discover their family connection to the original Ghostbusters and their legacy of protecting the town from evil spirits.
Make it a movie night with our Ghostbuster ice cream!
Rated PG-13
A normal babysitting job turns into a night-long adventure when one of the kids goes on the run in this Elizabeth Shue comedy.
Rated PG
This 80's classic inspired the popular Netflix spin-off Cobra Kai. Find out how Daniel learns karate and navigates young love when he moves into a new town.
Make it a movie night with our Karate Kid Recipes & Party Ideas!
Rated: Not Rated
With the help of her sister's IT list, Jessica Darling (Chloe East) believes she has everything she needs to become popular in middle school. But she learns that nothing is as easy as it seems.
Rated PG
The summer before they go to high school, four friends (Alexa Vega, Mika Boorem, Kallie Flynn Childress, and Scout Taylor-Compton) have a sleepover that turns into an adventure of a lifetime.
Rated 7+
When the students at an elite boarding school start getting sick, it's up to four girls to solve the mystery.
Rated PG
A middle school girl (Emily Alyn Lind) spends her days spilling her thoughts onto the pages of her diary while daydreaming about how she wishes her life could be in this kid-friendly comedy.
Rated PG
When she finds out that her best friends are leaving for the summer, Judy (Jordana Beatty) is stuck spending her break with her brother and second-best friend in this family friendly movie.
Rated PG
A pair of imaginative kids (Kevin Hart and Ed Helms) hypnotize their principal into believing he's a superhero in this animated comedy.
Rated PG
At a Christian youth camp, kids are taught to face their fears, stand up to bullies, and make new friends.
Rated PG
When Emily (Darby Camp) meets a magical red puppy and takes him home, her love for the dog makes him grow into an enormous pet in this family-friendly movie.
Rated PG
Seven friends start a babysitting day camp, which turns into an epic summer adventure in this movie based on the classic book series.
Rated PG
Identical twins (Lindsay Lohan) switch places in order to reunite their estranged parents in this classic comedy.
Rated PG
A mysterious board game transports two kids into the jungle to battle their way through trials and foes to win the game in this Robin Williams comedy.
Rated PG
When their parents (Antonio Banderas and Carla Gugino) are kidnapped, a pair of siblings learn their mom and dad are actually spies.
Rated PG
After moving to a new town, a middle school boy signs up to manage the basketball team and brings his basketball-playing dog along to improve the team's record.
Rated PG
When an 11 year old moves to a new town with her family, her emotions are in overdrive. But when Joy and Sadness get lost, it's up to Fear, Anger, and Disgust to take control.
Rated PG
The Star Wars series has been popular for nearly 50 years! Why not start with Luke's first adventure to rescue Princess Leia.
Rated PG
An orphan living in the walls of a train station uncovers the mystery behind his father's death.
Rated PG
This modern twist on the tale of King Arthur follows a school boy (Louis Ashbourne Serkis) as he takes on a quest to stop an evil enchantress.
Rated PG
While exploring her new home, Coraline (Dakota Fanning) discovers a magical door that leads her to an alternate universe.
Make it a movie night with a Coraline themed-dinner!
Your middle schooler may also like our list of Tim Burton Halloween Movies & Snacks.
Rated PG-13
When Landon Carter's (Shane West) path crosses Jamie Sullivan's (Mandy Moore) an unlikely romance develops between a bad boy and a Christian girl.
Rated PG
Four best friends find a pair of jeans that magically fits them all, and they make a pact to share the jeans with each other all summer while they're apart.
Rated PG-13
A group of friends see a train wreck while making a super 8 movie and discover something has escaped due to the crash — which leads to an adventure.
Rated PG-13
Since only males are allowed to become chief in the Maori tribe, Pai (Keisha Castle-Hughes) must fight against the tribe's customs in order claim her birthright.
Rated PG
After moving to a new neighborhood, Scottie Smalls (Thomas Guiry) finds friendship in a group of rag-tag boys who play baseball in the nearby lot.
Rated PG
A group of courageous newspaper boys (Christian Bale) come together to fight against the tyranny of a media tycoon in this movie musical.
Rated PG-13
A middle school girl (Anna Chlumsky) finds her life turned upside down when her best friend (Macaulay Culkin) suddenly dies.
Rated PG
Stanley Yelnats (Shia Labeouf) is sent to Camp Green Lake to learn lessons in friendship and courage on his adventure!
Rated PG
This Rob Reiner 80's classic tale is a must-see! Go on an adventure with Westley (Carey Elwes) rescue the Buttercup (Robin Wright) from the evil Prince Humperdinck (Chris Sarandon).
Rated PG-13
Cady Heron (Lindsay Lohan) finds herself as part of the popular girls at schooled called the "The Plastics." All is fun and games until, Cady falls for Regina George's ex-flame Aaron.
Rated PG
Gru, a mastermind who plans on taking over the world, lives in a happy neighborhood inside a black house and dead lawn — but his life is about to get a little more colorful and cute!
Rated G
This animated film is another good movie for 11 year olds and older. We're excited for the new live action movie coming out soon, too!
Rated PG
Po (voiced by Jack Black) has larger dreams of working in his father's noodle shop. He wants to be a Kung Fu champion, and he peruses his dream by attending a tournament where a Dragon Warrior will be nominated.
Rated PG-13
This unconventional take on William Shakespeare's tale of star-crossed lovers is a great way to get your middle schooler into literature. This modern version of the tale stars Leonardo DiCaprio and Claire Danes.
Rated G
In this Oscar-winning classic musical, Maria takes a job as a governess while she debates on becoming a nun. She falls in love with the family, but the father is called to duty to the German navy during her stay.
If you love this musical, you may also like our list of 33 Old Movies for Tweens to Appreciate the Classics.
Rated PG
This literary classic about 4 sisters after the Civil War is another great way to get your child into reading.
Rated PG
This modern version of the classic fairy tale stars Hilary Duff as Sam. Set in with regular high school life, Sam has to deal with her stepmother, sisters, and her job before finding her prince.
Rated PG
When siblings, Violet, Klaus, and Sunny Baudelaire, are orphaned, a family member takes them in, but it isn't for the right reasons.
Rated PG
When a genius teenage inventor loses his invention and his brother, he gets his brother's friends and robot, Baymax, to help him solve a mystery.
Middle School Movies List on Disney+
Below are 10 movies that are great for middle schoolers that are available on Disney+. Along with them, you can also find Star Wars movies and tv shows, The Little Mermaid, and a few of the movies listed above.
If you choose a Disney classic movie, check out our Disney movie night dinner and dessert ideas!
Rated G
This iconic Disney original movie stars Zac Efron, Vanessa Hudgens, and Ashley Tisdale. The musical brings a high school jock and a brainy new student together in a romantic way.
Rated PG
Alexander (Ed Oxenbould) begins to wonder if bad things only happen to him. But when his dad (Steve Carrell) experiences his own bad day, the tween begins to realize he's not alone in his misery.
Rated PG
A pair of middle school best friends (Emma Roberts and Hailey Rogers) discover that mermaids are real when one washes ashore after a rain storm.
Rated PG
When Jesse (Josh Hutcherson) befriends Leslie (AnnaSophia Robb), the pair create their own magical world to help them escape their own reality.
Rated TV-G
Two girls, Mahree (Lindsey Haun) a wealthy white girl and Piper (Shadia Simmons), the daughter of a black U.S. congressman, come together to change each other's lives in this inspiring middle school movie.
Rated PG
In order to make it out of middle school in one piece, Greg Heffley (Zachary Gordon) comes up with one scheme after another – all of which fails miserably – in this comedy based on the best-selling book series.
Rated PG
After mastering middle school, Greg (Zachary Gordon) thinks he has his life together. But his older brother Rodrick (Devon Bostick) makes it his mission to take him down a peg in this comedy sequel.
Rated PG
All Greg Heffley (Zachary Gordon) wants to do during the summer is hang out with his friends. But when his dad (Steve Zahn) decides to spend the summer bonding, Greg pretends his has a job to get out of family time.
Rated PG
Greg Heffley (Zachary Gordon) is looking forward to playing video games and spending time with his friends all summer long. But his parents have other plans when they head out on a road trip with the entire family.
Rated G
The Lion King is a great movie for kids of all ages and includes some great life lessons.
Love this middle school movies list of Disney movies? Also check out:
2 Movies Maybe Not for Middle Schoolers
Below are 2 movies that contain subject matter that may not be suitable for tweens or middle schoolers.
Rated R
The 80's classic focused on stereotypes and being a teen is rated R, but it was before many movies were rated PG-13. Parents may or may not feel comfortable with their children seeing this one.
Rated R
After receiving an invitation to his first boy-girl party, 12-year-old Max (Jacob Tremblay) enlists the help of his friends to learn how to kiss in this Rated-R movie about middle schoolers.
More Ideas
Another movie that your middle schooler may like is the Barbie movie! It's pG-13. We have a guide on how to host a Barbie movie night party!
We hope this middle school movies list helps you find a movie you and your family will love! If you need more ideas also check out: