When you think of Disney+, cartoons and kid's movies probably come to mind, but Disney Plus has several PG and PG-13 movies that are perfect for older kids! Grab our list of the best movies for teens on Disney Plus!
From super hero adventures to silly rom-coms, you're sure to find a few winners on this list of the best movies for teens on Disney Plus right now.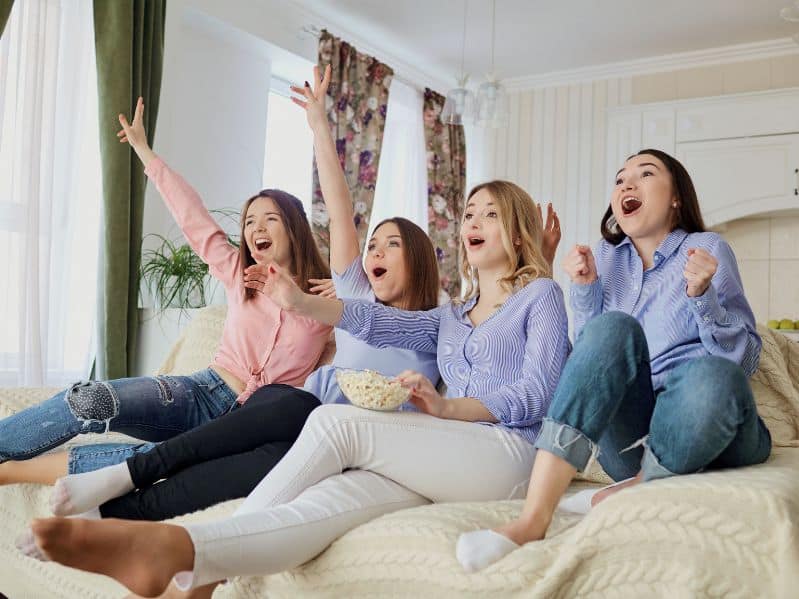 We hope this list of family movie night ideas help you find options for any age group. We also have a list of the best kid movies if you have younger children watching with you — one of favorite Disney films for all ages is the original Toy Story! It always is a fun one to watch, and it pairs well with pizza.
We also have a lot of easy and fun family movie night dinner ideas you may like as well!
Anyways — there are plenty of movies to pick from so you're sure not to have a dull night wondering what to watch!

The 30 Best Movies for Teens on Disney Plus
Check out these best teen movies on Disney plus the next time you're on the hunt for a good movie for your teen to watch at home. This list is in no particular order.
Adventures in Baby is a modern classic in our book. In the movie, Chris Parker agrees to baby sit after being stood up for a date. Little did she know she was in for a major adventure in the big city.
G
Eager to find the perfect college, an overachieving high school student hits the road on a cross country trip with her overprotective father.
PG
If you've ever wondered about what it would be like to be the kid of a Disney villain, this movie has to be your next movie night!
PG
If your kids love history or musicals, this is a great option! Set in the early 1900s, Jack leads a group of ragged teens "newies" against big publishers to not raise distribution prices at the boys' expense.
PG
Lizzie (Hilary Duff) heads to Italy after graduating middle school. While she's there, she's mistaken for a famous pop star that needs her help!
This is and the TV series is great for younger viewers and tweens, too!
PG
After she's forced to move from the hustle and bustle of New York City to New Jersey, Lola (Lindsay Lohan) is determined not to give up on her dream of becoming a star. She does whatever it takes to be the school's leading lady, no matter what (or who) gets in her way.
PG
Three inspiring women take center stage in this historical movie about the African American NASA scientists who were instrumental in the launch of astronaut John Glenn into orbit.
High School Music is one of the most iconic Disney Channel Original movies on the streaming service. It stars Zac Efron and Vanessa Anne Hudgens, along with Ashely Tisdale. The movie is about teamwork and following a passion to sing.
PG
When Chang, a 16 year old Asian American bets the high school basketball star that he can dunk a basketball by homecoming, he sets out on a quest to become a basketball legend.
As he learns to master the art of the dunk, Chang must first reexamine everything he knows about himself, his friendships, and his family.
PG
A young farm boy is forced into a wild galaxy adventure when he intercepts a distress call from a captive princess.
The call sends him on a daring adventure to help her group of space rebels free her from the clutches of Darth Vader and the evil Empire.
You can make the night extra special with these Star Wars Movie night menu ideas, too!
PG
This inspiring true story follows Vince Papale, a 30 year old bartender, who walked onto the Philadelphia Eagles during an open tryout.
PG
When he's tasked with coaching a team of underdogs, a track coach (Kevin Costner) taps into the students' work ethic and commitment to turn them into champions.
PG
In pursuit of a legendary treasure, Benjamin Franklin Gates (Nicholas Cage) is forced to steal one of the country's most guarded documents – the Declaration of Independence – before it falls into the wrong hands in this historic caper.
PG
This Halloween cult classic movie combines sci-fi and comedy into one when 3 kids accidentally unleash three 300 year old witches that want their town back.
We also have a guide to host your own Hocus Pocus Movie Night with themed recipes & trivia.
PG-13
Thor's evil brother, Loki, gains unlimited power, sparking Nick Fury to initiate a superhero recruitment effort to defeat the alien threat to Earth.
Joining the new team of avengers are Iron Man, Captain America, the Hulk, Thor, the Black Widow and Hawkeye.
PG-13
Bianca (Larisa Oleynik) is an outgoing, popular girl at her high school who has just fallen for the new boy in school. But since house rules say that she's not allowed to date until her abrasive sister Kat (Julia Stiles) has a boyfriend, she's stuck finding her big sis a match.
The wannabe couple works together to connect Kat with rebellious Patrick (Heath Ledger) in hopes of sparking a romance.
PG-13
When he's deemed unfit for military service, Steve Rogers volunteers for an experimental research project that transforms him from a scrawny teenager into the powerful hero known as Captain America.
PG-13
Master thief Scott Lang (Paul Rudd) gets his hands on a suit that gives him the ability to shrink to the size of ant. But when his mentor's creations are put in jeopardy, he must embrace his inner hero and pull off a heist to save the world.
PG-13
The start of the Infinity Saga pits the Avengers against the most powerful villain they've ever faced – Thanos.
In order to stop the world's destruction, the original super hero gang must come together with allies across the universe for an epic battle.
PG-13
After the events of Infinity Wars wipes out half the human race, the remaining Avengers must come together to restore order and bring back the loved ones they lost.
PG-13
After his father is killed, T'Challa returns home to Wakanda to take his place as king. But a powerful enemy immediately threatens T'Challa's role as leader as he's drawn into a conflict that puts the fate of Wakanda and the entire world at risk.
PG-13
In the wake of King T'Challa's death, the kingdom of Wakanda must come together to find a new leader. But their world is put in jeopardy when a powerful foe threatens to destroy Wakanda and take possession of the country's valuable resources.
PG-13
A naturally gifted drum player (Nick Cannon) travels from Harlem to Atlanta to join up with one of the most decorated college marching bands in the country.
But he's forced to look inside to find the drive and determination he needs to keep up with his bandmates if the group has any hope of defeating their long-time rival in the Southern battle of the bands.
PG-13
After a bank teller discovers that he's really a background character in a video game, he decides to take his story into the spotlight and become a hero. In a world with no limits, he quickly finds out that he must be a real hero and save his world before it's too late.
PG-13
When she learns of an ancient tree with healing abilities, a scientist enlists the help of a skipper to take a trip down an Amazonian river deep into the rainforest. On their journey, they face danger lurking around every turn.
PG-13
As she's focusing on getting into Harvard, a high school senior is surrounded by prom-posals. But a tutoring session with the school's basketball star forces her to re-evaluate her priorities and wonder if she's given up too much in order to succeed.
PG-13
A longtime rivalry is put into question when a boy and girl from opposite sides of the track fall in love, sparking a gang war that ends in death and despair in this Steven Spielberg remake of a classic musical.
PG-13
Without a ship or crew, Captain Jack Sparrow (Johnny Depp) assembles a team to save the governor's daughter from kidnappers in hopes of getting his hands on a treasure linked to a curse that has transformed pirates into the undead.
PG-13
Thirty years after the defeat of the Galactic Empire, Han Solo (Harrison Ford) and his young crew face a new threat from the evil Kylo Ren (Adam Driver) and the First Order in the new chapter of an action movie classic.
PG-13
Space adventurer Peter Quill (Chris Pratt) finds himself being stalked by bounty hunters after he steals an orb with exceptional power. To escape the hunters and save the universe from a powerful villain, Quill is forced into an alliance with four alien misfits.
We also have a list of animated movies like The Lion King, as well as, classic Disney movies like Mary Poppins, on our G-Rated Movies on Disney Plus that you may like too!
There you have it! There are the best movies for teens on Disney Plus, and they're adding new releases all the time!
We hope this list of the best movies for teens helps you find something you all enjoy! There are also plenty of high school comedies, romantic comedies, historical adventures, and funny comedies your teenagers will love on the streaming app.
If you loved these best teen movies on Disney plus, you may also like:
Save this list of the best movies for teens on Disney Plus to Pinterest to find it easily later!