If you're looking for a great movie the whole family will enjoy, grab this list of best movies for tweens. Perfect for girls and boys that are 11, 12, or 13!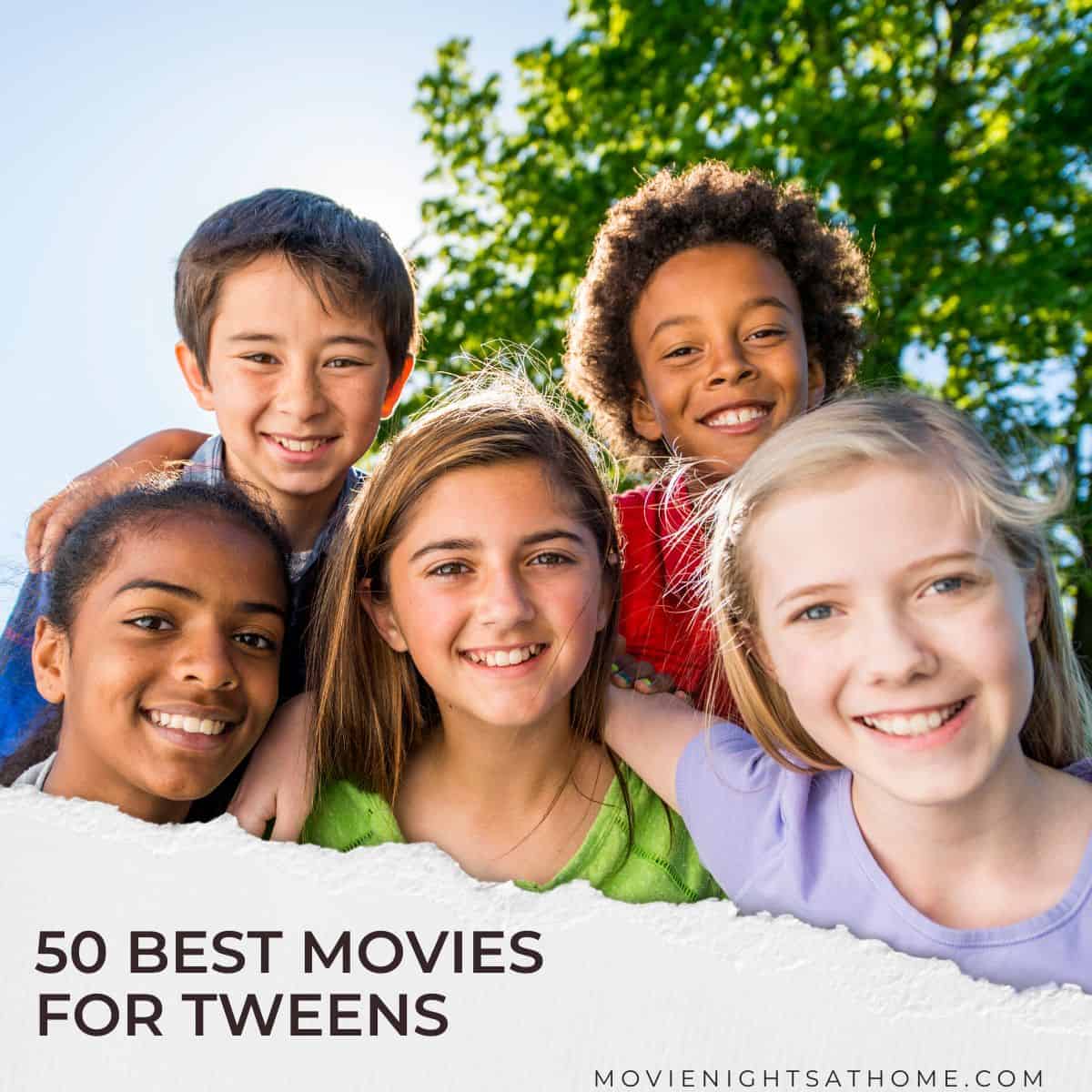 Becoming a tween isn't always easy. That's why there are so many great tween movies!
If you have a preteen at home, what better way to spend some time together than watching a good movie?
The next time you're ready for some quality time with your kid, check out some of these movies for tweens.
50 Best Movies for Tweens – Girls and Boys
Whether you have a tween girl or boy at home, there are plenty of great movies to choose from.
Check out this big list of preteen-friendly movies to give your kid a few ideas for their next movie marathon.
Rated PG-13
A young girl goes from geek to glamorous after a wish on her 13th birthday allows her to flash forward to her life as a 30-year-old.
Rated PG-13
A classic coming of age dramedy about an 11-year-old tomboy and her best friend.
Love this pick? You may also like our 31+ Best Sleepover Movies for Girls & Tweens
Rated PG
A night guard at the museum discovers that the exhibits come to life after the lights go out.
Rated PG
A shy boy moves to a new neighborhood and makes friends with a ragtag group of baseball players.
Rated PG
A mom and dad who usually tell their kids "no" decide to say "yes" for the day – giving in to all their kids' crazy requests.
Rated PG
Two identical twins (played by Lindsay Lohan) who were separated at birth meet at camp and come up with a plan to switch places and reunite their parents.
Rated G
A socially awkward girl discovers that she's a princess of a small European country after the recent death of her absent father. It's a really fun rom-com!
Rated PG
Monsters are unleashed from their books, and it's up to author R.L. Stine and two teens to return them to their books before they wreak havoc on the town.
This green ice cream goes so well with Goosebumps or Ghostbusters!
Rated PG-13
Four teens get stuck inside a Jumanji video game and must finish the adventure to get back to their world.
The original Jumanji with Robin Williams is also a classic family-friendly movie too!
Don't forget the Dirt Dessert Floats with Gummy Worms!
Rated PG
A treasure hunter must steal the Declaration of Independence in search of a clue to find a hidden treasure before it falls into the wrong hands.
Rated PG
An animated princess is sent into the real world by an evil queen where she meets a handsome lawyer and falls in love.
Rated PG-13
After being kicked out of his band, a guitarist takes a job as a substitute teacher and turns his class into his own rock band.
Rated PG-13
A 14-year-old boy discovers that he can magically transform into a superhero and must battle against forces of evil.
This is such a fun origin story that you and your kids may not have seen before!
Rated PG-13
A pair of brothers find a treasure map and descend into a subterranean sea with their friends to uncover the treasure.
We also love to make homemade Baby Ruths for a Goonies movie night!
Rated PG
The true story of three women working at NASA who were instrumental in the launch of astronaut John Glenn into orbit.
Rated PG
Three mystical guides lead a young girl on an epic journey through time and space to find her father.
Rated PG
A boy with a facial anomaly begins fifth grade at a new school where he tries to make his new classmates see that they all have something in common.
Rated PG
A modernized take on the classic fairy tale, Cinderella gets help from her Fab Godmother to make her dreams come true.
Rated PG
Follow skinny middle child Greg Heffley as he deals with bullies and friends in this coming-of-age story.
Rated PG
This is one of our top picks for best movies for tweens!!
When a young boy is sent to camp for the summer, he's thrown into the adventure of his life.
Rated PG
The game of baseball keeps going, even during war times, when the All-American Girls Baseball League is formed.
Rated PG
A martial arts expert teaches a high schooler to defend himself against bullies.
We love this movie so much we actually made a whole Karate Kid menu that is easy for the entire family to love!
Rated PG-13
A lost alien befriends a 10-year-old boy.
We love to have Reese's Pieces fudge when we watch this one!
Rated PG
A young boy discovers he has magical powers on his 11th birthday.
Grab our Harry Potter snack ideas to make it an epic movie night!
Rated PG
When a teen is blasted back to 1955, he must repair his parents' relationship before he disappears from time.
Rated PG-13
A scheming teen enlists his girlfriend and best friend into a plan to cut school that results in an epic skip day.
Rated PG-13
A single mom and her two kids arrive in a new town and discover their connection to a ghost-busting legacy left behind by their grandfather.
Rated PG-13
A boy accidentally unleashes a horde of monsters on his small town.
Rated PG
Miles Morales becomes a superhero and uncovers a multitude of universes – each with their own Spider-Man.
Rated G
When Ella was born, she was granted the gift of obedience. After years of being taken advantage of, she decides to leave her home and find her fairy godmother to give back her gift.
Rated PG
After spending her childhood in the jungle, Dora must face her most challenging adventure of all – high school.
Rated PG
A preteen's life is forever changed after becoming friends with the new girl at school.
Rated PG
A schoolboy learns that his destiny is to lead a quest to stop an evil witch in this modern retelling of the Legend of King Arthur.
Rated PG
Four sisters are determined to live life on their terms, in spite of societal rules that try to hold them back.
Rated PG
A couple with 12 children tries to balance demanding careers with a busy home life.
Rated PG-13
A group of rag-tag space heroes come together to save the universe from an evil force.
Rated PG
Four siblings play a game of hide and seek and end up in a magical land.
Rated PG-13
A pirate without a ship or a crew attempts to save a kidnapped woman and take possession of a magical coin.
Rated PG-13
Two outcasts come together to win the class presidency in their small-town high school.
Rated PG-13
When a young woman goes off to college, she goes on a path of self discovery with her cappella team.
Rated PG
Ralph and Vanellope go on an amazing adventure through the internet, but the adventure has its ups and downs!
We also like to serve up homemade nerds ropes with this movie!
Rated G
A leader begins to appreciate and learn new things after being turned into a llama.
Rated PG
An unlikely leader is chosen and trained by martial arts masters to become the Kung Fu Panda in this cute comedy.
Rated PG
This 80's classic film is a must-see for tweens! The mother sets out to prove she can accomplish what she sets out to do — and in this case, it's being den mother to a Girl Scouts troop.
Rated PG
A real-world rags to riches story of how a young girl finds her young prince — despite her mean stepmother and stepsisters.
Rated PG
Go on an epic adventure in this romantic comedy and classic medieval story of true love.
Rated G
When Nemo gets separated from his family, he meets unexpected friends and goes on an adventure to get back home in this animated film.
Is it weird that we like sugar cookie sushi cookies with this?
Rated PG-13
The breakfast club gathers 5 very different high school students into one area for a common purpose – to survive detention.
Rated PG
Older kids will love the live action version of how a young cub goes on a journey to eventually be king.
We also make no-bake Lion King treats anytime we watch this!
Rated PG-13
Take an insider's look of the secret life of 101 Dalmatians' villain, Cruella. Maybe she's mad, but maybe she's just brilliant!
Grab our full Cruella movie night guide!
Rated PG
The Disney original movie combines all of the fun of high school and auditioning for a school musical.
Rated PG
This is a classic film that is loved by so many generations! We love the idea of the whole family going on a grand adventure with Dorothy, ToTo, and her friends!
Rated PG
This creepy Tim Burton animated movie is about a little girl who enters a parallel universe through a door in her home. It could be a little too scary for younger viewers though.
With that said, we love this unique movie so much we did a full Coraline Movie Night Menu!
Many of these movie night ideas are available on Amazon Prime, Disney Plus, or Netflix's streaming service!
Honorable Mentions
The Little Mermaid, Toy Story, Mary Poppins and Star Wars are also four of the best movies for 12 year olds!
We also have a list of movies great for middle schoolers you might like, but some movies are repeated.
Looking for more family movies?
If you loved this list of best movies for tweens, also check out:
Save this list of best movies for 12 year olds: