Tim Burton's Coraline is the perfect Halloween movie night movie for the family! We've found the Coraline's breakfast and dinner recipes, as well as, her mango milkshake to make this the perfect evening in!
If you've not seen Coraline before, it's rated PG and may be a little too creepy for younger children. The 2009 Tim Burton movie is based off of Neil Gaiman's popular book of the same name.

What is the summary of Coraline?
A little girl named Coraline dreams of a more fun home, and she discovered a secret door that offers access to a parallel world of her own. She is so excited until she realizes her new, "Other Mother" and family want to keep her in this new world forever. Coraline has to be brave and resourceful to get back to her old life and family.
What is the moral lesson of Coraline?
While the movie is a bit scary for young children, Coraline has strong moral themes including gratitude, courage, and strength. She also shows that sometimes you have to be resourceful and depend only on yourself to get what you want.
Where can I watch Coraline 2021?
Coraline is available to buy or rent on YouTube Movies and Amazon.
Is Coraline on Netflix 2021?
No, Coraline is not available on Netflix in the United States at this time.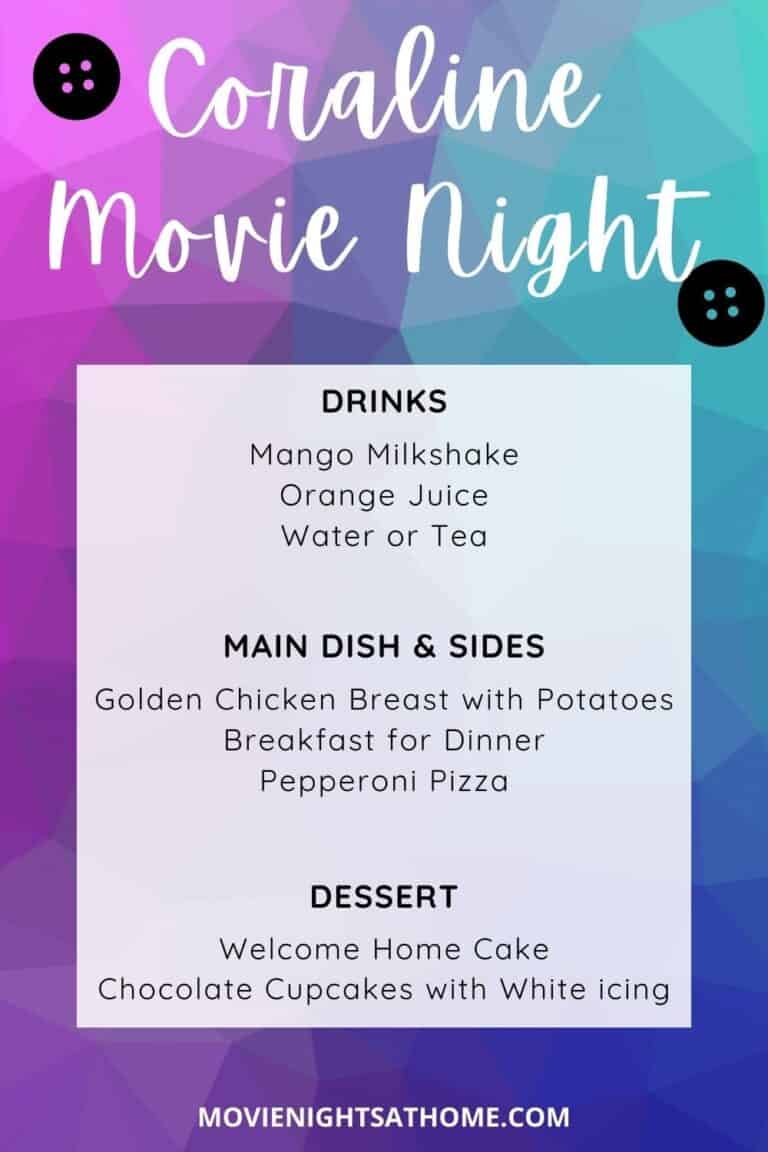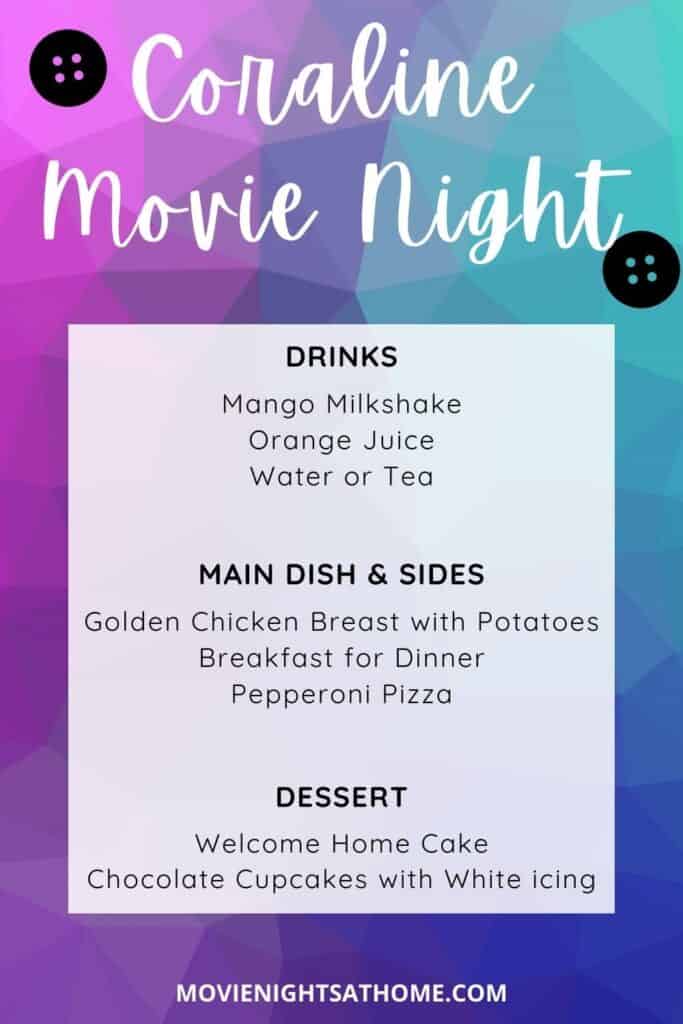 Planning Your Coraline Movie Night Menu
We always love planning foods based around what the characters actually eat in a movie, and this theme is no different!
You can plan a Coraline Movie Night Menu almost completely around foods found in the actual movie!
When Coraline enters into the other world, her "Other Father" and "Other Mother" want to make her a delicious meal including Mother's golden chicken breast, gravy, sweet peas, rolls, corn on the cob, a mango milkshake, and of course, a welcome home cake!
You could also do a breakfast for dinner theme with orange juice, waffles, muffins, cherries or strawberries, bacon and sausage!
Knowing this, we based our menu around these ideas!
Coraline Drinks
Coraline Main Dish Ideas
Coraline Cake & Desserts
Are you hosting your own Coraline movie night?
Show us your menu and decor on Instagram @movienightsathome.
You may also like: