With the help of this Disney movie trivia questions and answers printable, you'll have everything you need to keep your guests entertained at your next movie or family game night.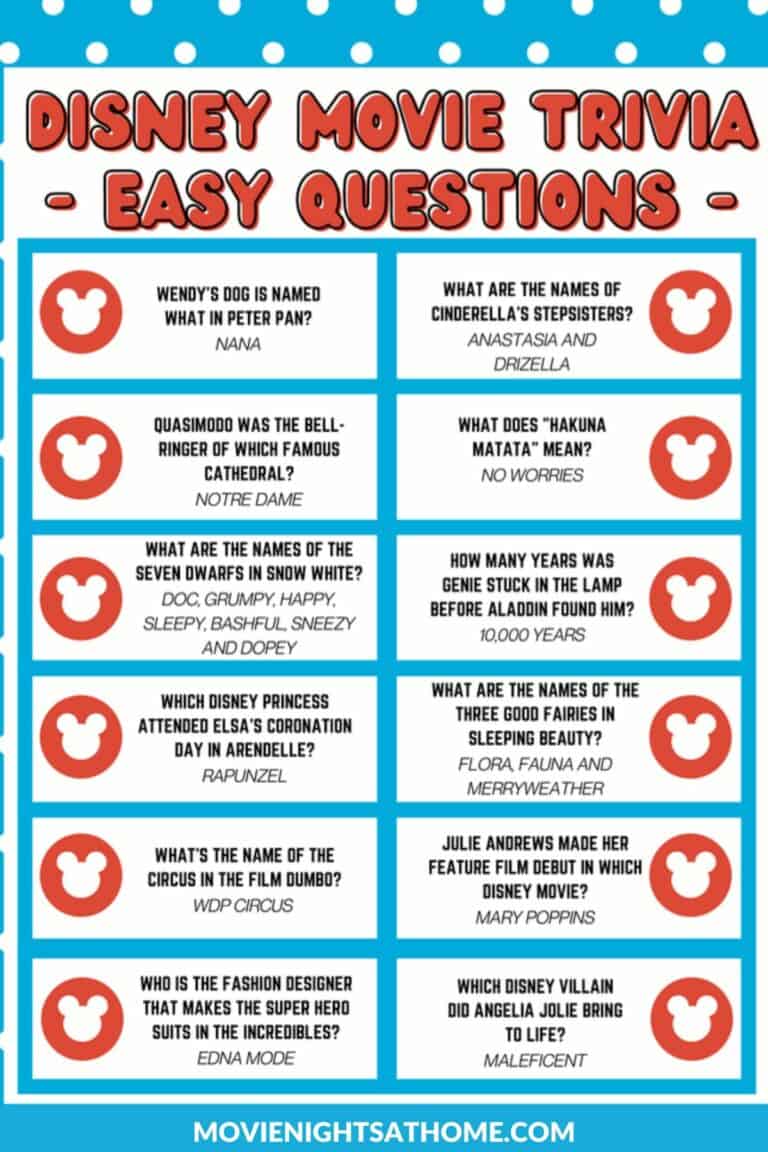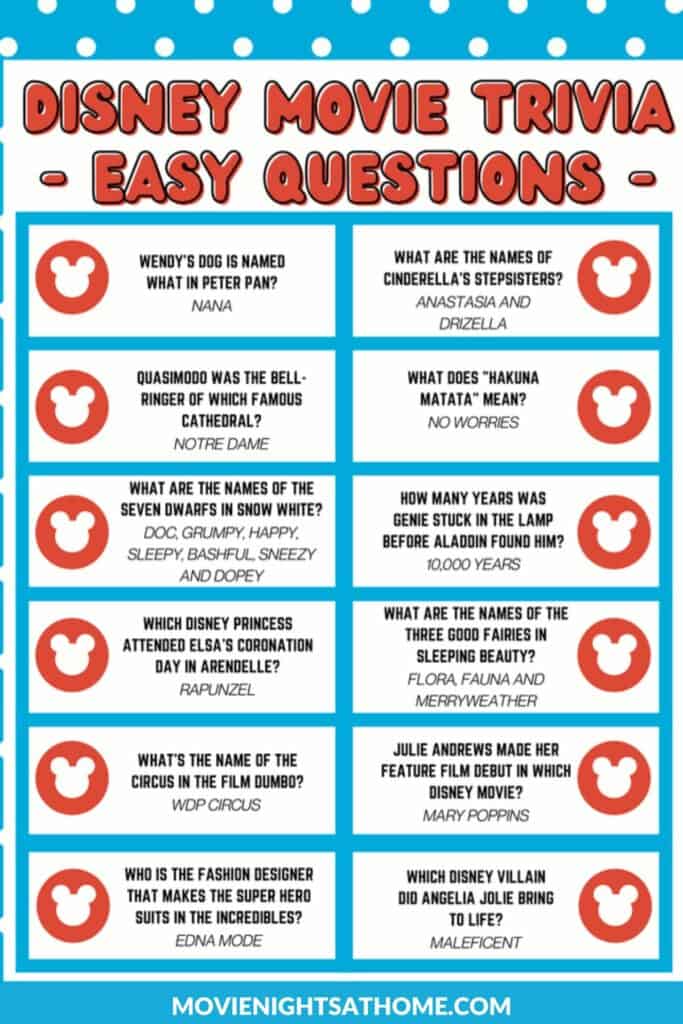 After all, who doesn't love Disney movies? That makes these family-friendly movies perfect for movie nights! And what better way to have some fun at your next Disney movie night that with a game of trivia?
Disney Movie Trivia Questions Printable
The next time you're looking for a way to entertain your guests at a Disney movie night, grab this printable game! It's a quick and easy option for any get-together because all you have to do is download, print, and play.
1. Download the printable trivia questions.
Grab the free download and open the document in your favorite PDF viewer.
2. Print out the cards.
Add some white cardstock to your printer and print out each page of the download.
3. Cut out the cards.
Cut the cards out around the border. Since the cards are divided into easy and hard categories based on color, you can easily tell the difficulty of the question by looking at the border around the question.
4. Play the game.
Stack the cards in a pile and let your friends take turns asking each other questions. You can use all easy questions, all hard questions, or mix up the questions to make things really interesting!
5. Make it Interesting
This step is optional, but if you want to take this Disney trivia game to the next level — ask guests to dress up like their favorite Disney characters!
We also love to have a prize for the winner or winning team. (A Disney mug is always a great prize idea!) Now let's get started and see who the biggest Disney fan is!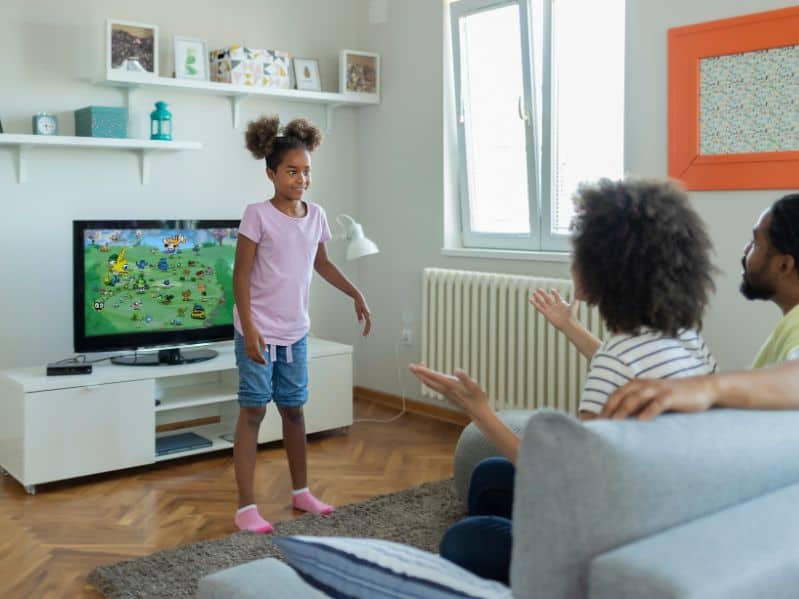 Easy Disney Movie Trivia Questions and Answers
Whether you're playing with kids or just want to keep things simple at your next party, easy trivia questions are a great option. Use these simple questions and answers to test your friends' Disney knowledge of popular movies.
Wendy's dog is named what in Peter Pan?
Nana
What are the names of Cinderella's stepsisters?
Anastasia and Drizella
Quasimodo was the bell-ringer of which famous cathedral?
Notre Dame
What does "Hakuna Matata" mean?
"No worries"
What are the names of the seven dwarfs in Snow White?
Doc, Grumpy, Happy, Sleepy, Bashful, Sneezy and Dopey
How many years was Genie stuck in the lamp before Aladdin found him?
10,000 years
Which Disney Princess attended Elsa's coronation day in Arendelle?
Rapunzel
What are the names of the Three Good Fairies in Sleeping Beauty?
Flora, Fauna and Merryweather
What's the name of the circus in the film Dumbo?
WDP Circus
Julie Andrews made her feature film debut in which Disney movie?
Mary Poppins
Who is the fashion designer that makes the super hero suits in The Incredibles?
Edna Mode
Which Disney villain did Angelia Jolie bring to life?
Maleficent
What is the name of Belle's father in Beauty and the Beast?
Maurice
Who serves as Pinocchio's conscience?
Jiminy Cricket
Who is Goofy's son?
Maximilian Goof (Max for short)
What was the first Pixar movie?
Toy Story
There is nothing more toxic or deadly than this in the world of Monster's, Inc.
A human child
What is the name of Sleeping Beauty's Prince?
Prince Phillip
What animal does Emperor Kuzco turn into in The Emperor's New Groove?
Llama
What is the name of Bambi's friend the skunk?
Flower
What is Flynn Rider's real name in Tangled?
Eugene Fitzherbert
What is the name of Tweedle Dum's brother?
Tweedle Dee
How does Peter Pan fly?
With faith, trust, and a little bit of pixie dust.
Who is Miguel's idol in Coco?
Ernesto de la Cruz
What's the name of the daycare that Andy's toys end up at in Toy Story 3?
Sunnyside
Joy, Fear, Anger, Disgust and Sadness guide whose emotions in Inside Out?
Riley
What scouting organization does Russell belong to in Up?
The Wilderness Explorers
The Princess and the Frog is set in which city?
New Orleans
In Beauty and the Beast, what country is the enchanted castle in?
France
What type of animals raised Mowgli in The Jungle Book?
Wolves
In The Great Mouse Detective, whose house did Basil live under?
Sherlock Holmes
The Queen of Hearts wants all of her roses to be what color in Alice in Wonderland?
Red
Princess Jasmine's tiger is named what?
Rajah
What kind of insect is Flik in A Bug's Life?
Ant
Who wants to build a snowman in Frozen?
Ana
What fruit did Cinderella's fairy godmother transform into a carriage to take her to the ball?
A pumpkin
What type of poisonous fruit did Snow White eat?
An apple
What colorful animal was Moana's sidekick?
A chicken
What Pixar character says, "There's a snake in my boot?"
Woody
Which family member do we not talk about in Encanto?
Bruno
Who was the first Disney princess?
Snow White
What is the real name of Sleeping Beauty?
Aurora
How many thingamabobs does Ariel have?
She's got 20!
What does the Evil Queen in Snow White say to herself in the mirror?
"Magic mirror, on the wall—who is the fairest one of all?"
What animal does Merida turn her mother into?
A bear
What did Peter accidentally leave behind in Wendy's bedroom in Peter Pan?
His shadow
Whose heart does Maui steal to give humanity the power of creation in Moana?
Te Fiti's heart
Which three animated characters were used in Disney's recreation of The Three Musketeers?
Mickey Mouse, Donald Duck, & Goofy
Where does Finding Nemo take place?
The Great Barrier Reef
What number is written on the front of Disney's famous car, Herbie?
53
Where does High School Musical take place?
Albuquerque, New Mexico
Why do monsters scare the children in the movie Monsters, Inc.?
To generate electricity for the city of Monstropolis
What do the three fairies call Princess Aurora to conceal her identity?
Briar Rose
In which movie does Prince Charming appear?
Cinderella
What is Maleficent's one weakness?
Iron
What are the names of the Sanderson sisters in Hocus Pocus?
Winifred, Sarah, and Mary
What does Ariel call a fork?
A dinglehopper
What is the name of Tiana's restaurant in The Princess and the Frog?
Tiana's Palace
What does King Fergus give Merida for her birthday in the film Brave?
A bow & arrow
What does the rabbit repeat throughout the movie Alice in Wonderland?
"I'm late for a very important date!"
What do the other animals call Mowgli in The Jungle Book?
Man-Cub
What classic fairytale is Disney's Tangled based on?
Rapunzel
What game is Ralph from on Wreck It Ralph?
Fix It Felix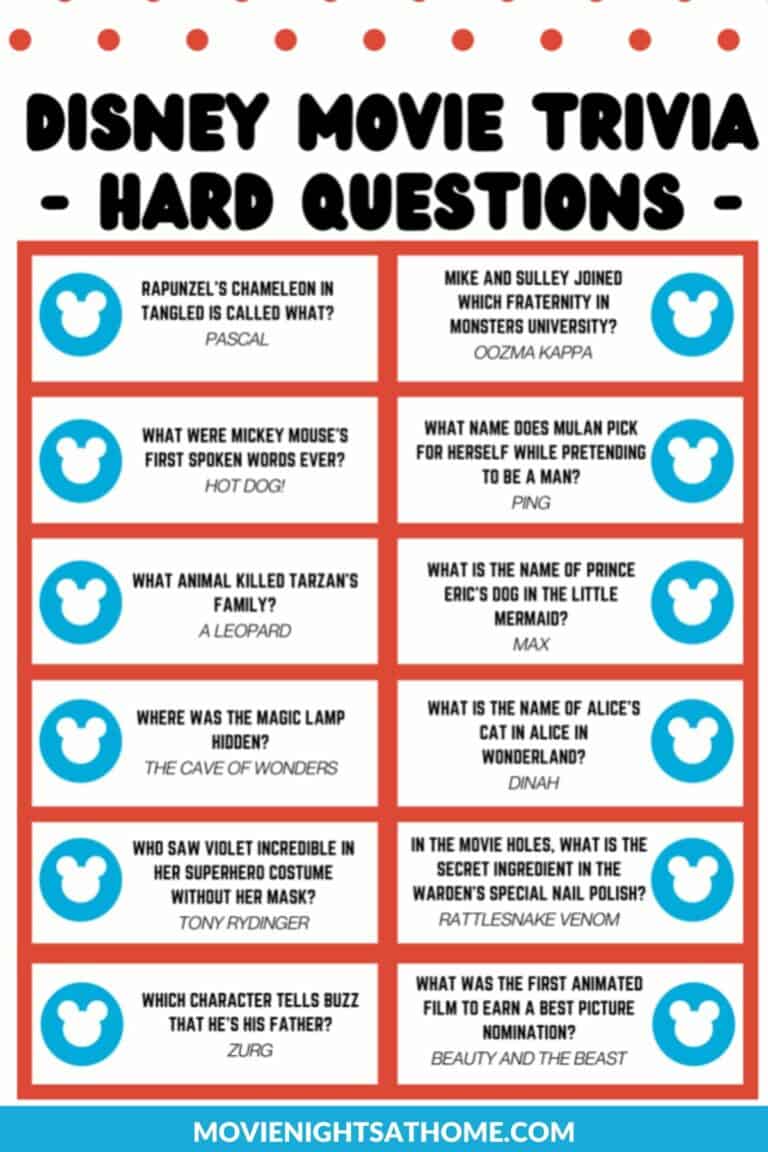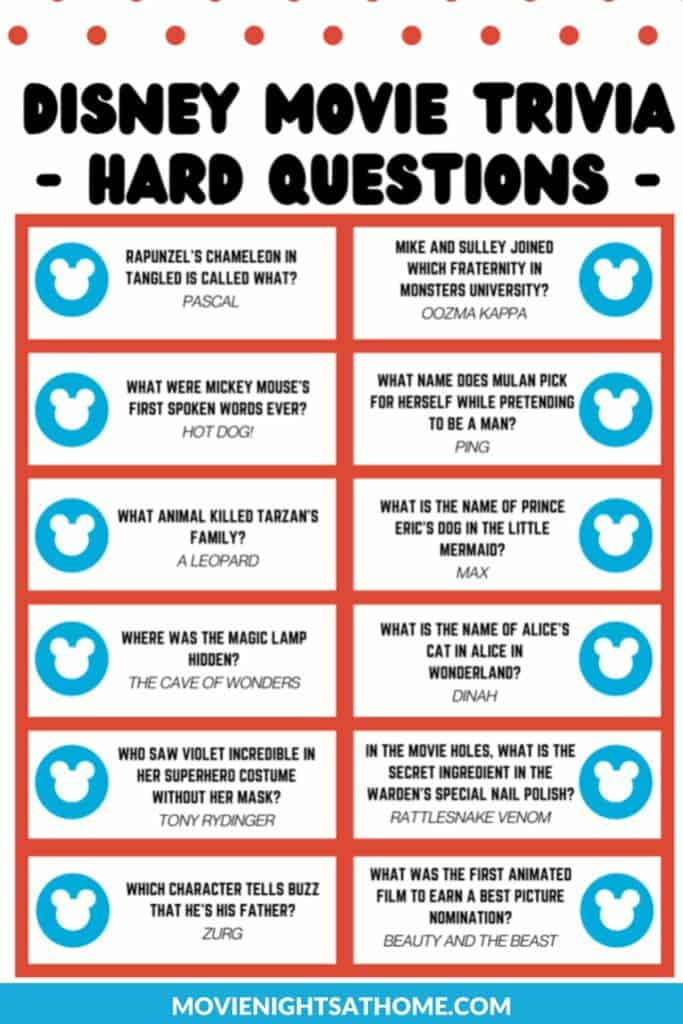 Hard Disney Movie Trivia Questions
Looking for more of a challenge? Use these hard Disney trivia questions to really test your knowledge of your favorite family friendly films.
Who was the first cartoon character to get a star on the Hollywood Walk of Fame?
Mickey Mouse
What is the name of the Italian restaurant where Lady and the Tramp share a piece of spaghetti?
Tony's Restaurant
How many brothers does Prince Hans of the Southern Isles have in Frozen?
12
What is the name of Andy's neighbor in Toy Story?
Sid
What does Elizabeth Swann tell the pirates her last name is in Pirates of the Caribbean?
Turner
What is the name of the toy store in Toy Story 2?
Al's Toy Barn
What are the names of Hades minions in Hercules?
Pain and Panic
Which classic movie musical is Wall-E a fan of?
Hello, Dolly!
Where does Mike Wazowski take his girlfriend for her birthday dinner in Monsters, Inc.?
Harryhausen's
Who is Mufasa's trusted advisor in The Lion King?
Zazu
Who is Remy's culinary hero in Ratatouille?
Chef Auguste Gusteau
What is Princess Mia's full name in The Princess Diaries?
Amelia Mignonette Thermopolis Renaldi
Rapunzel's chameleon in Tangled is called what?
Pascal
Mike and Sulley joined which fraternity in Monsters University?
Oozma Kappa
What were Mickey Mouse's first spoken words ever?
Hot dog!
What name does Mulan pick for herself while pretending to be a man?
Ping
What animal killed Tarzan's family?
A leopard
What is the name of Prince Eric's dog in The Little Mermaid?
Max
Where was the magic lamp hidden?
The Cave of Wonders
What is the name of Alice's cat in Alice in Wonderland?
Dinah
Who saw Violet Incredible in her superhero costume without her mask?
Tony Rydinger
In the movie Holes, what is the secret ingredient in the warden's special nail polish?
Rattlesnake venom
Which character tells Buzz that he's his father in Toy Story 2?
Zurg
What was the first animated film to earn a Best Picture nomination?
Beauty and the Beast
What name did Ursula use when she took human form?
Vanessa
What were Aladdin's three wishes?
To become a prince, to be saved from drowning, and to free Genie.
What was the name of Jessie's original owner in Toy Story 2?
Emily
Who was Experiment 626?
Stitch
In Luca, what does Alberto say to inner critics?
Silenzio Bruno!
What did the two medallions represent that Mulan use to retrieve the arrow from the top of a post?
Discipline and strength
What are the three things that the Genie cannot do?
He cannot make anyone fall in love, he cannot kill anyone, and he cannot bring anyone back from the dead.
What is the name of Pixar's lamp mascot?
Luxo Jr.
What are the names of Cruella's henchmen in 101 Dalmatians?
Jasper and Horace
What are the names of the three gargoyles that Quasimodo befriends in the Hunchback of Notre Dame?
Victor, Hugo, and Laverne
What is the Beast's human name?
Prince Adam
How many kids does Gaston want to have with Belle?
Six or seven
What is the name of the bobsled in Cool Runnings?
Tallulah
The sorcerer's name in Fantasia spells what backward?
Disney
What number does the elf type into the keypad at the north pole in the movie The Santa Clause?
1239
Who made the iconic glass slipper for the live-action version of Cinderella?
Swarovski
What is the only Disney animated feature film where the title character doesn't speak?
Dumbo
What classic Disney movie is the song "When You Wish Upon a Star" from?
Pinocchio
What is the name of the city in Big Hero 6?
San Fransokyo
How many ghosts can you find in the haunted mansion?
999
Who was the last Disney princess to be created while Walt Disney was alive?
Aurora
What is the highest-charting Disney animated hit song?
We Don't Talk About Bruno
What was the name of the chihuahua from Beverly Hills that gets lost in Beverly Hills Chihuahua?
Chloe
What is Baymax's purpose/profession in Big Hero 6?
Personal Healthcare Companion
What is the name of the boy who transforms into a bear in the film Brother Bear?
Kenai
Who was Radiator Springs founded by in the movie Cars?
A steam car named Stanley
What is the name of Lady Tremaine's cat in Cinderella?
Lucifer
Which Disney character made their debut in Steamboat Willie?
Mickey Mouse
What object causes Tess and Anna to switch bodies in the movie Freaky Friday?
A magical fortune cookie
Who adopted Kristoff in the movie Frozen?
A family of rock trolls
What was the name of the store with a "Big Summer Blowout" in Disney's Frozen?
Wandering Oaken's Trading Post and Sauna
What is Troy's basketball number in High School Musical?
14
What did Dash place on his teacher's chair as a joke in The Incredibles?
A thumbtack
How many eyes does Mr. Waternoose have in Monsters, Inc.?
Five
What is the slogan used in the commercial starring Sully for Monsters Incorporated?
"We scare because we care."
What kind of wood is Pinocchio made of?
Oak
What does the wicked queen ask the huntsmen to bring back as proof that Snow White is dead in Snow White and the Seven Dwarfs?
Snow White's Heart
What is the name of the horse in the movie Tangled?
Maximus
What are the names of the four girls who make up The Cheetah Girls?
Dorinda, Chanel, Aqua, & Galleria
Which shoe did Cinderella lose as she was running out of the ball – the left or right?
Left shoe
What was the name of the prince who awoke Snow White from her slumber in Show White & the Seven Dwarves?
Prince Florian
What is Boo's human name in Monsters, Inc.?
Mary
We hope this Disney movie trivia questions and answers printable helped to create an epic trivia night!
You may also like: