Are you just a wizard living in a muggle world? These Harry Potter movie trivia questions will separate the fans from the true Potterheads! Get ready for all things wizarding world as we Accio trivia questions below!
Whether you're hosting a Hogwarts movie night with your best friends or getting ready for a Harry Potter trivia night, you'll love testing your knowledge with these fun trivia questions! We also love these Harry Potter snacks to go along with the challenge!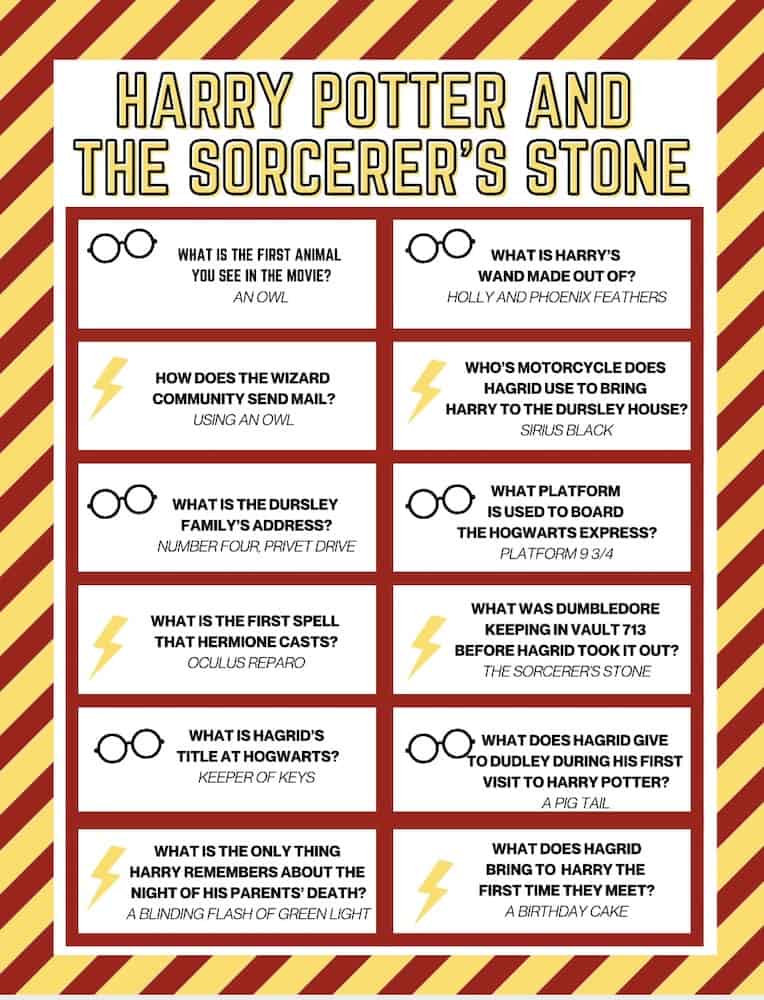 We chose to create a variety of questions and answers from each of the Harry Potter movies to put you to the test! After you're finished proving your wizard mastery, print out the Harry Potter trivia cards to put your friends to the test.
We also suggest breaking up into Hogwarts houses or giving yourself a Harry Potter trivia team name before getting started too! The losers have to buy everyone a round of Butterbeers at Starbucks!
Harry Potter and the Sorcerer's Stone Trivia
What is the first animal you see in the movie?




An owl.

How does the wizard community send mail?




Using an owl

What is the Dursley family's address?




Number four, Privet Drive

Whose motorcycle does Hagrid use to bring Harry to the Dursley house?




Sirius Black

What is the first spell that Hermione Granger casts?




Oculus Reparo

What is the only thing that Harry remembers about the night of his parents' death?




A blinding flash of green light

What does Hagrid bring to Harry the first time they meet?




a birthday cake

What is Hagrid's title at Hogwarts?




Keeper of Keys

What platform is used to board the Hogwarts Express?




Platform 9 3/4

What is Harry's wand made out of?




Holly and Phoenix feathers

What was Dumbledore keeping in Vault 713 before Hagrid took it out?




The sorcerer's stone

What does Hagrid give to Dudley during his first visit to Harry Potter?




A pig tail
Harry Potter and the Chamber of Secrets Movie Trivia Questions
What do the Weasleys and Harry Potter have for dessert on their last night at the Burrow before starting their second year at Hogwarts?




Treacle Pudding

How did Harry travel to London to get his school supplies for his second year at Hogwarts?




The Floo Network

Why did Harry not receive the letters his friends sent him over the summer in Harry Potter and the Chamber of Secrets?




Dobby stole the letters

What is the name of the ghost that haunts Harry and his friends at Hogwarts?




Peeves

Who replaces Severus Snape as the Defense Against the Dark Arts teacher in The Chamber of Secrets?




Gilderoy Lockhart

Who was the first person to be petrified in The Chamber of Secrets?




Mrs. Norris

Why is Hagrid forbidden from using magic?




He was expelled from Hogwarts

Who is the heir of Slytherin?




Tom Riddle

What does the Polyjuice potion do to Hermione?




Turns her into a cat

Who gives Harry the Sorting Hat when he is running from the Basilisk?




Phoenix

What is the password to the Slytherin Common Room?




Pure Blood

Who's death day party do the characters celebrate in The Chamber of Secrets?




Nearly Headless Nick
Trivia Questions for Harry Potter and the Prisoner of Azkaban
What does Harry do to Aunt Marge when she insults his parents?




Casts an inflating charm on her

Where do the Weasley's go on summer vacation?




Egypt

What does Harry tell Stan Shunpike his name is on the Knight Bus?




Neville Longbottom

Who does Harry ask to sign his field trip permission slip?




Professor McGonagall

What does Hermione get Harry for his birthday?




A broomstick servicing kit

How does Harry's Nimbus 2000 get broken during the quidditch match against Hufflepuff?




The whomping willow got ahold of it

What style of broomstick does Harry ride after his Nimbus 2000 gets destroyed?




A Shooting Star

What memory did Harry use when he first tried to do the Patronus charm?




The first time he rode a broomstick

Which house won the Quidditch House Cup?




Griffindor

How long was Sirius Black in Azkaban?




12 years

How far can Hermione go back with one turn of her Time Turner?




One hour

Where do you go to get magical instruments fixed at Hogsmeade?




Dervish and Banges
Harry Potter and the Goblet of Fire Movie Trivia
Who does Harry ask to the Yule Ball first?




Cho Chang

What is the first challenge in the Triwizard Tournament?




Retrieve a golden egg

Who gets killed in Harry's nightmare?




Frank Bryce

What kind of dragon did Harry face in his first challenge?




Hungarian Horntail

What do Harry and the Weasleys use to get to the World Cup?




An old boot

What was Harry's prize for winning the Triwizard tournament?




1,000 galleons

What are contestants supposed to do if they're in trouble in the maze?




Use their wands to send up red sparks

What does Harry give Dobby for Christmas?




Socks

What is the password to the prefect's bathroom?




Pine fresh

What potion does Barty Crouch Jr. drink to disguise himself as Professor Moody?




Polyjuice potion

How old do you have to be to participate in the Tri-wizard Tournament?




17
Harry Potter and the Order of the Phoenix Film Trivia
What spell did Harry use illegally in the Order of the Phoenix?




A patronus charm

How many times did Harry have to write "I must not tell lies" while in detention?




For as long as it takes for the message to sink in

What subject did Snape tutor Harry in?




Occlumency

Who can see thestrals?




Those who've seen death

Who dies in the battle at the Department of Mysteries?




Sirius Black

What does the prophecy about Harry and Voldemort say?




Neither will live while the other survives

What is Dumbledore's roll in the Order of the Phoenix?




Secret Keeper

What position does Ron play on the Quidditch team?




Keeper

What career does Harry want to pursue?




An auror

What is Harry and Ron's Wednesday schedule?




Divination, Transfiguration, Care for Magical Creatures

Who teaches Hagrid's class while he's off with the giants?




Professor Grubby Plank

What attacks Harry in the alley in Little Whinging?




Dementors
Harry Potter and the Half-Blood Prince Trivia Questions
What are Wilkie Twycross's Three Ds of Apparition?




Divination, determination, and destination

Who casts the Dark Mark above the Astronomy Tower?




Gibbon

Who was with Katie Bell when she touched the cursed necklace?




Leanne

Who is the Half Blood Prince?




Professor Snape

Who eats chocolate cauldrons laced with love potion?




Ron

What book does Harry find that belonged to the Half Blood Prince?




A Potions textbook

Who is ordered to kill Dumbledore?




Draco Malfoy

What does Harry use to view Professor Slughorn's memories?




Pensieve

How old do students have to be to be able to take an Apparition test?




17

Who turned Remus Lupin into a werewolf?




Fenir Greyback

How many free periods did Harry and Ron have in their schedule?




3

Which Horcrux did Dumbledore destroy?




Marlovo's ring
Trivia Questions for Harry Potter and the Deathly Hallows Movie
What did Griphook want from Harry in return for helping him break into Gringotts?




Sword of Gryffindor

What spell does Hermione use on her parents?




Obliviate

Who kills Snape?




Voldemort's pet, Nagini

What Horcrux was Harry Potter?




The seventh Horcrux

What is Professor Snape's Patronus?




A doe

Who was murdered by Voldemort at the Malfoy Manor?




Charity Burbage

What did Dumbledore leave Hermione in his will?




The Tales of Beedle the Bard

What does Hermione place on the graves of Harry's parents?




A wreath of white roses

Who did Ron kiss in the Ministry of Magic?




Mary Cattermole

Where is the lost Diadem of Ravenclaw?




In the Room of Requirement

How do Harry, Ron, and Hermione get into the Ministry of Magic?




By flushing themselves down the toilet

Who tells Voldemort when Harry is being moved from the Dursleys?




Severus Snape
Bonus Round Questions
These questions are not on the printable, but we wanted to offer a few tie breakers in case 2+ teams get a perfect score!
What profession hunts down dark wizards?




Aurors

When is Harry Potter's birthday?




July 31, 1980

What was the first book's title before coming to the United States?




Harry Potter and the Philosopher's Stone

What movie did the triwizard tournament happen in?




Movie 4, Harry Potter & The Goblet of Fire

What is Harry's job as Seeker?




To catch the

golden snitch

.

What is Harry's Patronus?


A Stag

Who does Hermione pretend to be to enter Gringotts in Movie 7?


Bellatrix Lestrange

Hogwarts students can buy everything they need down what alley?




Diagon Alley

Who did the Goblet of Fire choose to be Hogwarts Triwizard competitor?


Cedric Diggory

What are the full names of Harry Potter's parents?




Lilly and James Potter.
We hope these hard Harry Potter trivia questions offered a fun night of entertainment! If you've never read the Harry Potter book series by J.K. Rowling, they're essential for true Harry Potter fans!
We're both die-hard Harry Potter fans, and we can't say enough about how cool the theme park at Universal is! It's such a blast, and you really feel like you're in the world of Harry Potter!
You may also like: