Watching movies together as a family is a fun way to spend time together – especially when you're stuck inside. But finding a movie that everyone in the family will love can be difficult. Luckily, there is a variety of great movies available for families if you know where to look. These 10 classic family movies are so entertaining, everyone watching is sure to enjoy them.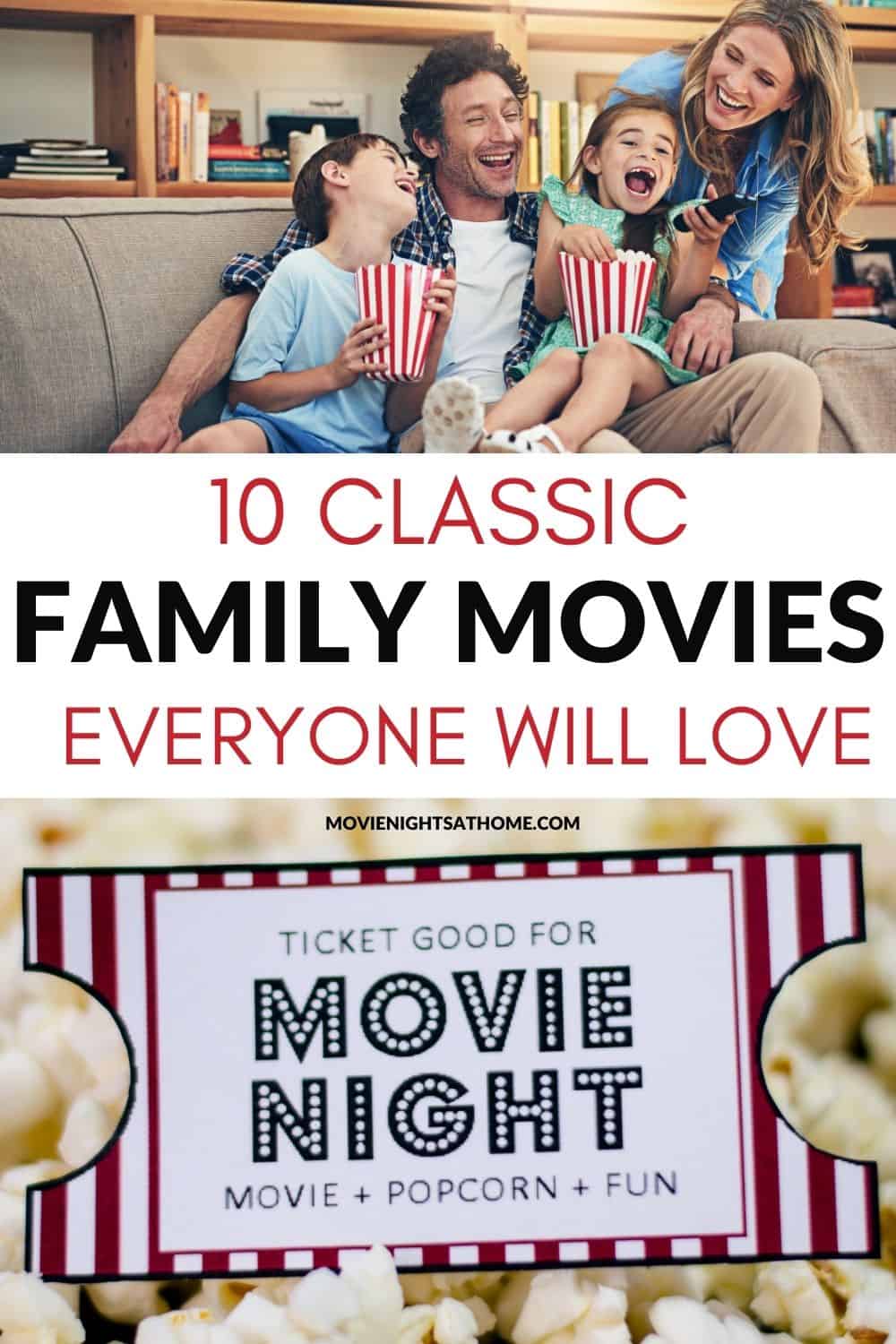 Rated PG
Starring Sean Astin, Josh Brolin, Jeff Cohen
Finding an action-packed movie that's appropriate for family movie night can be hard. But when you're searching for a kid-friendly adventure movie, you can't go wrong with The Goonies. This classic 80s movie includes everything you'd want in a family film – an entertaining storyline featuring a long-lost treasure, funny jokes for both the adults and the kids, and interesting characters your kids can relate to.
Rated PG
Starring Julie Andrews, Dick Van Dyke, David Tomlinson
This classic movie about a singing nanny that visits a set of young children is a great movie choice for families. The sing along moments and silly scenes that appear throughout Mary Poppins are sure to attract the attention of your kids. And you'll love reminiscing about the times you sang along with this classic film featuring Dick Van Dyke and Julie Andrews.
Rated PG
Starring Judy Garland, Frank Morgan, Ray Bolger
The classic fairy tale story of the Wizard of Oz is enough to draw in any of the kids in the family. They're sure to love all the fun musical numbers and the amazing transformation from a drab black and white film to a brightly colored landscape when the characters enter Oz. And adults will never tire of the amazing story that will surely remind you of your childhood as you watch.
Rated PG
Starring Henry Thomas, Dee Wallace, Peter Coyote
There are so many alien-themed movies to choose from nowadays, but that's no reason your kids won't love watching one of the original movies about an extra-terrestrial. ET is a classic story of an alien outcast who is accepted into a loving family – and that's a story any kid would love to watch. You may also like our E.T. Reese's Pieces Chocolate Peanut Butter Fudge Bars wit this classic!
Rated G
Starring Tim Allen, Tom Hanks, Laurie Metcalf
With silly inside jokes only the parents will get and an unlikely friendship between two toys, the original Toy Story film is a classic for the entire family. Even if your kids have seen the newer Toy Story films, there's something about watching how it all started. See how Woody and Buzz become best friends with this classic animated movie that has something for everyone.
Rated G
Starring James Cromwell, Christine Cavanaugh, Danny Mann
While Babe features a great moral lesson for your kids to learn as they watch, they probably won't realize they're learning something thanks to the adorable animal stars of this classic movie. From heartwarming moments between animal friends to funny scenes featuring farm animal antics, there is something for everyone in this cute film.
Rated PG
Starring Chris Pratt, Will Farrell, Elizabeth Banks
Do you have LEGO lovers at home? Introducing them to the LEGO movie is a great way to spend some family time together. The action-packed story line will keep your kids entertained throughout the entire movie. And you'll love the side jokes directed toward the adults in the audience. In addition to featuring some of your kid's favorite LEGO characters, this funny movie also has a heartwarming ending that everyone in the family will love.
Rated PG
Starring Daniel Radcliffe, Rupert Grint, Emma Watson
If you're looking for a classic series of movies for your family to start watching, the Harry Potter films are a great choice. Start with Harry Potter and the Sorcerer's Stone, which will introduce your family to Harry Potter, an orphan with a magical history. The amazing world of wizards, monsters, goblins, and friendship will draw in every member of the family, making it a great choice for family movie night.
We also put together a full list of Harry Potter desserts and snacks you might like!
Rated G
Starring Julie Andrews, Christopher Plummer, Eleanor Parker
Musicals are a great option for family viewing because they typically have something for everyone. The kids will love singing along to the classic songs throughout the Sound of Music, while the adults can enjoy the love stories that evolve throughout the plot.
Rated PG
Starring Frank Welker, Robin Williams, Kristen Dunst
Although there have been a couple remakes of this classic movie over the past few years, it's a great idea to show the original film to your kids during family movie night. The hilarity of Robin Williams is enough to draw them in. But they'll love the plot of the film Jumanji even more. Featuring a board game that comes to life with jungle animals and dangerous traps, this adventure movie is sure to be a hit with everyone in the family – no matter how old they are.
What is your favorite classic family movie?
We'd love to see how your family does movie night! Tag us on Instagram @movienightsathome
Looking for more movies? Check out these 25+ Black Family Movies!
Also, you might like: