Host a family party with these fun Santa Claus food ideas! These yummy recipes are great for Christmas morning or a Santa Clause movie night!
Below is everything you need to know about the new Santa Clauses limited series plus some delicious snacks to enjoy anytime during the holidays!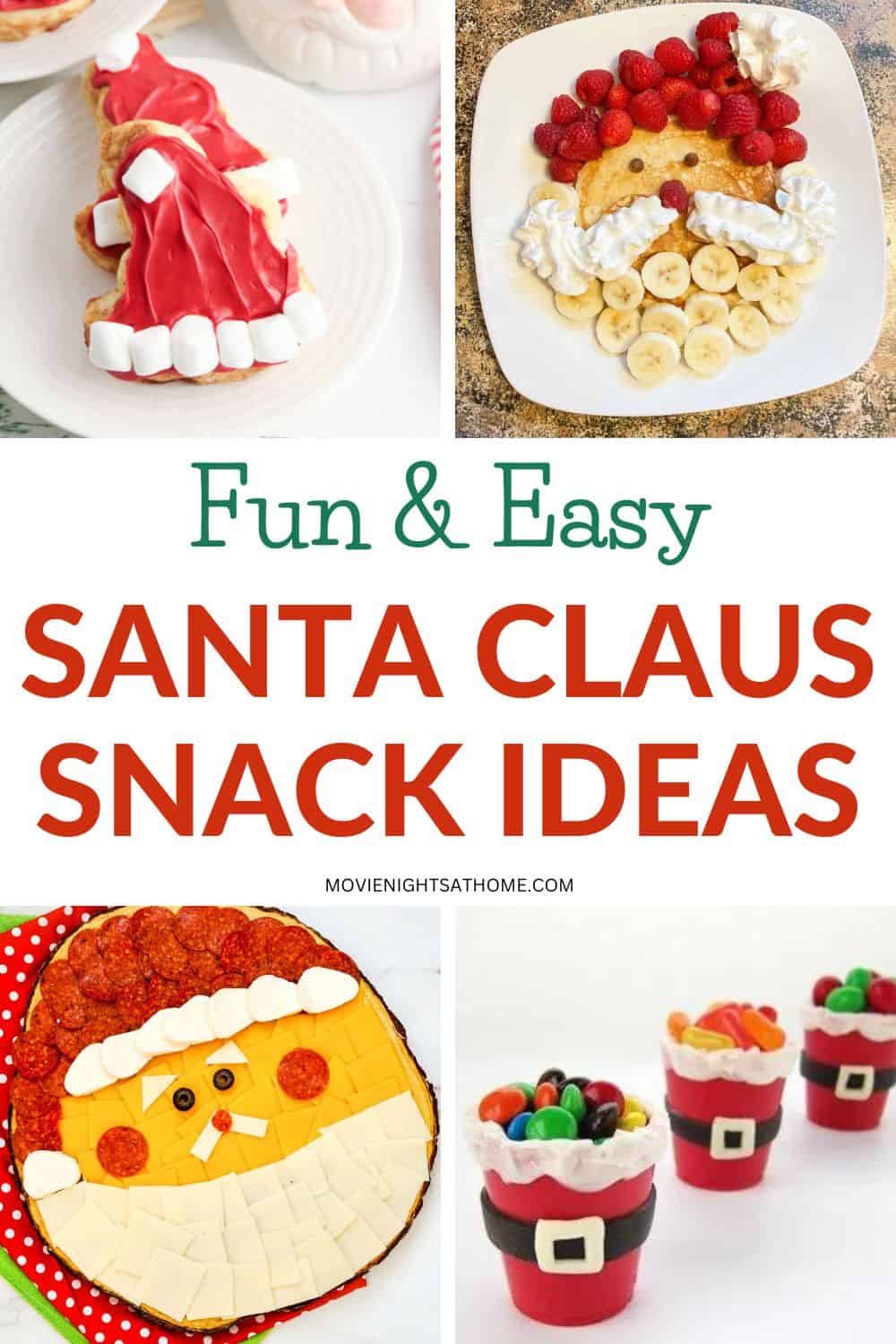 Fun & Easy Santa Claus Food Ideas
Here are the best Santa Claus food ideas for a Christmas party, Christmas breakfast, or a Santa Claus movie night!

We hope these Santa Claus food ideas and recipes help inspire you to make every episode a fun event for your family!
Each one is relatively easy and perfect for a family movie night!
We also love to pair these ideas with a pizza movie night.
But if you're looking for a full dinner option, check out our 25 Easy & Fun Family Movie Night Dinner Ideas!
Everything About Disney's The Santa Clauses
As a 90's kid, my family has dealt with me showing them every trailer for The Santa Clause revival, The Santa Clauses.
After all, Tim Allen as Santa is hilarious!
The original movie seriously has to be one of the best Christmas movies of all time!
What is Disney+ The Santa Clauses rated?
The new limited series is rated PG.
Who is in Disney+ The Santa Clauses?
Tim Allen is returning as Scott Calvin (aka Santa Claus), as well as, Eric Lloyd as Charlie. David Krumholtz is also returning as Bernard, and Elizabeth Mitchell is back as Mrs. Claus.
How many episodes will The Santa Clauses be?
There will be 6 episodes starting November 16th and wrapping up December 14, 2022.
Where can I watch The Santa Clauses 2022?
The limited series, as well as The Santa Claus movies, is available on Disney+.
You can get a great deal on Disney+ if you sign up for Rakuten and then Disney+. Several times it ends up working out to be free after the cash-back offer on Rakuten.
To Get the Deal
Sign up for Rakuten
Then type in "Disney+" into its search bar
Click on the Disney+ logo inside the Rakuten site or app.
Rakuten will redirect you to Disney+
Sign up using that window
Once you've signed up, you'll get an email saying your cash-back is being processed shortly after.
Also, now that you have Disney+, you may also like our 35+ Easy Disney Movie Night Dinner & Dessert Ideas!
Can I watch The Santa Clause on Netflix?
No, The Santa Clause is not available on Netflix.
We do have a list of the Best Christmas Movies on Netflix that pair great with these Santa Claus food ideas though!
Looking for more Christmas ideas? Check out: