These Strawberry Santa Claus Hats are adorable for breakfast for your family on Christmas morning, as well as, a Christmas movie night or party!
We love that these sweet treats can be put together in minutes, and it's something you can do with your kids as well!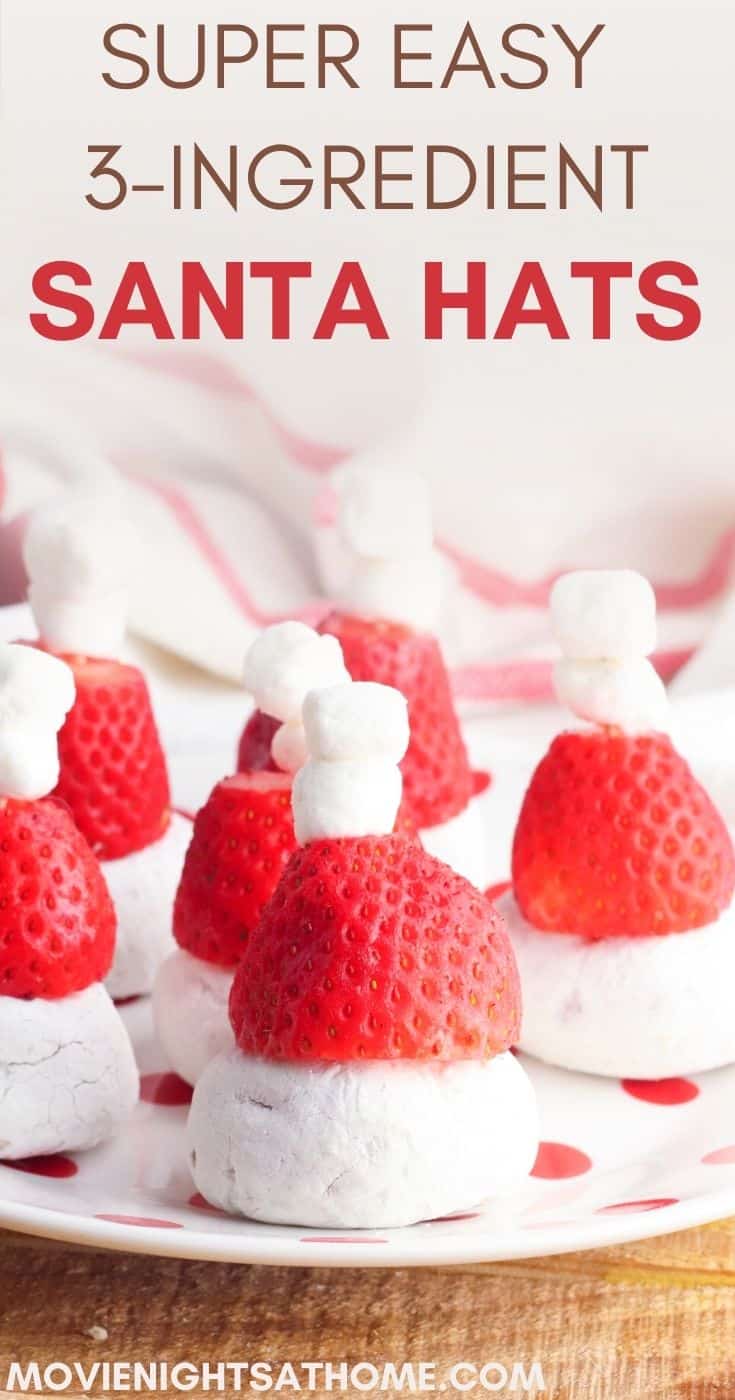 After all – finding fun breakfast ideas for your kids on Christmas morning is a great way to make the day extra special.
But you don't want to be in the kitchen cooking a time-consuming breakfast while your kids are opening their gifts!

Ingredients for Strawberry Santa Claus Hats
This simple Christmas morning breakfast is so easy to make that you only need three ingredients to put them together!
To create your own Santa hats, you'll need:
Mini powdered donuts
Strawberries
Mini marshmallows
In addition to those three ingredients, you'll also need to have some toothpicks on hand to hold all the pieces of the recipe together.
How to Make Strawberry Santa Claus Hats
Making these adorable donuts couldn't be easier!
In fact, you can make them in just three simple steps:
1. Prep the strawberries.
The hardest part about making this easy Christmas morning breakfast is preparing the strawberries.
Start by washing all the strawberries by running them under cold water for a few minutes.
Then, cut the leaves off the tops of the strawberries. Make sure to cut the tops off evenly so your strawberries lay flat on top of your donuts.
Next, cut the tips of each strawberry to give your marshmallows a flat place to rest on top of the hats.
Finally, dry all the strawberries to make sure they don't create a mess when you put your Santa hats together.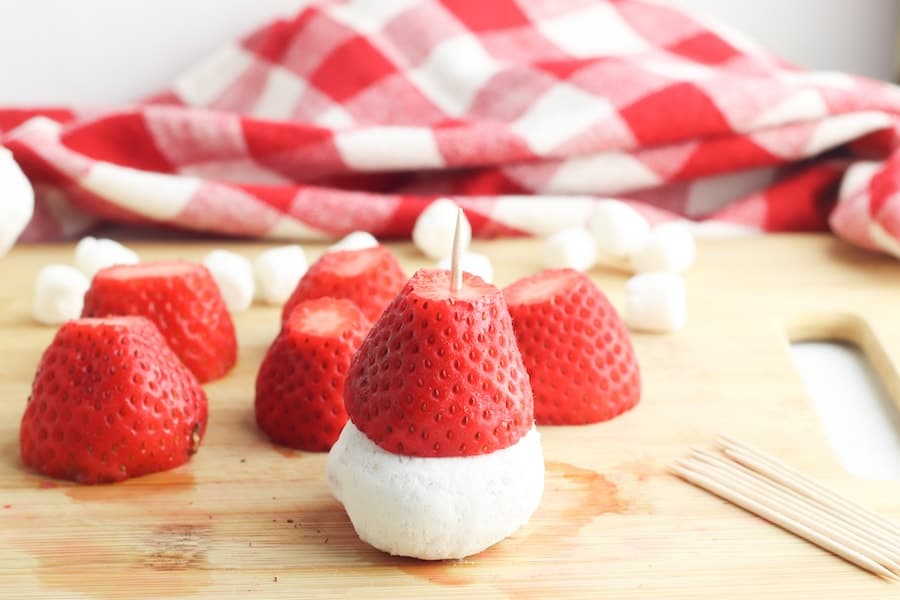 2. Stack the Santa hats.
Now that the strawberries are ready to go, you can start assembling your Santa hats. Lay all the donuts out on a flat surface and place one strawberry on top of each donut.
To create the look of a Santa hat, make sure the wider part of the strawberry is resting on top of each donut.
To keep your Santa hat donuts together, slide a toothpick down the center of each strawberry into the donut.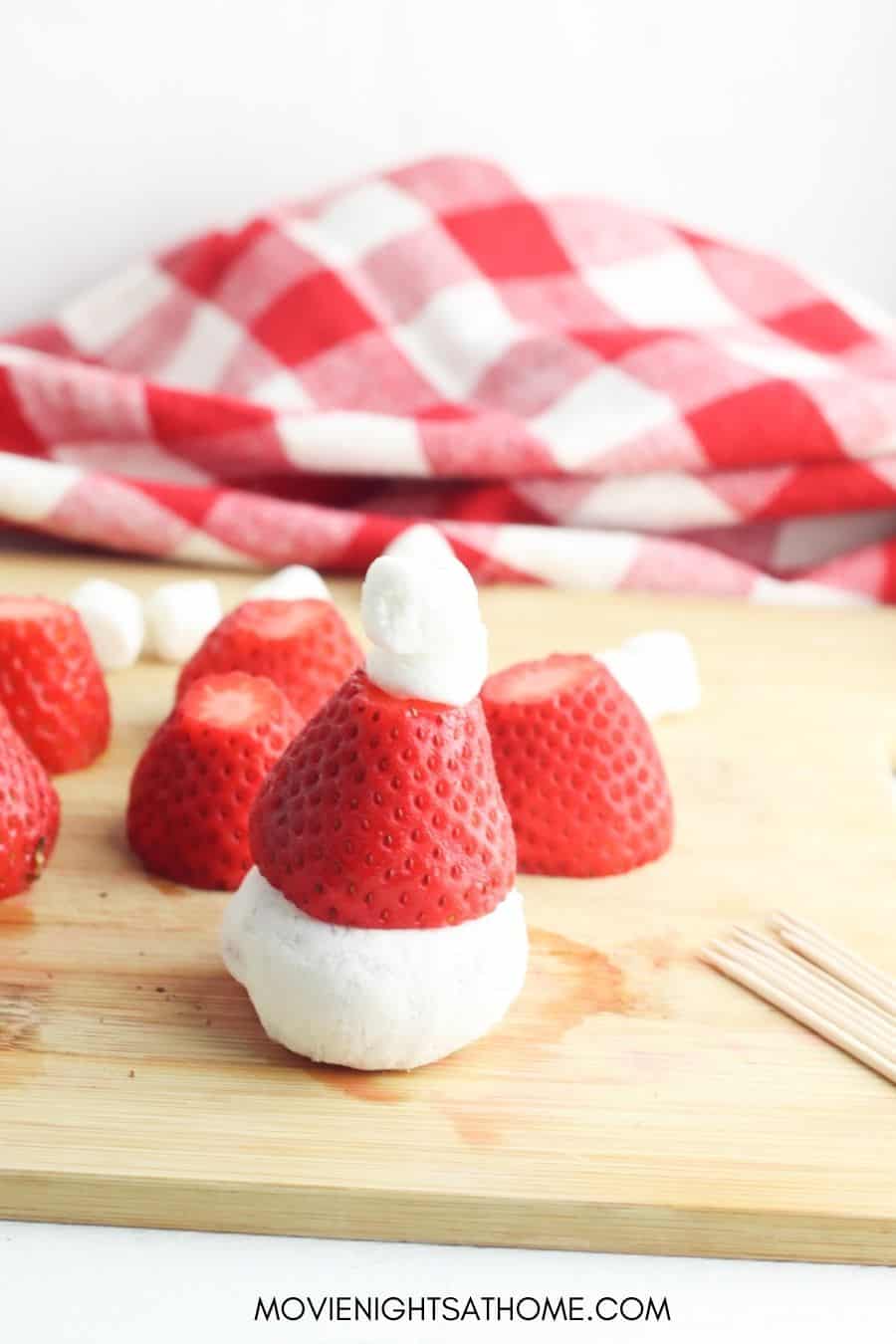 3. Top the hats with marshmallows.
You can't have a Santa hat without a puff ball on the top! To create the puff ball for your Santa hats, top the tip of the toothpick sticking out of the top of the strawberry with a couple of mini marshmallows.
And that's it!
With this easy recipe, you can have a simple – but adorable – breakfast for your family on Christmas morning within a matter of minutes.
Santa Hat Variations
While I think these adorable hats are perfect as-is, there are a few variations you can make to the recipe to suit your needs.
Santa Hat pops.
Instead of using toothpicks to hold your hats together, why not use sucker sticks? You can display them as pops instead of on a platter, making them a cute treat that's also fun to eat!
Substitute bananas for the donuts.
Looking for a healthier treat for your kids this holiday season? Instead of using donuts as the brim of the hat, use banana slices.
Simply cut thick slices from your banana and stack the strawberries on top for a healthy snack idea this Christmas.
Top with whipped cream.
Don't have any mini marshmallows at home? Top your Santa hats with a dollop of whipped cream instead!
It will taste amazing when combined with the strawberries on top.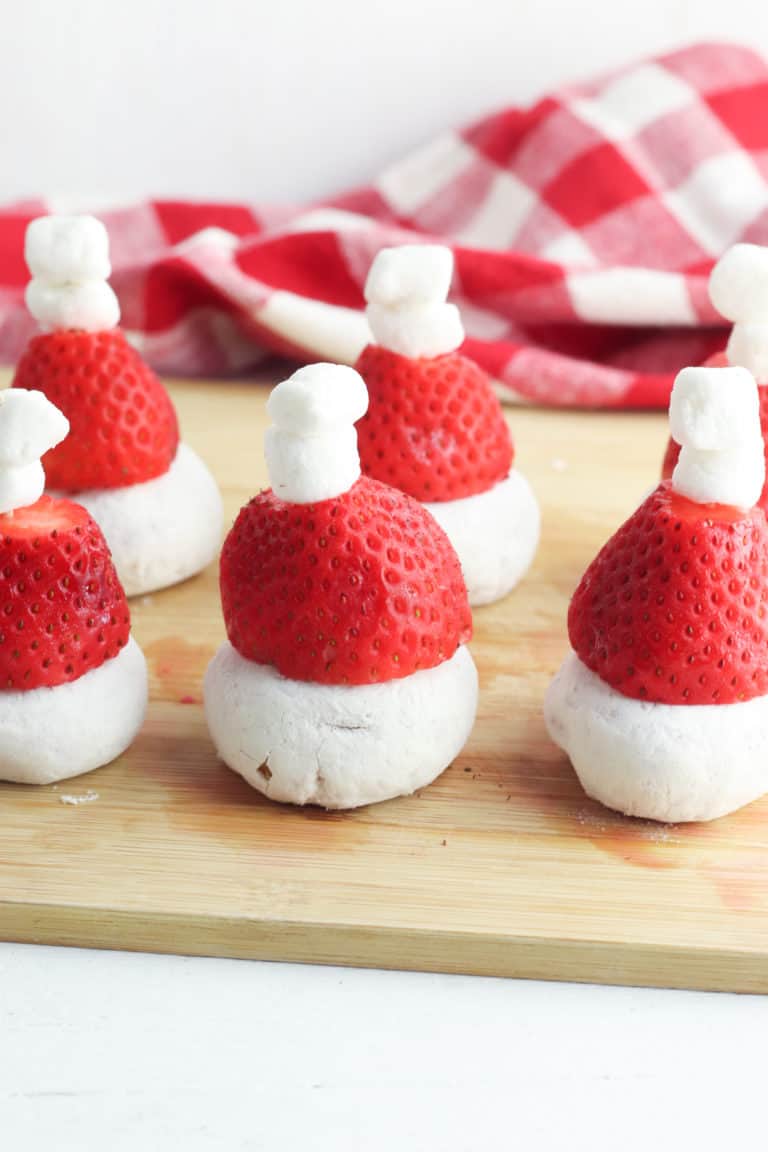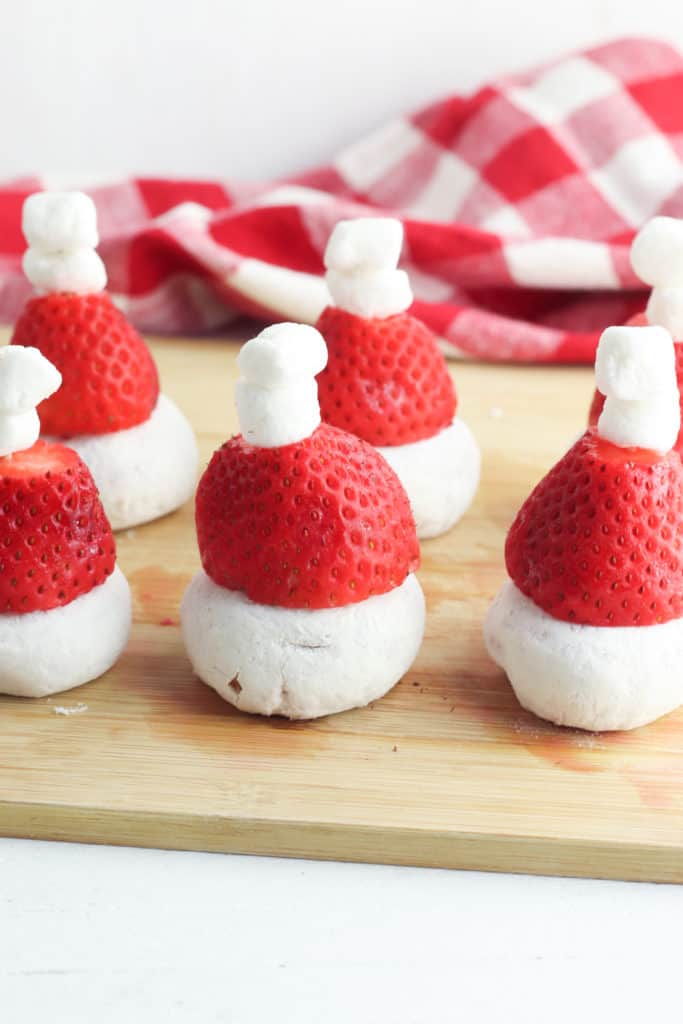 Where to Serve Strawberry Santa Claus Hats
These cute donuts are perfect for Christmas morning, but that's not the only time you can serve these fun treats!
There are so many great occasions for serving up some Santa Hat donuts, like:
School day breakfast.
You don't have to wait until Christmas morning to serve these fun donuts! Surprise your kids with a Santa-themed breakfast before they head to school one morning in December.
Christmas brunch.
Set out these cute donuts at a Christmas brunch to create a festive look to your celebration's food display. Grab more Christmas brunch ideas!
Christmas parties.
These sweet treats don't have to be served at breakfast time. They'd make a great snack for the kids at your next Christmas movie night!
Class party.
If you signed up to bring a snack to your kid's class party, I guarantee all the kids in class will love eating these cute donuts!
Baby shower during the holidays.
Do you plan on hosting a baby shower during the holiday season? How cute would these Santa hat donuts look with the rest of your party food?
After school snack.
Get your kids excited about the holiday season by serving these cute donuts as an after school snack on the days leading up to Christmas.
With so many great reasons to serve these delicious treats, there really is no reason not to make them!
No matter when or where you serve these cute donuts, they're sure to be a hit with everyone who eats them.
Another cute idea to serve is Rudolph donut holes!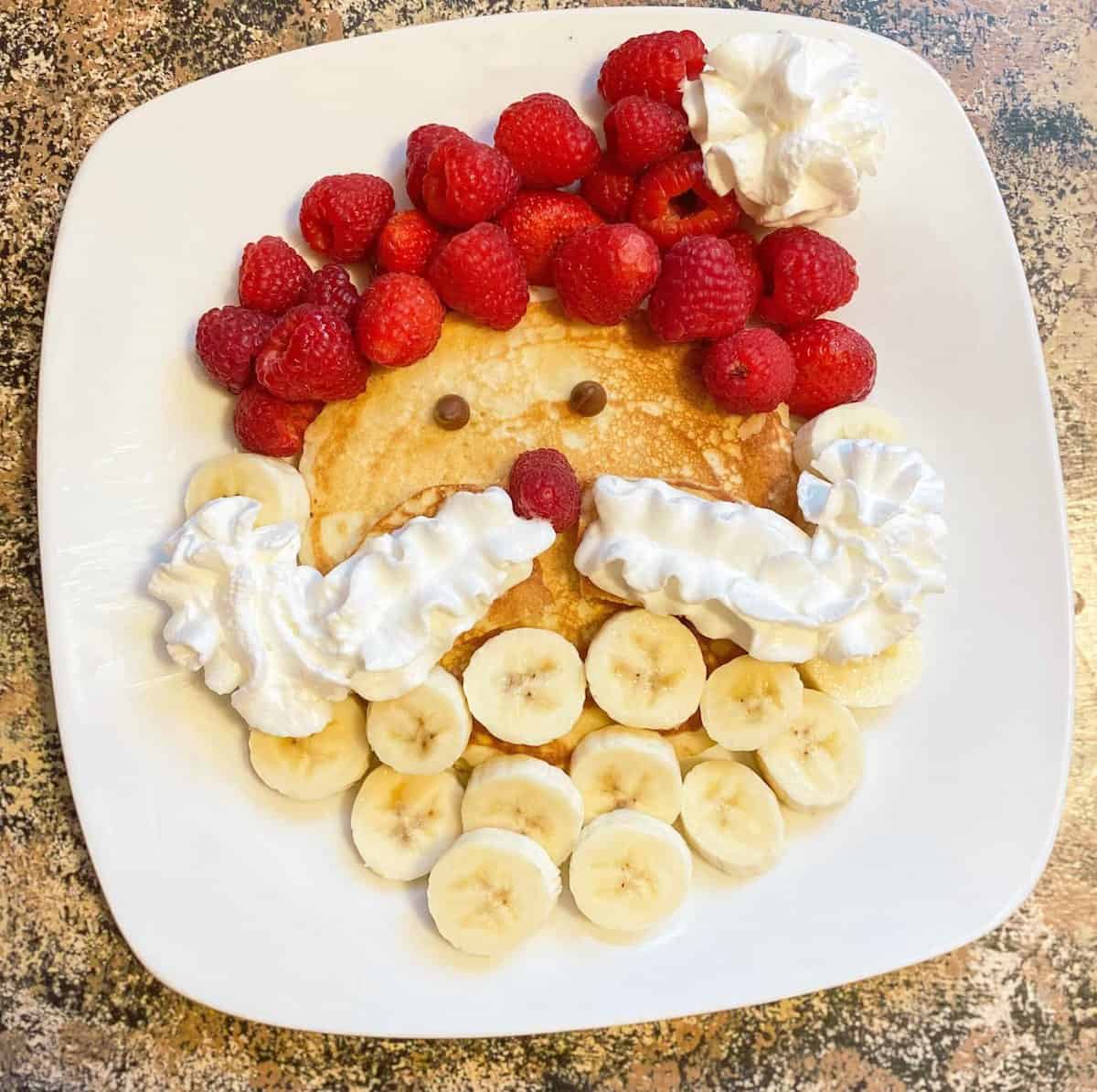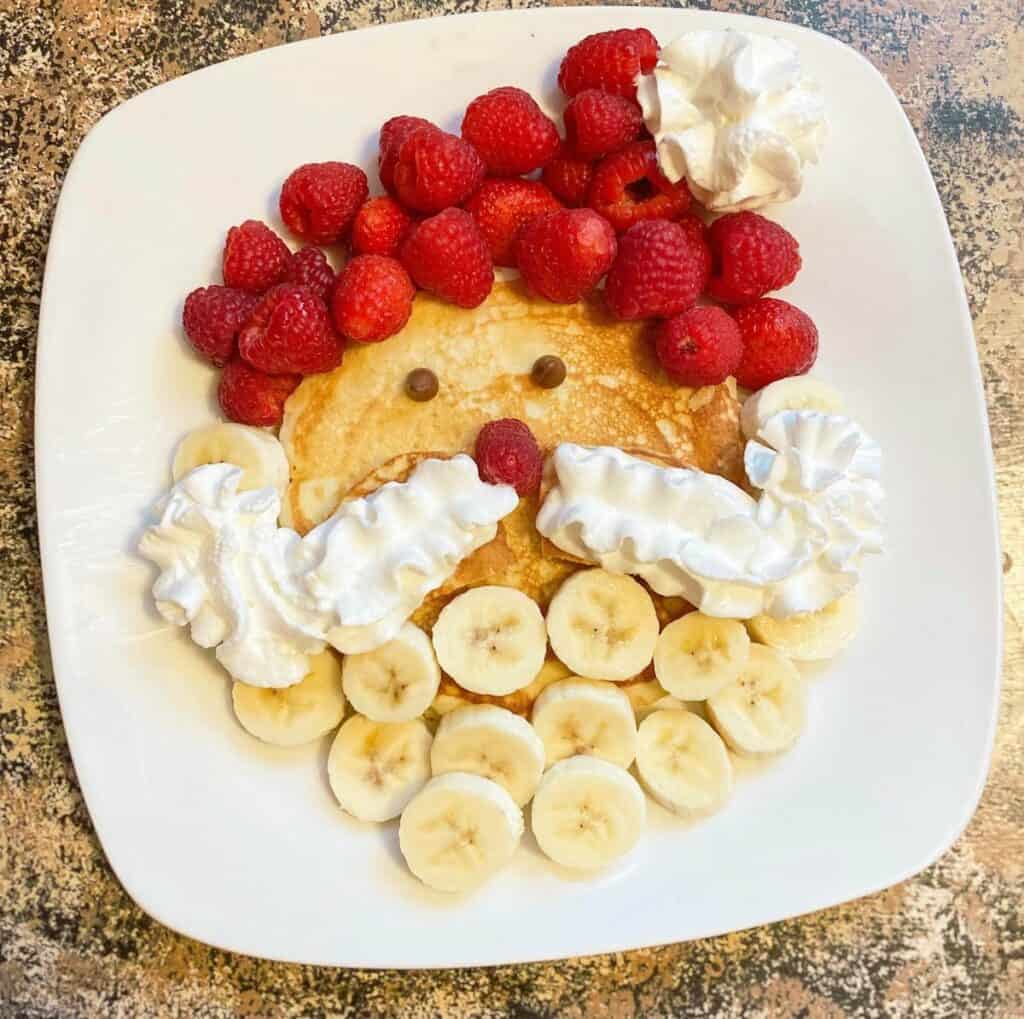 We also made these super cute Santa Pancakes — with the option of making them into Rudolph with the same ingredients too!
You can grab our easy Santa Pancakes for a fun Christmas breakfast idea!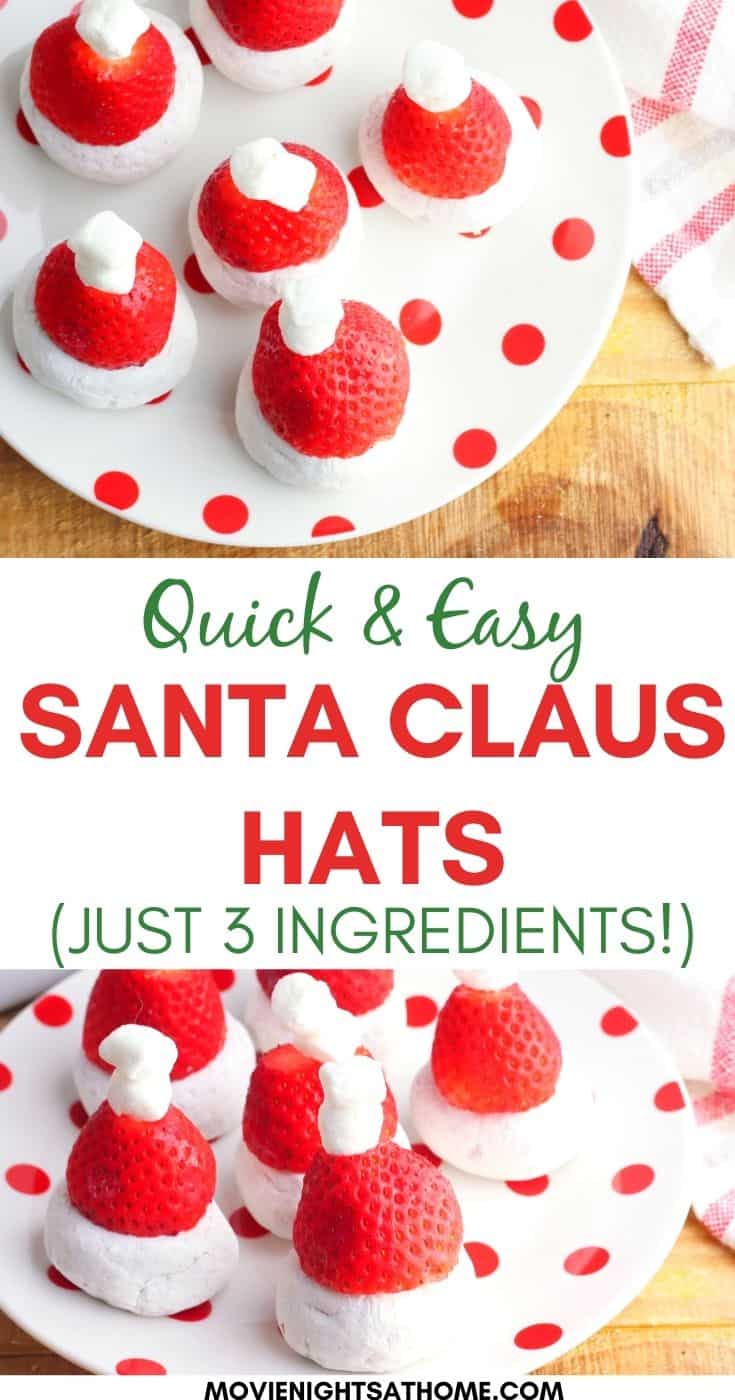 You may also like our: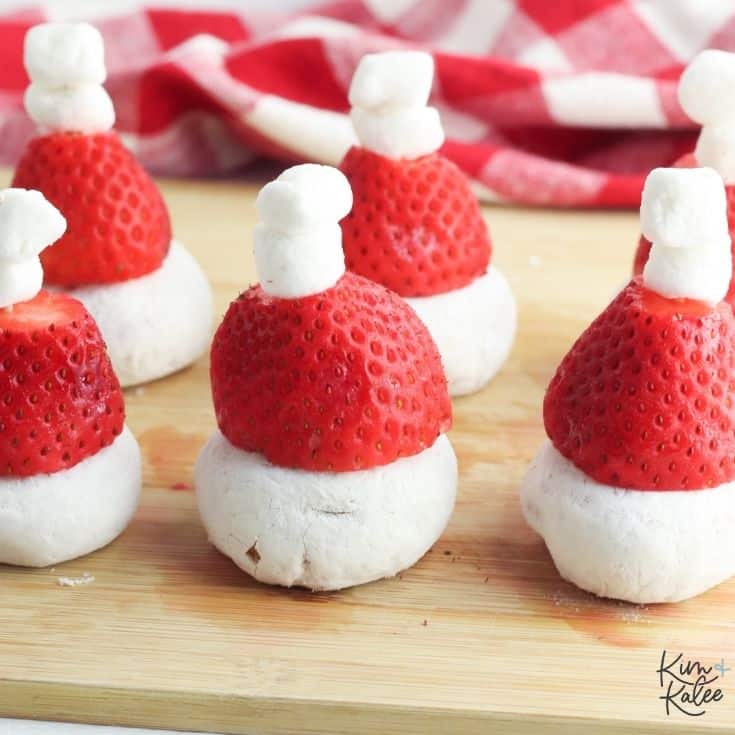 Yield:

12
3 Ingredient Strawberry Santa Claus Hats (No Bake!)
These no-bake 3 Ingredient Strawberry Santa Claus Hats are super quick and easy to throw together for brunch, Christmas morning, or a class party!
Ingredients
12 mini donuts
12 strawberries
24 mini marshmallows
12 toothpicks
Instructions
Cut the leaves and tip off each strawberry.
Place a strawberry on top of each mini donut.
Push a toothpick through the strawberry and donut to hold the strawberry in place.
Put two mini marshmallows on top of the toothpick to cover the exposed end.
Nutrition Information:
Yield:
12
Serving Size:
1
Amount Per Serving:
Calories:

115
Total Fat:

4g
Saturated Fat:

2g
Trans Fat:

0g
Unsaturated Fat:

2g
Cholesterol:

3mg
Sodium:

57mg
Carbohydrates:

20g
Fiber:

1g
Sugar:

13g
Protein:

1g
Nutrition information isn't always accurate.