Staying in with your significant other can be fun and special with just a few thoughtful ideas! We love planning romantic movie date night ideas for couples at home because it's a great way to spend some quality time together without breaking the bank! And when it comes to a movie date night, there's no better choice than a romantic movie.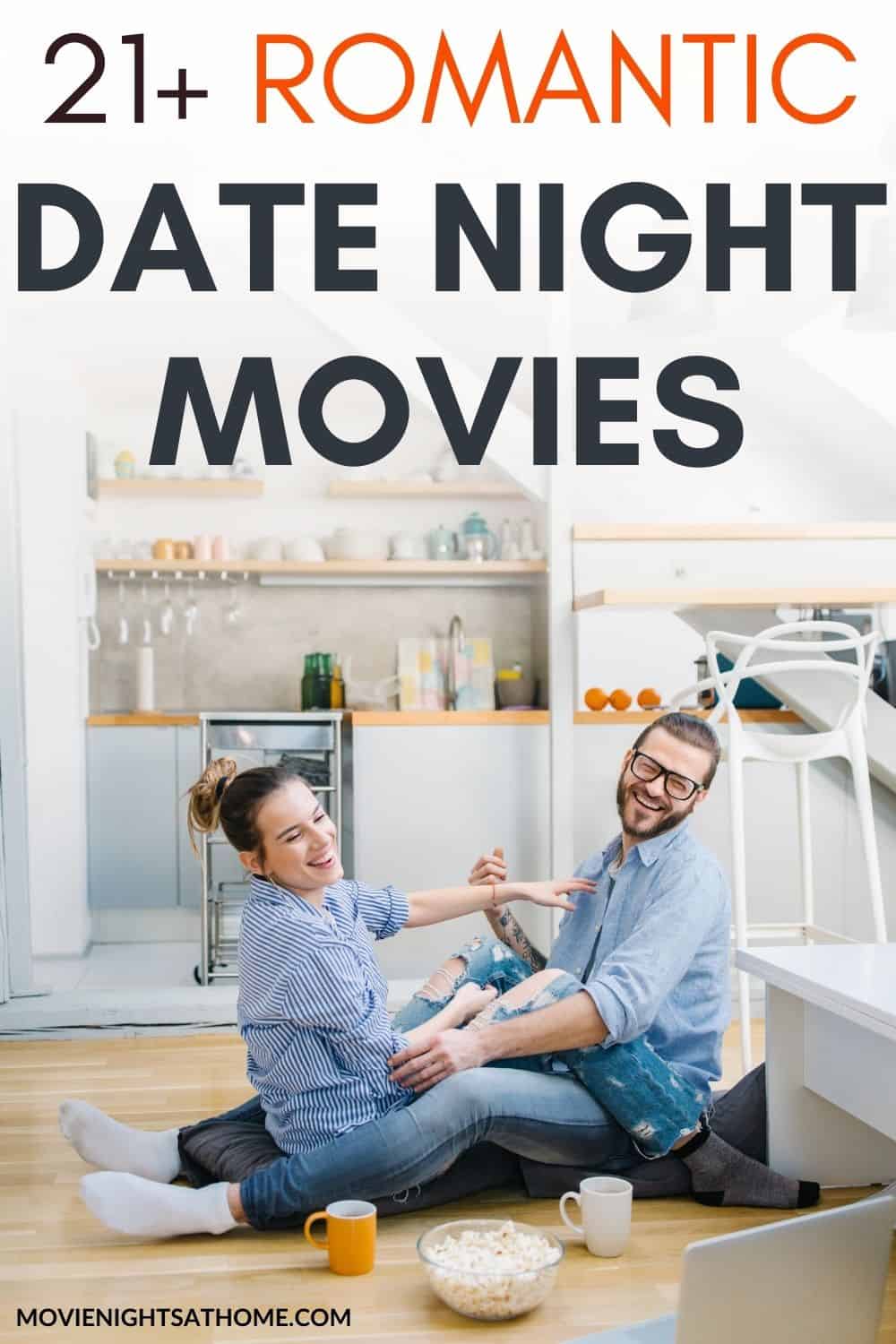 21 Romantic Movie Date Night Ideas for Couples
These 21 romantic date night movies for couples are sure to be a hit with both you and your sweetheart!
Directed by Shawn Levy
Starring Tina Fey, Steve Carrell
There's no better choice for a date night movie at home than Date Night! The movie follows a bored couple who decides to head out on the town for a date night. But a case of mistaken identity sends the two on a wild ride throughout New York City.
Directed by Nick Cassavetes
Starring Ryan Gosling, Rachel McAdams
Watching The Notebook with your significant other will encourage you to keep your romance alive throughout the years. The movie tells the story of a romance that transcends the boundaries of class and lasts decades.
Directed by Peter Segal
Starring Adam Sandler, Drew Barrymore
While 50 First Dates does feature some classic Adam Sandler comedy, the heartwarming storyline will make both of you fall in love with him and Drew Barrymore on screen. In this cute romantic comedy, Sandler meets the girl of his dreams but runs into a snag when he finds out she has no short-term memory.
Directed By Cameron Crowe
Starring John Cusack, Ione Skye
Head back to the 80s for this classic romantic date night movie. Say Anything shows what happens when an underachiever falls for the class valedictorian during the summer before they both head off to college.
Directed by Paul Verhoeven
Starring Michael Douglas, Sharon Stone
Sometimes, romance goes bad. When a detective begins investigating a crime novelist for the brutal murder of her husband, he finds out the hard what happens when love goes wrong. Filled with mystery and passion, Basic Instinct is a classic film perfect for a movie date night.
Directed by Michael Curtiz
Starring Humphrey Bogart, Ingrid Bergman
Enjoying a classic for date night will never steer you wrong. You'll love watching the chemistry between Bogart and Bergman as they fall in love in war-torn Casablanca.
Directed by George Cukor
Starring Cary Grant, Katharine Hepburn
Another classic romantic movie to add to your list, The Philadelphia Story features a love triangle between a rich woman, her ex-husband, and the man she's about to marry.
Directed by Donald Petrie
Starring Kate Hudson, Matthew McConaughey
When a handsome man makes a bet that he can make a woman fall in love with him and a jaded columnist decides to write about how to make a man leave come together, the results can be pretty funny. In How to Lose a Guy in 10 Days, you'll see what happens when romantic cliches actually lead to romance.
Directed by Rob Reiner
Starring Billy Crystal, Meg Ryan
Harry and Sally have been friends for years but wonder what would happen if they took their relationship further. See what happens when friends add benefits to the picture in When Harry Met Sally.
Directed by Andy Tennant
Starring Will Smith, Eva Mendes
Will Smith never disappoints, which means you'll both love this move night idea for couples. Smith plays Hitch, who works to help hapless men win over the women they love. But he has his own problems when he starts to fall for a beautiful tabloid reporter.
Directed by Cameron Crowe
Starring Renee Zellweger, Tom Cruise
When sports agent Jerry Maguire gets a conscience, he ends up getting fired from his agency. When he heads out on his own with his co-worker, they struggle to make their business work while falling in love at the same time.
Directed by Leo McCarey
Starring Cary Grant, Deborah Kerr
In an Affair to Remember, Cary Grant and Deborah Kerr meet on a cruise, fall in love, and vow to meet again, in spite of the fact that they're both engaged to different people. But when an accident keeps them from their rendezvous, their romantic future becomes uncertain in this classic romantic movie.
Directed by Doug Liman
Starring Brad Pitt, Angelina Jolie
Packed with action and comedy, Mr. & Mrs. Smith is a great option for a lighthearted movie date night at home. Sparks fly when Brad and Angelina uncover that they're both assassins who had no clue about each other's job.
Directed by Gil Junger
Starring Heath Ledger, Julia Stiles
While this classic rom com is set in high school, viewers of any age will love watching this unlikely love story. When a popular teen is banned from dating until her older sister does, she sets out to find her sister a date in 10 Things I Hate About You.
Directed by Garry Marshall
Starring Richard Gere, Julia Roberts
This unlikely fairy tale is a great option for a romantic movie date night at home! In Pretty Woman, Richard Gere plays a successful business man who hires an escort to accompany him to social events while he's in LA. But the more time they spend together, the more quickly they fall in love.
Directed by Jerry Zucker
Starring Patrick Swayze, Demi Moore
Love can transcend life, according to Ghost. When Patrick Swayze is murdered, his ghost returns to warn his lover of impending danger. Packed with steamy scenes, mystery, and action, you'll both enjoy this date night movie.
Directed by Richard Curtis
Starring Domhnall Gleeson, Rachel McAdams
With time travel and romance, About Time is sure to be a popular date night movie choice for both you and your spouse. The sci-fi film shows what happens when time travel is used for love, with sometimes comic results.
Directed by Blake Edwards
Starring Audrey Hepburn, George Peppard
When a young New York socialite becomes interested in a handsome man who just moved into her apartment building, sparks begin to fly. You'll love the chemistry in every Audrey Hepburn scene in Breakfast at Tiffany's – the quintessential romantic comedy.
Directed by Joe Wright
Starring Keira Knightley, Matthew Mcfadyen
If you're searching for a period drama that's soaked in romance, you can't go wrong with Pride & Prejudice. The story follows the troubled romance between Elizabeth Bennet and Mr. Darcy and is based on the classic Jane Austin novel.
Directed by Damien Chazelle
Starring Ryan Gosling, Emma Stone
Anyone who loves a good musical will enjoy watching La La Land, which follows a pianist and actress who traverse a relationship along with a rise to fame. And while the story doesn't follow the typical romantic arc, it's still a wonderful option for a romantic date night at home.
Directed by David Russell
Starring Bradley Cooper, Jennifer Lawrence
Nominated for eight Academy Awards, romance forms between an unlikely couple in Silver Linings Playbook when a formerly institutionalized man falls for a woman with problems of her own.
Looking for additional movie date night ideas for couples?
Check out our favorite romantic comedies list and hot chocolate bombs for a fun movie date night at home!
You may also like our Valentine's Day Movie Night for Couples (Food & Movie Ideas)! They work well year-round!