This horror movie trivia and answers printable is perfect for a movie trivia nights or a Halloween party! While some of the questions are pretty easy, some could stump even a true movie buff!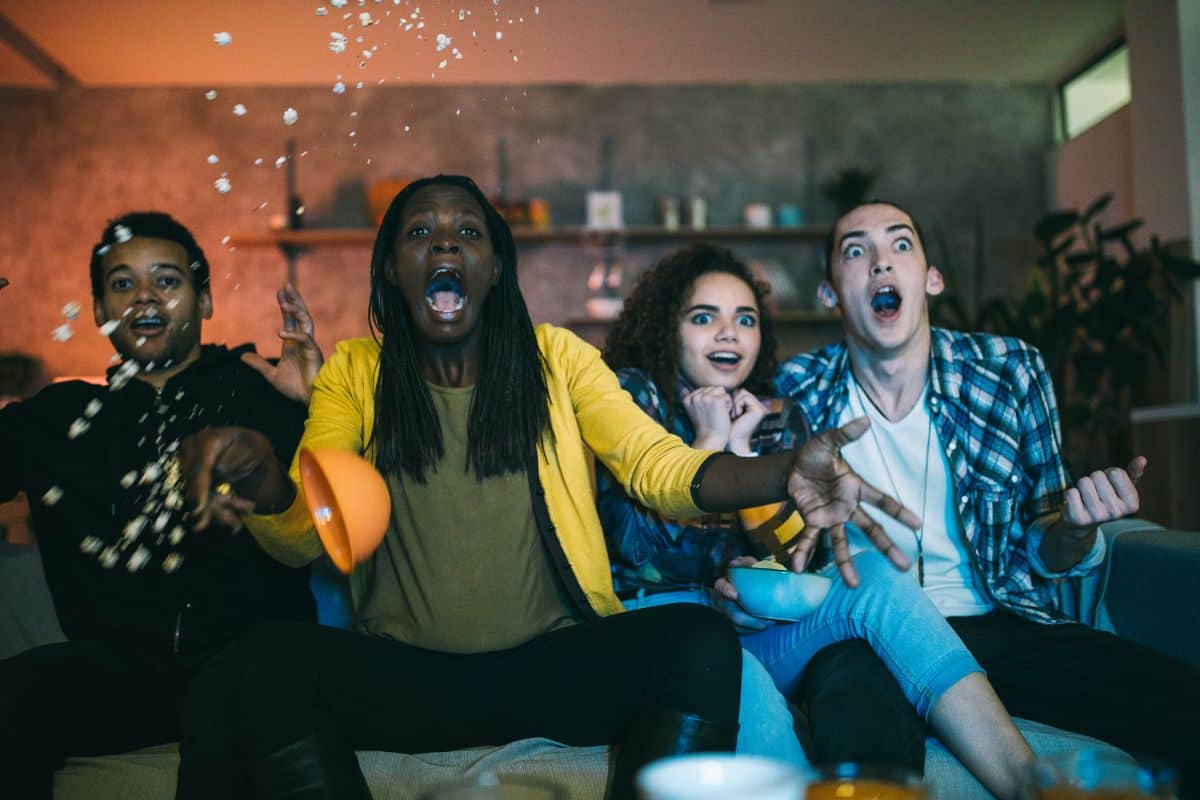 What better way to celebrate Halloween than with a horror movie marathon with friends?
But before you start watching your favorite scary movies, why not test your horror movie knowledge with your friends?
This fun horror movie trivia questions and answers printable is perfect for any game night.
With more than 40 challenging trivia questions, any horror movie fan will have a blast playing this question and answer game with their friends. (Don't forget to pick up Halloween movie night snacks for the night, too!)

Horror Movie Trivia Questions and Answers
Challenge your friends to a horror movie trivia game with these fun film questions. So without further ado, let's get to it horror fans!
Grab the free printable cards to play this exciting game at your next Halloween movie marathon.
1. Which horror movie was shot entirely on a handheld video camera like a documentary?
The Blair Witch Project
2. What is the highest grossing horror movie of all time?
It: Chapter One (2017)
3. What horror movie is famous for the line, "Do you like scary movies?"
Scream
4. What horror author has the most movie adaptations made from his bestselling books?
Stephen King
5. Who is revealed to be the serial killer in the movie Friday the 13th?
Pamela Sue Voorhees
6. What Martin Scorsese thriller features Robert De Niro as a criminal madman?
Cape Fear
7. Which Japanese horror movie inspired its blockbuster Hollywood counterpart, The Ring?
Ringu
8. What Disney horror flick features a Mickey Mouse gone mad?
Runaway Brain
9.Which classic monster movie is said to be the most successful horror franchise in history?
Godzilla
10. Which slasher flick villain is terrified of water, because he died by drowning?
Jason Voorhees
11. What is the name of the demon in the Exorcist?
Pazuzu
12. Which three movie franchises feature a possessed doll?
Annabelle, Child's Play, and Chucky
13. Which 90s movie depicts creepy-crawlies taking over a small town in California?
Arachnophobia
14. What classic scary movie was Johnny Depp's film debut?
A Nightmare on Elm Street
15. Who was Danny's imaginary friend in the classic horror movie, The Shining?
Tony
16. Which classic horror movie got 10 Academy Award Nominations?
The Exorcist
17. What is the name of the iconic clown from the Stephen King Franchise 'It'?
Pennywise
18. Which black and white monster movie starred a creature that was played by a man and was shot entirely underwater?
Creature from Black Lagoon
19. Which horror movie features Kirsten Dunst as a young vampire?
Interview with a Vampire
20. Which 90s horror movie won three Academy Awards?
Bram Stoker's Dracula
21. How many people associated with the making of the Exorcist died before the movie was released?
Nine
22. What was Freddy Krueger's serial killer nickname before he died?
The Springwood Slasher
23. The quote, "Here's Johnny," is from what classic horror movie?
The Shining
24. Which classic horror movie features a killer wearing a William Shatner mask?
Halloween
25. What classic scary movie was the first to depict someone being stabbed to death in the shower?
Psycho
26. What was the name of the apartment building where Rosemary and Guy lived in Rosemary's Baby?
The Bramford
27. In the horror movie, Get Out, how does Chris avoid being hypnotized?
He puts cotton in his ears
28. How often does The Purge happen?
Once per year
29. What horror movie franchise is based on the real-life work of paranormal investigators Ed and Lorraine Warren?
The Conjuring
30. What famous figurine inspired the design for Gill-man in The Creature From the Black Lagoon?
The Oscar statue
31. The quote, "Do you want to play a game?," is from which horror movie?
Saw
32. In Scream, what is the number 1 rule on Randy's list of rules for surviving a horror movie?
Don't have sex
33. What 1990s slasher film features a serial killer fisherman seeking revenge against four teenagers?
I Know What You Did Last Summer
34. What famous actress made her big screen debut in the 1993 horror movie, Leprechaun?
Jennifer Aniston
35. What weapon does Leatherface use?
Chainsaw
36. The Babysitter Murders was the original title of which classic 80s horror film?
Halloween
37. What horror thriller was based on the seven deadly sins from the Bible?
Se7en
38. In the horror movie Carrie, what do the other students dump on Carrie at prom?
Pig's blood
39. Which classic horror movie (and recent remake) features a spirit who can be summoned by a person who says his name five times to a mirror?
Candyman
40. Which European country is the setting for the 90s horror movie Hostel?
Slovakia
41. What is the flight number of the plane the teens avoid dying on thanks a premonition in The Final Destination?
Flight 180
42. Which horror movie actor, director, screenwriter, and make-up artist was given the nickname, "the man of a thousand faces"?
Lon Chaney
43. What question does Drew Barrymore's character, Casey, ask in the opening sequence of Scream?
"Why do you want to know my name?"
44. Who was the killer in Friday the 13th?
Jason Voorhees
45. How much money did Arnie pay for Christine in the Stephen King horror movie of the same name?
$250
46. In Misery, what does Paul use to pick the lock on his door?
A bobby pin
47. Who is responsible for releasing the deadly virus in 28 Days Later?
Animal rights activists
Tie Breaker Questions
These questions are bonuses and are not featured on the horror movie trivia questions and answers printable.
What is camp ground's name in Friday the 13th?
Camp Crystal Lake
Who won the Oscar for best actor after starring in the famous film, Silence of the Lambs?
Anthony Hopkins
What is the famous line from Haley Joel Osment in Sixth Sense?
"I see dead people."
Who starred in Sixth Sense?
Bruce Willis
Name 3 of the 6 horror movies that have been up for the Academy Award for Best Picture:
The Silence of the Lambs (1991), Get Out (2017), Black Swan (2010), The Sixth Sense (1999), Jaws (1975), and The Exorcist (1973).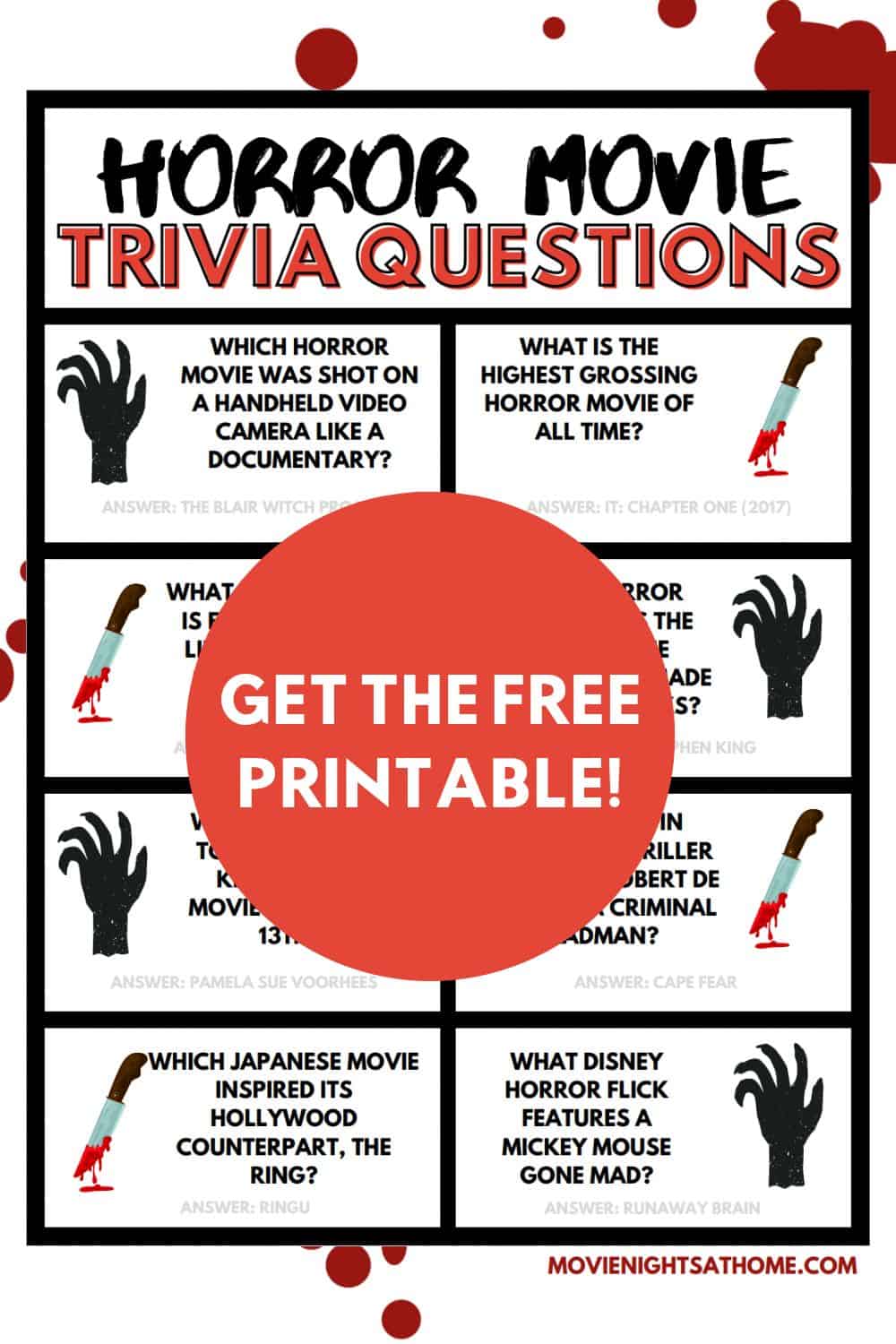 We hope this list of Halloween horror movie trivia questions help you have a great night with friends!
Don't forget to grab your Horror Movie Trivia Questions and Answers Printable!
If you're looking for more fun trivia questions, you may also like our 90s movie trivia questions, as well as, our Harry Potter series trivia! We also have classic movie trivia questions as well.
Need something a little less scary for the kids? Check out our Witch's Brew Hot Chocolate inspired by the Disney original film, Halloweentown, or our Hocus Pocus movie night ideas!