Who doesn't love watching a movie with their friends on the weekend? If you're a movie fan, the only thing better than watching a movie is testing your knowledge of your favorite films! Whether you're hosting a movie night with your friends or are just looking for a fun way to pass the time on a Friday night, movie trivia is a great option! And with these easy movie trivia questions, everyone can have fun testing their knowledge of their favorite popular movies.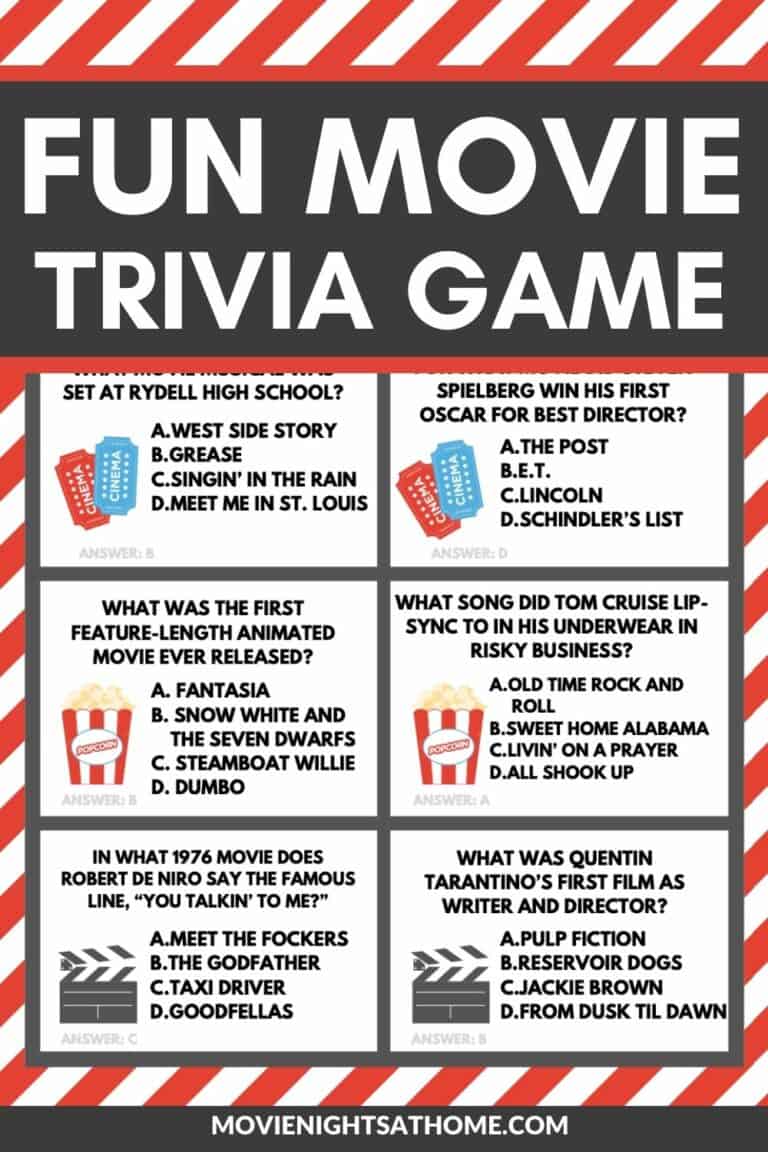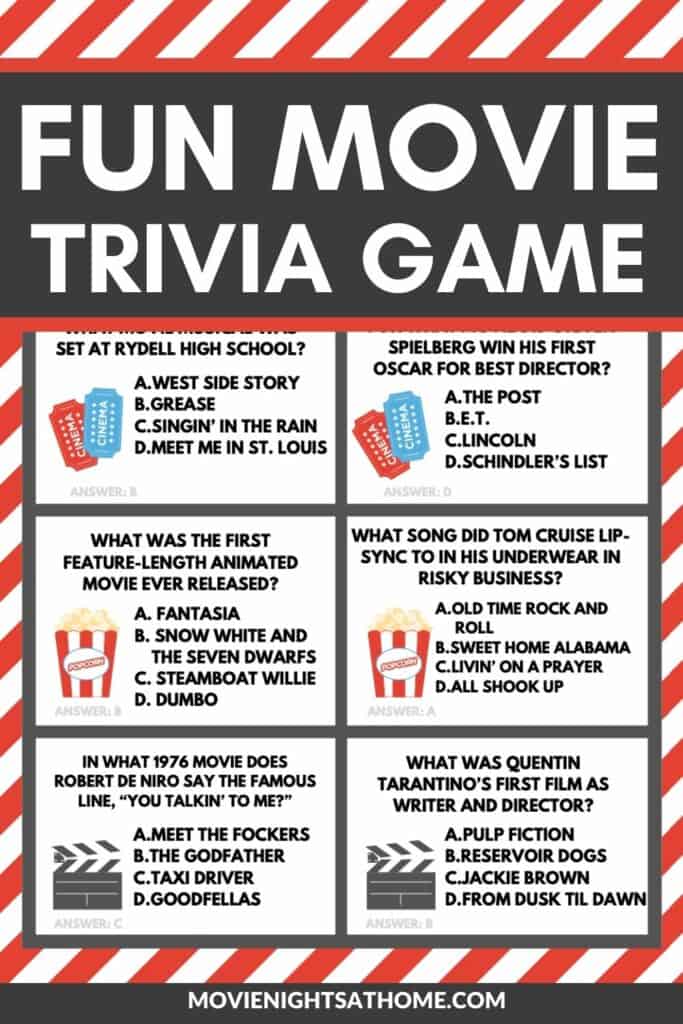 Easy Movie Trivia Questions and Answers
Challenge your film buff friends with the best movie trivia questions below!
What was the first feature-length animated movie ever released?
Fantasia
Snow White and the Seven Dwarfs
Steamboat Willie
Dumbo
Answer: B
What movie musical was set at Rydell High School?
West Side Story
Grease
Singin' in the Rain
Meet Me in St. Louis
Answer: B
In what 1976 movie does Robert De Niro say the famous line, "You talkin' to me?"
Meet the Fockers
The Godfather
Taxi Driver
Goodfellas
Answer: C
For what movie did Steven Spielberg win his first Oscar for Best Director?
The Post
E.T.
Lincoln
Schindler's List
Answer: D
What song did Tom Cruise lip-sync to in his underwear in Risky Business?
Old Time Rock and Roll
Sweet Home Alabama
Livin' on a Prayer
All Shook Up
Answer: A
What was Quentin Tarantino's first film as writer and director?
Pulp Fiction
Reservoir Dogs
Jackie Brown
From Dusk Til Dawn
Answer: B
What is the highest grossing movie of all time?
Avengers: Endgame
Titanic
Avatar
Gone with the Wind
Answer: C
Sebastian, Scuttle, and Flounder are all characters in what animated film?
The Little Mermaid
Finding Nemo
Frozen
The Lion King
Answer: A
What is the only X-rated movie to win Best Picture at the Oscars?
Boogie Nights
Show Girls
Midnight Cowboy
Requiem for a Dream
Answer: C
What movie starred Julia Roberts as a prostitute named Vivian Ward?
Something to Talk About
Notting Hill
Pretty Woman
Sleeping With the Enemy
Answer: C
Which movie did not win the "big five" at the Oscars (Best Picture, Best Director, Best Screenplay, Best Actor, and Best Actress?
It Happened One Night
One Flew Over the Cuckoo's Nest
Silence of the Lambs
Citizen Kane
Answer: D
What year does Marty, Doc, and Jennifer travel to in Back to the Future Part II?
2015
2020
2000
2001
Answer: A
What is the name of the resort featured in Dirty Dancing?
Kellerman's
Brown's
Johnson's
Davison's
Answer: A
Where is Jurassic Park located in the film?
Isla Nublar
Maui
Bora Bora
Santorini
Answer: A
What is the name of the character played by Jennifer Lawrence in the Hunger Games?
Primrose Everdeen
Effie Trinket
Katniss Everdeen
Peeta Mellark
Answer: C
What color do Mean Girls wear on Wednesday?
Purple
Yellow
Pink
Black
Answer: C
What was the name of the pet llama in Napoleon Dynamite?
Tina
Janet
Jane
Tara
Answer: A
Which musical based on Romeo and Juliet won an Oscar?
Grease
West Side Story
The Sound of Music
The Wizard of Oz
Answer: B
What year were the Academy Awards first presented?
1921
1929
1932
1940
Answer: B
What movie portrayed Judy Garland wearing ruby slippers?
Wizard of Oz
Meet Me in St. Louis
Babes on Broadway
Strike up the Band
Answer: A
What is the name of the secret agency that polices aliens disguised as humans in the 1997 film starring Will Smith and Tommy Lee Jones?
Alien Agency
Gemini Men
Men in Black
Bad Boys
Answer: C
Which science fiction classic stars Linda Hamilton as Sarah Connor?
Terminator
Alien
The Tomorrow War
Blade Runner
Answer: A
How did Ron Burgundy sign off after every broadcast in the movie Anchorman?
Stay Classy, San Diego
Good Night, San Diego
Keep Classy, San Diego
Good Luck, San Diego
Answer: A
Which Disney princess dresses up as a man to save her father?
Ariel
Merida
Cinderella
Mulan
Answer: D
What color pill does Neo take in The Matrix?
Blue
Red
Black
Orange
Answer: B
What is the name of the skyscraper in which John McClane faces off against Hans Gruber in Die Hard?
Fox Tower
Nakatomi Plaza
Suzuki Tower
Yamamoto Plaza
Answer: B
What movie star plays himself in Zombieland?
Woody Harrelson
Bill Murray
Tom Arnold
Owen Wilson
Answer: A
What animal does Groundskeeper Carl fight against throughout the movie Caddyshack?
Gopher
Squirrel
Rabbit
Dog
Answer: A
What is the name of Rose's famous necklace featured in the Titanic?
The Hope Diamond
The Diamond of the Sea
The Heart of the Ocean
The Ocean Diamond
Answer: C
What famous Disney character first appeared in Steamboat Willie in 1928?
Woody Woodpecker
Pluto
Mickey Mouse
Goofy
Answer: C
If you loved these easy trivia questions, why not try our Harry Potter trivia games! They're perfect for a movie buff!
You may also like our The Ultimate 90s Movie Trivia Questions and Answers!
Looking for something to watch? You may also like our Godfather movie night menu or list of horror movies!