If you're looking to host a Halloween movie night for the whole family, you'll love these Hocus Pocus movie night recipes and trivia questions! The classic Disney movie is just spooky enough without being too scary!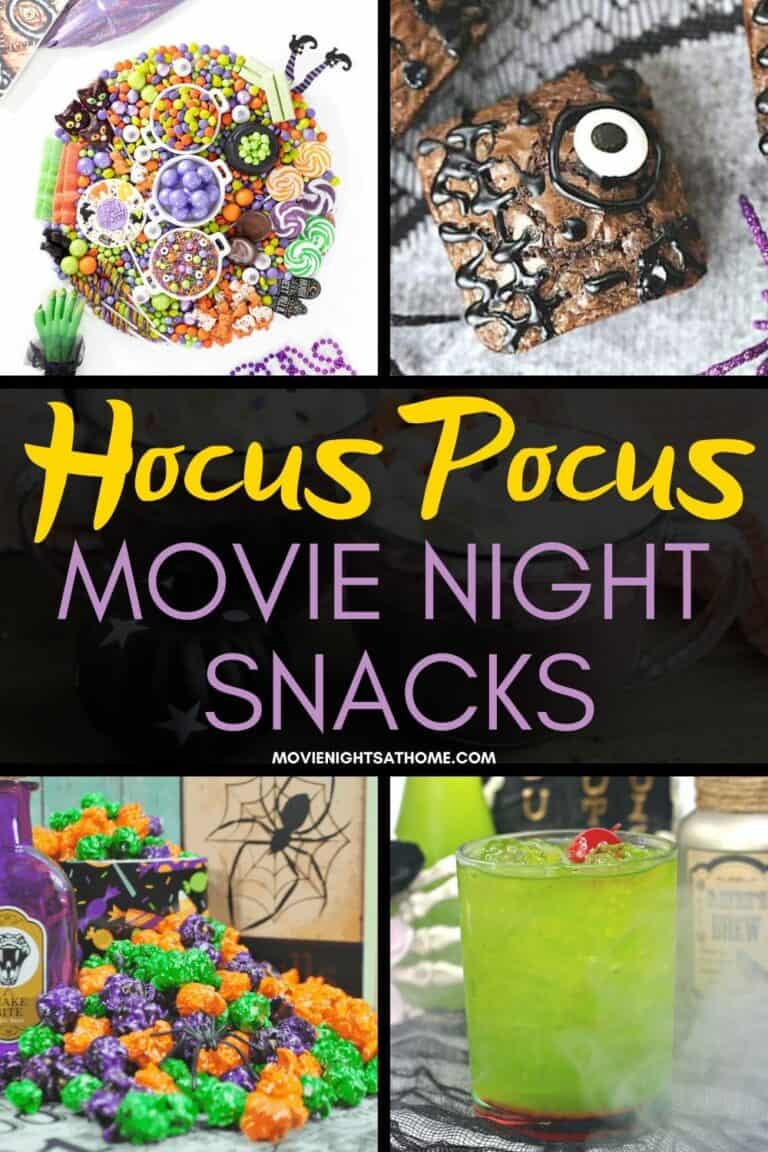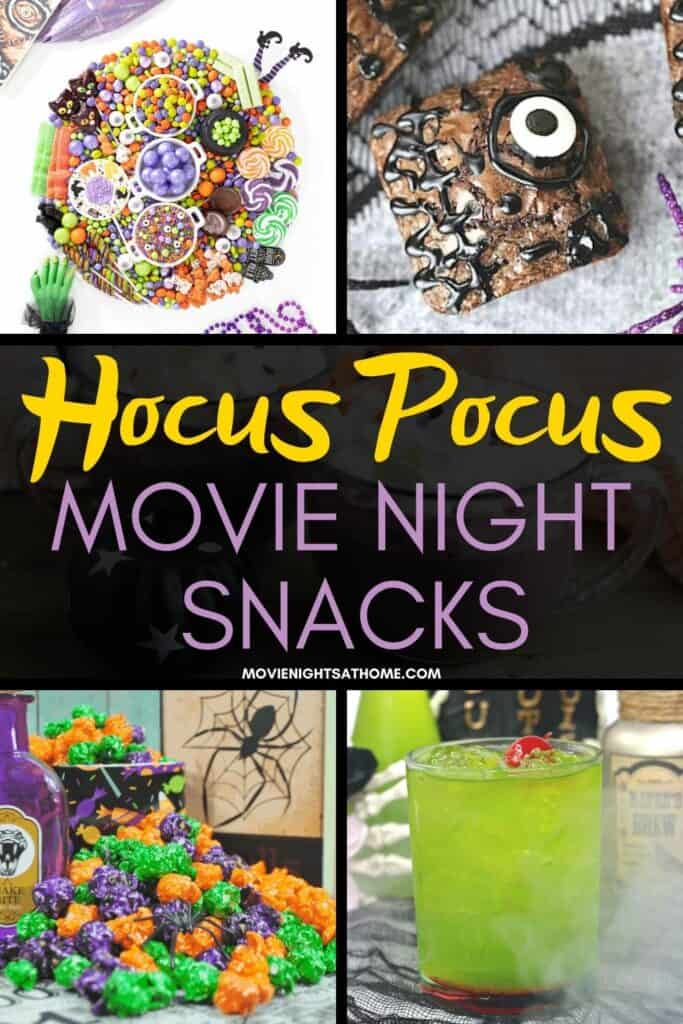 When Halloween rolls around, there's no better way to celebrate than by watching Hocus Pocus. That makes this classic movie a great choice for an October movie night. And since there are so many great ways to turn your Hocus Pocus movie night into a fun event, you better start planning now! These fun ideas for recipes, decorations, and party activities will make your celebration a bewitching affair.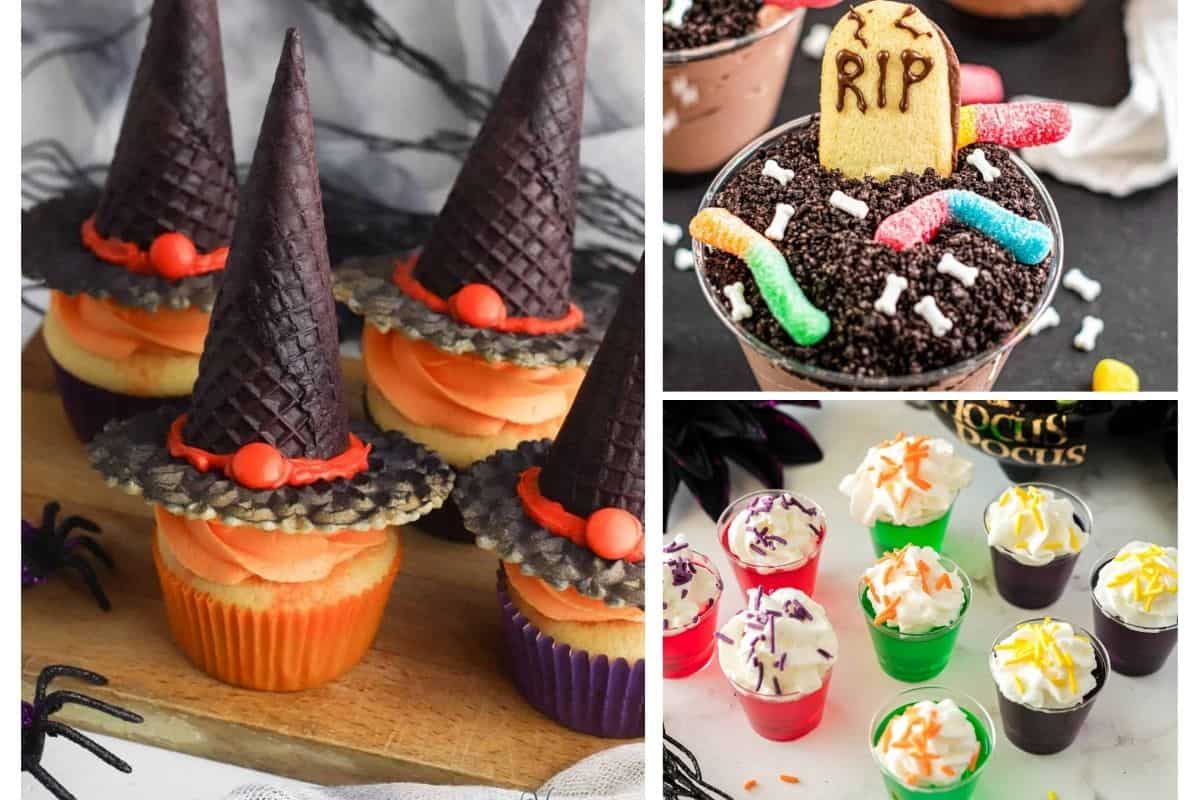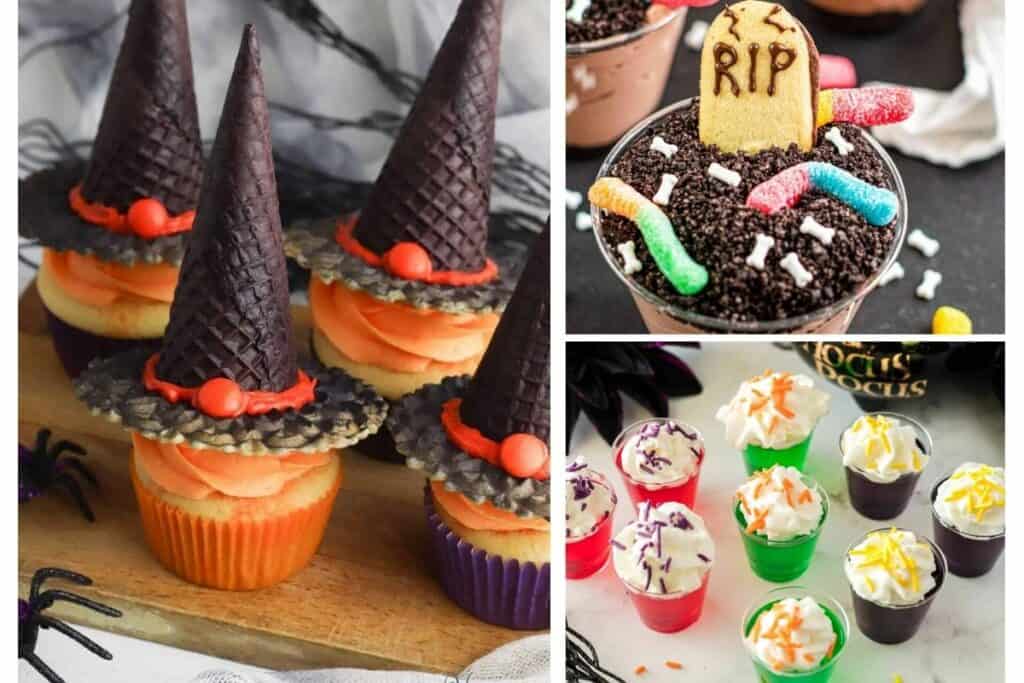 Hocus Pocus Movie Night Recipes & Ideas
Watching the movie is just one aspect of planning a movie night. You also have to think about what type of party recipes you'll serve and how you'll decorate your house! Host an amazing Hocus Pocus movie night with these fun ideas for movie-themed food and decorations.

You may also like our 27+ Halloween Movie Night Snacks [for Kids & Adults] for more treats!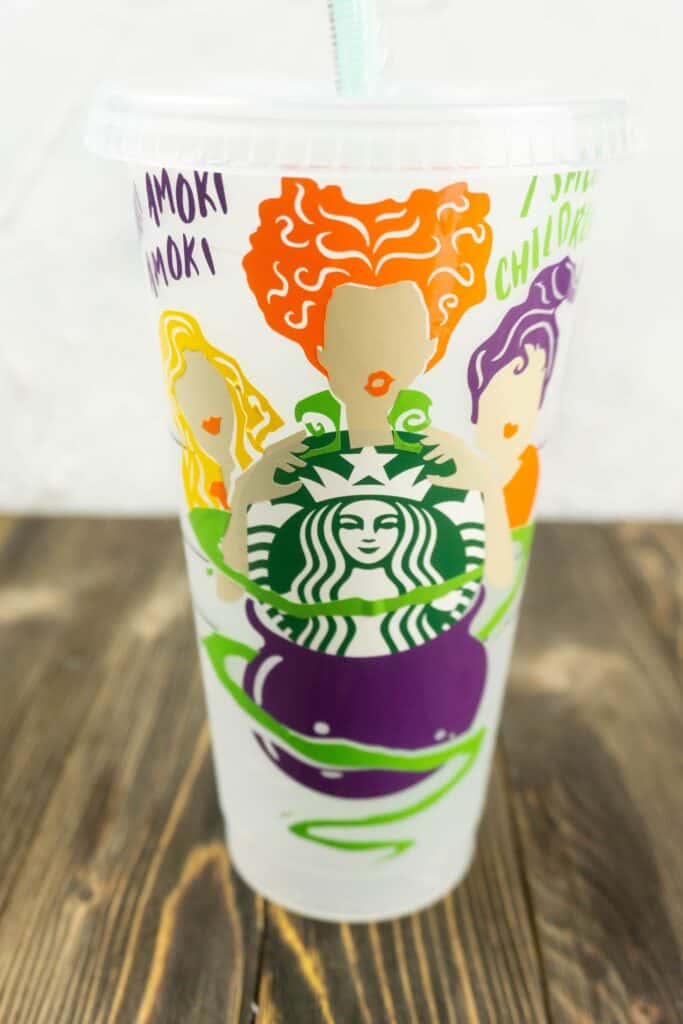 If you have a Cricut machine, you may also like our free DIY Hocus Pocus Starbucks Cup template!
Hocus Pocus Trivia Questions
While watching the movie will be your main attraction, it's always a good idea to have some fun activities lined up for your movie night. Get your guests excited about watching the movie with these fun Hocus Pocus trivia questions.
Where does Hocus Pocus take place?
Salem
Which of the witches is not a Sanderson Sister – Winifred, Elphaba, Mary, Sarah?
Elphaba
What is Mary's color?
Red
What does Max dress up as for Halloween?
A rapper
What does Max promise to dress up as for Halloween next year to get Dani to go to the Sanderson sisters' house?
Peter Pan and Wendy
What does Mary suggest the sisters do to gather their thoughts?
Form a calming circle
What is the last ingredient for the life-sucking potion?
A bit of thine own tongue
What type of animal was Thackery Binx turned into?
A black cat
What is Sarah's color?
Purple
What song does Winifred sing at the Halloween party?
I Put a Spell on You
Who lit the black flame candle to bring the Sanderson sisters back from the dead?
Max
What is Winifred's color?
Green
What ingredient can be used to protect yourself from the witches?
Salt
Which object is not used by the Sanderson sisters to fly – broom, vacuum, mop, or feather duster?
Feather duster
What does Master give the Sanderson sisters when they show up at his door?
A chocolate covered finger of a man named Clark or Clark bars
What do the Sanderson sisters get when they suck the life out of children?
Eternal youth and beauty
What material was used to cover Winifred's Book of Spells?
Human flesh
How long did Thackery Binx have to wait before a virgin lit the candle to unbreak is spell?
300 years
What is the name of the high school that Max and Allison attend?
Jacob Bailey High School
What do the bullies call Max?
Hollywood
Which Sanderson sister was Billy the zombie's girlfriend?
Winifred
What does Winifred tell the people at the Halloween party to do when she casts a spell on them?
Dance until they die
What is the first line of the spell the Sanderson sisters cast on Thackery Binx?
Bend the bones and break the back
What happens to the Sanderson sisters when the sun rises?
They turn into dust
What do the kids use to trick the sisters into thinking the sun was rising?
Car headlights
Show us your favorite Hocus Pocus movie night ideas on Instagram @movienightsathome
You may also like: