With the help of these 90s movie trivia questions and answers, you can show off your knowledge of this awesome decade at your next party.

The 1990s was a great time in the world of cinema! From action-packed blockbusters like The Matrix to epic love stories like Titanic, there are so many amazing films from this incredible decade. And that means there's so much trivia to uncover!
90's Movie Trivia Questions and Answers
Whether you're hosting a 90s movie night or just need a fun activity for your next party, movie trivia is always a great choice. And with these 90s movie trivia questions, you'll have everything you need to test your friend's 1990s cinema knowledge.
Which 90s action comedy featured the songs "My Guy (My God)" and "I Will Follow Him"? Sister Act
What is the first rule of Fight Club? Don't talk about Fight Club.
What 1992 horror movie scored Anthony Hopkins an Oscar for Best Actor? The Silence of the Lambs
What movie stars Robin Williams as a boy with Werner syndrome who ages four times faster than normal? Jack
Which animated film was the first Disney film to be released on DVD? Mulan
Whose voice is Woody's in Toy Story? Tom Hanks
What was Vivian Ward's profession in Pretty Woman? Prostitute
In what movie did Leonardo DiCaprio play Frank Abignale, who was a pilot, a doctor, and a legal prosecutor? Catch Me if You Can
What 1997 action film stars John Malkovich, Nicolas Cage, and John Cusack? Con Air
Who plays Keyser Soze in the film The Usual Suspects? Kevin Spacey
What was the highest grossing film of the 90s? Titanic
What 90s film is famous for its 23-minute long graphic war scene? Saving Private Ryan
What 90s film's soundtrack that became the bestselling soundtrack of all time? The Bodyguard
What 1995 Disney film was the first and only animated film to receive a Special Achievement Academy Award and received three Academy Award nominations? Toy Story
What date is 'Groundhog Day'? February 2nd
What is the name of the island where Jurassic Park is set? Isla Nublar
What color pill did Neo take in The Matrix? Red
What actor plays Keyser Soze in the movie 'The Usual Suspects'? Kevin Spacey
Who directed the 1990s movie adaptation of Romeo and Juliet, starring Leonardo DiCaprio and Claire Danes? Baz Luhrmann
What 1990s movie stars Brad Pitt and Tom Cruise as vampires? Interview with the Vampire
Which song is playing when Uma Thurman and John Travolta dance together in Pulp Fiction? 'You Never Can Tell', by Chuck Berry
What popular 1990s TV heartthrob voiced young Simba in animated movie The Lion King? Jonathan Taylor Thomas
What was the first animated feature film to nominated for a Best Picture Oscar? Beauty and the Beast
What actor starred in two of the top 10 highest grossing films of the 1990s? Will Smith (Independence Day and Men In Black)
Who was the first character to be killed in the movie Scream? Casey Becker (Drew Barrymore)
What threatens to end the world in Armageddon? An asteroid
Who played Batman in Batman Forever? Val Kilmer
Which 90s movie starring Robin Williams featured a magical board game that comes to life? Jumanji
Lindsay Lohan plays the roles of twin girls in which live action Disney movie? The Parent Trap
What actor played the role of James Bond throughout the 1990s? Pierce Brosnan
What name do the Natives Americans give to Lt. John Dunbar after seeing him playing with a wolf? Dances with Wolves
Who played the title role in 'The Fugitive'? Harrison Ford
What female co-starred beside Cameron Diaz in Nancy Meyer's 'The Holiday'? Kate Winslet
What song is playing while the cop gets his ear sliced off in 'Reservoir Dogs'? "Stuck in the Middle With You" by Stealers Wheel
Wesley Snipes plays a vampire hunter in what 90s action movie? Blade
What is the name of the movie where Bruce Willis plays a 23rd century New York City cabbie? 'The Fifth Element'
What does Lion King's "Hakuna Matata" song translate to? No worries
We love to pair these trivia questions with a movie night!
A Star Wars theme or Harry Potter movie night with Hogwarts trivia can be a lot of fun!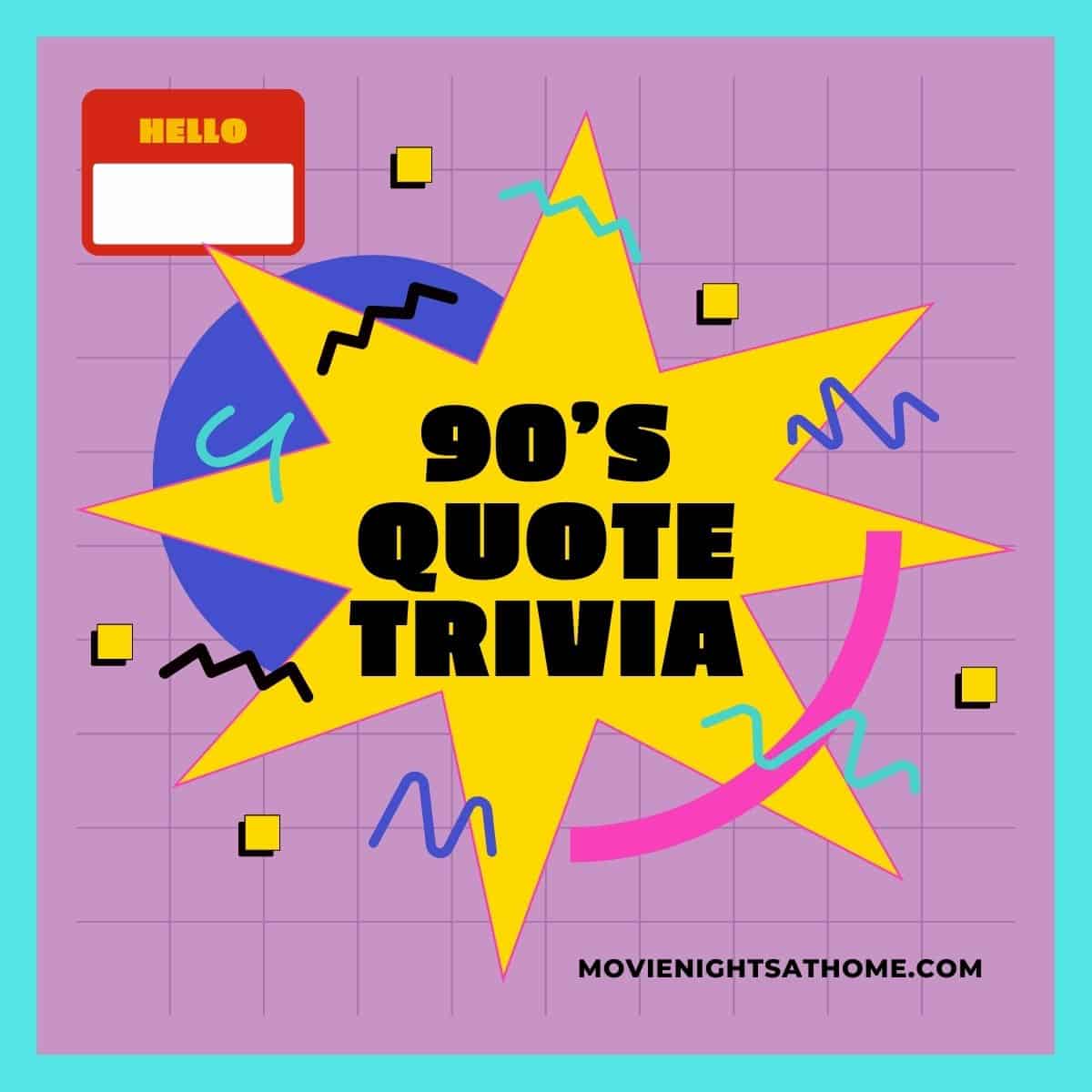 90s Movie Quote Trivia
After answering some trivia questions, put your 90s movie knowledge to the test with these film quotes. Read the quote, then guess the name of movie it came from and what character said it.
"You're just a virgin who can't drive!" Tai, Clueless
"I see dead people." Cole Sear, The Sixth Sense
"There's no crying in baseball" Jimmy Dugan, A League of Their Own
"I'm the king of the world!" Jack Dawson (Leonardo DiCaprio), Titanic
"What's in the box?" Detective David Mills (Brad Pitt), Se7en
"You had me at hello." Dorothy Boyd, Jerry Maguire
"Life is like a box of chocolates. You never know what you're going to get." Forest Gump, Forest Gump
"Just when I thought I was out, they pull me back in." Michael Corleone, The Godfather: Part III
"You're killing me, Smalls." Ham Porter, The Sandlot
"All I want to do is graduate from high school, go to Europe, marry Christian Slater, and die." Buffy Summers, Buffy the Vampire Slayer
"All right, all right, all right." Wooderson, Dazed and Confused
"To Infinity and Beyond!" Buzz Lightyear (Time Allen), Toy Story
"Houston, we have a problem." Jim Lovell, Apollo 13
"You make me want to be a better man." Melvin Udall, As Good As It Gets
"Keep the change, ya filthy animal." Johnny (Ralph Foody) in Home Alone
"Do you like scary movies?" Ghostface, Scream
"You got the wrong guy. I'm the Dude, man." The Dude, The Big Lebowski
"You know, I've always wanted a child. And now I think I'll have one, on toast!" Winifred Sanderson, Hocus Pocus
Love trivia? Also check out our other trivia guides!
These 90s movie trivia questions and answers are perfect to include in an outdoor movie night or fun couple's dinner party!
Save these ideas for later!
Love Disney films? You may also like: