If you're looking for kid-friendly movies, this list of 50 Best G-Rated Movies on Disney Plus right now are perfect to watch together!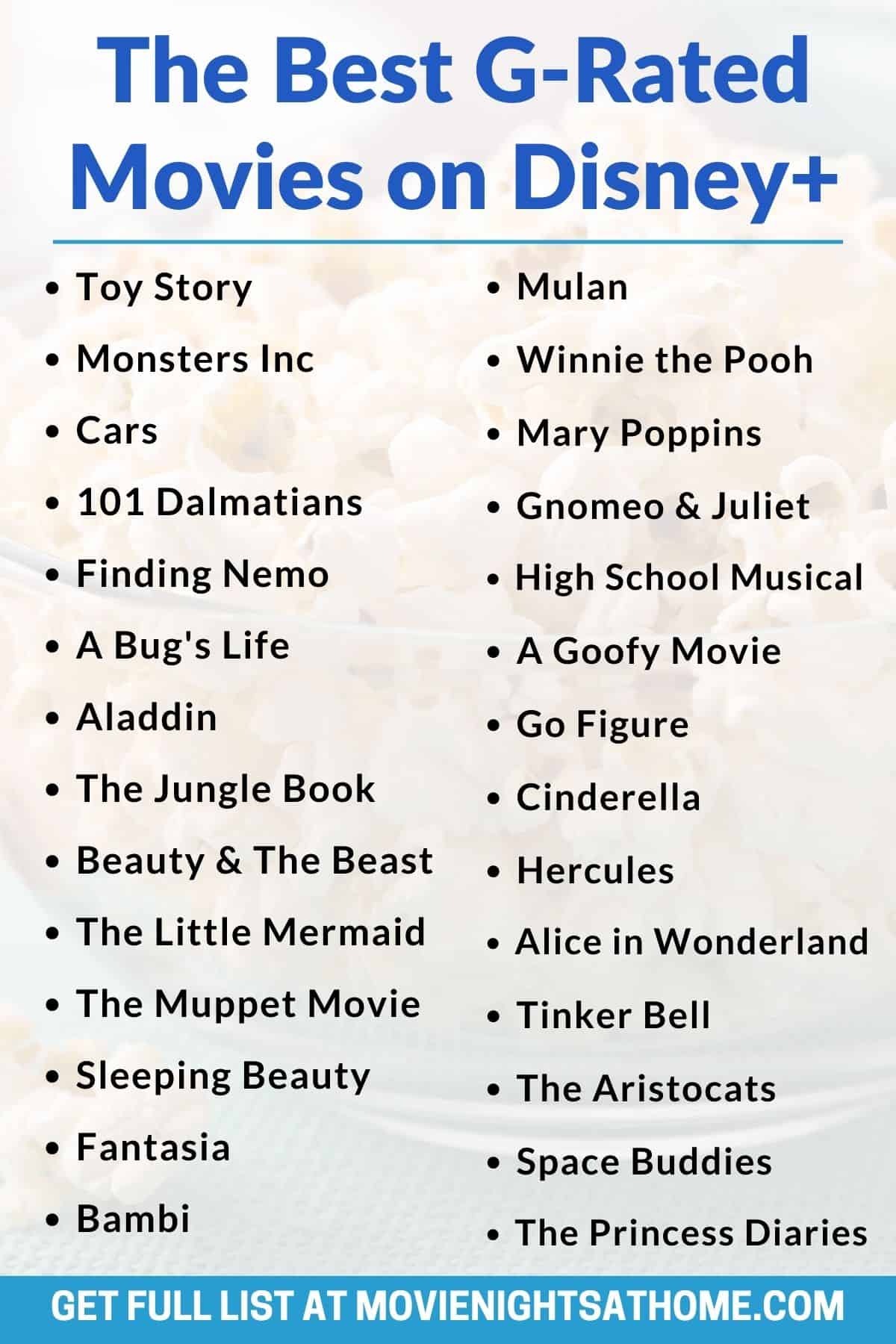 Also, you can make the day or night super special with an Easy Disney Movie Night Dinner or Dessert! We love to make one of these or do an outdoor movie night in the Summer!
What does it mean to be a G-rated film?
G-rated films mean they are suitable for general audiences including young audiences.
Many Disney movies are either G or PG; however, Disney-Plus also has more adult options. Some examples of the more mature options are Black Panther and Daredevil.
Needless to say, it's important to look at the ratings before starting a movie.
We also have a list of Disney movies for toddlers and babies you might like!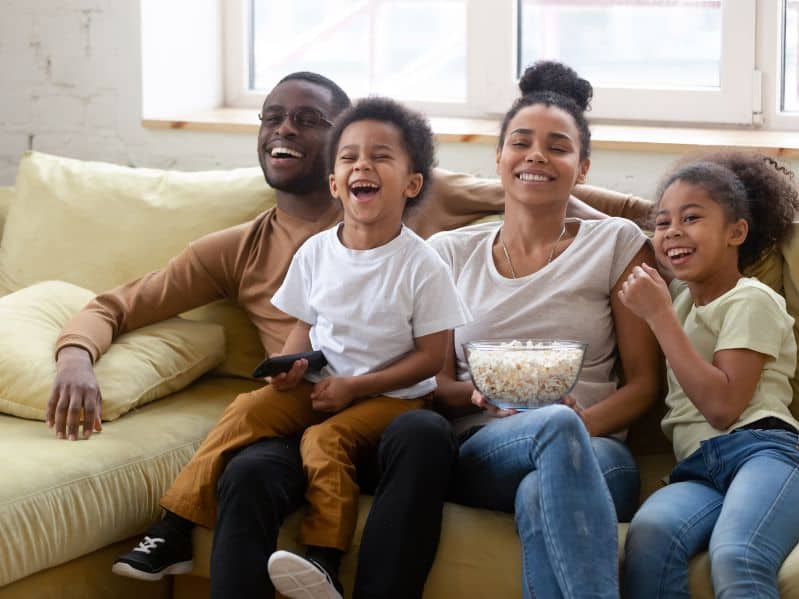 Best G-rated Movies on Disney Plus
From adorable animated classics to kid-friendly live action stories, there are plenty of entertaining options for kids on Disney Plus.
Your little ones are sure to love each of these G-rated movies on Disney Plus. They're perfect for any age group!
In a world where toys come to life, a cowboy and space ranger must learn to play together or risk being left behind.
Magical nanny Mary Poppins arrives in London to reconnect a mother and father with their two loving children.
When a little girl accidentally wanders into the monster world, it's up to two friends to get her safely back home.
A group of monsters band together to win the scare games and save their college career.
When race car Lightning McQueen takes a detour and gets lost in Radiator Springs, he learns how to slow down and enjoy time with his friends.
A pair of puppies must rescue their friends from the villainous Cruella De Vil, who wants to turn their spotted fur into a coat.
After finding a Genie, street smart Aladdin wishes to become a prince to win the heart of princess Jasmine and save the kingdom from the evil Jafar.
An adventurous ant sets out on an incredible journey to find warriors to help him fight against the evil grasshopper.
A lost boy makes a trek across the jungle to find his village and meets a variety of animal friends along the way.
When a magical mix-up turns the emperor into a llama, he seeks help from a peasant to help him take back his throne.
In order to save her father, beautiful Belle agrees to live with a terrifying beast. But she soon learns looks can be deceiving when she falls in love with the beast and breaks his curse.
A young inventor sets out on a journey through time to find the family he never knew.
In order to travel to the surface and meet her prince, mermaid Arial gives up her voice.
To get back her song, she must make the handsome prince fall in love with her before the spell takes hold.
Disguised as a man, a princess takes her father's place in the Imperial Army.
Evil Maleficent places a curse on a princess that puts her into a deep sleep – a spell that can only be broken by true love's kiss.
When Kermit the Frog decides to head to Hollywood to launch is career, he sets out on a road trip where he meets up with his muppet friends.
See the innovative animation come to life with a classical music soundtrack in this compilation of eight stories featuring classic Disney characters.
Travel to the Hundred Acre Woods with Pooh and his friends in search of Eeyore's lost tail.
When Piglet disappears into the Hundred Acre Woods, his friends use his book of memories to find him.
A misunderstanding leads Pooh to think that Christopher Robin is missing, so he and his friends set out into the Hundred Acre wood to find him.
When all the friends' winter preparations get undone thanks to Tigger's bouncing, Rabbit suggests he head out into the Hundred Acre Wood to find other Tiggers to play with.
Two garden gnomes caught in a feud between neighbors work together to prevent tragedy and fall in love in the process.
When the captain of the school's basketball team and a brainy new student connect, their passion for singing takes the entire school by storm.
When a young clownfish is captured, it's up to his worrisome father and his forgetful friend to rescue him from a dentist's office aquarium.
Ellen Degeneres returns as Dory in this stunning animated film perfect for young children.
Disney adapted Victor Hugo's novel to create a timeless class that the whole family can enjoy. We love to watch as Qusasimodo leaves his comfort zone to save the people and city he loves.
This is one of our favorite G movies for young children. It's fun and only an hour and 15 minutes! The a group of mice set out on an adventure to solve a case to save Olivia's father and all of Mousedom.
Goofy and his teenage son set out on a cross country road trip and encounter one misadventure after another.
After losing his job, Goofy decides to head back to college to be closer to his son Max, but he must go to the extreme to spend time with his sports-loving teen.
In hopes of becoming a world champion figure skater, a teenage girl is forced to join a hockey team by her Russian skating coach.
On the nigh of the ball, Cinderella is visited by her fairy godmother to turn her rags into riches. She falls in love at the enchanted ball, but she's forced to return to life with her evil stepmother and stepsisters until she's rescued by her Prince Charming.
With a little bit of pixie dust, Wendy and her brothers head to a magical land led by the always-young Peter Pan.
In order to take his seat next to his father Zeus in Atlantis, Hercules must prove he's a hero.
Curious Alice falls into the world of Wonderland, where she meets a host of unique characters like the Mad Hatter and the Queen of Hearts.
A wooden boy ventures into the world to test his bravery and honesty in hopes of becoming a real boy.
Travel to Pixie Hollow where Tinker Bell and her fairy friends learn the power of magic and pixie dust.
The human and fairy worlds come together when Tinker Bell and her friends visit the meadows of England.
When a woman meets a frog who wants to be a prince, a kiss sends the two on an epic adventure to fulfill their dreams.
A pedigreed cat and her kittens are kidnapped for ransom but an alley cat comes to their rescue.
When their family leaves them with friends for a few days, a group of pets begin to worry about their owners and sets out on an epic journey to get back home.
After crossing the border into the unknown world of the Winter Woods, Tinkerbell discovers she has a sister who must help her save the fate of the fairy worlds.
Your favorite talking puppies head to space in this out of this world Buddies adventure.
The talking Buddies head out on a treasure hunting adventure to Egypt to uncover the greatest treasure known to animal-kind.
Identical twins separated at birth are reunited at summer camp and work together to bring their divorced parents back together.
We love the original starring Hayley Mills, but the remake with Lindsay Lohan is also on Disney+.
A socially awkward teenager finds out her father is a king, which means she gets to become a princess.
On the run from a wicked witch, a princess seeks shelter with a group of dwarfs.
The Buddies must come together to stop a wicked warlock in this fun Halloween movie starring Disney's favorite talking puppies.
When a boy is transformed into a bear, he must walk in another's footsteps to learn a valuable life lesson.
Snoopy and Charlie Brown take on their own epic quests to find friendship and love.
Chicken Little and his friends must band together to save the planet from an alien invasion.
All the most notorious villains are imprisoned on an island with their descendants and must decide whether to retain their evil power or use their magic for good.
A curious robot discovers a new purpose in life when he meets a slick new robot who he hopes to befriend.
Join Miss Piggy, Kermit, and the gang for an adaptation of Charles Dickens' The Christmas Carol.
In this Christmas movie, Tim Allen mistakenly becomes Santa Claus after Santa falls off his roof and he puts on his coat. The Christmas classic now has sequels and even a TV show set at the North Pole.
Proceed with Caution
While the next 4 movies are g-rated movies on Disney Plus, they may have a scene or two that may be hard for small children.
In Bambi, the mother deer is shot.
The Lion King has a scene where the dad lion dies.
Dumbo is taken from his mom at a very young age, and the mother fox dies early in the Fox and the Hound.
Young Bambi explores the wonders of the world with his friends Thumper and Flower in this kid-friendly classic.
After his father's death, a lion cub runs away from his pride, but he soon realizes he needs to return to his homeland to save his family and complete the circle of life.
A courageous baby elephant learns how to use his sensational ears to fly to fame.
A baby fox and a hound puppy vow to be friends forever, but their friendship is tested as the hound grows into a hunting dog.
Honorable Mentions
Star Wars
If you are okay with a mix of TV-Y and PG Ratings, Disney Plus also has the Star Wars movies and several TV series – including the Young Jedi.
You will need to check each shows rating though, and most of the feature films are PG.
Flubber & Inspector Gadget
Flubber, starring Robin Williams, and Inspector Gadget, starring Matthew Broderick, are also two Disney movies that younger kids may like, but they are rated PG.
Encanto
And if your kids loved Hamilton, you may also consider Encanto even though it's rated PG. Lin-Manuel Miranda did the songs for the movie, and they're great!
We hope this list of best G rated movies on Disney Plus helps you navigate the streaming service faster, and that you're able to find the best movies for your younger viewers!
Looking for more ideas? Check out our 195+ Best Family Movie Night Ideas to Watch With Your Kids!