You can easily host an epic indoor DIY movie night for your family and close friends with these fun ideas and delicious snacks!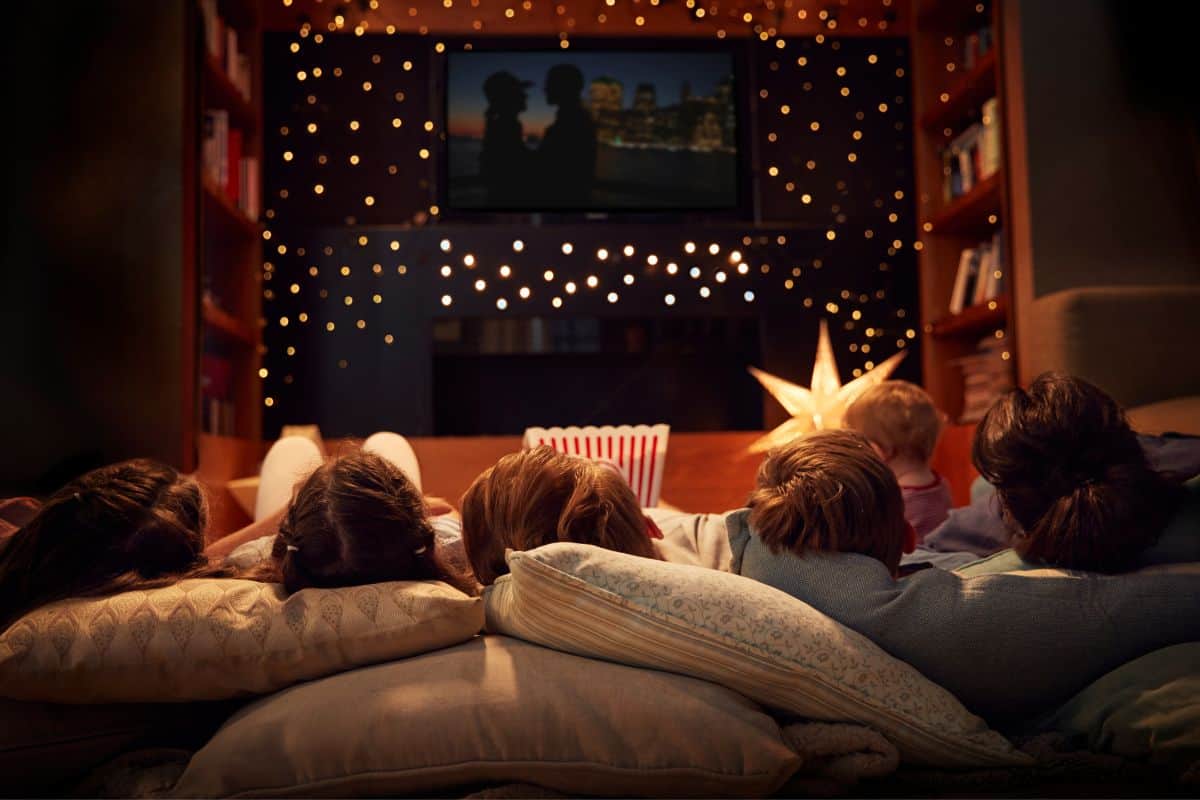 When the weather outside gets cold, bringing your movie night fun indoors is a must. And that means you're going to need plenty of fun indoor DIY movie night ideas to entertain your friends and family!
Whether you're looking for cozy and comfortable ways to turn your living room into a theater or delicious snacks to eat while you watch, you'll find everything you need to put together a memorable night for your family.

7 Best Tips for The Ultimate Indoor DIY Movie Night
Hosting a movie night indoors is a great way to pass the time with your friends and family when you can't head outside.
The best part? It's pretty easy to transform your home into a cozy home theater to watch your favorite films.
With the help of these DIY ideas, you can create the perfect place for your family come together for a fantastic movie night.
1. Create a movie theater experience.
You don't need high tech devices to turn your home into a movie theater.
At a minimum, you can use a large TV to screen your favorite movies.
You could also create your own big screen by investing in a projector and projector screen. Another option is to make a easy DIY screen by hanging a white sheet on your wall.
After that, consider adding to the experience with the help of a high quality Bluetooth speaker or even a surround sound system.

2. Set up comfortable seating.
Since you're staying in to watch a movie, you probably already have everything you need at home to create a comfy spot for viewing.
Decide which room you'll show the movie in, then set up your seating around the screen. Start with your couch and work out from there.
If the furniture isn't big enough for everyone to sit on, try placing pillows or bean bags on the floor to give all your guests a comfortable place to sit.
3. Don't forget the blankets.
Now that you have the seating organized, gather up some blankets to share with your family to ensure everyone is nice and warm.
In addition to warming up your movie night guests, the extra blankets can also provide another layer of comfort to anyone sitting on the floor during the movie showing.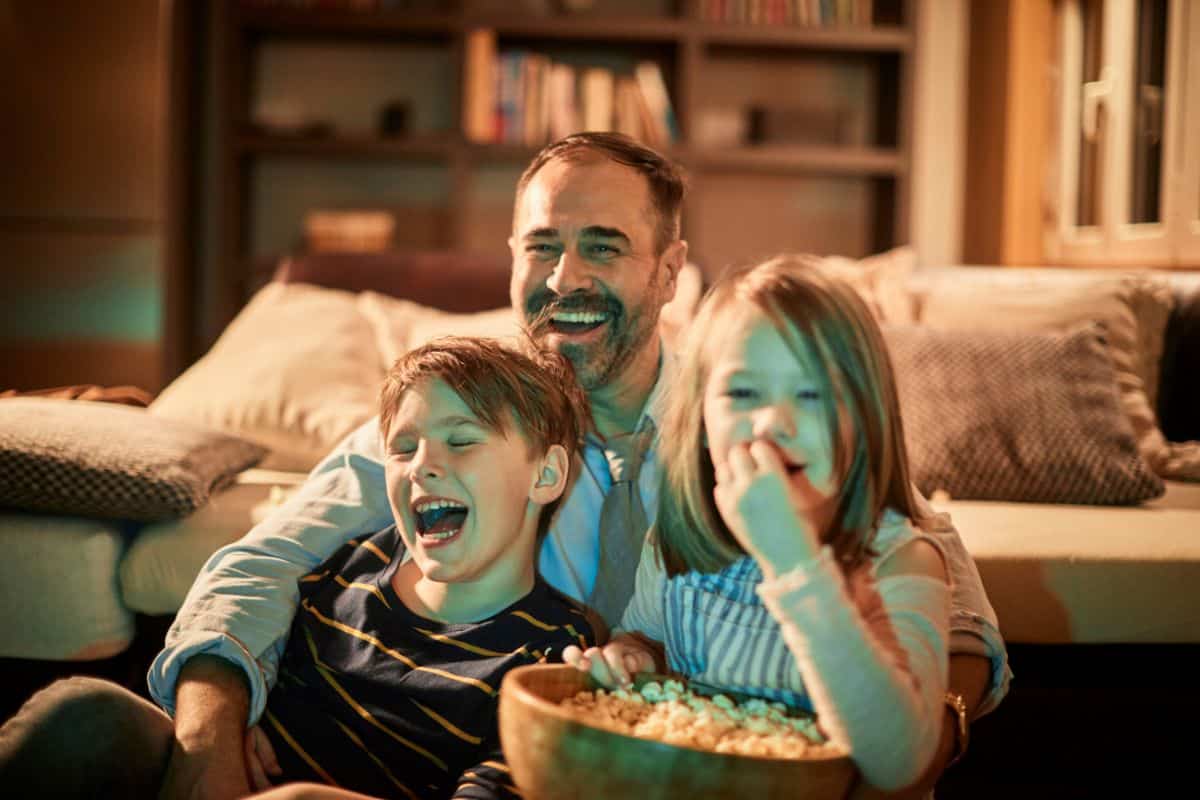 4. Add some mood lighting.
While turning out the lights to watch the movie is a great idea, you might want to add a small amount of lighting to the room so your guests can see where they're going if they need to get up.
Add a string of fairy lights around the back of the room or light a few candles to add lighting without disturbing the screen.
5. Pick the perfect movie.
Setting up the space for optimal viewing is a great place to start when hosting an indoor movie night, but the evening really is all about the movie!
Think about who will be watching the movie at your get-together, then use their ages and interests to come up with some feature films to put on during your indoor movie showing.
If you're struggling to pick a movie, we have several fun family movie night ideas you may like! Another great option is a Disney movie like Finding Nemo or something with a little adventure like Indiana Jones.
If you do pick a Disney movie, we have Disney & Dinner ideas, as well as, coloring sheets to add in a fun activity before the movie!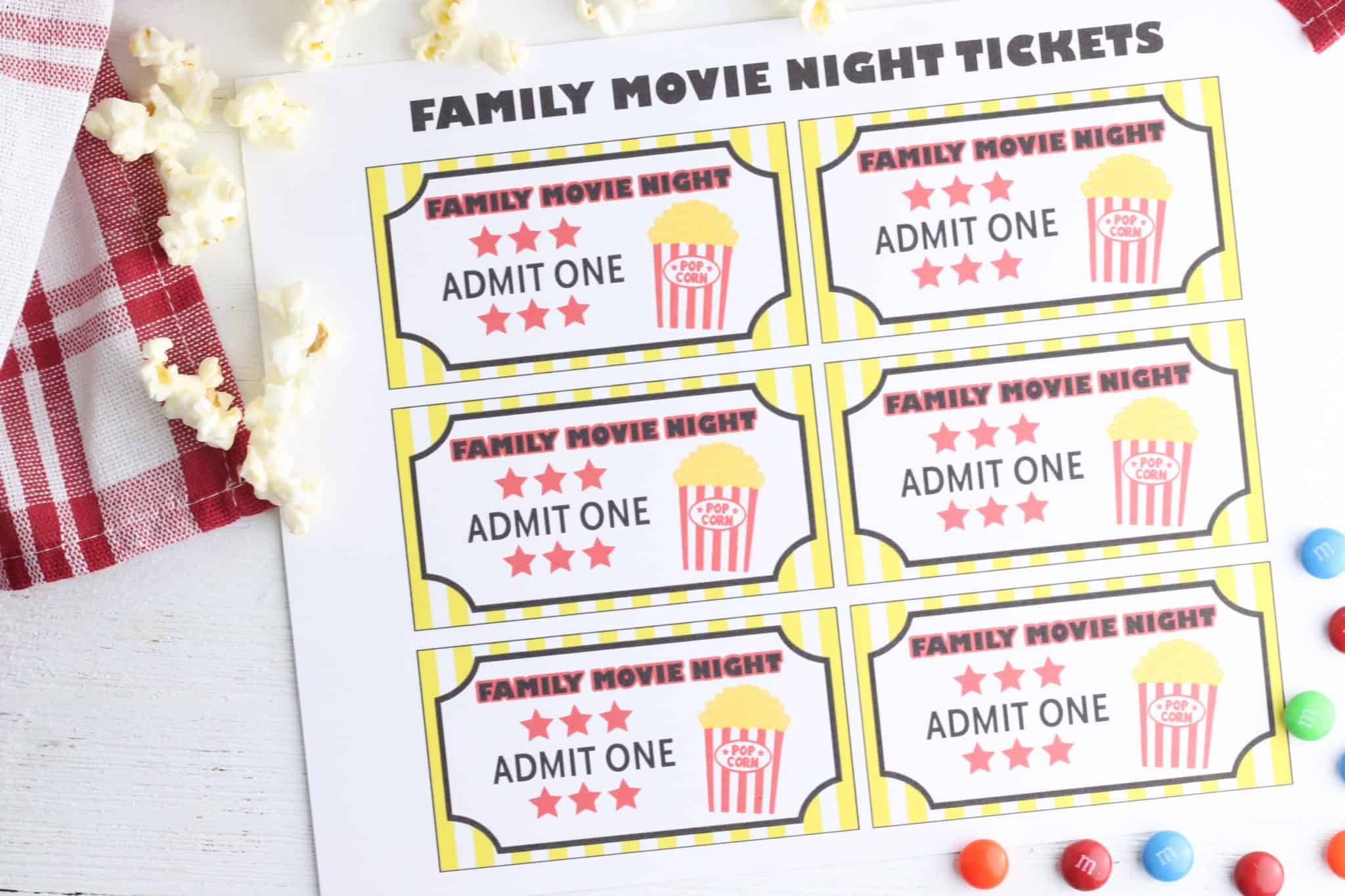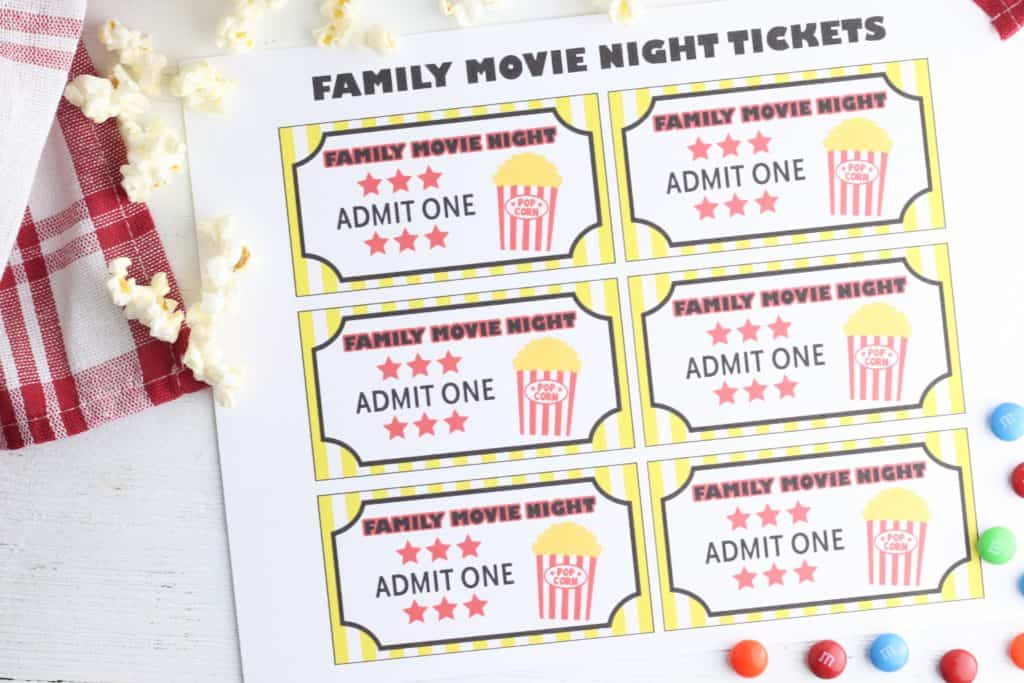 6. Print movie tickets
One way to recreate an epic cinematic experience is to print off movie tickets before the show! We love to print them a couple days ahead of time.
7. Consider adding special touches.
A red carpet, themed dinner, or fun activity are all great ways to elevate a movie night at home!
Another special touch can be added by your movie night at home snacks! Below are a few of our favorite snacks to serve!
The Best Indoor DIY Movie Night Snacks
You can't have a fun movie night without snacks!

Once you have your living room set up for comfortable viewing, head to the kitchen to make some of these delicious snacks and drinks to enjoy while you watch the movie.

When the weather warms up, we also have outdoor movie night ideas and Pool Movie Night Ideas to help you plan some quality time with the whole family.
Love these ideas? You may also like our:
Pin these indoor DIY movie night ideas for later!