Throwing a slumber party is one of the most popular party options among kids. Luckily, it's pretty simple to host an awesome slumber party. Below we share 17+ super fun slumber party ideas to help you plan what to watch, eat, and do!
The best part? You can do host a party from your home and not spend a ton of money!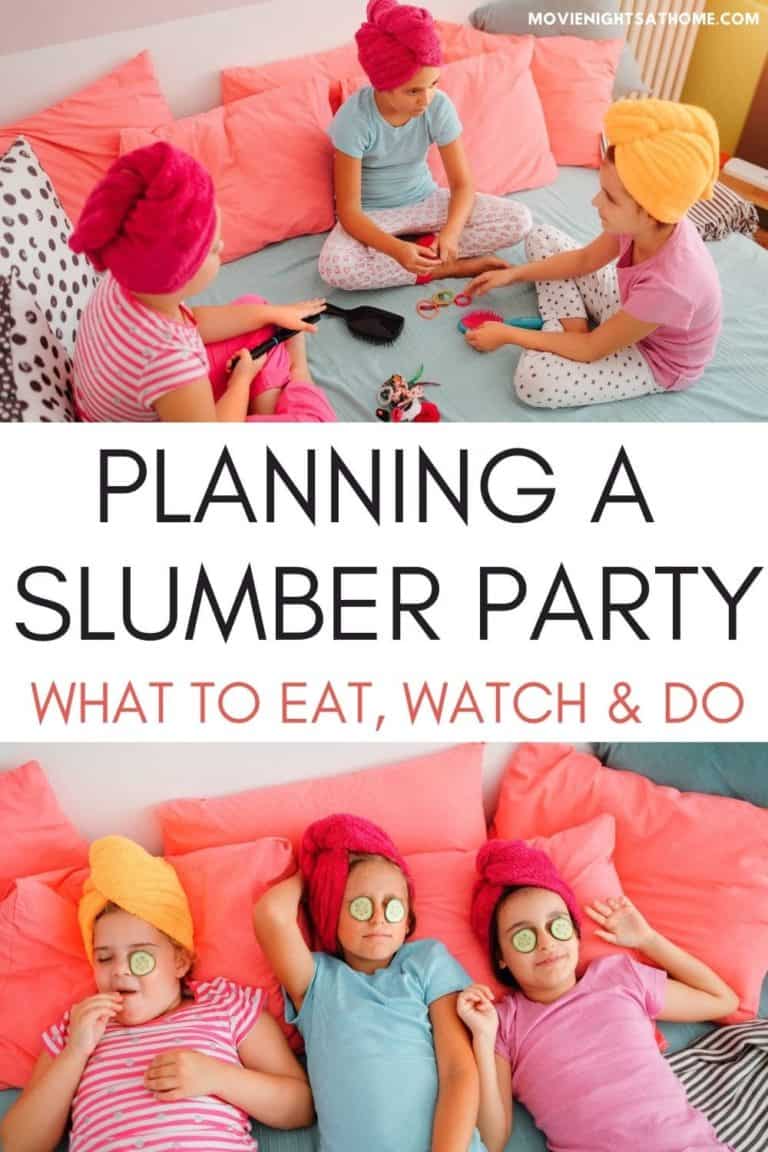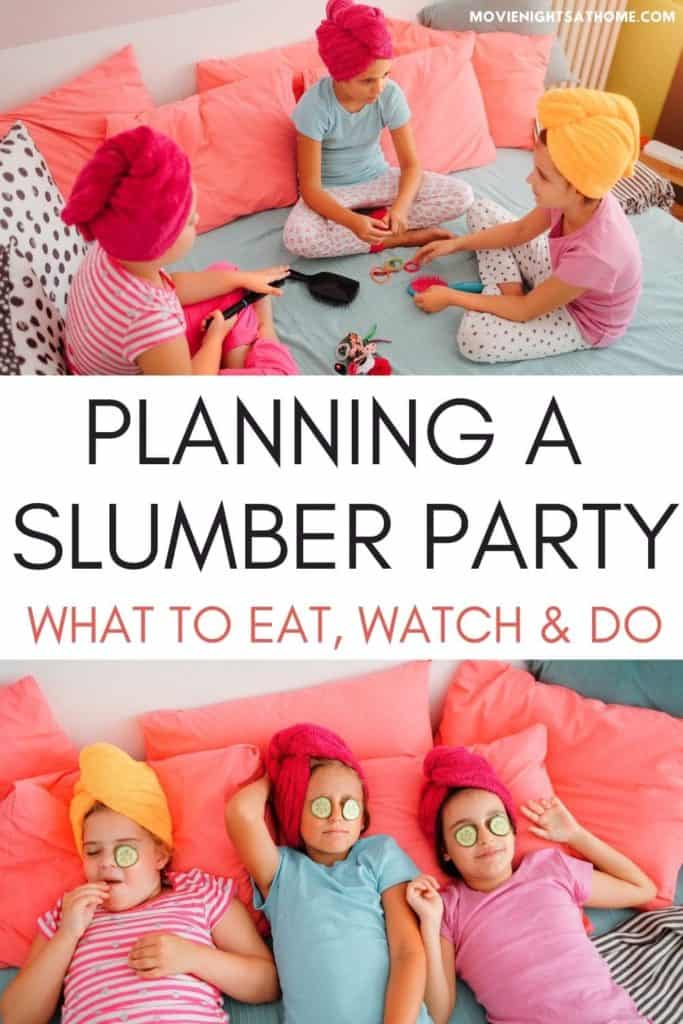 Whether you're throwing your kids a slumber party or planning an adult girls-night-in, we have some super fun slumber party ideas to make it a night to remember!
What to Watch at a Slumber Party
One of the biggest parts of any slumber party is finding something fun to watch on TV. As the party winds down and the kids are ready to sit back and watch something fun, having a few ideas in mind is a good idea.
We love to choose from 5 different types of movies:
1. Girl power movies
Movies that inspire or encourage girls to be strong and independent are always a great sleepover choice.
2. Romantic comedies
Another popular sleepover movie genre is the romantic comedy. Anything with a kid-friendly love story is a great choice for your next slumber party.
3. Scary movies
Give your party-goers a fright by showing them an age-appropriate scary movie at your next sleepover.
4. Musicals
Your party guests will love singing along with the songs from their favorite musical movies.
5. Concert movies
Or put in a concert movie of one of the kids' favorite singers or bands and let them enjoy some of their favorite songs at the sleepover.
We also have a full list of sleepover movie ideas you might like!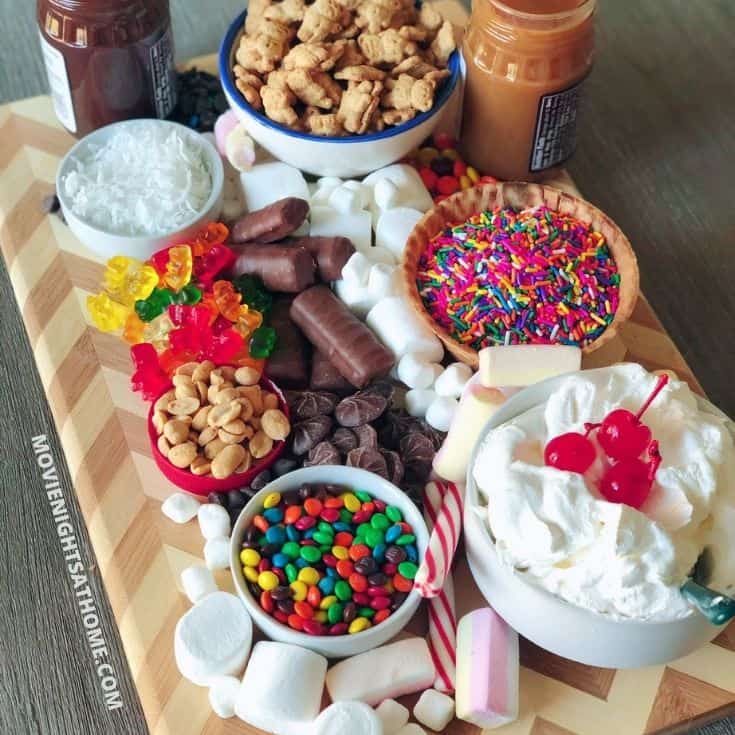 Slumber Party Ideas for Food
Serving yummy food is an essential part of any slumber party. That means you'll need to make a plan for your menu before your event. But coming up with fun food ideas isn't all that hard!
Just combine some delicious salty snacks with some sweet treats to satisfy the cravings of all your guests.
These fun slumber party food ideas are perfect for any celebration:
1. Popcorn bar
You can't go wrong by serving popcorn to your slumber party guests. Set up a popcorn bar for your party to give your guests snack options. Start by setting out some big bowls of popcorn. Then accent the popcorn with flavoring and topping options, like melted butter, caramel sauce, ranch seasoning, cheese, butter salt, and candy.
2.

Tea party
Hosting a tea party as part of your sleepover is another fun food idea. Along with hot beverages, make sure to have plenty of bite-sized treats like mini sandwiches, tea cakes, cake pops, donut holes, and cookies.
3. Make your own pizza
Pizza seems to be an all-around favorite of kids, which means it's sure to be a popular option at your sleepover. Purchase premade pizza crust, then let each of your slumber party guests add their own toppings. Bake the pizzas and let the kids enjoy eating their creations.
4.
Ice cream bar
Serving ice cream is a must at your next slumber party. Take your dessert options up a notch by setting up an ice cream bar. Give each of your guests a bowl of ice cream, then let them pick from a variety of topping options, like hot fudge, caramel sauce, candy, cookies, and nuts.
5.
Breakfast buffet
While most of your thought might go into planning the slumber part of your sleepover, you can't forget about feeding your guests in the morning. A breakfast buffet is a great way to ensure each guest has something they like. Setting out a variety of options, like pancakes, waffles, donuts, bacon, and sausage is a simple way to end your slumber party.
Also, check out our Amazing Sweet 16 Themes & Birthday Party Ideas!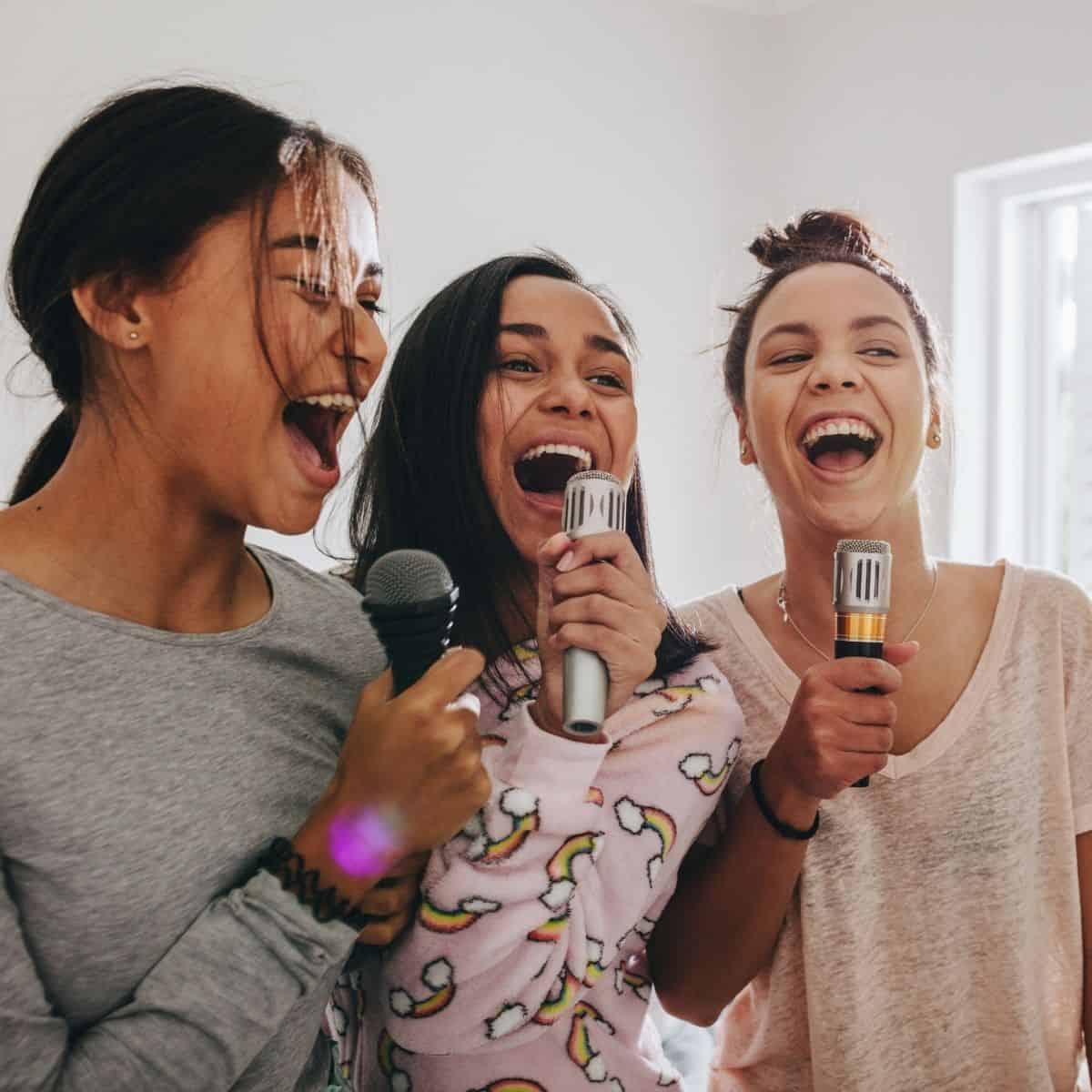 Sleepover Activities
Once your guests have settled in, you're going to need to have some activities ready to go. These fun sleepover activities are sure to be a hit among your party guests.
Kids love making slime, which means creating your own homemade slime at your party is sure to be a popular activity. Gather up your slime making ingredients and let each guest make their own slime to take home.
Making friendship bracelets is another fun way to pass the time at your slumber party. Set out a variety of bracelet making supplies, like thread and beads, to give each of the kids a chance to make something beautiful.
3.
Pillow fight
You can't have a slumber party without a pillow fight. Give each of the kids a pillow and let them go crazy for a few minutes.
Your sleepover guests will have a blast playing board games together at your party. Set out a few kid-friendly games and let them have a tournament. Don't forget to have some prizes ready for the winners!
5.
Spa night
Pamper your guests with spa treatments for some added fun at your next slumber party. Give each of your guests a comfy robe, then let them soak their feet, give out manicures and pedicures, and provide them relaxing eye masks. We love to give a bath bomb as a gift to take home too!
Set out some fun photo props and let the kids have a good time taking silly photos in a homemade photo booth. You can send the photos to their parents so they can enjoy looking at their photos when they get home.
7.
Slumber party games
When all else fails, let the kids play some popular slumber party games!
These easy-to-play games are perfect for a sleepover:
Telephone

Charades

Light as a feather, stiff as a board
Love these slumber party ideas?
Let us know by tagging us on Instagram @movienightsathome or Pin it on Pinterest!
You may also like these 10 birthday party ideas!