Playing a game of charades is always so much fun! Grab our Halloween Charades Words List and free printable for your next Halloween party!
We've included free printables at the bottom of this post as well!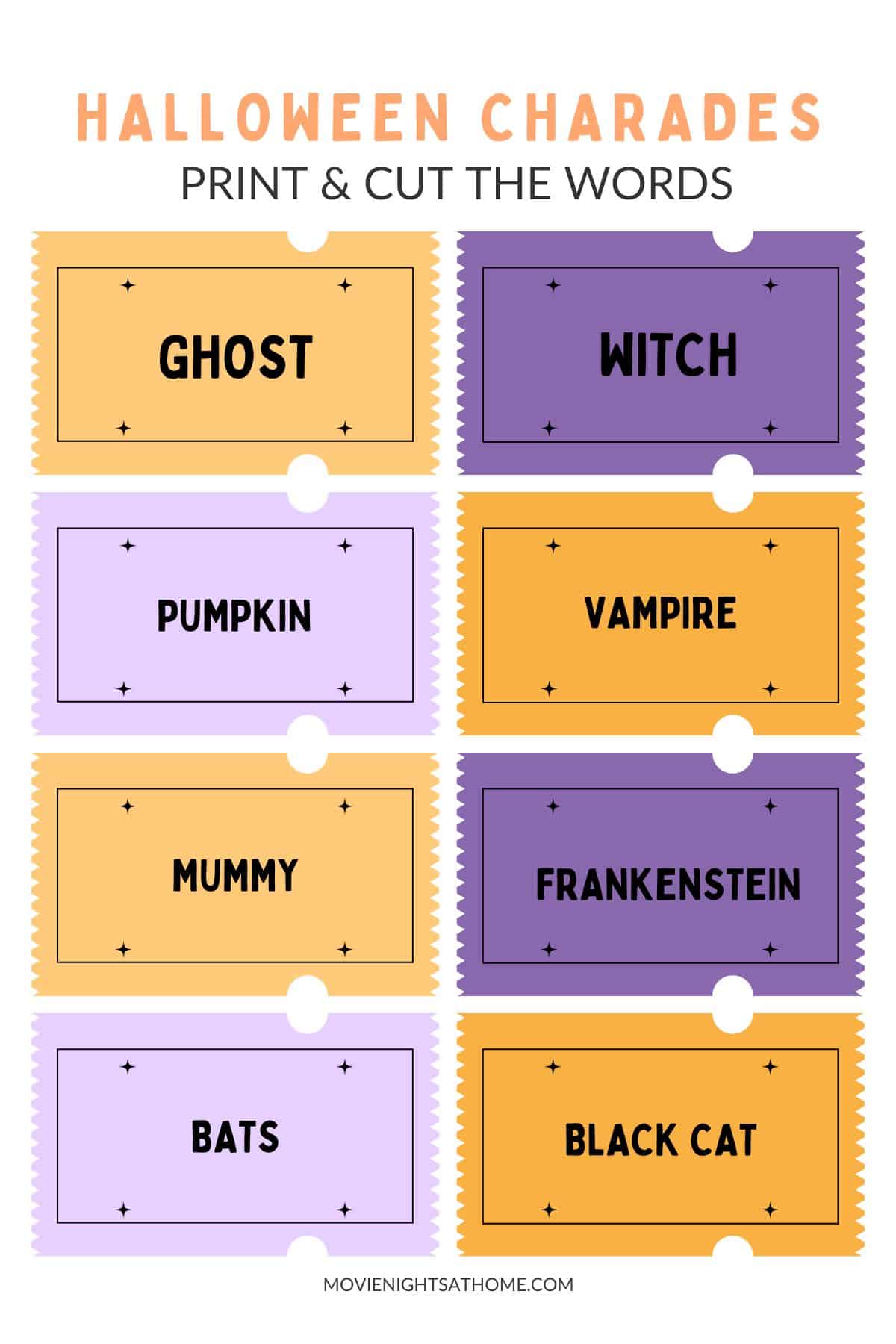 We love this Halloween charades word list for a family game night! It's a great way to get the entire family into the Halloween spirit without leaving your living room!
What You'll Need For this Halloween Charades Game
An Electronic Timer (the beep is nice compared to the sand timer)
Halloween Charade Cards (get the printable cards below)
Bag or bowl to put the cards in
Piece of paper to keep score
Pen or marker to keep score
We also love a good Halloween charcuterie board or spooky treat!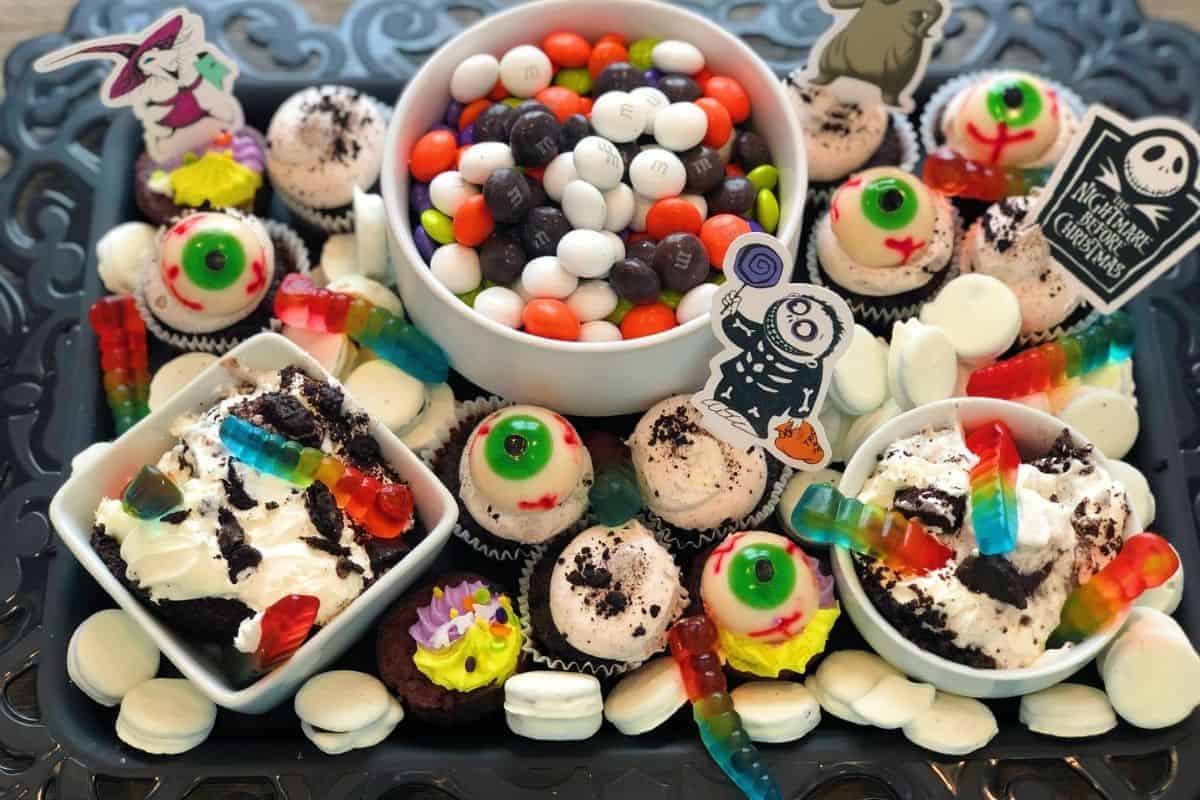 How to Play Halloween Charades
Halloween is such a great time of year to have a party! These Halloween charade ideas include ideas for younger players, as well as, scary but fun ideas for older players. But before we get to the words, let's go over the rules!
Charade Rules
Place all of the Halloween ideas in a bowl
Decide on the time limit for each clue ahead of time and whether you'll play for points or for a specific amount of time.
Let the players know the rules.
Choose who will go first. (We typically let the youngest go first). They'll draw an idea from the bowl.
This person acts out whatever is on the card they drew. They can't speak.
Everyone else tries to figure out what is being acted out. When a person guesses correctly, he or she goes next.
If no one gets it within the 60 seconds, no one gets a point.
Halloween Charades Tips
When you're coming up with Halloween charade ideas, we recommend keeping it to popular ideas and everyday activities versus anything obscure. You want every player to know how to act it out and guess.
Also, make sure the activity, name, or title is something that can be acted out.
Decide ahead of time if you all will allow someone to pass on a word. If they can pass, is there a limit to it?
Make sure to set a time limit or certain amount of points as the end-point to keep people from getting restless.
You could also do teams versus individual players.
Halloween Charades Words List
If you don't want our free Halloween Charades Printable, you can just pull from this Halloween charades word list!
Halloween Charade Ideas for Younger Kids
Troll
Scared
Witch
Doorbell
October
Heart
Halloween Costumes
Spell
Teeth
Guts
Trick or Treating
Blood
Bonfire
Pumpkin
Harry Potter
Spider
Wand
Candy
Scary movie
Candy corn
Frankenstein
Mummy
Fangs
Werewolf
Vampire
Spiderwebs
Jack-O-Lantern
Haunted house
Brains
Flying on a broom
Black cat
Halloween mask
Graveyard
Zombie
Boogeyman
Screaming
Skull
Poison
Snake
Eyeballs
Unicorn
Skeleton
Superman
Bats
Leaves
Bobbing for apples
Ghost
Sleeping
Monster
Scarecrow
Eyepatch
Face paint
Crazy laugh / Cackle
Nightmare
Caramel apple on a stick
Halloween Charade Ideas for Adults
These Halloween charade ideas may be too hard for younger children, but they are great ideas for adults and possibly older children. This is because the word may be too scary or it has a higher difficulty level.
Apple cider
Pumpkin spice
Voodoo
Warts
Watching scary movies
Grim reaper
Demon
Dying
Headless
Coffin
Ogre
Puking
Mummy on a plane
Scaring someone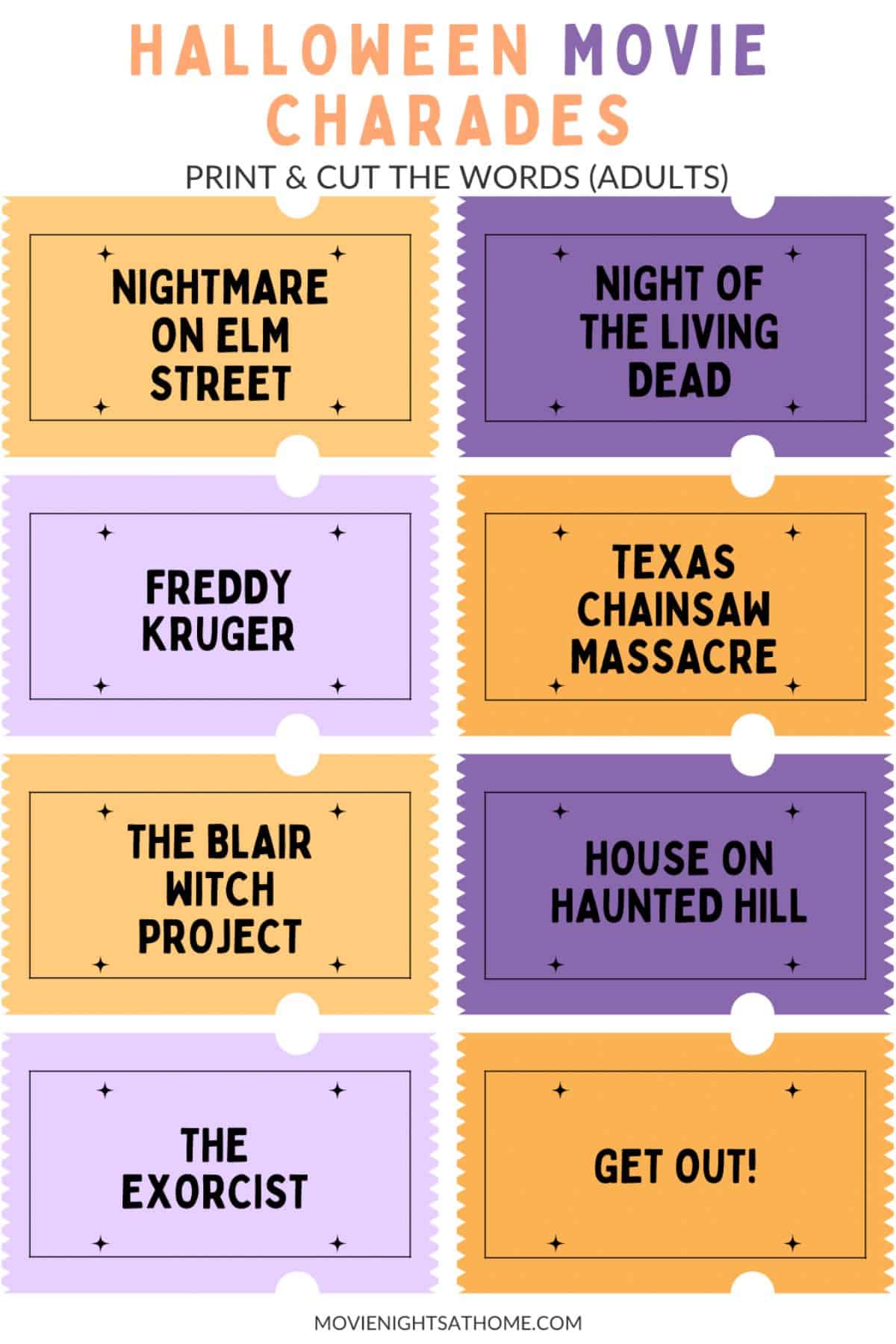 Halloween Charade Movie Ideas
These ideas are also more for adults or teens versus younger players.
You may want to play in teams with this one since they are harder than the other Halloween word list ideas.
Nightmare on Elm Street
Night of the Living Dead
Freddy Kruger
Texas Chainsaw Massacre
The Blair Witch Project
House on Haunted Hill
The Exorcist
Get out!
Nightmare Before Christmas
The Shining
Poltergeist
Halloween
Beetlejuice
Coraline
Carrie
Ghostbusters
Hocus Pocus
Casper The Friendly Ghost
Bewitched!
Scooby Doo!
Sleepy Hollow
Edward Scissorhands
Mother!
Practical Magic
Rocky Horror Picture Show
A Quiet Place
Halloweentown
Final Destination
The Witches of Eastwick
Paranormal Activity
The Haunted Mansion
The Sixth Sense
Corpse Bride
Death Becomes Her
Psycho
The Addams Family
Friday the 13th
Doctor Sleep
IT
The Omen
Jaws
The Thing
The Ring
Saw
The Amityville Horror
Pet Sematary
The Grudge
Alien
Scream
Chucky
Dracula
The Hills Have Eyes
Rosemary's Baby
13 Ghosts
Buffy the Vampire Slayer
Signs
Love Halloween movies? Check out 81+ Best Halloween Movies [for Kids, Teens & Adults]!
BONUS: Give it a Spooky Vibe!
If you're playing with a group of friends or older kids, you could also add in a little more Halloween fun by adding a "Scary task" to some cards!
On a few pieces of paper, write something creepy or scary task for the person who draws it to do.
Task Ideas:
Randomly scream during the next player's turn.
Start violently shaking for 10 seconds.
Get up close to someone and just stare for a minute.
Sneak up behind someone and yell BOO!
Start muttering "all work and no play makes johnny a dull boy" over and over for a minute.
Playing a game of charades is a great way to get the entire family together! We hope this of 125 Halloween Charades Word List helps you all have a Happy Halloween!
You can get our Halloween Charades Printable free if you opt in here, or you can also grab it in our shop if you prefer to keep your email private.
Looking for more Halloween Games?