These superhero trivia questions are perfect for your next party or movie night! If you're a DC or Marvel fan, you're going to have fun!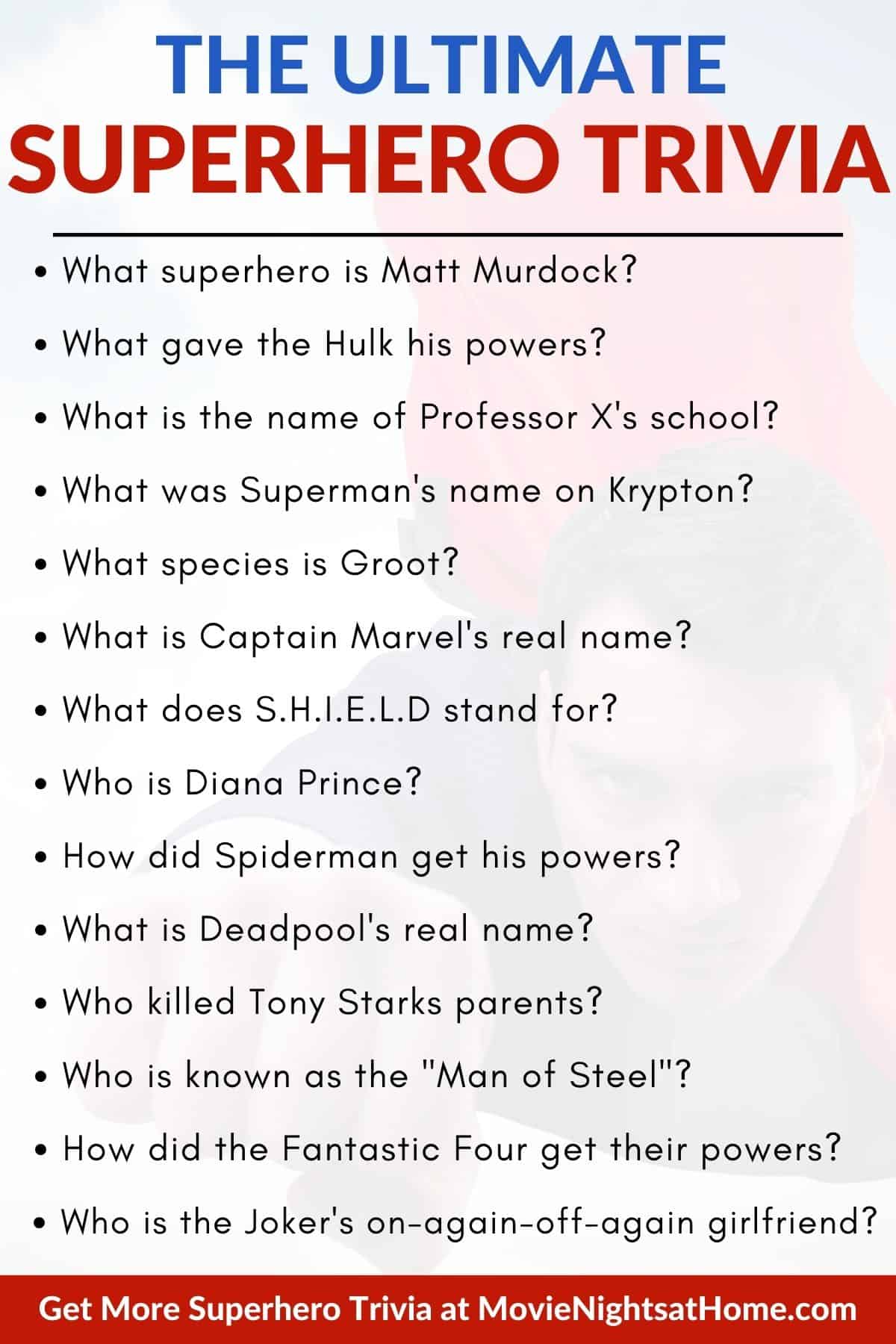 Whether you're hosting a superhero movie night or just want to show off your comic book knowledge to your friends, hosting a trivia challenge is always a fun time! We love to pair with Infinity Stone Rice Krispie Treats, ice cream board, or a fun movie night dessert.
Superhero Trivia Questions
Have some fun challenging your friends' knowledge of all things superheroes with the help of these trivia questions.
This big list of questions and answers features difficult questions for comic book die-hards and easy questions even the kids can answer!
That means there's something for everyone in this Marvel studios and DC comics trivia list.
How did Spider-man get his super powers?
He was bitten by a radioactive spider.
What is Deadpool's real name?
Wade Wilson
Which superhero that is also known as the "Man of Steel?"
Superman
Who killed Tony Stark's parents?
The Winter Soldier
What superhero fights crime with a magic lasso and bullet-proof bracelets?
Wonder Woman
How Did the Fantastic Four get their powers?
From cosmic rays
What object gives the Green Lantern his powers?
A ring.
What indestructible material was used to make Captain America's shield?
Vibranium
Which X-Men character has claws made of adamantium?
Wolverine
What is Batman's real name?
Bruce Wayne
What is the name of the island where Wonder Woman is from?
Paradise Island
Which superhero can manipulate and resist the weather?
Storm
What type of doctor was Stephen Strange?
Neurosurgeon
Which Marvel super hero was known as the "man without fear" after becoming blinded by radioactive components?
Daredevil
What is the name of Thor's hammer?
Mjolnir
How many Infinity Stones are there?
Six: the Space Stone (blue), the Reality Stone (red), the Power Stone (purple), the Mind Stone (yellow), the Time Stone (green) and the Soul Stone (orange)
Kryptonite in which color is not harmful to Superman?
White
Whose catchphrase is, "It's clobbering time?"
The Thing
In which movie did Spider-Man make his first appearance in the Marvel Cinematic Universe?
Captain America: Civil War
What is the name of the newspaper where Peter Parker works?
The Daily Bugle
What is the name of the newspaper where Clark Kent works?
The Daily Planet
What is the Scarlet Witch's real name?
Wanda Maximoff
Which superhero can no longer transform back into human form?
The Thing
Who were the original six Avengers?
Iron Man, Captain America, Hulk, Thor, Hawkeye, and Black Widow
What is the name of Tony Stark's A.I. butler?
Jarvis
What is Raymond Palmer's superhero identity?
The Atom
Who is Batman's butler?
Alfred Pennyworth
Where did Iron Man build his first suit?
Vietnam
Who is the leader and founder of the X-Men?
Professor X (Charles Xavier)
What is the only MCU movie that doesn't have a post-credits scene?
Avengers: End Game
Which villain got his signature look from falling into toxic chemicals at a plant?
The Joker
Who is the superhero twin brother of Scarlet Witch?
Quicksilver
Black Panther is the ruler of what kingdom?
Wakanda
Which Avenger, other than Thor, is worthy of holding Thor's hammer?
Captain America
Who raised Spider-Man?
Aunt May and Uncle Ben
What superhero was created by Tony Stark and Bruce Banner using artificial intelligence?
Vision
Which super hero is also known as the Scarlet Speedster?
The Flash
How did Steve Rogers become Captain America?
He was given a super serum
What is Daredevil's secret identity?
Matt Murdock
Black Widow sacrifices herself to get which Infinity Stone in Avengers: Endgame?
The Soul Stone
Which powerless super hero is also known as Ronin and Goliath?
Hawkeye
Who is the arch nemesis of The Fantastic Four?
Dr. Doom
Which Spider-Man villain had two alter egos – one a father and the other his son?
Green Goblin
What does S.H.I.E.L.D. stand for?
Strategic Homeland Intervention, Enforcement, and Logistics Division
What is the name of the amulet that Dr. Strange wears around his neck?
The Eye of Agamotto
Who is the arch enemy of Aquaman?
Malefic
What Marvel movie featured Stan Lee's final cameo?
Avengers: Endgame
Who are the seven official members of The Justice League?
Batman, Wonder Woman, Superman, Aquaman, The Flash, Green Lantern, and the Martian Manhunter
What superhero is Billy Batson?
Shazam!
What species is Groot?
Flora Colossus
What is Captain Marvel's real name?
Carol Danvers
What gave the Incredible Hulk his powers?
Gamma rays
What is the name of Professor X's school called?
Xavier's School for Gifted Youngsters
What was Superman's name when he lived on Krypton?
Kal-El
Who is the Joker's on-again-off-again girlfriend?
Harley Quin
What is Wonder Woman's secret identity?
Diana Prince
Did you love these superhero trivia questions?
You may also like these Fun & Easy Superhero Crafts for Toddlers & Kids!
After you're through this trivia game, try one of our other ones!