With its beautiful scenery and interesting culture, Greece makes an amazing backdrop for a movie. So the next time you're ready for a get-away but find yourself stuck at home, check out one of these movies about Greece to take you on an unbelievable adventure.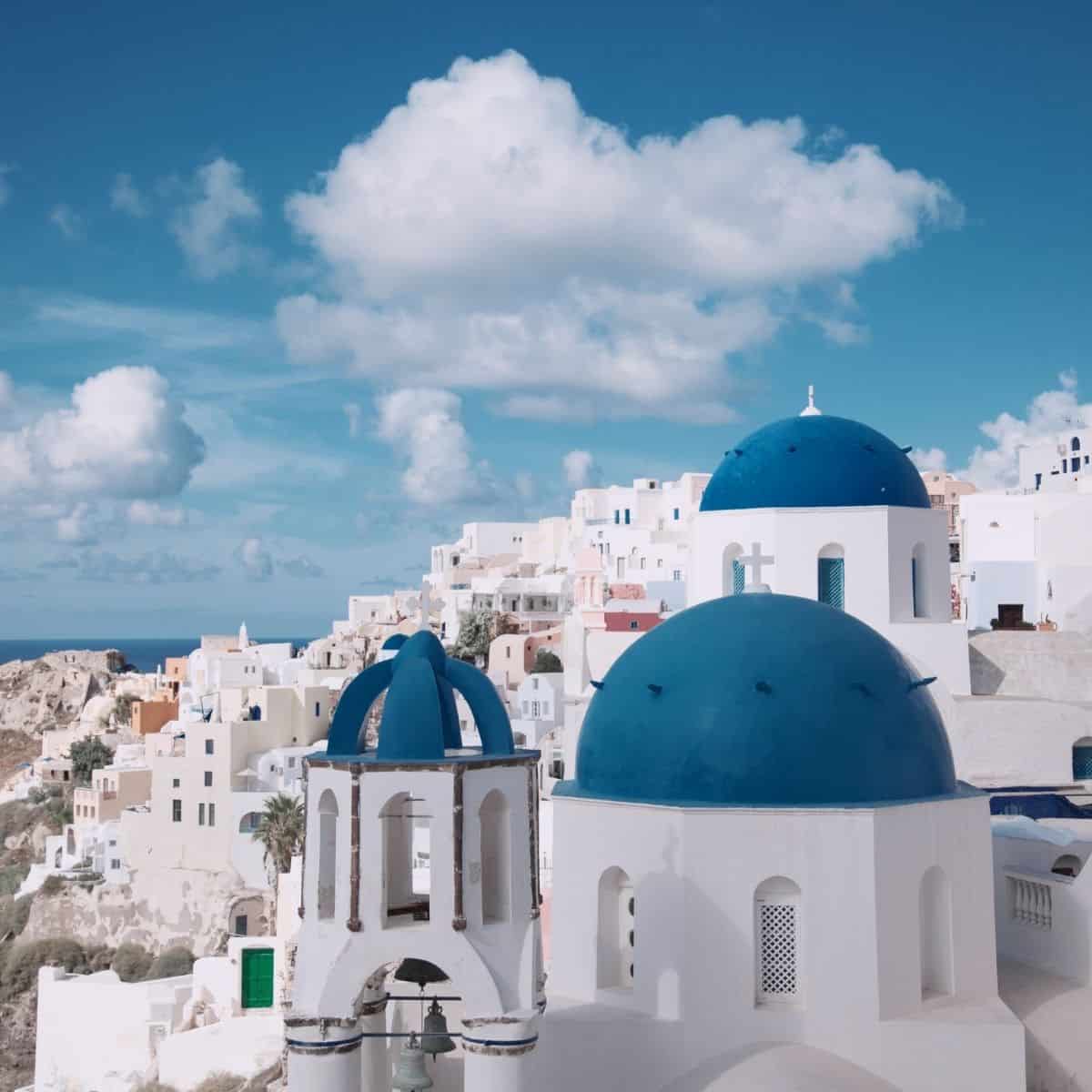 With its beautiful scenery and interesting culture, Greece makes an amazing backdrop for a movie. And that means there are a variety of incredible movies set in this eclectic country. The next time you're ready for a get-away but find yourself stuck at home, check out one of these movies about Greece to take you on an unbelievable adventure.
All but 2 of these movies are available to stream on Amazon Prime so you could enjoy one of these famous movies tonight!
Best Movies About Greece
From soaring rocky landscapes to crystal blue sea waters, the country of Greece has so many beautiful backgrounds for a movie. And with so many stories to tell, this country is the perfect place to set a film scene. That means you're going to love each of these movies about Greece!
We love these movies as an outdoor movie night or pool party!
Set on the island of Skopelos, this movie musical features Greece in all its glory. The movie is based around ABBA songs. Mamma Mia follows a woman's travels to Greece to get married in her mother's hotel. But to her mother's surprise, the bride invites three men from her mother's past in hopes of meeting the father she never knew.
The romantic film stars Amanda Seyfried along with several academy award winners in it. Meryl Streep, Pierce Brosnan, and Colin Firth are all leads. Mama Mia is a great way to kick off the Summer holidays!
Two long-time friends compete against each other to set a deep-sea diving record, while also reminiscing about their time growing up together in Greece. A movie about friendship and romance, The Big Blue also features sweeping underwater scenes within the blue waters of the Aegean.
Two friends come together to retrace the steps of Odysseus across the country of Greece, traveling to ancient landmarks, restaurants, and hotels across the country. During their trip, they argue about their views on history, democracy, and the meaning of life.
The powerful son of the God Zeus, the Greek legend Hercules led a life of suffering. After the loss of his family, he turns his back on the gods and turns to war instead.
After years of spending every summer together, three teenage friends are forced to go their separate ways as each of their families plan their summer vacations. To stay connected, the friends share a magical pair of jeans. While visiting her grandparents in the Cyclades, one of the girls takes the pants on a romantic adventure through Greece.
You'll also recognize Blake Lively and Alexis Bledel in this coming of age movie worth watching!
Lara Croft, played by Angelina Jolie, travels to Santorini to keep Pandora's Box from landing in the wrong hands after an earthquake unearths the Luna Temple, which was built by Alexander the Great. During her quest, she must escape her enemies through gun fights, hand-to-hand combat, and daring escapes.
Gerard Butler and Chris Barrie also star in this video game-inspired movie!
On a hunt for their next mark, a con artist and his wife travel to Greece after befriending a European guide. But the friendship soon takes a deadly turn when it transforms into a love triangle. After a detective is murdered, the couple must attempt to escape the country with the help of a stranger.
After following a group of tourists to Athens, a Greek-American tour guide begins to search for her purpose in life by getting back to her heritage. Throughout the movie, you'll be able take a tour of a variety of interesting Greek landscapes and archaeological sites, including Acropolis and Delphi.
Nia Vardalos and Richard Dreyfuss star in this romantic comedy. We absolutely love Nia, and if you loved My Big Fat Greek Wedding, we think you'll love this movie as well!
A man is pulled out of the ocean by an Italian fishing crew with two bullets in his back and no memory of who he was. As he begins to piece his life back together, he begins to have flashbacks of his life in Greece and his work as an elite government agent all while eluding lethal assassins.
Matt Damon is Jason Bourne.
Almost 20 years after their first meeting (in the movie Before Sunrise), Jesse (Ethan Hawke) and Celine (Julie Delpy) take a romantic trip to Greece. Set in the Mani Peninsula, this romance follows the couple as they reminisce about their past romance and past choices while also discussing their future potential.
An American tourist must go on the run during a trip to Greece after a tragic accident puts him in the middle of a political conspiracy. (Available on Netflix)
A pair of childhood lovers, Michael (Peter Gallagher) and Cathy (Daryl Hannah), travel to the isle of Santorini to spend the summer together. But during the trip, Michael finds himself lusting after a vacationing French archeologist, whose charms are too much for the couple to resist.
This particular movie isn't available to stream – or we couldn't find it. But you can get it on DVD.
Set in ancient Greece, Troy follows the love and passion of two of history's most prolific lovers – the Prince of Troy and Helen Queen of Sparta — as they spark a war that devastates a civilization.
Brad Pitt, Eric Bana, Orlando Bloom star in this blockbuster movie.
14. Opa! – PG-13
An archeologist travels to the Greek island of Patmos in search of the cup of St. John Divine. During his trip, he falls in love with a bar owner. But when his equipment reveals that the artifact is located under her taverna, he must choose between love and treasure.
Set on the island of Kefalonia during September of 1943, Captain Corelli's Mandolin tells the story of the occupation of the Greek island by German soldiers. As a romance blooms between an Italian officer and a Greek woman who lives on the island, the beautiful location is rocked by war.
Academy Award winner Nicolas Cage and sexy Penélope Cruz are both really great in this movie.
When an aimless Englishman finds out he has an inheritance on the Greek island of Crete, he makes a trip to claim his newly found property. But when he arrives, he meets Zorba, a middle aged Greek man with a zest for life. The more time he spends with his new friend, the Englishman quickly sees his views on life begin to change.
While this classic film isn't set in Greece, it has to be on our list of best movies about Greece because of the large Greek family and customs that go into planning a Greek wedding.
If you watch one of these best movies about Greece, we'd love to know which one you pick!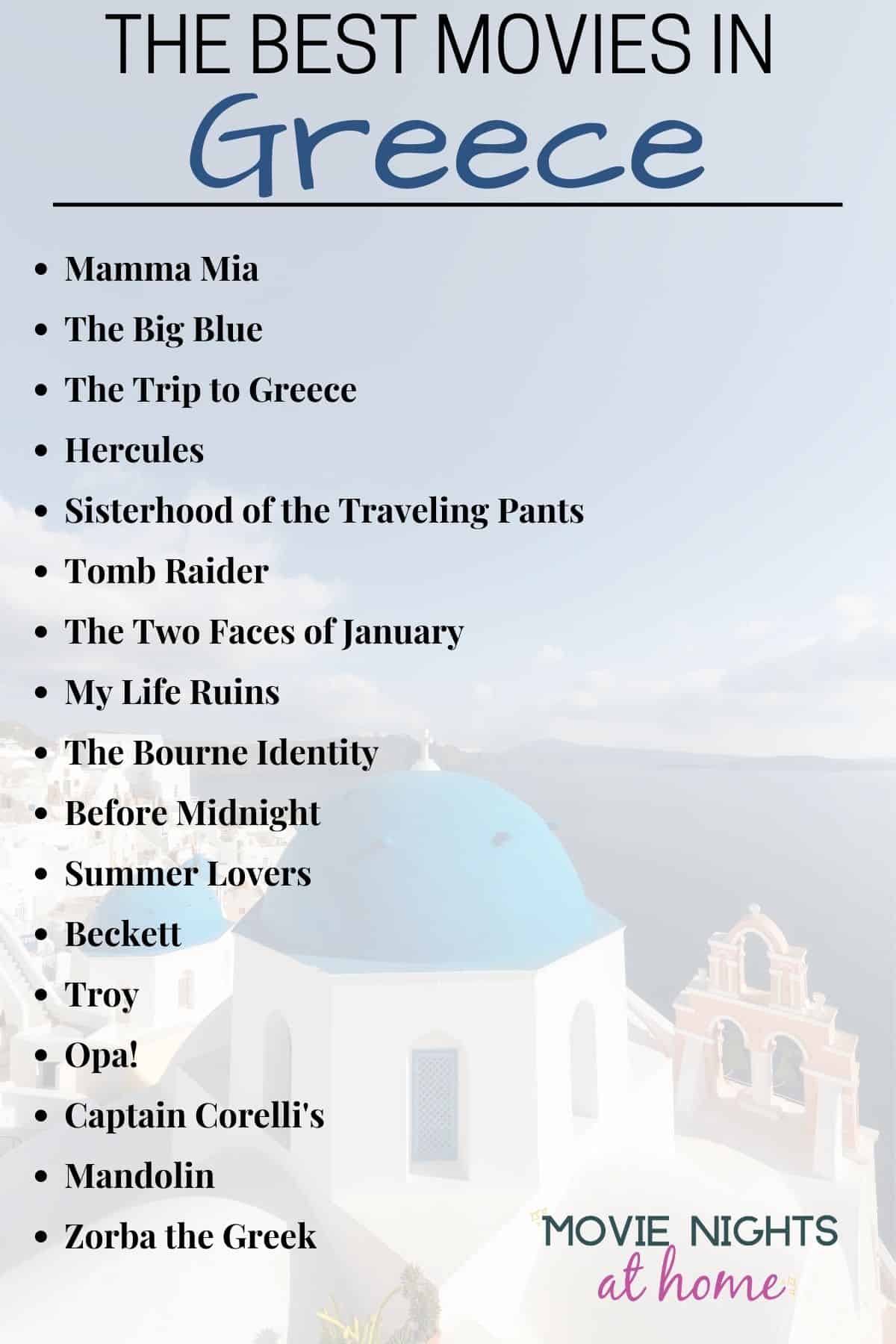 If you liked this list of best movies about Greece, you may also like: