There are so many places to see great examples of leadership – from inspirational self-help books to inspiring TED talks. But there's no better place to witness great leaders at work than in the movies! The next time you're looking for a little bit of leadership inspiration, check out some of these best leadership movies of all time.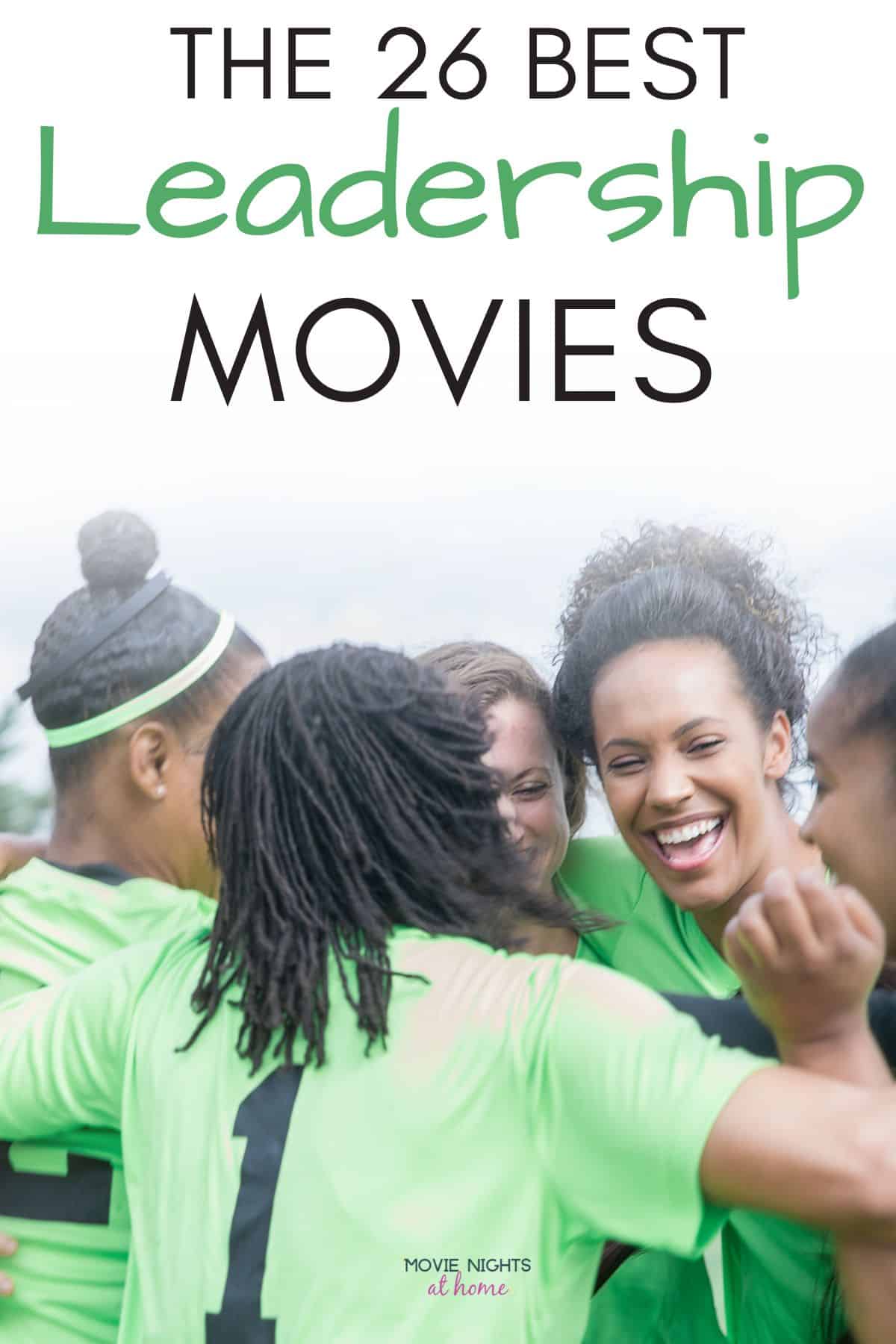 The best leadership movies focus on facing unbelievable challenges. Which of these movies about leadership and teamwork is your favorite?
We believe each film is a great way to get inspired to be the best version of ourselves.
You may also like our list of patriotic movies or movies about better communication!

Best Leadership Movies
From everyday people beating the odds to historical leaders demonstrating their skill, there are so many great examples of leadership and teamwork in the movies.
So, if you're looking to learn how to better lead your organization or encourage more solid leadership in your team, these amazing stories are sure to inspire.
Tom Hanks stars as hero pilot Chelsey Sullenberger, who successfully glided his plane along the Hudson River after a malfunction – saving all 155 passengers on board in this inspiring leadership movie.
With the Earth on the verge of ecological collapse, an ex-pilot must leave his family to go on an interstellar voyage to find a new place for humankind to live.
Known as one of the most powerful lobbyists in D.C., Elizabeth Stone has a track record of success. But when she takes on one of the most formidable opponents of her career, she's forced to question whether winning comes at too high a price.
During a murder trial, 12 men are forced to decide the fate of the defendant while serving on the jury. But the decision isn't as simple as they thought when one of the jurors attempts to change the minds of the other 11 men on the panel. This courtroom drama is a classic and one of the best leadership movies!
This depiction of the controversial World War II Army commander will have you questioning whether he was a visionary leader or an ego-driven hot head. It also won the Academy Award for best picture.
Not all leaders are likable! And no one proves this point better than Miranda Priestly (played by Meryl Streep), the demanding editor in chief and title character in the cult classic, The Devil Wears Prada.
When a struggling salesman meets two burger-making brothers, they create a the real-life company of McDonalds. The billion-dollar fast food empire in this drama is actually based on a true story, too!
A successful business man, played by Samuel L. Jackson, returns to his former high school to serve as the basketball coach and uses controversial methods to make sure his team members succeed in the classroom and on the basketball court.
When the lives of the astronauts aboard Apollo 13 are threatened, scientists at NASA must work together to save them in this inspirational true story. Directed by Ron Howard, this movie is the perfect example of a Hollywood blockbuster with leadership lessons. The cast also includes Tom Hanks, Bill Paxton, and Kevin Bacon.
While imprisoned for a crime he didn't commit, a man befriends another inmate. Together, they work to find redemption by staying hopeful and determined. Tim Robbins, and Morgan Freeman are both really great in this iconic Stephen King movie.
11. 42 PG-13
When Branch Rickey signs Jackie Robinson to the Brooklyn Dodgers in 1946, he breaks the MLB's color line and changes history forever.
A newly integrated high school football team comes together thanks to the efforts of an inspirational new coach played by Denzel Washington.
Working with a speech therapist, King George VI overcomes his stammer to become an inspiration to his country.
Note: This is one of our personal favorite movies about leadership and teamwork.
Kurt Warner goes from working as a shelf stocker at his local supermarket to becoming a two-time NFL MVP when everyone thought he was too old to play.
The general manager of the Oakland A's uses unconventional methods to put together a winning baseball team while on a strict budget.
After a bad business deal, a man struggles to keep himself and his son from becoming homeless while still pursuing his dreams of a better life.
After taking a job at her attorney's law firm, a single mother (played by Julia Roberts) finds herself up against the most powerful energy company in the state when she uncovers a devastating environmental cover-up.
Successful businessman Oskar Schindler opens a factory and hires only Jewish workers. But when a Nazi extermination camp pops up in the city, he must use his influence to protect his employees.
Nelson Mandela (played by Morgan Freeman) works with the captain of South Africa's rugby team to unite the country in this inspirational display of leadership based on a true story.
Thanks to his knowledge of the native Bedouin tribes, British Lieutenant T.E. Lawrence is sent to Arabia to serve as a liaison between the two countries. But with the help of the natives, he rebels against his orders and attacks a Turkish port.
Despite the odds being stacked against them, three women at NASA use their knowledge to become the key to launching astronaut John Glennon into space. It also has a great cast including Taraji P. Henson, Janelle Monae, and Kevin Costner.
It's one of the best movies focused on racial tension we've seen in a while. The whole cast did a great job.
Another one of the best leadership movies has to be Marvel's Black Panther! King T'Challa must fight to preserve his place on the throne in order to save his homeland of Wakanda and keep the world safe.
With the Civil War in full swing, President Abraham Lincoln must use his political skill to end the war and permanently abolish slavery through the passing of the 13th Amendment.
When his boat is commandeered by Somali pirates, Captain Richard Phillips must attempt to escape while the U.S. Navy works to rescue him.
After being captured and forced into exile, a once great Roman commander trains as a gladiator to one day exact his revenge.
This American political thriller stars Kevin Costner as the charismatic leader, President Kennedy, during the Cuban Missile Crisis of 1962.
This Academy Award winning movie follows how Mark Zuckerburg created Facebook, and the emotional toll it took on his personal life.
The Blind Side features the story of how Michael Oher went from being a homeless teen to a stay NFL player.
If you love this movie, you may also like our list of sports movies to watch!
The Mighty Ducks is a childhood classic for many millennials, and perfect movie for tweens!
It focus on team spirit, and it's a great example of what happens when someone steps into a leadership role.
This movie is based on a true story of four Jamaican athletes, and its one of our favorite movies about leadership and teamwork.
This basketball based movie showcases effective leadership and strong teamwork when the coach benches his team for breaking their academic contract.
These movies about leadership and teamwork will inspire you.
Many are based on real life, hard work, and the valuable lessons we face during hardships.
We also love the Harry Potter movies and themed-snacks to teach leadership skills!
We hope you enjoy this list of great movies!
Love this list of Best Leadership movies? You may also like: