When it comes to planning holiday themed movie nights, finding a great Thanksgiving movie to add to your calendar is a must! And there's no better Thanksgiving film that the classic buddy comedy starring two comedy legends — Planes, Trains, and Automobiles. This year, enjoy some laughs with your turkey and host a Planes, Trains, and Automobiles movie night with your friends.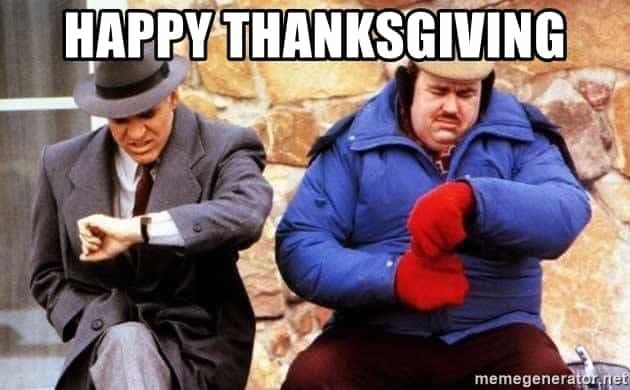 What is Planes, Trains, and Automobiles about?
Starring comedy icons Steve Martin and John Candy, this road trip movie is a classic. The movie was directed by John Hughes and was released in 1987 and has remained a holiday favorite for decades.
The movie follows Neil Page (Martin) and Del Griffith (Candy), who embark on a three-day road trip to Chicago to get Neil home to his family in time for Thanksgiving.
After a business trip in New York City, Neil, a high-strung ad executive, hops on a plane to head home to Chicago. There he meets Del, a traveling shower curtain salesman, who loves to keep talking despite Neil's unfriendly demeanor. Then a snowstorm re-routes their flight to Wichita which leaves the two stranded 100s of miles from home.
The two decide to finish their trip to Chicago together where they use every form of transportation imaginable and stumble upon one misadventure after another.
Where to Stream Planes, Trains, and Automobiles
While this 80s movie is a classic, finding it on your favorite streaming service might be difficult. Planes, Trains, and Automobiles isn't available on popular streaming apps like Netflix and Hulu.
But HBO Max subscribers are in luck because this John Hughes movie is available for streaming on that platform.
Another option for watching Planes, Trains, and Automobiles is to go the traditional route and rent or purchase the movie.
You can order the Blu Ray from Amazon. And the movie is also available for digital purchase or rental on most popular streaming services, like Prime Video, Vudu, Google Play, YouTube, and iTunes.

Quotes from Planes Trains and Automobiles
With two comedy legends at the center of the movie, this Thanksgiving buddy comedy is packed with memorable lines.
That means you're going to need to have a few great Planes, Trains, and Automobiles quotes on hand while you're watching this film for movie night!
"Six bucks and my left nut says we're not going to be landing in Chicago." -Del
"Let me close this conversation by saying that you are one unique individual." -Neil
"You can start by wiping that *bleeping* smile off your rosy *bleeping* cheeks and you can give me a *bleeping* automobile. A *bleeping* Datsun, a *bleeping* Toyota, a *bleeping* mustang, a *bleeping* Buick. Four *bleeping* wheels and a seat!" – Neil
"Those aren't pillows." -Neil
"Was that seat hot or what? I feel like a Whopper. Turn me over, I'm done on this side." -Del
"I don't have a home. Marie's been dead for eight years." -Del
"I like me. My wife likes me. My customers like me. 'Cause I'm the real article. What you see is what you get." -Del
"You could have killed me slugging me in the gut like that. That's how Houdini died, you know." -Del
"There's no way on earth we're going to get out of here tonight. We'd have more luck playing pickup sticks with our butt cheeks than we will getting a flight out of here before daybreak." – Del
"Please have mercy. I've been wearing the same underwear since Tuesday." -Neil
Planes, Trains, and Automobiles Movie Night Menu
Finding the perfect food to enjoy during your movie night is the best part of the evening. And since there are a variety of great menu options for this classic comedy, you'll have your pick of fun food ideas while watching Planes, Trains, and Automobiles!
Thanksgiving dinner
The holiday at the center of this comedy is Thanksgiving, which means making a Thanksgiving inspired dinner is a great choice. Easy-to-eat dinner ideas are perfect for movie night, so Thanksgiving turkey sliders or mini hand pies are good movie dinner options. Grab our favorite Thanksgiving recipes.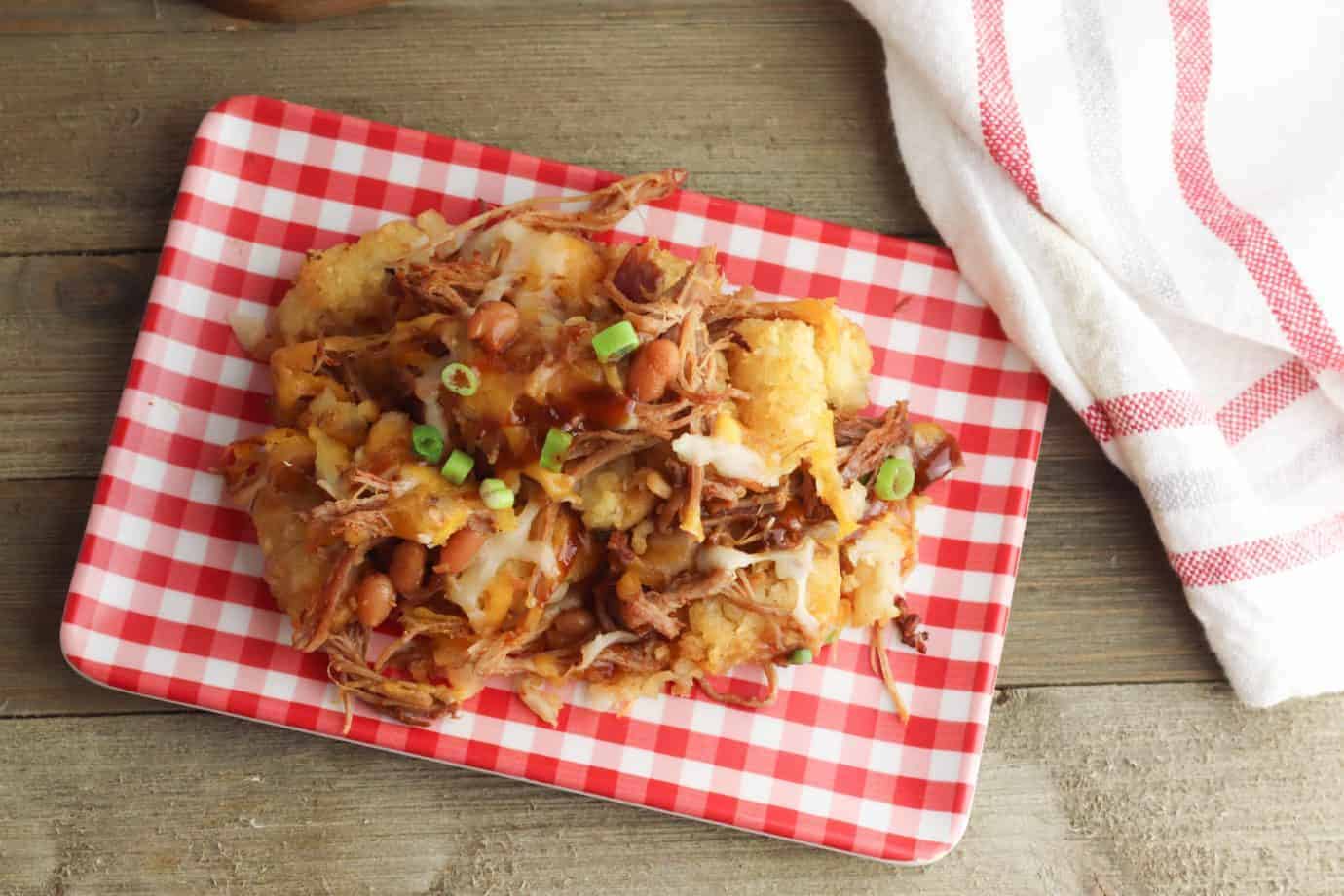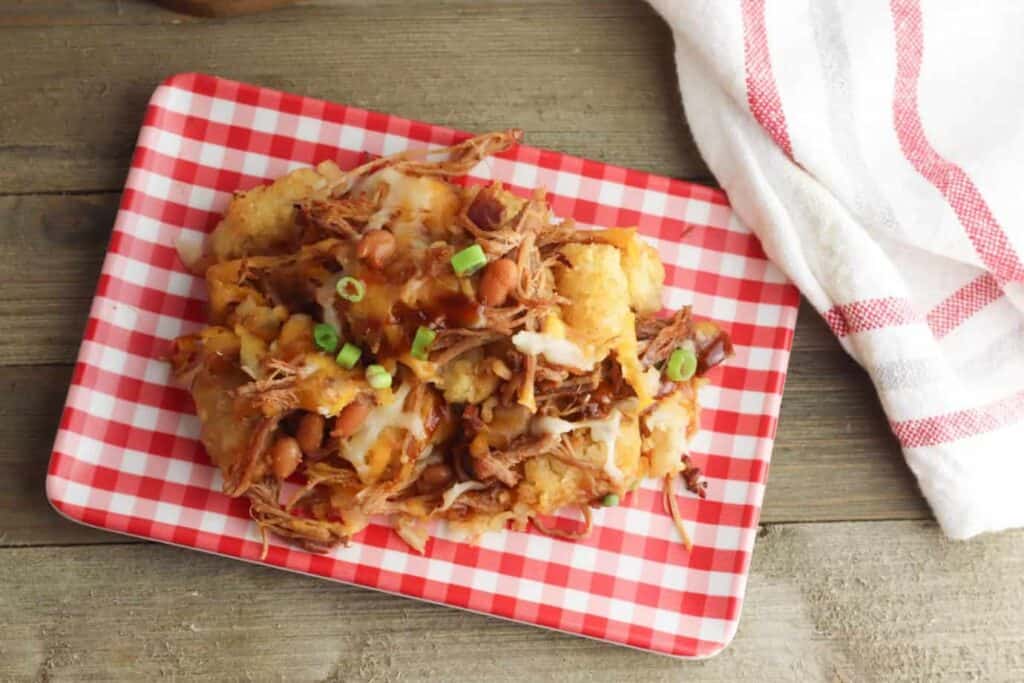 BBQ.
The road trip in this comedy starts out in Kansas – the home of Kansas City BBQ. Serve up BBQ or these loaded BBQ Totchos for movie night to fit in with this location of the film.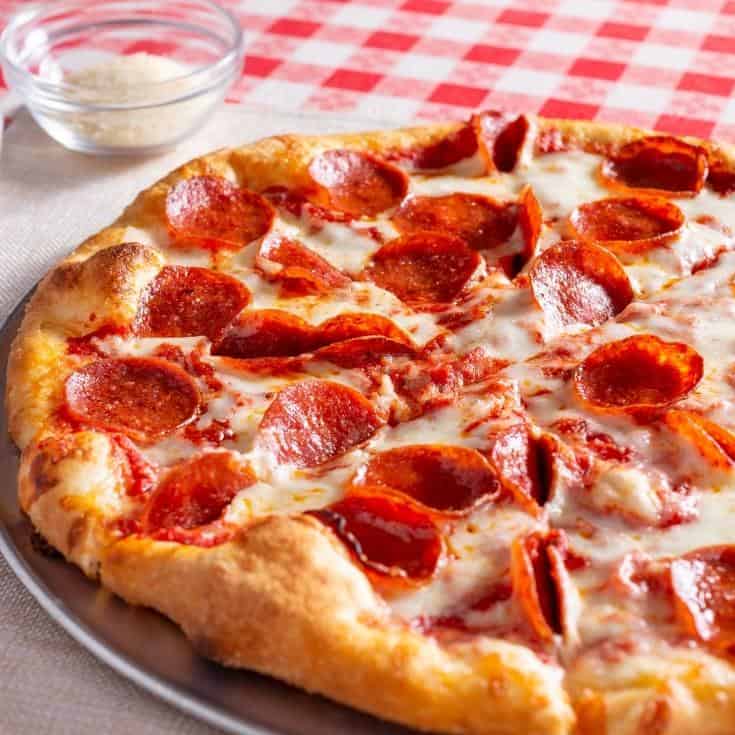 Pizza
Another location-based food idea to incorporate into your menu is pizza. Chicago is famous for its deep dish pizza and the characters can be seen enjoying a slice in the movie. (Looking for more pizza movies? Check out our 27 Movies to Watch Over a Slice list)
Mini alcohol bottles
Bring the fun of the movie to your movie night by serving mini alcohol bottles with your dinner, just like the characters in the movie! Your guests can enjoy them straight-up, like Del and Neil, or you can provide some mixers to create your own cocktails.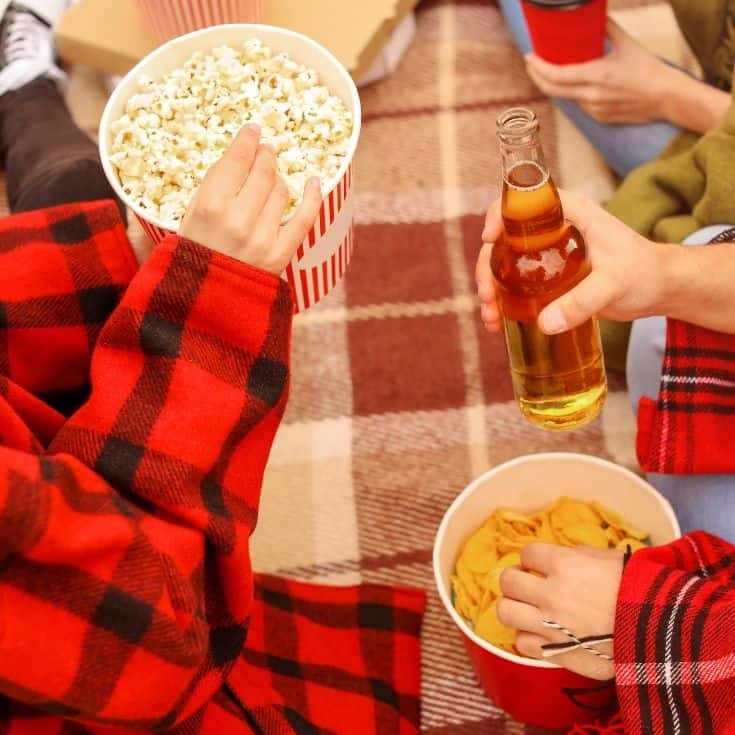 Snacks
Serving snacks at movie night is a must. You can provide your guests with classic movie night snacks, like popcorn and candy, or bring snacks from the movie into your menu, like airplane peanuts and Doritos.
Show us your Planes, Trains, and Automobiles movie night on Instagram @movienightsathome
Looking for Christmas ideas for next month?
Check out our The Ultimate Christmas Movies List and 21+ Christmas Movie Night Snacks Paired with Movies