Hosting a Little Mermaid party or movie night is so much fun! Below are favorite Little Mermaid party ideas including invitations, decorations, food, activities, and more! If you're hosting a Little Mermaid movie night, you can click here to find an easy snack or dessert to serve!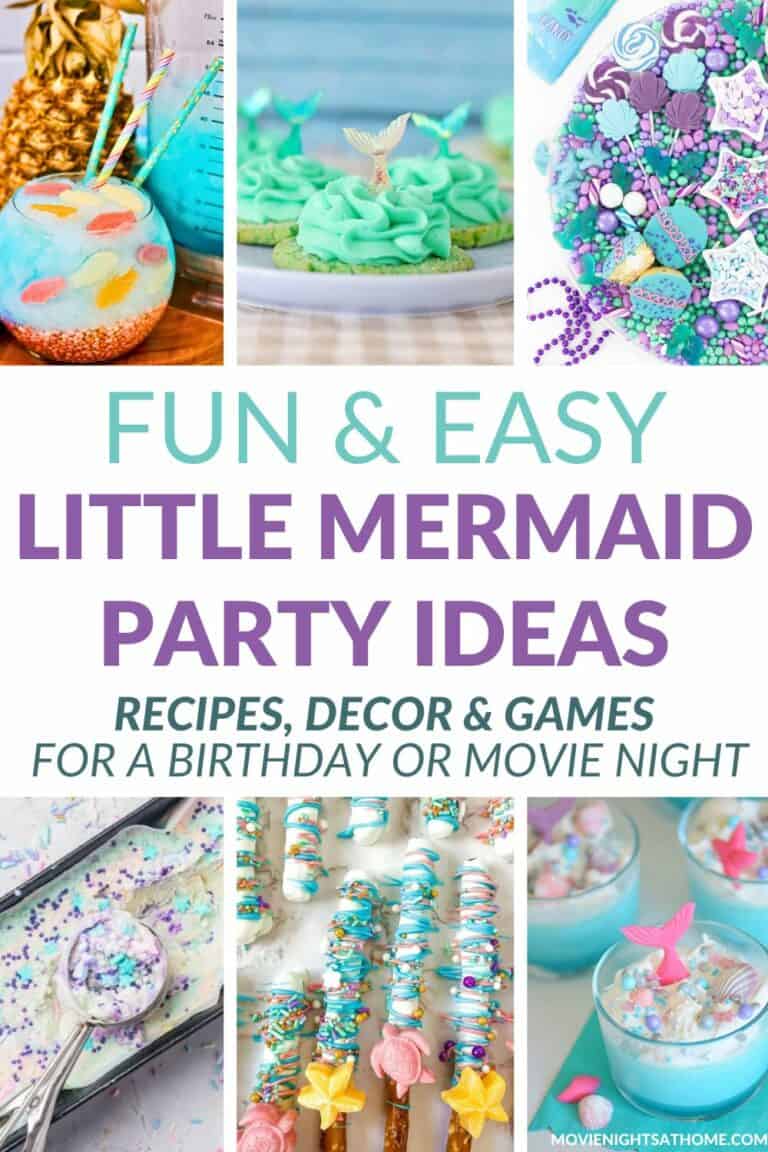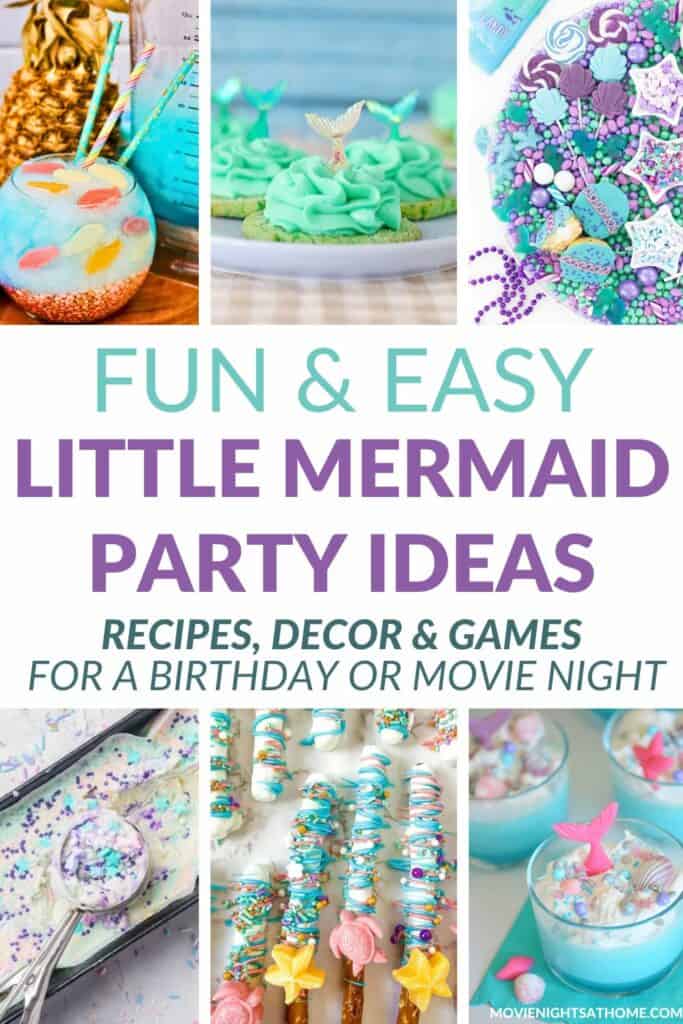 How do you have a mermaid party?
Hosing a Little Mermaid party involves food, decorations, and entertainment. Blue, green, teal, and purple decorations are perfect for an under-the-sea party, and touches of metallic add a little sparkle! For entertainment we love to watch the movie, play trivia games, or set up themed activities for kids. You could also make it a pool party movie night!
Who is a Little Mermaid party for?
Mermaid parties are just for little girls! These mermaid-themed party ideas are great for a young birthday girl, but they can also be a big hit for a Sweet 16 or a mermaid-themed baby shower!
Little Mermaid Party Invitations
No party is complete without the perfect Little Mermaid party invitations! We love to include a mermaid, or Ariel, on the invitation to set the tone.
You should also include the date, time, and venue for the party on the invite. You may also want to include a number for someone to RSVP.
Also, if you're considering making this a costume party, make sure to let your party guests know that on the invite, too!
Little Mermaid Party Invitations
Little Mermaid Party Decorations
Little Mermaid party decorations are must! You can find such cute decor ideas on Etsy!
What colors for a mermaid party?
We love pastels for a mermaid party. Shades of blue, green, teal, purple, and pink are a great color scheme with touches on metallics.
Also, music can be a great addition to any party too! Grab Spotify's Little Mermaid playlist!
What Should I Make For A Mermaid Party or Movie Night?
You'll want to factor in how many guests you've invited when it comes to planning your food options. We love to do one big bowl of punch — blue raspberry lemonade with gummy fish is a great option — hot dogs or hamburgers, and cupcakes for a large Little Mermaid birthday party. Swedish fish and Goldfish crackers are also great snack ideas!
If you're serving popcorn for a movie night, we love these mermaid tail popcorn holders!
Little Mermaid Food Ideas
If you're looking for Little Mermaid party food, these ideas will make the dessert table your favorite part of the party!

We also have 25 Easy & Fun Family Movie Night Dinner Ideas that you might like to serve if this is a movie night with just your family!
Little Mermaid Party Games and Activities
There are many Mermaid party activities to choose from! Our favorite fun activities include watching the movie together with plenty of snacks, doing a themed treasure hunt, or playing a round of trivia!
If you do watch the movie as part of the party, make sure you have plenty of comfortable seats, blankets, and pillows!
Other activities you could do are to karaoke to Little Mermaid songs, Under the Sea Bingo, or mermaid makeovers.
Coloring sheets, face painting, or decorating mermaid tails are also great ideas if you have little girls and boys at the party. You could also do a fun craft like this DIY paper mermaid or mermaid finger puppets.
Little Mermaid Party Favors
Little Mermaid party favors don't have to cost much. We love these mermaid temporary tattoos or mermaid slime to go into a goody bag, as well as, stickers, mini bags of cake, or mini figurines.
Planning Ahead
Whether you have little guests or adults, safety is always important. So along with these fun ideas, we hope you'll keep the necessary accommodations in mind.
These include a backup plan in case of bad weather (especially with pool parties), having appropriate seating for guests, and asking about dietary restrictions and food allergies beforehand.
These little things will make the special day and magical party even better!
We hope these best mermaid party ideas for a birthday or just fun movie night at home helped you!
If you liked these creative ideas, you may also like: