Whether you're hosting a holiday movie night or just looking for a great movie, these black Christmas movies are a must-watch. There are tons of amazing holiday movies featuring black casts and black directors.
From heartwarming romantic holiday movies to laugh out loud comedies, these African American Christmas movies on Netflix, Amazon Prime, and Hallmark are the perfect way to celebrate the holiday.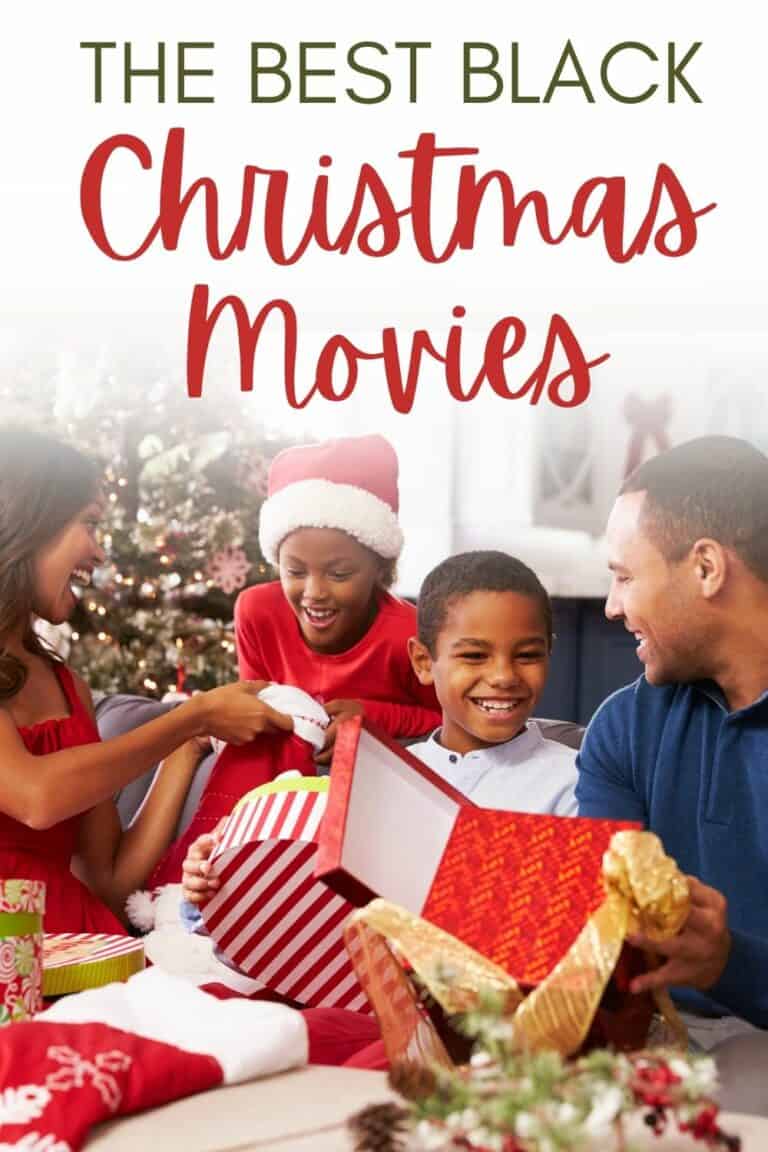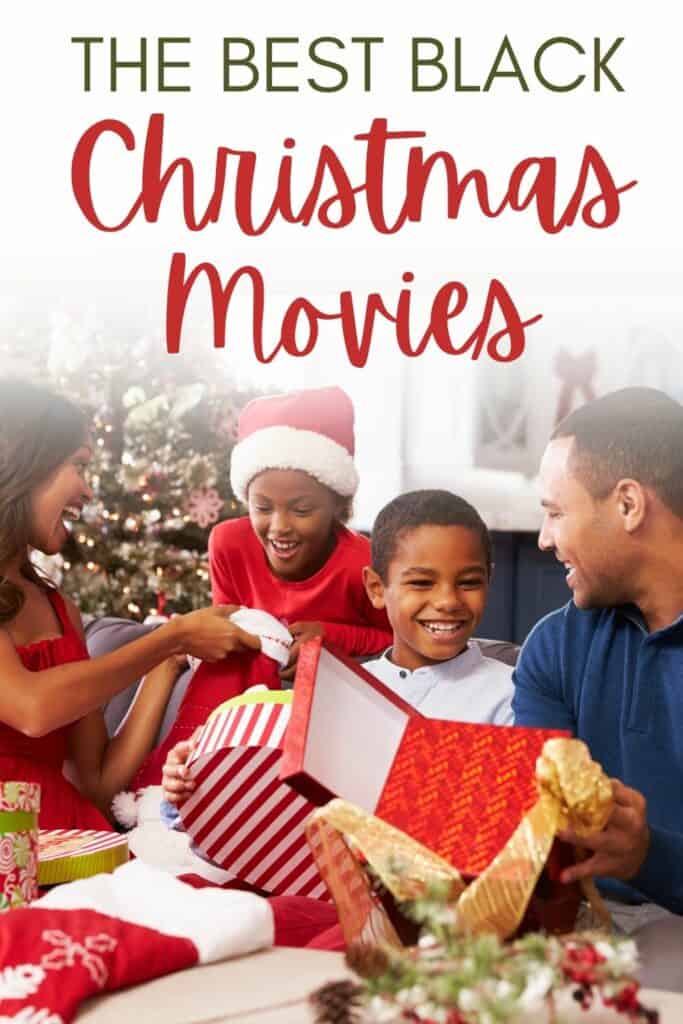 November 2023 Update: Since creating this list of Black Christmas Movies in 2021, it has remained a fan favorite! We've updated the list to include even more movies and new Christmas movies released in 2023!
7 Black Christmas Movies on Netflix
Start by checking out your favorite streaming service to find a few black Christmas movies to enjoy this holiday season!
These Netflix original movies offer unique stories you won't find on any other app.
If you're looking for a holiday movie to watch on Netflix, try these great choices:
A widowed radio DJ and his children must turn in their luxurious life and learn to live with less during the holidays.
After his trusted apprentice betrayed him, a toymaker finds new hope when he's introduced to his granddaughter during the holidays.
A photographer who is stuck in a dead-end job inherits an advent calendar that predicts her future and points her toward love during the holiday season.
A mother's holiday desire sparks a competition among her sons as they vie for the coveted grand prize.
A political aid is tasked with shutting down a tropical base that provides airborne Christmas gifts to people in need right before Christmas.
A group of sisters try to keep their singing act together before a church Christmas pageant. Grandpa also shares his wisdom with the kids.
As Bright Fields gets ready for the Mistletoe Ball, Zoe stumbles across a family secret because of a broken ornament.
Want more Netflix movies? Check out our Best Christmas Movies on Netflix Printable Checklist!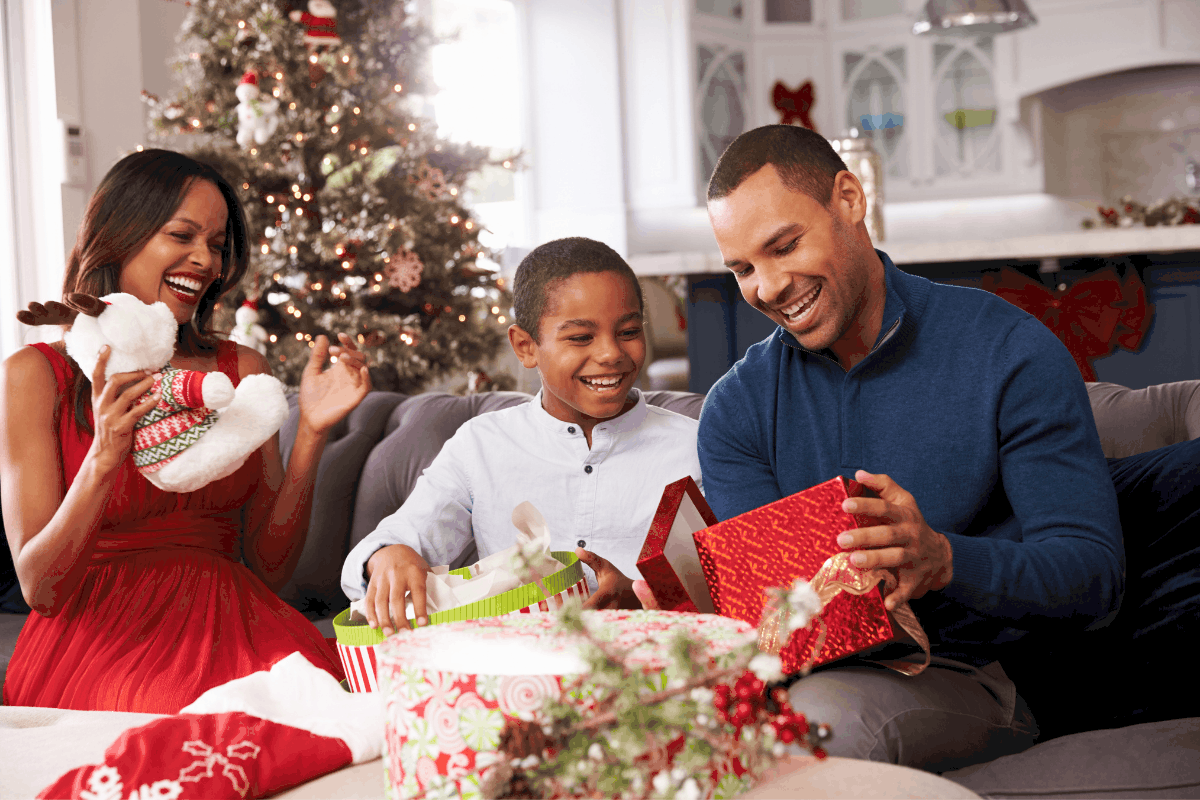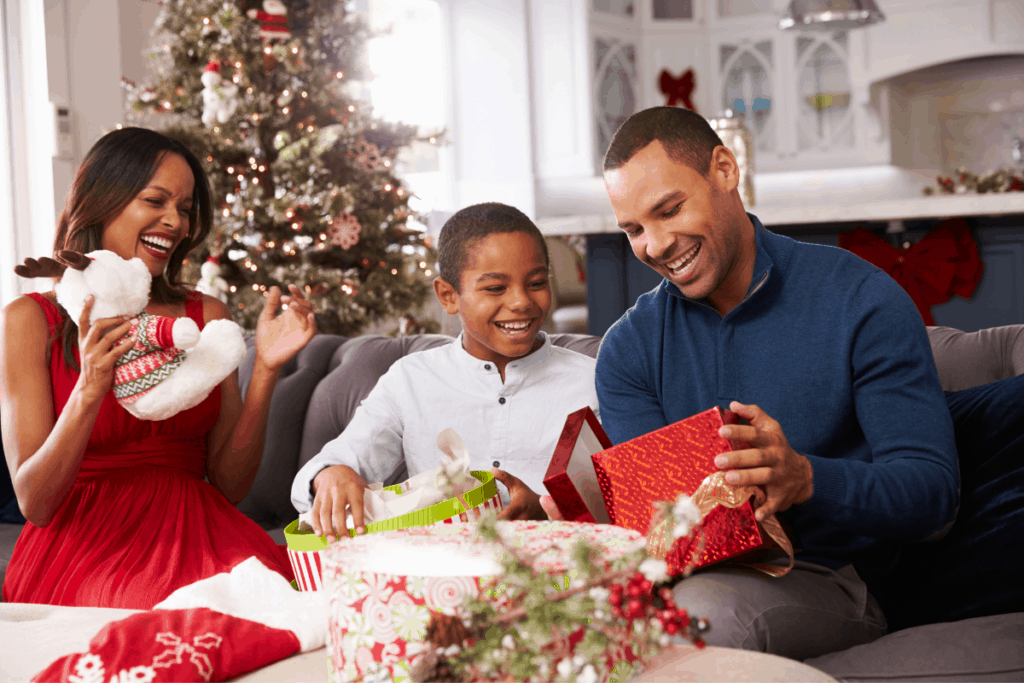 32 Amazon Prime Black Christmas Movies
If you can't find a movie to watch on Netflix, don't worry! You can find a variety of great black Christmas movies on Amazon Prime video, too!
Along with these movies, you may also like the new Christmas movie with Eddie Murphy called Candy Cane Lane. It comes out in December 2023.
Watch these seasonal favorites for free or for rent on Amazon Prime:
When the Whitfields come together for the holidays, they bring plenty of baggage with them. But as they join together to celebrate, they remember the true meaning of family.
Before a group of family members gets together for the holidays, a beloved father asks one thing of his family this Christmas – to get along.
A reunion between college friends sparks rivalries and romance in this Christmas comedy.
This remake of the Cary Grant classic features Denzel Washington as an angel who comes to earth to help a reverend during the holidays.
Celebrate the holidays with crazy cousins Craig and Day-Day as they move out of their parent's house and into their own apartment.
Madea brings her own brand of humor to the holidays when she heads to the country for Christmas with her friend.
When a girl asks a department store Santa to grant her mother's wish of a perfect holiday, he works to fulfill that wish.
This updated version of the popular Langston Hughes play is set in Harlem.
When two families book the same vacation home for Christmas, they must attempt to celebrate the holidays together.
A hotel manager must fight against her childhood crush when she's put in charge of bringing a chain hotel to her Christmas loving hometown.
Two architects are hired to work on Loretta Brown's home, and while the initially don't hit it off, they find themselves working together over the holidays. But can the romance last till New Year's and beyond?
When a new shopping app becomes a success during the holidays, its creator begins to wonder whether his invention is ruining the Christmas spirit.
A surprising chemistry is sparked between an exec and her boss around the holidays.
When a Christmas designer and a businessman meet by chance, she is able to help him see the true meaning of Christmas with her charm and persistence.
Following the tragic loss of her parents, Elle, a career-focused investment banker, finds herself giving up on love and Christmas until she meets Wesley. He is a former NBA player turned CEO of a small marketing firm. Despite her intial fear, Elle agrees to Wesley's invitation to visit his hometown in South Carolina.
When a crisis manager gets a sports anchor as a new client, it turns out to be her ex-boyfriend. She wants to keep things professional, but will their feelings resurface over the holidays?
When two sisters have always had a rivalry can they come together to save their dad's film company?
Will a free stay at a luxury resort bring two sisters closer together for the holidays or just bring out their competitive side?
A single tech entrepreneur invites her family to her new home for the holidays and must deal with the drama that comes with them, all while preparing to film a video shoot of her home.
The Liddles are back for Christmas – just in time for them to welcome their first baby!
When a newly blended family happens upon some magic – they find that they've switched bodies! They can't switch back until they learn to be a loving family.
In this BET Original, a woman travels to a small town for a heart transplant, but she finds herself drawn to the town for more than just her operation.
In a new BET Original, a famous singer finds herself spending time with a stranger and his daughter over Christmas. The surprise encounter helps her reconnect with Christmas and family.
Have you ever thought about having a life do-over? This Christmas movie is all about that – Jacqueline dreams of what it would be like if she hadn't married her high school sweetheart after all.
You may also still be able to find Saying Yes to Christmas or A Chestnut Family Christmas on Amazon occasionally as well.
When the two sons of a Christmas tree farm owner try to prove to their dad they're ready to make something of themselves, shenanigans are surely to take place!
A daughter asks Santa for a good man for her mom at Christmas.
When two friends fall for the same guy, a lot can go wrong. Will it be happily ever after for one?
When Olivia gets the lead pastor job at a new church before Christmas, she worries she won't be able to handle the transition. But the adventure ends up helping her find a new home and even a little romance!
A woman who hates Christmas longs for a life where she was a singer. Then, she meets an angel who can help with her wish.
In this interracial romance, two co-workers decide to get married out of convenience, but as they spend time together sparks fly.
When London receives a bad diagnosis he is forced to rethink his views on life and Christmas.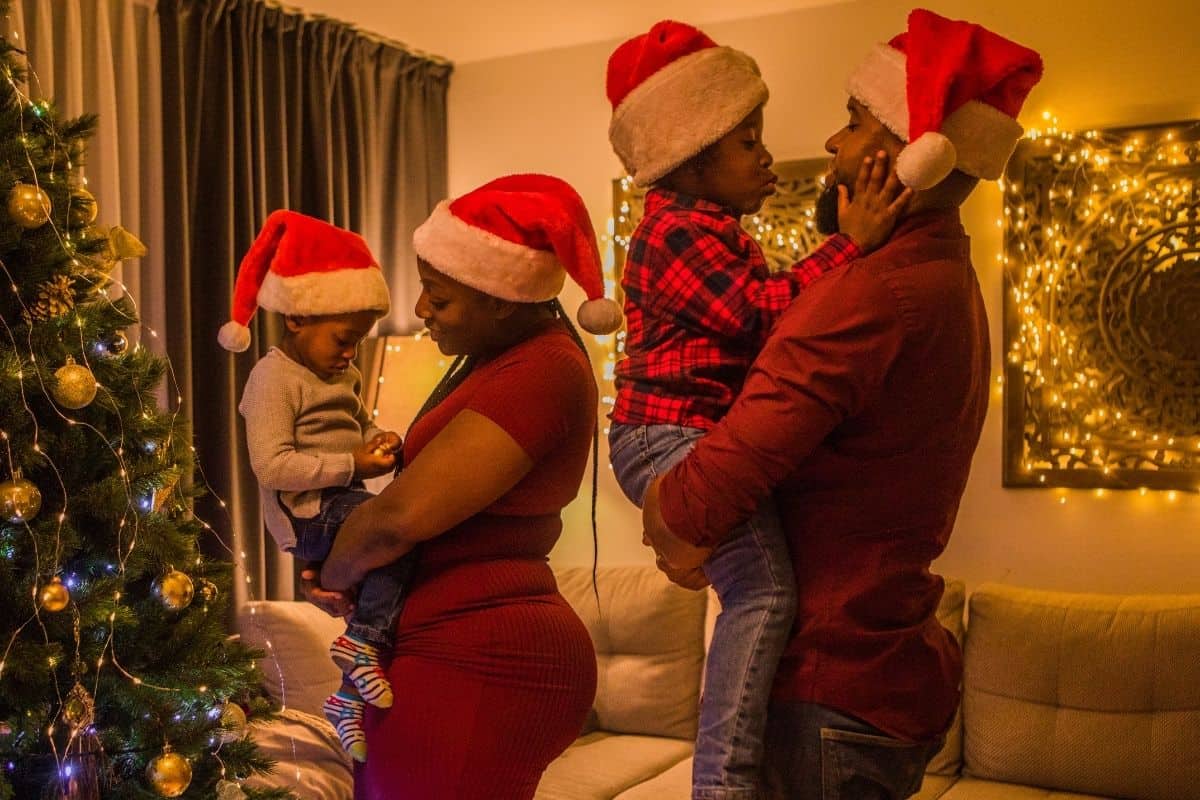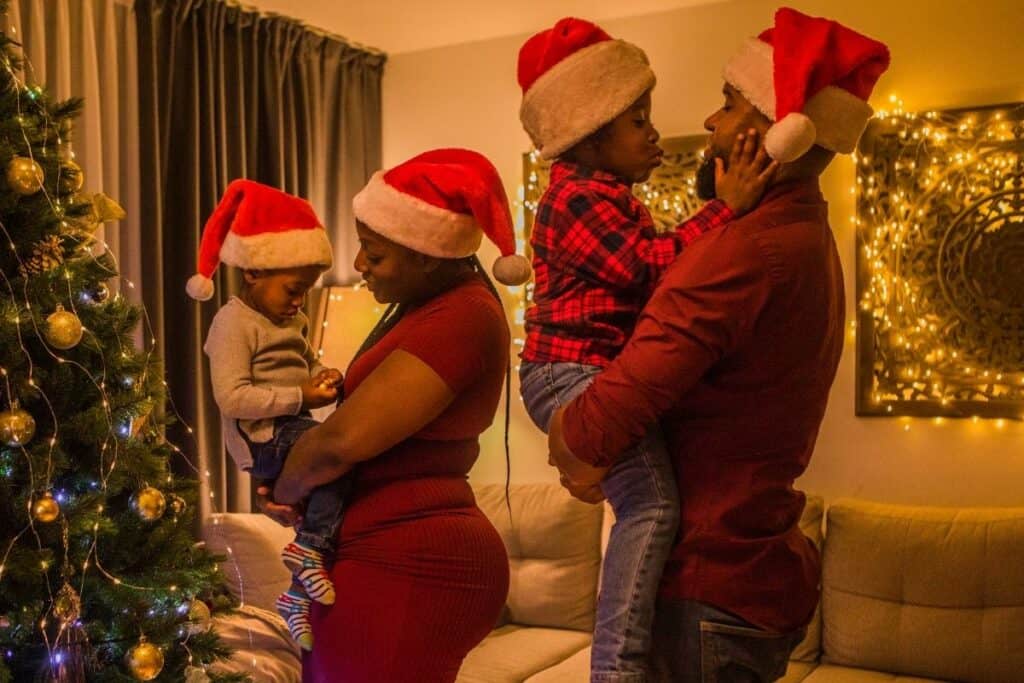 African American Christmas Movies on Hallmark
It doesn't get much better than a classic Hallmark movie to celebrate the holiday season.
Check out these African American movies on Hallmark:
When a woman returns how to help her family with a Christmas carnival she's in for a surprise reunion.
While planning a Christmas festival and trying to win the Top Winter Lodge Award, an innkeeper rekindles her love for music when her former music partner visits for the holidays.
A traveling doctor is assigned to a small town clinic for the holidays and starts to feel at home when she makes a new friend.
While following a lead for a story, a magazine reporter finds romance with a colleague and takes it upon herself to create a Christmas miracle for a lonely musician.
An architect spends Christmas with a baker and his daughter, spurring a desire for a place to call her own.
When a lawyer finds out her sister has passed away, she must fulfill the terms of her eccentric will during the holidays.
While launching the new Evergreen museum, Hannah begins to question her relationship and her future.
Harmony auditions for the chorus for the holidays, but the surprise comes when she realizes her ex-boyfriend is the director.
Jordin Spark stars as a writer who just opened up a 100-year old time capsule. She meets a handsome chef, but is their budding romance worth staying for? She has to decide where she should move after Christmas.
Business expert Jazmin returns to Harlem for the holidays.
When an astrophysicist returns home for the holidays, she has an unexpected ride on a carousel. When the ride stops, she is 5 years into the future. It will take finding what is most important to her to get back to present-day.
Business woman, Noelle, returns home during the holidays to sell her family home and attend a Christmas Charity Gala. She is met with something she never expected to find though — love.
An angel attempts to reunite sisters through a special tradition they all share.
Lisette, a popular R&B singer, is mistaken to be engaged to her music producer ex boyfriend in the tabloids. So her family insists he also attend Christmas in New Orleans with her to sort things out.
A single mom learns that letting go can actually offer her autistic son room to grow.
Shelby is ready to quit her job, but her daughter is convinced her boss is someone worth a second look. He may even be her Christmas prince!
Nell revisits her hometown on business. She has been promoted, but the catch is she has to turn the historic Majestic Playhouse into modern multiplex.
While she's there, she also meets the new playhouse owner, Connor, and she shows him how the town celebrates Christmas.
A niece helps her aunt with Christmas concert fundraiser.
As she's planning the town's Christmas celebration, Erin must win over a firefighter to get the spruce tree growing on his property.
A famous author returns to his hometown with his publicist, April. April is there to help do some damage control for his image, but the two end up getting close over the holidays in this interracial romance.
When a widower, Josh, moves to town with his son – he gets to know Molly, the local bakery owner. Little does she know, he is also her client that she's never met but has a crush on.
This is a sweet movie about a woman and her ex-boyfriend bringing her family together to celebrate Christmas and Kwanzaa.
This movie is inspired by the Mickey Guyton's song, Heaven Down Here. It's about 3 disparate people who find themselves stranded at a local diner on Christmas Eve.
You may also be able to find a Christmas trilogy on Hallmark's streaming service. The movies are Merry Us for Christmas, A Baby for Christmas, and Merry Christmas Baby.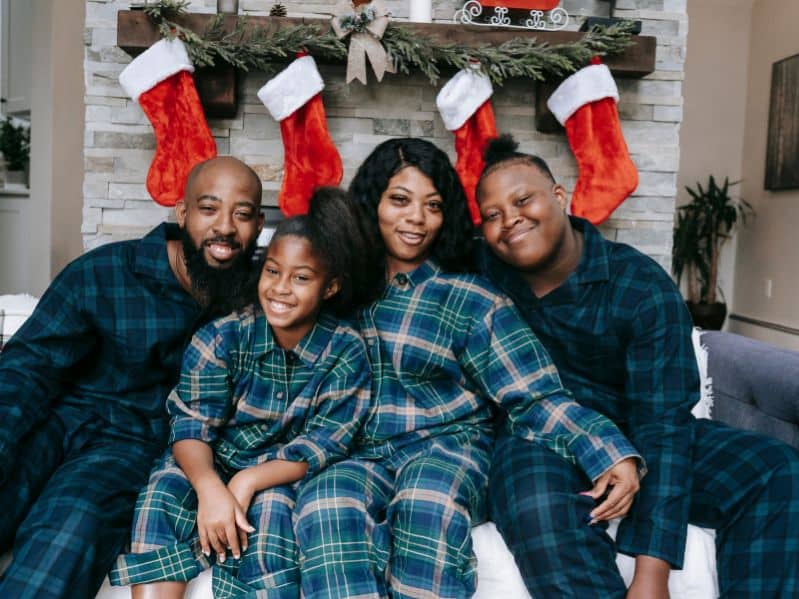 How to Quickly Find a Movie
If you have Roku or an Amazon Firestick, you can use the Search function to type in any of these titles (especially the Hallmark ones).
From here, it'll pull up where the movie is available.
Sometimes you can find them for free, and other times you'll need a streaming service.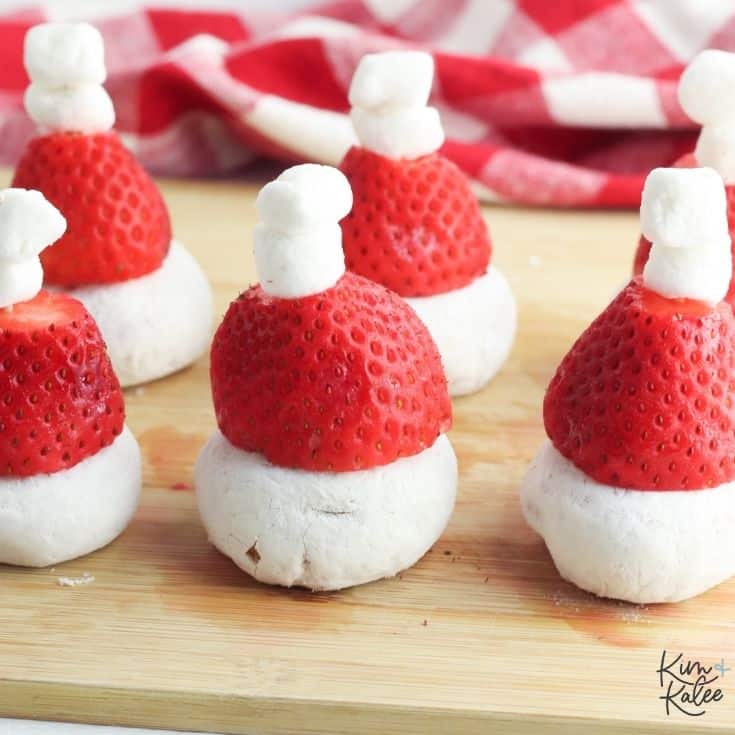 Along with finding the best movie, you'll also want to have Christmas movie night snacks!
You may also like: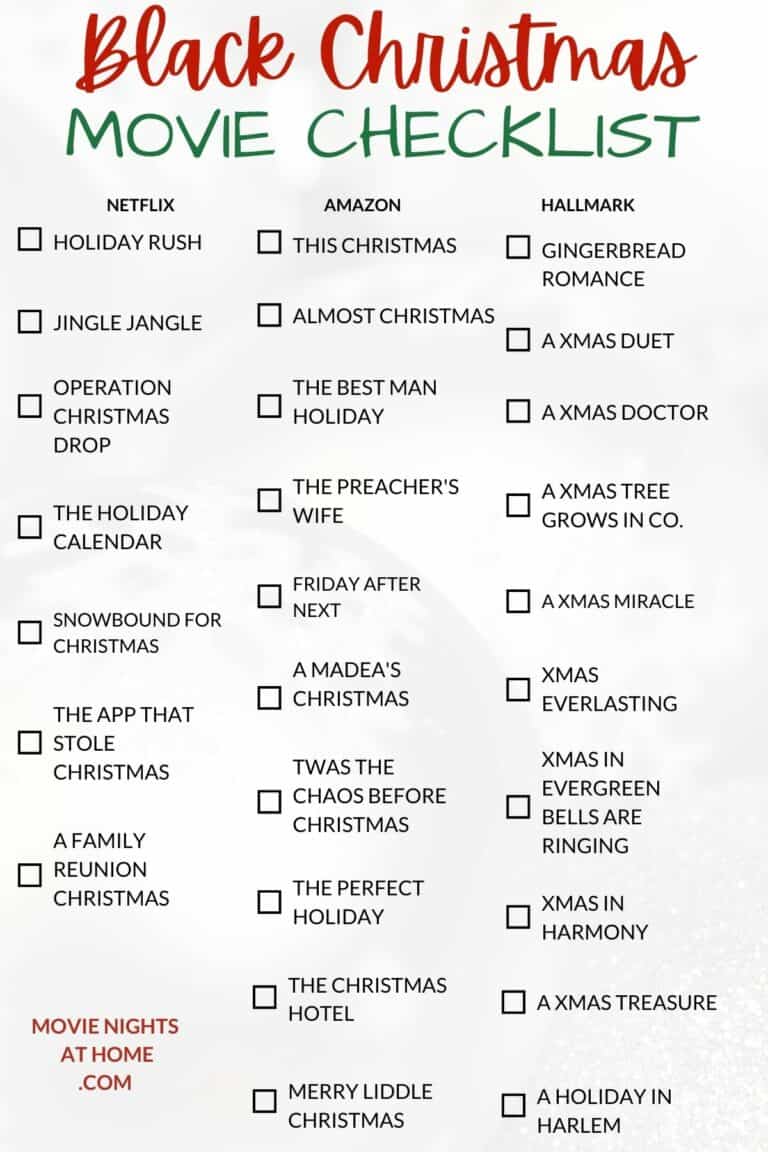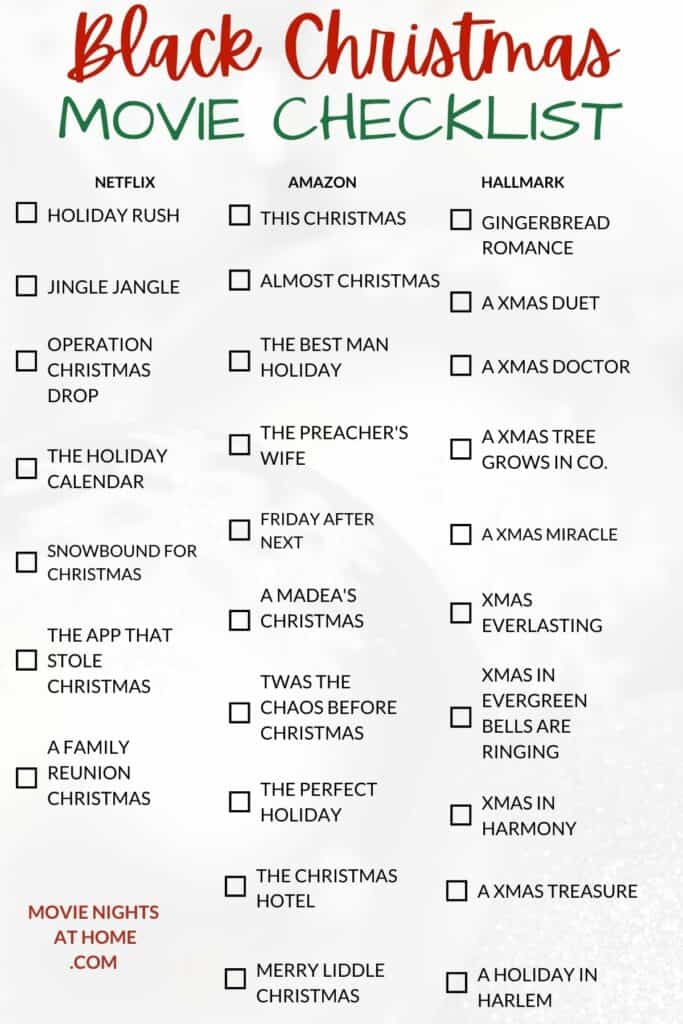 Valentines is coming up in a few months too! You may like our 25+ Black Romantic Movies, Black History movies, 25+ Black Family Movies!
Love this list? Save it on Pinterest for next year!