Movie Nights at Home Podcast
A great movie night can create lasting memories, but movie theaters can be so expensive and such a pain with the crowds! Join us as we share simple ways to make watching movies at home an exciting & lasting tradition.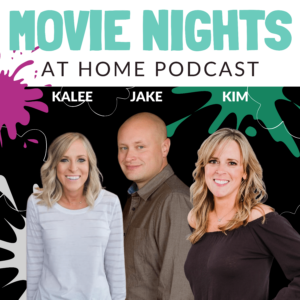 Each episode includes a fun movie night theme with recipes and more. If you're looking for fun movie night ideas or want to know if a movie is actually worth your time, this show is for you!
Listen & Subscribe on Your Favorite Podcast Player!
Listen on iTunes or search Movie Nights at Home on any other app.
When do new episodes come out?
We release one episode per week, and they're released on Monday's!
How can I suggest a topic?
We'd love for you to suggest a topic for an upcoming show!
You can email us at team@movienightsathome.com with any suggestions!
How do I listen to previous episodes?
You should see them inside the podcast app you're using, but you can also catch the replays every week here!