These St. Patty's day brownies combine delicious layers of chocolate, cream, and mint to create a pot of gold all on their own! The best part? These brownies are super easy to make and always one of the most popular St. Patrick's day desserts!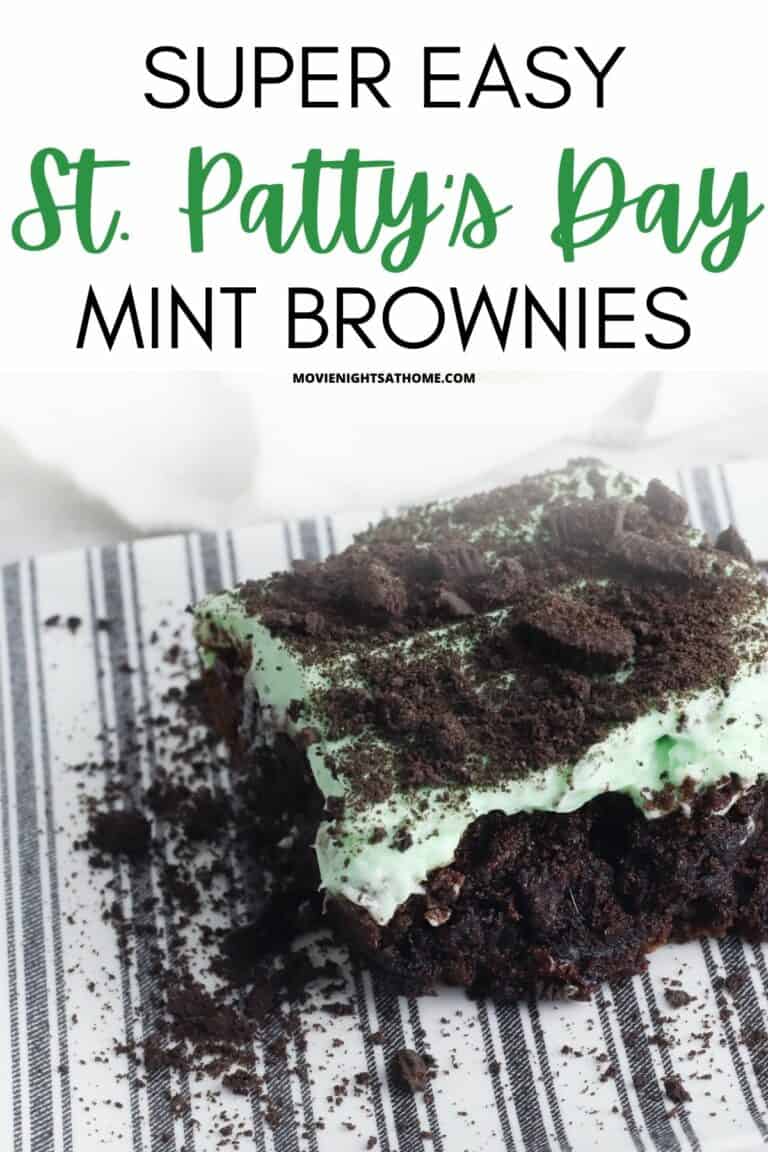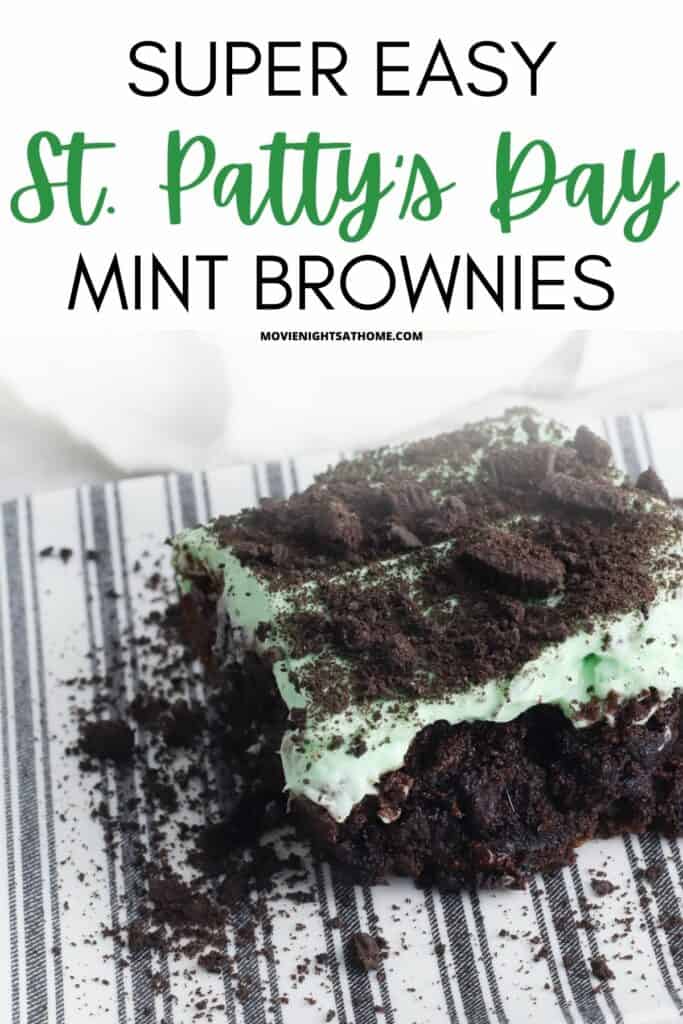 This chocolate mint brownie recipe uses only the good stuff and is a great way addition to any St. Patrick's Day celebration!
It's also an easy recipe because you can use a brownie mix or your favorite brownie recipe from scratch!
We have a great list of St. Patrick's Day movies you may like, or you could always watch one of our Family Movie Night Ideas to Watch With Your Kids!
We hope you love these mint chocolate brownies at your next St. Patrick's Day celebration.
What You'll Need:
Brownie mix, plus ingredients to prepare
Mint baking chips
Cream cheese, room temperature
Marshmallow fluff
Heavy whipping cream
Confectioners sugar
Green food coloring
6 chocolate sandwich cookies
How to Make St. Patty's Day Brownies
In a large bowl, prepare the brownie mix as directed on the package.
Stir the mint chips into the chocolate mixture and spread the batter in a greased 9×13 baking pan. Bake according to brownie mix instructions.

When the brownies are finished baking, allow them to cool completely to room temperature, then prepare the topping.
To make the topping, whip together the cream cheese and green food coloring until well combined in a medium bowl. Start with 5 drops of green food coloring and add more until the desired shade is reached.
Add the marshmallow fluff and beat until combined.
In a separate bowl, beat together the heavy whipping cream and powdered sugar until stiff peaks begin to form.
Fold the whipping cream into the cream cheese mixture and stir until combined.
Spread the cream cheese mixture over the top of the brownies and chill for at least 2 hours.

When ready to serve, crush the sandwich cookies and sprinkle the crumbs over the top of the brownies.
To extend their shelf-life, place the brownies in an air-tight container and keep in the fridge.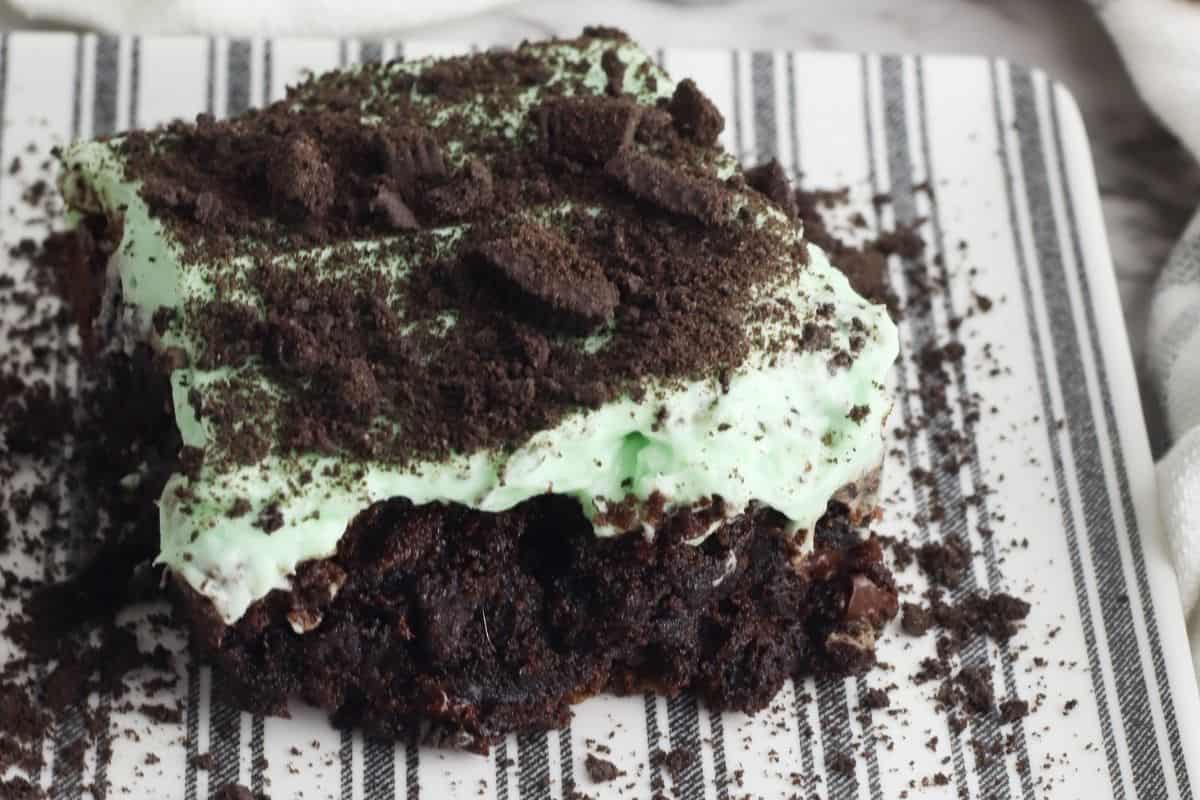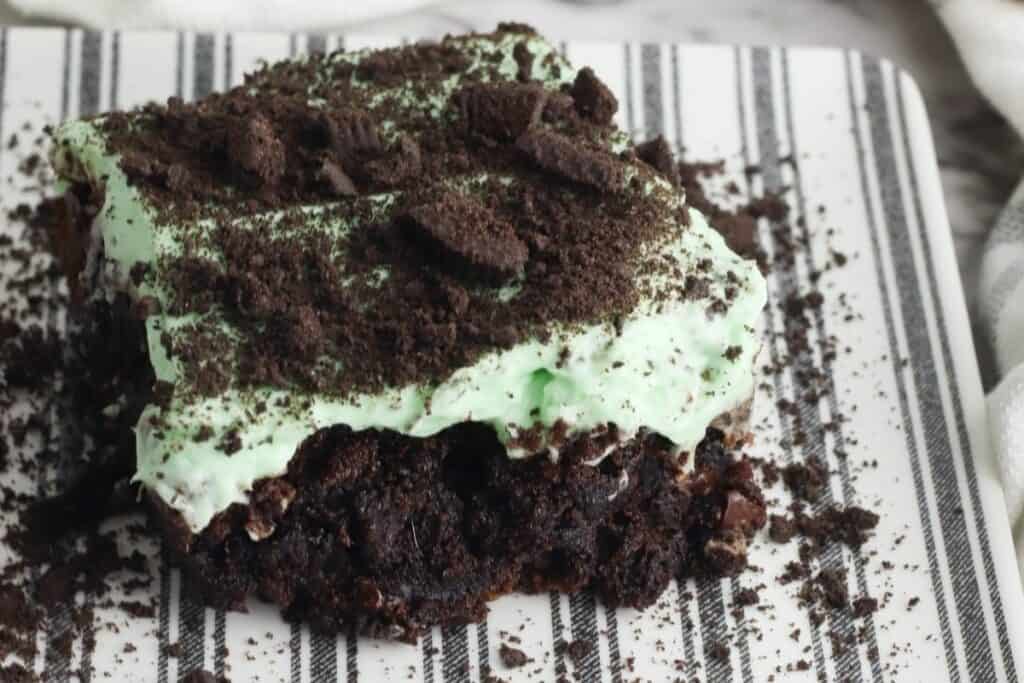 More Tips to Make the Best Brownies
For a supreme brownie, use a wet knife when you cut brownies. It will give you a cleaner cut.
For extra flare, you could cut the St. Patrick's Day brownies into a shamrock shape or top the final layer with green sprinkles!
If you can't find mint baking chips, you could always use semi-sweet chocolate chips and 1 tsp peppermint extract for the mint flavoring!
These chocolate mint brownies are one of our favorite St. Patrick's Day desserts!