When it comes to finding a good romance movie, you can't go wrong with a dance scene or two! With these romance dance movies, you can get your groove on while you find love – what's better than that?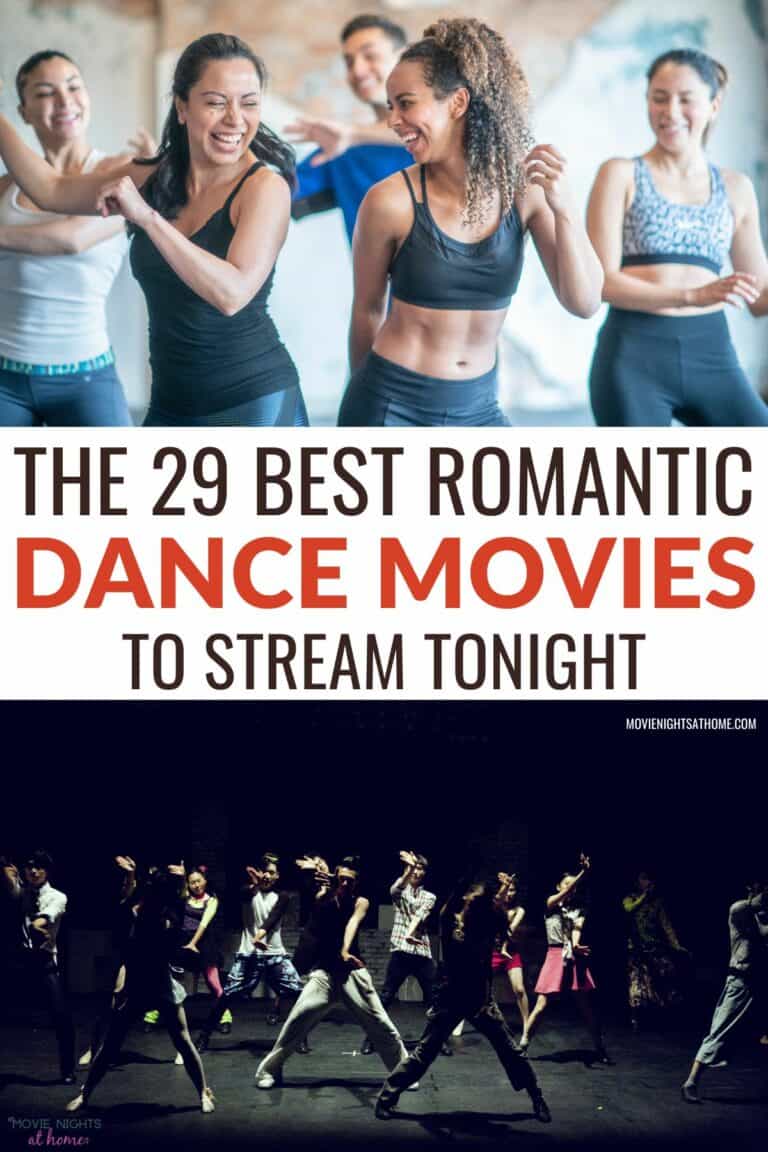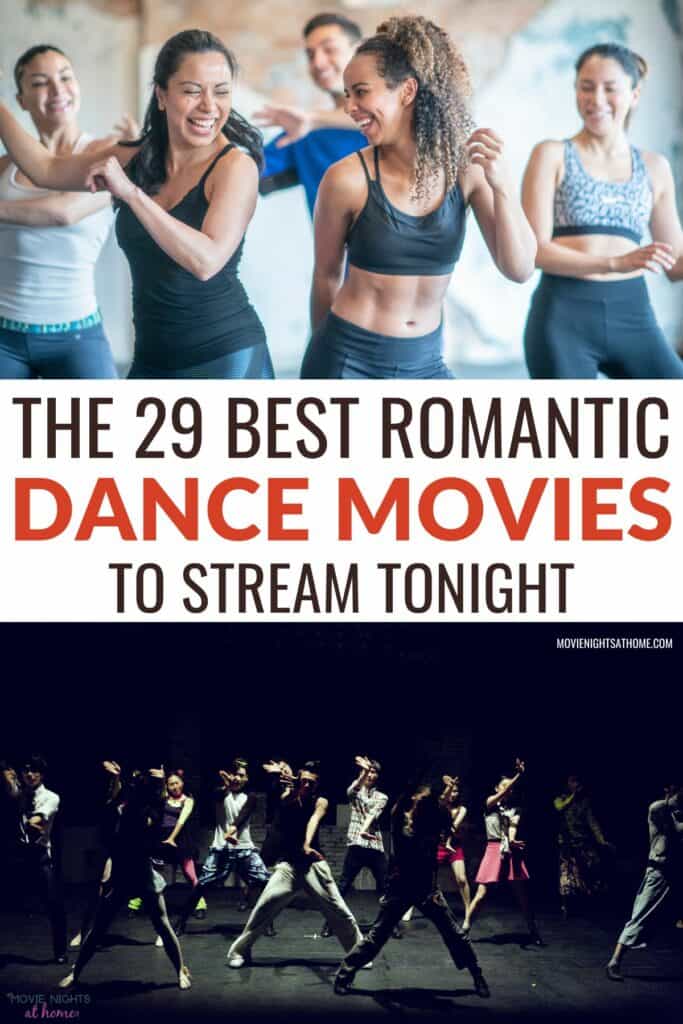 Whether you're looking for an upbeat romantic comedy, a romantic drama, or just a movie with plenty of dancing, you're going to love each of these dancing movies on this list.
The 25 Best Romance Dance Movies of All Time
Romance and dancing go together like butter and popcorn. That's why romance dance movies are always so good!
If you can't get enough song and dance in your love stories, you're going to love every one of these amazing movies. From classic movie musicals to modern rom coms, there's something for every romantic on this list.
Rated: PG 13
Stars Patrick Swayze and Jennifer Grey
A teen falls for her handsome dance instructor during a summer trip to the Catskills in this 80s dance classic.
Rated: PG 13
Stars Emma Stone and Ryan Gosling
A couple is drawn together because of their passion for their individual careers. But that passion eventually drives them apart in this musical romance.
Rated: PG 13
Stars Julia Stiles and Sean Patrick Thomas (Kerry Washington is also in it!)
When a tragic accident forces a teenage ballet dancer to move in with her father in Chicago, she must put her dreams of becoming a ballerina aside. But after making an unlikely friend at her new high school, she learns a new style of dance (hip hop) that reignites her passion.
Rated: R
Stars Jennifer Beals and Michael Nouri
A young woman looks for independence and love as she works as a welder by day and a dancer by night in this 80s classic.
Rated: PG 13
Stars Ansel Elgort and Rachel Zegler
A forbidden romance between a pair of teens from rival families causes a gang war in this classic musical.
Rated: PG 13
Stars Channing Tatum and Jenna Dewan
A gifted dancer with a troubled past, Tyler Gage, attracts the attention of an accomplished ballerina in this Channing Tatum romance.
Rated: PG 13
Stars Briana Evigan and Robert Hoffman
Love sparks between two dance students from very different backgrounds in this Step Up sequel.
Rated: PG 13
Stars Diego Luna, Romola Garai, and Sela Ward
After moving to Havana with her family, a teen falls in love with a waiter who teaches her how to dance.
Rated: R
Stars John Travolta and Karen Lynn Gorney
A Brooklyn teen uses his dance skills at the disco each weekend to help him cope with the harsh realities of becoming an adult.
Rated: PG
Stars Kevin Bacon, Lori Singer, Chris Penn, and Sarah Jessica Parker
In a town where dancing is banned, a teenage boy and a preacher's daughter challenge the status quo to have some fun.
Rated: PG 13
Stars Richard Gere, Jennifer Lopez, and Susan Sarandon
A workaholic tries to spice up his dull life by signing up for a ballroom dance class in this fun Richard Gere rom-com.
Rated: R
Stars Eddie Barth, Irene Cara, and Lee Curreri
In this classic musical, a group of talented students work their way through triumphs and heartaches as they struggle to graduate from a prestigious performing arts school in New York.
Rated: PG
Stars John Travolta and Cynthia Rhodes
A talented dancer makes the move from Brooklyn to Manhattan when he earns a roll in a professional Broadway musical in this Saturday Night Fever sequel starring John Travolta.
Rated: PG
Stars Sonny Bono, Ruth Brown, Divine, and Ricki Lake
In this movie musical, a rebellious teenager shows off her moves in hopes of becoming a featured star on a popular dance show in the 1960s.
Rated: PG 13
Stars Bow Wow, Wesley Jonathan, and Meagan Good
In this fun skating movie, a group of friends show off their talents at the local roller rink in the 1970s.
Rated: PG 13
Stars Nicole Kidman, Natalie Mendoza, Ewan McGregory, and John Leguizamo
A Bohemian poet living in 1899 Paris falls in love with a beautiful courtesan working at a legendary night club in this Nicole Kidman and Ewan McGregor romance.
Rated: PG 13
Stars Piper Perabo, Adam Garcia, and Maria Bello
When a talented singer moves to New York to pursue her dream, she's forced to take a job as a bartender to pay the bills. But her dreams are sidelined when she becomes the star of the bar's nightly show.
Rated: PG 13
Stars Christina Aguilera, Cher, Cam Gigandet, and Stanley Tucci
A small town girl finds her niche in a burlesque club in this fun dance movie starring Cher and Christina Aguilera.
Rated: PG
Stars Vanessa Williams and Chayanne
When a dance school owner hires a handsome Cuban to liven up her studio, he brings a passion for life and love along with his flair for Latin dance.
Rated: R
Stars Channing Tatum, Joe Manganiello, Matt Bomer, and Matthew McConaughey
A popular headliner at an all male review takes on a new protege and teaches him the art of dancing and picking up women.
If you love this one, you may also like Magic Mike XXL and Magic Mike's Last Dance too!
Rated: PG 13
Stars Megalyn Echikunwoke, Edar Sher, and Lyndon Smith
With her dreams of attending Harvard Law School on the line, a sorority leader agrees to teach her rhythmically challenged sisters to dance in order to win a step dance championship.
Rated: PG
Stars Selena Gomez, Drew Seeley, and Jane Lynch
A modern fairy tale romance comes to life in the San Fernando Valley in this fun take on a classic story starring Selena Gomez.
Rated: PG
Stars Olivia Newton John and John Travolta
After a summer romance, a wholesome exchange student and leather clad gang member must find a way to make their romance work during the school year.
Rated: G
Stars Gene Kelly, Donald O'Connor, and Debbie Reynolds
When he's forced to star in his first talkie with his shrill-voiced co-star, a Hollywood star of the silent era finds his career in jeopardy in this Gene Kelly classic.
Rated: G
Stars Fred Astaire and Ginger Rogers
In this classic, a ballet dancer and showgirl team up as unlikely pair to pretend to be married for publicity purposes, but you can't ignore the romantic sparks when they start to fly!
Rated: R
Stars Natalie Portman and Mila Kunis
An Oscar winning dance movie that shows what level of devotion it takes to be a ballerina.
Rating: PG-13
Stars Antonio Banderas, Rob Brown, and Yaya DaCosta
When a famous ballroom teacher offers to teach in New York City's public school system, he is challenged by his students. The movie about how he and his students work together to blend their two dance styles together.
Rating: PG-13
Stars Kirsten Dunst, Gabrielle Union, and Eliza Dushku
This cheerleading movie has several fun cheer and dance sequences — so we're including it on our list as an honorable mention.
​We hope this list of romantic dance movies helped you decide what to watch!
We've linked this list of best dance movies to Amazon Prime, but you may be able to find them on other streaming services. We just love being able to rent them straight off Amazon.
Want more romantic comedies or classic movie ideas? You're in the right place!
Along with this list, you may also like: