A movie marathon is the perfect way to ring in the new year! We've put together the 28 best New Year's Eve Movies to watch on December 31st! So put on your pjs, grab your snacks, and hit the couch with us as we say peace out 2021!!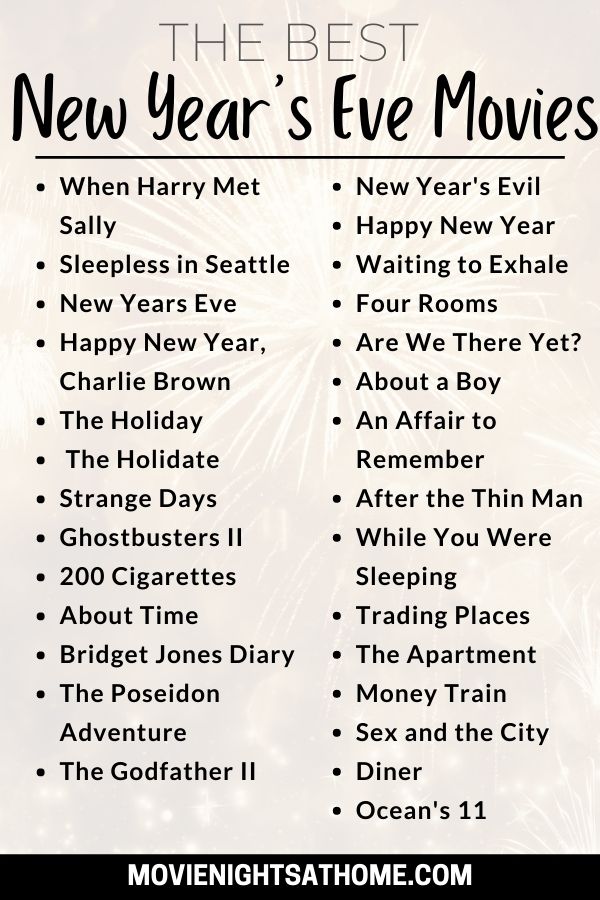 Our list of movies to watch range from romantic comedies or horror! So there is something for everyone!! Plus, a ton of them are also family-friendly and available to stream on Netflix or Amazon!
My favorite movie of all time is a NYE classic: When Harry Met Sally!! If you've never seen it, you should totally watch it this year! It's hilarious, sweet, and iconic!
So whether it's your first New Year's Eve in or you're a pro at celebrating at home, get ready for an amazing, fun night!! Each movie has at least a New Year's Eve scene in it that we think you'll love!
28 New Year's Eve Movies to Watch December 31st
We've linked each movie that is available on Amazon to keep things simple!
Along with these ideas, we also put together a list of fun New Year's Eve Activities & Recipes you might like! We especially like the NYE Scavenger hunt and the gold and white marshmallow pops!
You can also print off movie tickets for your special night in as well!