Whether you're hosting a Christmas party or a holiday movie night, this ultimate National Lampoon's Christmas Vacation trivia is always fun! Below are fun facts and trivia questions from the classic holiday movie!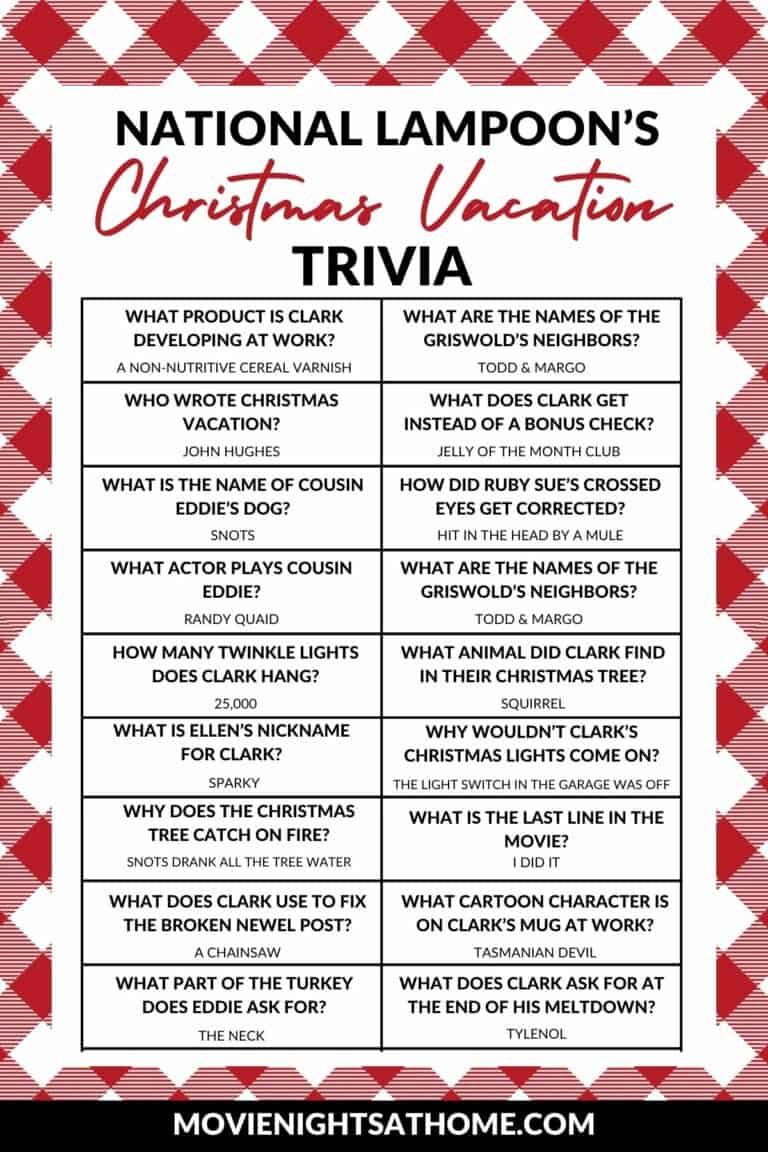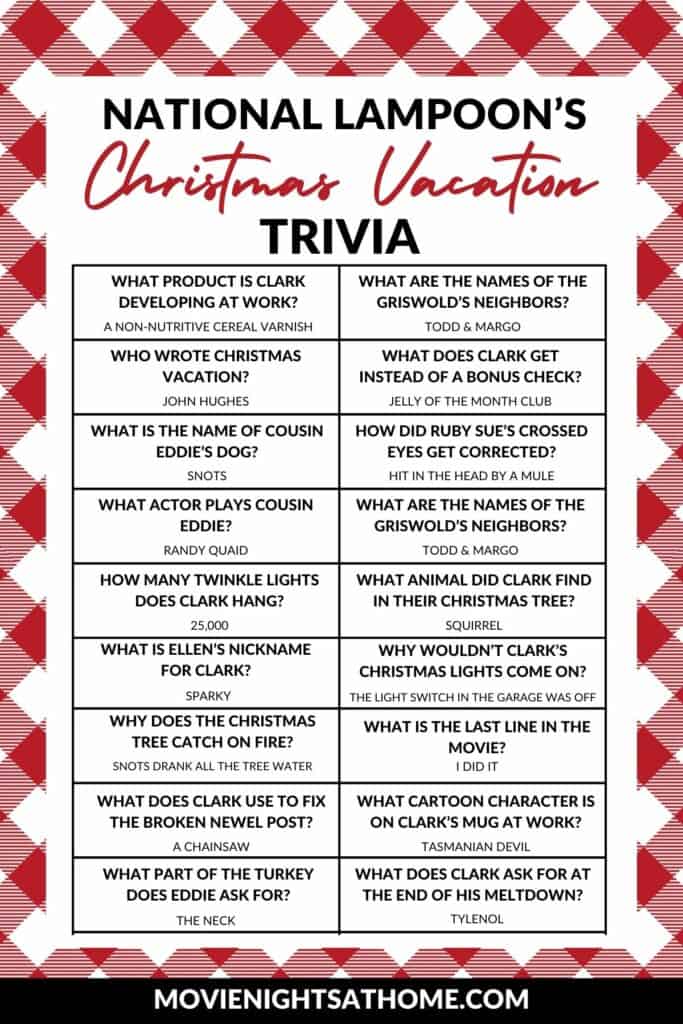 So before you rewatch Christmas Vacation, why not test your knowledge of the film? With this National Lampoon's Christmas Vacation trivia test, you can show off just how much you know about this funny holiday flick.
National Lampoon's Christmas Vacation Trivia
Whether you're hosting a Christmas movie night or throwing a holiday party, there's no better way to entertain your guests than with some trivia questions! Use this National Lampoons Christmas Vacation quiz to see just how much you and your friends know about your favorite holiday movie.
What product is Clark developing at work?
A non-nutritive cereal varnish
What are the names of the Griswold's neighbors?
Todd and Margo
Why is Clark planning to buy with his Christmas bonus?
A new pool
What does Clark use to hang the lights on his house?
Staples
Who wrote Christmas Vacation?
John Hughes
What does Clark get instead of a big bonus check?
A membership to the jelly of the month club
What did Clark use to wipe the sweat off his face while he was talking to the saleswoman at the department store?
Women's underwear
What does Clark put on the bottom of his sled to make to make it go faster?
Kitchen lubricant
Can you name 2 actors that played the 4 main Griswold's?
Chevy Chase (Clark Griswold), Beverly D'Angelo (Ellen Griswold), Juliette Lewis (Audrey Griswold), Johnny Galecki (Russ Griswold)
Which actress plays Nora Griswold?
Diane Ladd
What does uncle lewis ask Clark to get him if he's not doing anything constructive?
His stogie (cigar) in the living room.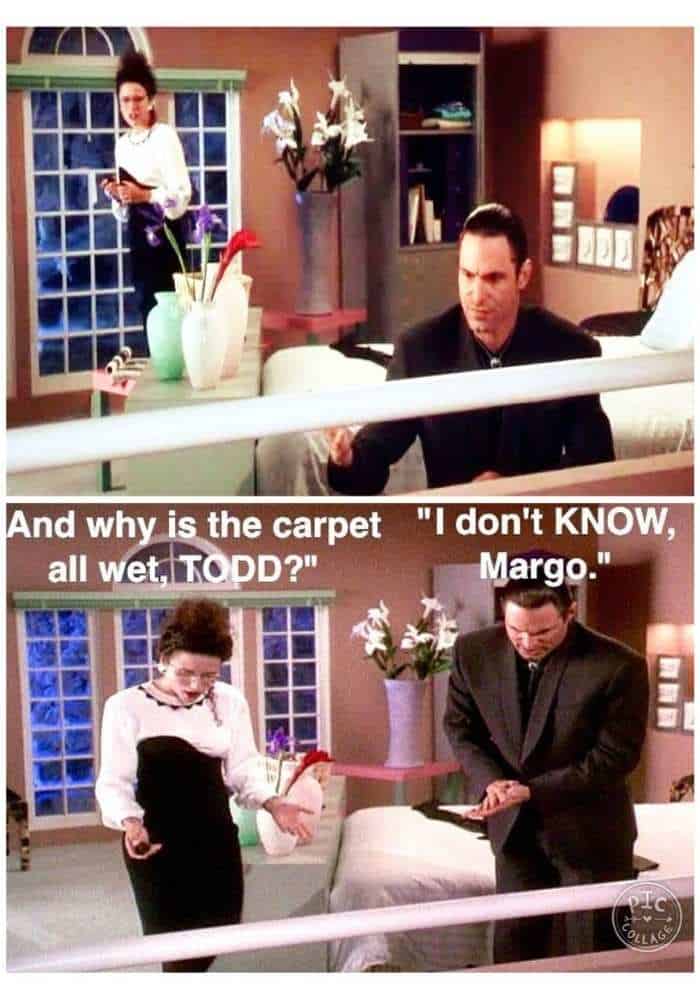 Why is the carpet all wet in Todd and Margo's home?
A piece of ice came out of the Griswold's gutters and crashed through their window while they were gone
What Christmas carol is the family singing as they drive to pick out a Christmas tree?
Deck the Halls
What kind of vehicle did the grandparents drive in Christmas Vacation?
Ford Taurus station wagon
What is the name of Cousin Eddie's dog?
Snots
How did Ruby Sue's crossed eyes get corrected?
She got kicked in the head by a mule
What sports team mascot does Clark wear on his at throughout the movie?
Chicago Bears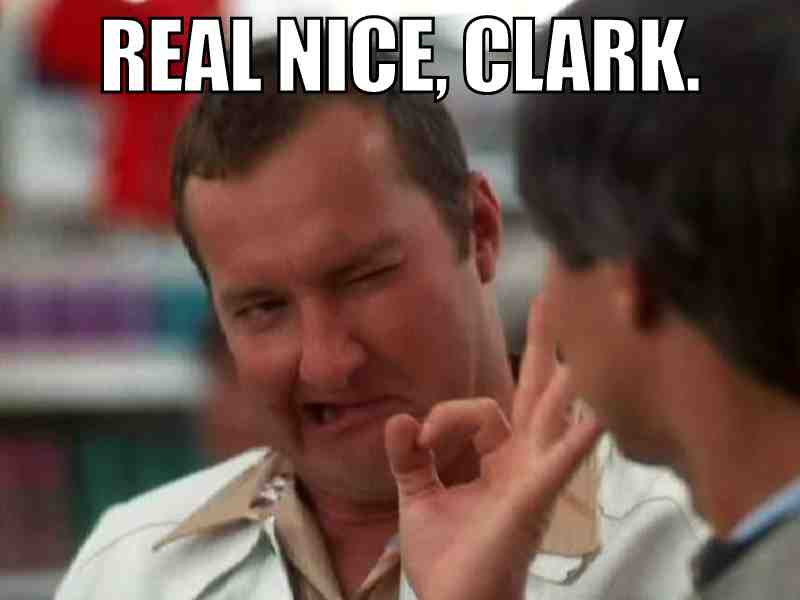 What actor plays Cousin Eddie?
Randy Quaid
What did Aunt Bethany wrap up as gifts for the Griswold family?
Her cat and a Jello mold
How many twinkle lights does Clark hang on his home?
25,000
What song does the family sing together at the end of the movie?
The Star Spangled Banner
What type of animal did Clark find in their Christmas tree?
A squirrel
What does Cousin Eddie give Clark as a Christmas gift?
His boss (Mr. Shirley) wrapped up in a big red bow
What affectionate nickname does Ellen use when talking to Clark?
Sparky
Who is on the people magazine Clark is reading in bed?
The movie's director Jeremiah S. Chechik.
Where does Clark's sled finally stop after speeding down the hill?
The Wal-Mart parking lot
What happens to Aunt Bethany's cat?
He's electrocuted after chewing on the Christmas lights
Why wouldn't Clark's Christmas lights come on?
The light switch in the garage was turned off
What does "prayer" does Aunt Bethany say when she's asked to say grace?
The Pledge of Allegiance
Why does the Christmas tree catch on fire?
Snots drank all the water out of the tree stand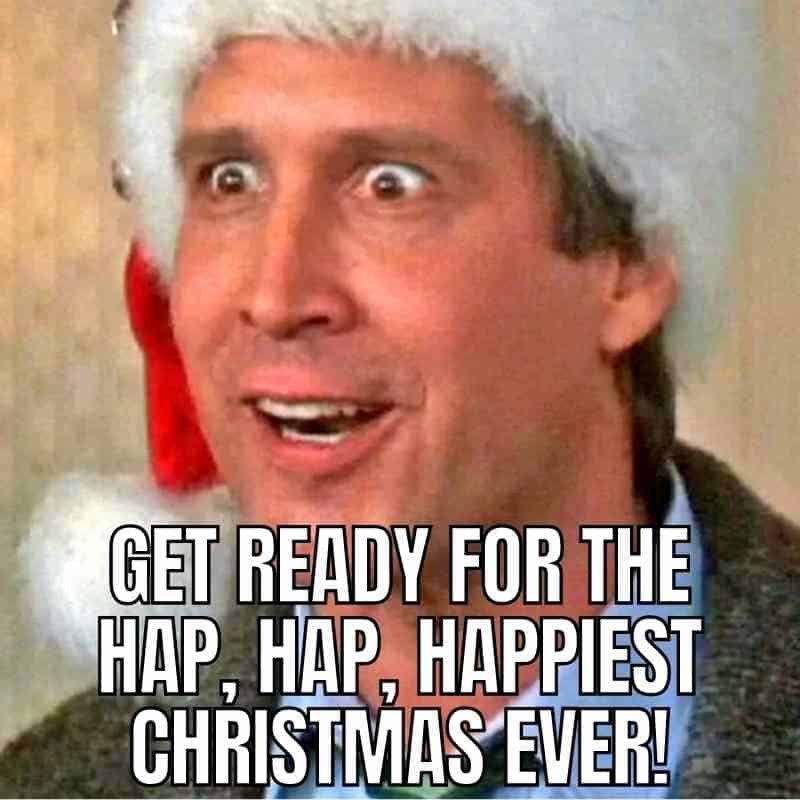 How does Clark plan to get rid of the squirrel in the house?
Catch it in a coat and smack it with a hammer
What does Clark forget to bring when the family goes to pick out a Christmas tree?
A saw
What is the saleswoman's name in the department store where Clark and Rusty are Christmas shopping?
Mary
What is the last line in the movie?
I did it.
What happens to the Griswold's first Christmas tree?
It catches fire
Where does Clark find a new tree on Christmas eve?
His front yard
What does Clark use to fix the broken newel post?
A chainsaw
What cartoon character is on Clark's mug at work?
Tasmanian Devil
What does Clark do to pass the time when he's trapped in the attic?
Watch old family movies
Which crucial Christmas decoration did Rusty tell Clark he can't find?
Santa Claus
What item in Clark's shopping cart did Eddie break when he added a large bag of dog food?
Light bulbs
What does Clark's boss, Mr. Shirley, call him at the beginning of the movie?
Greaseball
What part of the turkey did Eddie ask Clark to save for him?
The neck
How does Clark respond when his neighbor asks where he plans to put such a big tree?
Bend over and I'll show you
What does Clark ask for at the end of his epic meltdown?
Tylenol
What brand of beer does Cousin Eddie drink?
Meister Brau
What city does Clark tell the kids that Santa's sleigh was just seen leaving?
New York City
How does Audrey describe sharing a bed with her brother?
Sick and twisted
How many windows are broken when Clark cuts the ropes on the Christmas tree?
Two
Why does Eddie tell Frances she shouldn't kiss Eddie's son, Rocky?
He has a lip fungus
What does Eddie say he's going to do to the burnt chair when they take it to the curb?
Have it fumigated
How is Clark related to Eddie?
Eddie is married to Ellen's cousin Catherine
How many Christmas' has Aunt Bethany had?
This is aunt Bethany's 80th Christmas.
Which famous director quit National Lampoon's Christmas Vacation to go on to make Home Alone?
Christopher Columbus
We hope these questions helped you have a fun night of Christmas Vacation trivia and that you have the hap-hap-happiest Christmas!
National Lampoon's Christmas Vacation Trivia Prizes
If you want to do prizes for the trivia night, here are a few ideas! You could have each team member pick a gift, or choose something they all can enjoy like a Jelly of the Month Club Certificate.
The ultimate reward is definitely bragging rights though!
We love to do this trivia with a Christmas movies night! It's always so much fun!
We've even made Aunt Bethany's Jello Mold and served Cousin Eddie's Eggnog as part of the theme!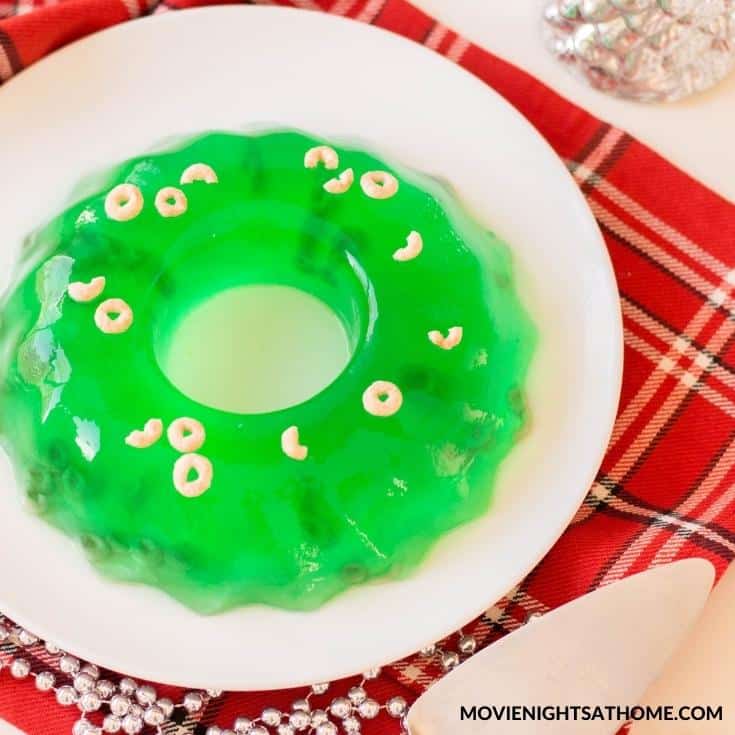 If you're looking for more ideas for the holidays, check out our A Christmas Story movie night party or these fun Christmas party games!
After Christmas, you may also like our family vacation movies list!