These inspirational movies for college students can motivate, entertainment, and educate the viewer. Since so many kids are raised around screens, a movie can be a great medium to share stories and create a sense of unity within the class.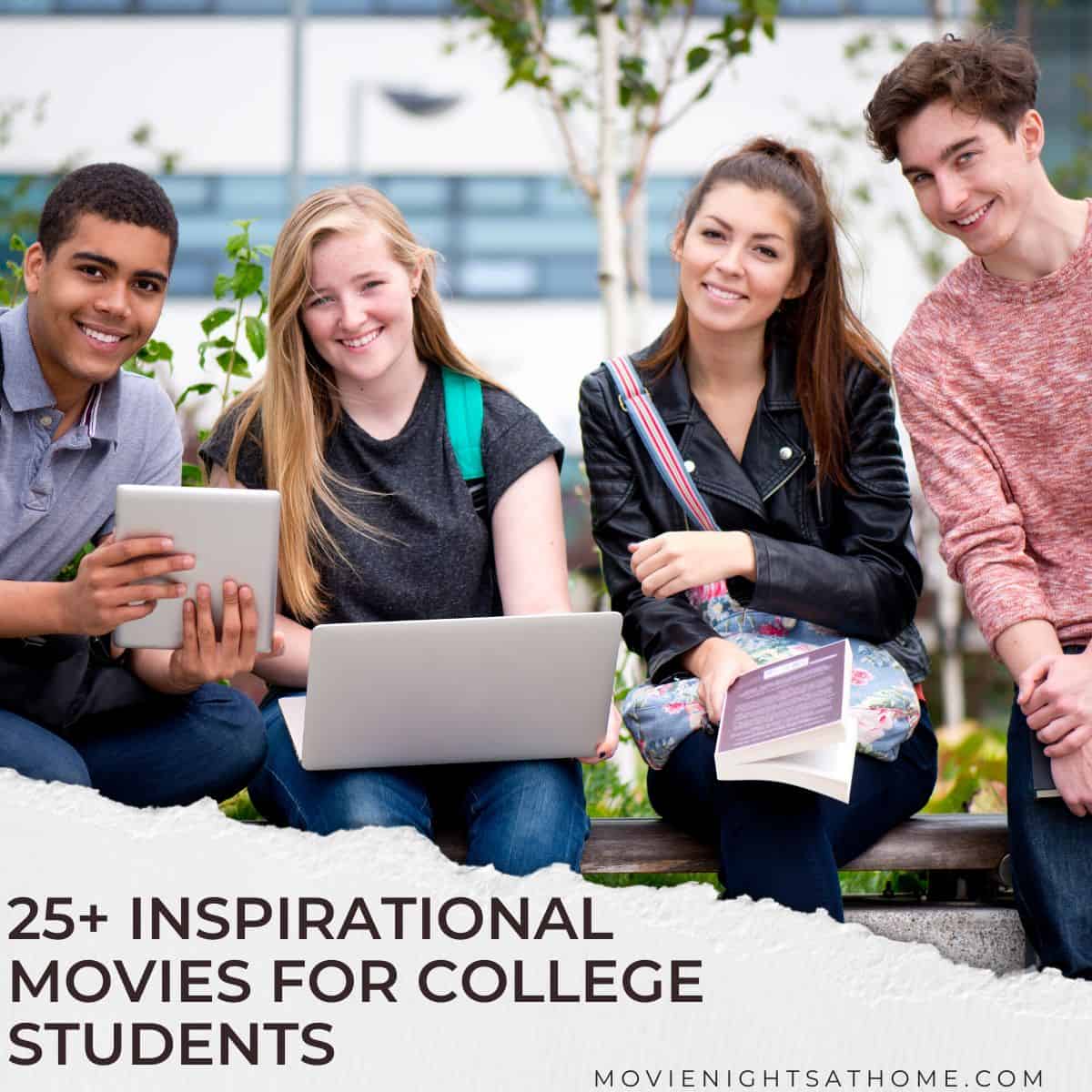 If you're currently in high school or college — you know life isn't always easy. From dealing with the anxiety that comes with living on your own for the first time to the stress of exams and papers, there's a lot to deal with!
That's why having a few inspirational movies for college students on hand is always a good idea! Each of these classic stories will inspire you to overcome and succeed.
Inspirational Movies for College Students
When it comes to college movies, parties and mayhem often come to mind. And while films like Animal House and Old School are fun to watch, sometimes you need a little more substance in your entertainment!
Many of these inspirational Hollywood movies feature real-life stories from different backgrounds, as well as, second chances and examples of overcoming hardships.
Rated PG-13
A professor at a historically black college in Texas, played by Denzel Washington, forms the school's first debate team and goes on to challenge the Harvard team at the national championship.
The film is based on the true story of Melvin B. Tolson, and it was also directed by Denzel and produced by Oprah Winfrey.
Rated R
A math genius, played by Matt Damon, working as a janitor is forced to confront his past when he meets a quirky psychologist played by Robin Williams. The inspiring story also features Ben Affleck.
Rated PG-13
Based on the true story of Stephen Hawking, the movie follows the astrophysicist through his time at Cambridge University and his ambitious scientific work even after getting a devastating diagnosis. Eddie Redmayne won an academy award for his lead role in the movie as well.
Rated PG-13
A sorority girl, Elle Woods, played by Reese Witherspoon, follows her ex to Harvard Law School and discovers that maybe there is more to herself than just her blond hair and good looks.
Rated PG-13
After making an astonishing discovery early in his career, an egotistical genius played by Russel Crowe must face his mental limits as he ages.
Rated PG
A professor played by Robin Williams forces the sheltered students of an all-boys academy to think for themselves and live life to the fullest.
Rated PG-13
The movie focuses on how Mark Zuckerberg and a small group of college students came together to create the biggest social network of all time, Facebook.
The movie also has a star-studded cast including Jesse Eisenberg, Andrew Garfield, and Justin Timberlake.
Rated PG
A strong willed teacher inspires his disgruntled students to excel in this Oscar nominated film.
Rated PG-13
A young father, played by Will Smith, struggles to avoid homelessness while never giving up on his own dreams for a better life.
This inspirational movie was also based on true events.
Rated PG
A naive first year law student juggles the stresses of Harvard University's Law School and his personal life.
Rated PG-13
An MIT math wiz is recruit by a teacher to join an elite team of card counters who break away from their mentor before they finally get caught by casino security.
Rated PG-13
A simple man from Alabama embarks on a journey through history, including his time playing college football and serving in the Vietnam war.
Rated PG-13
Sandra Bullock and Tim McGraw star in this movie adaptation of the true story of Michael Oher. The movie focuses on the football prodigy's prep for college life.
Rated R
A group of college students, including Ice Tea, Omar Epps, and Kristy Swanson, confront issues of diversity, identity, and escalating racial tensions on their campus.
Rated PG
After being told he was too small and too slow to play Notre Dame football, a college student never gives up on his dream.
Rated PG-13
An art history teacher played by Julia Roberts puts together a unique lesson plan to inspire her students.
Rated G
Monster friends Mike and Sully put together a group of misfit monsters to compete in the annual Scare Games in this animated Pixar movie.
Rated R
This movie tells the inspiring true story of the first all-black college basketball team.
Rated PG
After tragedy strikes a college football team in West Virginia, a new coach brings the program back together against all odds.
Rated R
With the help of a ruthless teacher, an ambitious drummer played by Miles Teller stops at nothing to achieve his dreams.
Rated PG-13
After taking the job of high school principal, a man (Morgan Freeman) is forced to confront gang violence and a decaying infrastructure.
Rated PG
Players clash when they come together to form the first integrated high school football team.
Rated PG-13
A talented marching band drummer played by Nick Cannon struggles to conform to the band's rules, putting him in hot water at a Georgia University.
Rated PG
A tough basketball coach played by Gene Hackman leads his small-town Indiana team to the state championships.
Love these sports movies? Check out these 21 Inspirational Sports Movies & Recipes!!
Rated PG-13
After stealing a Harvard student's thesis, a homeless man played by Joe Pesci bribes his way into free food and a roof over his head.
Rated PG-13
Hilary Swank portrays an inspiring English teacher who helps her at-risk students find their voice despite hardships. It's one of our favorite movies that is focused on student life, and it's a great one to watch as a young teacher.
Five very different high school students all have detention on Saturday, and they must work together for one common purpose.
This 80's classic movie may not appear to be an inspirational movie at first, but it is one of the most motivational movies when it comes to opening up and collaborating with others.
Each of these moving films is perfect for college aged students hoping to gain some inspiration for their own life.
If you're a teacher, check out our guide to host a school movie night every week.
Love these ideas? Why not make it a special night with dinner and dessert?
Whether you were looking for inspiring stories based on college life or movies based on real-life stories, we hope you found a great film to add to your list of movies to watch!