Finding fun ways to enjoy each night of Hanukkah is a great way to make this year's celebration memorable. One of my favorite ways to celebrate the holiday is with a movie night! From delicious holiday snacks to family-friendly movies, there's so much to love about a holiday movie night! With the help of these tips, you can host a fun Hanukkah movie night with your family.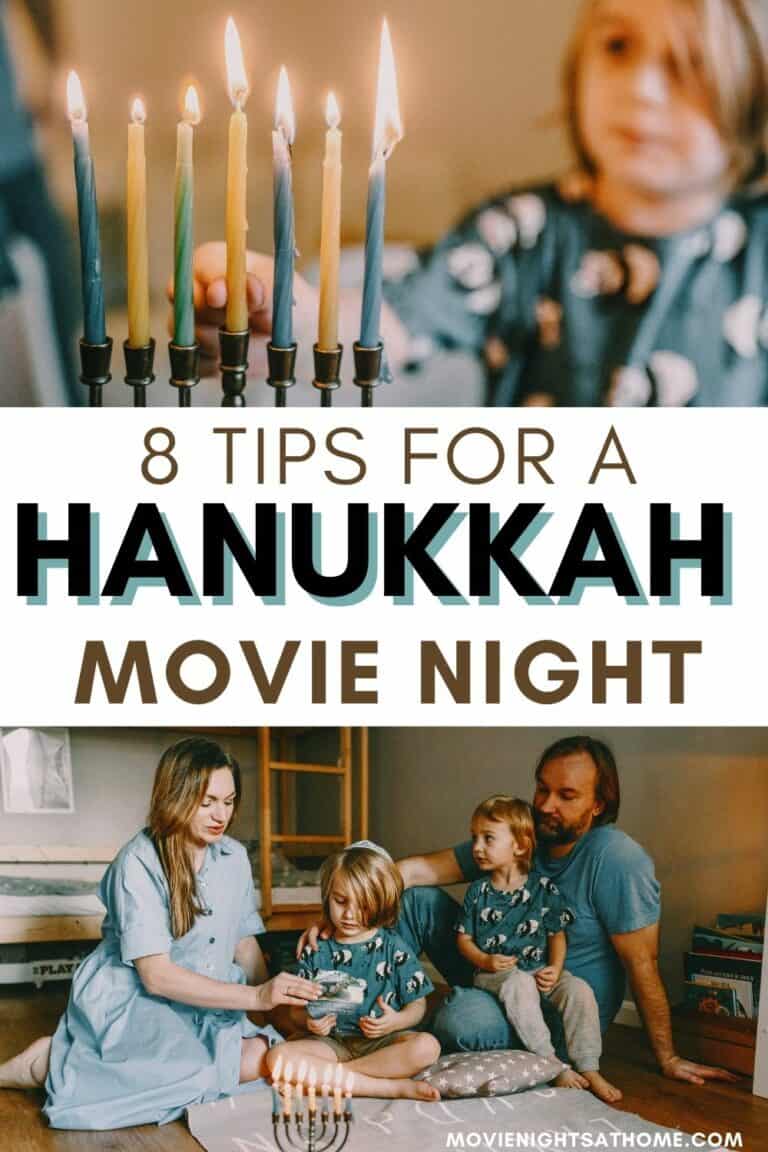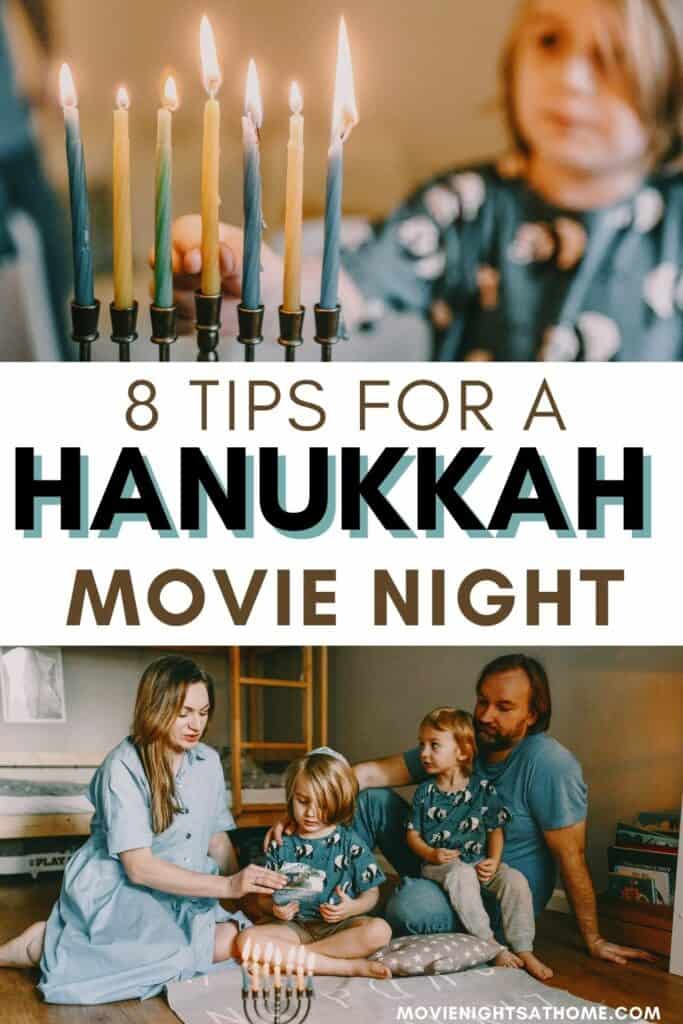 Is there a Hanukkah movie?
While Hanukkah movies are sometimes scarce, there are several you may like! The most popular Hanukkah movie is probably Adam Sandler's Eight Crazy Nights.
8 Tips to Planning Your Hanukkah Movie Night
We've planned everything out from what Hanukkah movies you should watch to the best snacks to include in your festive movie night!
1. Set a Guest List & Time
While these work for a small family movie night, you could also invite some family or friends over to celebrate! If you do, make sure to pick a date, time, and place ahead of time so everyone can be looking forward to it! You could even print off free movie night invitations for everyone!
2. What do you watch for Hanukkah?
Since a movie night is all about the movie, picking the right film for your get-together is the first step to hosting a fun Hanukkah celebration.
While Hanukkah movies may not be as plentiful as Christmas movies, finding a great Hanukkah themed movie isn't that difficult!
Try showing one of these 8 Hanukkah-related movies:
This animated movie starring Adam Sandler might look kid-friendly, but Sandler's trademark humor is best left to adults and older kids. In this Hanukkah movie, Sander plays a party animal who gets arrested during Hanukkah. Since it's the holiday season, the judge gives him a chance to avoid jail time by doing community service as a youth basketball referee.
In a story that parallels the story of the Maccabees, Full Court Miracle is the perfect family-friendly Hanukkah movie. The film follows a would-be NBA hopeful who comes to the aid of a struggling Jewish basketball team.
This romantic comedy is the perfect way to bring Christmas and Hanukkah together for movie night. In Mistletoe & Menorahs, a toy exec seeks the help of her bachelor friend to learn as much as she can about Hanukkah to seal the deal with a new account.
When a Jewish kid headed to Florida for the holidays swaps plane tickets with a kid on a trip to Christmastown, he thinks he's getting the holiday of his dreams.
If you're searching for a great movie for an adults-only movie night, try The Night Before. Seth Rogan heads out with his two best friends on Christmas Eve to enjoy their last night of partying together – all while wearing an ugly Hanukkah sweater.
Bring the traditions of Hanukkah and Christmas together with this fun romantic comedy. The movie tells the story of a Jewish woman and her Christian coworker as they come together to learn about each other's holiday traditions while putting together the office Christmas party.
When Christina finds out through a DNA test that she's Jewish she discovers new family and romance over eight crazy nights.
The Rugrats learn about Chanukah from the adults in this short cartoon.
3. Use the Movie as Your Theme
If you want to go beyond simply using the holiday as your movie night's theme, try incorporating elements of the movie you'll be showing in your party's decorations, food, and/or drinks.
If you're showing The Night Before, for example, ask your party guests to come wearing their best Hannukah sweaters.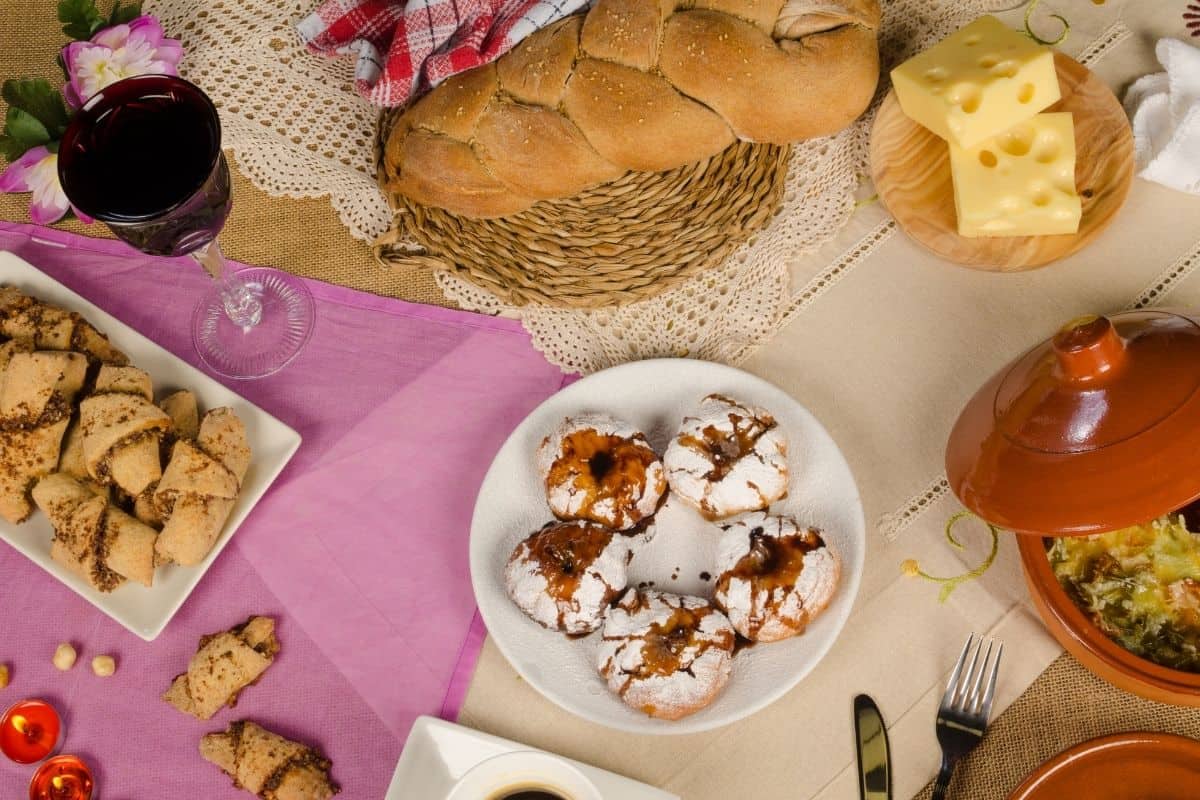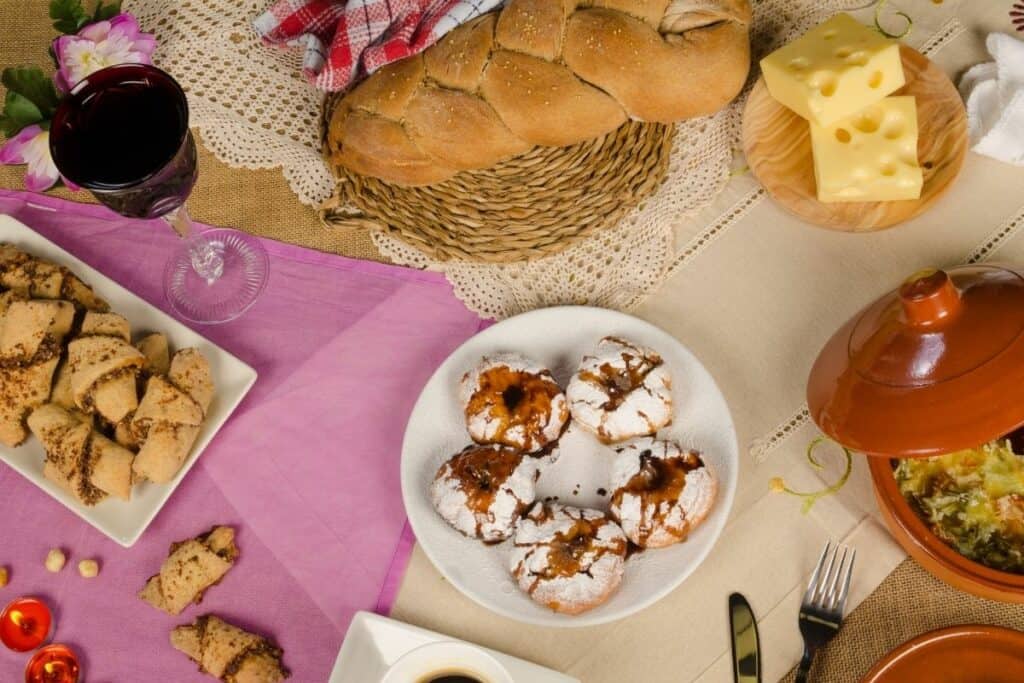 4. Serve Hanukkah Snacks
Get in the holiday spirit by serving Hanukkah snacks at your movie night.
You can mix traditional Hanukkah foods, like potato latkes and applesauce, with movie night treats to help bring the flavors of the holiday to your party.
Just make sure to avoid foods that violate kosher laws, like pork or shellfish, when planning your party menu.
5. Don't Forget the Drinks
In addition to delicious food, you should also make sure to have a variety of drinks available for your guests to enjoy while they watch the movie.
Provide your adult guests with kosher wine or a signature cocktail to go along with the movie.
Younger guests can enjoy holiday themed drinks, like blue punch, or traditional movie drinks like soda and lemonade.
6. Add Some Decorations
While Hanukkah decorations aren't typically as elaborate as Christmas décor, there's no reason you can decorate for your movie night.
Since Hanukkah is known as the festival of lights, adding lights to your decorations is a must!
It's also a good idea to use traditional holiday colors, like blue and silver, as your base. Then, mix in some stars, dreidels, and candles into your décor.
7. Offer Plenty of Seating
Make sure there's room for all your guests to sit comfortably while watching your Hanukkah movie.
Asking your guests to RSVP for your movie night is a great way to get a head count before the party. When you know how many people will be attending, you can have a better idea of the type of seating you can offer your guests.
For a big crowd, make sure to have plenty of blankets and pillows laid on the floor so guests sitting there will be comfortable.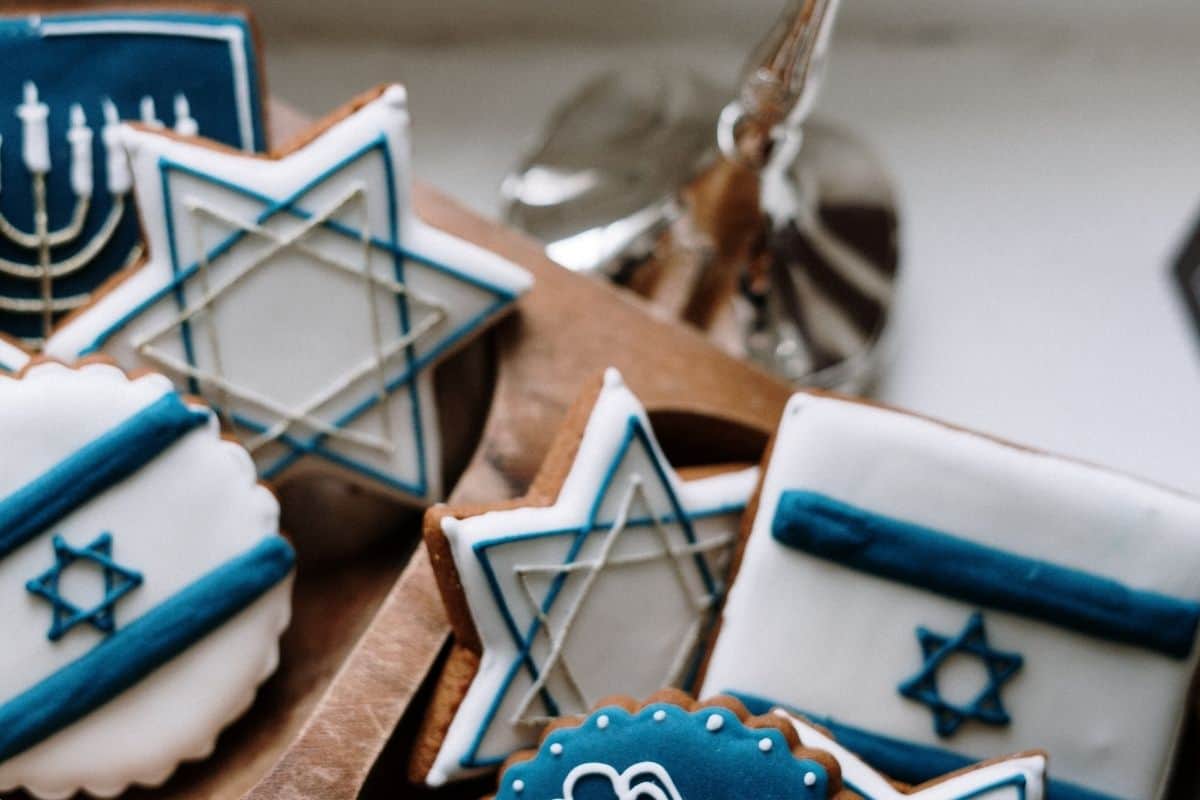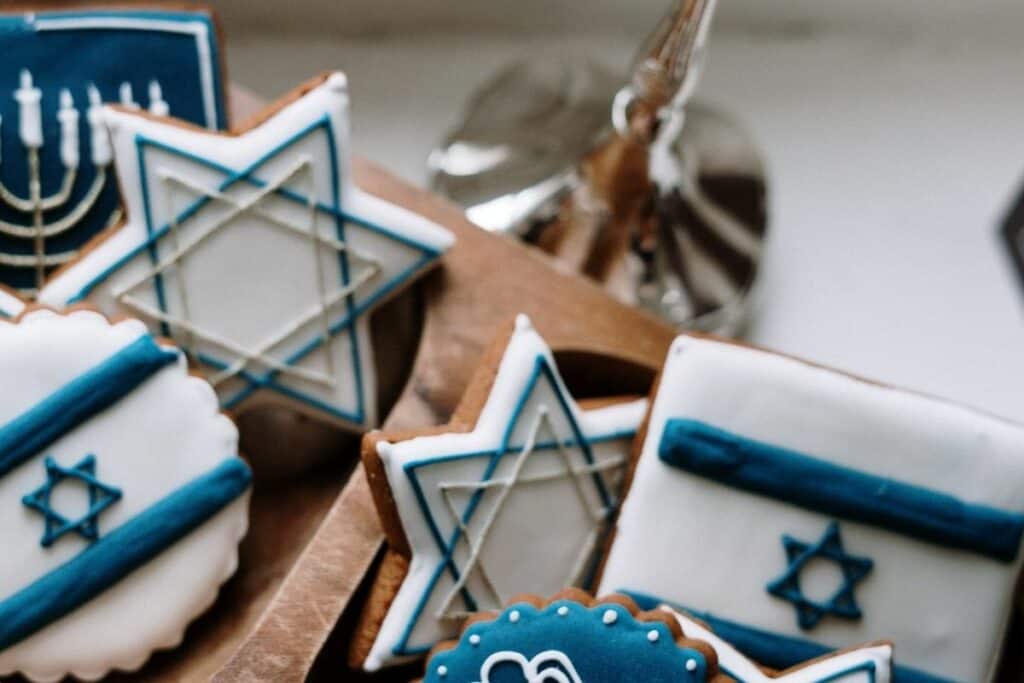 8. End With a Gift
Giving a gift to your loved ones each night is a Hanukkah tradition, so sending your guests home with a small present is a fun way to end the night.
Pass out some traditional holiday presents, like a dreidel or mini menorah.
Food gifts are another simple favor that's perfect for the holiday, like flavored popcorn, caramel apples, or homemade Hanukkah cookies.
Once you host your Hanukkah night, we'd love to see pictures!
Tag us on Instagram @movienightsathome