If you're looking for a way to celebrate this Christmas season — why not enjoy a fun movie and try these Elf movie trivia questions and answers out for some fun!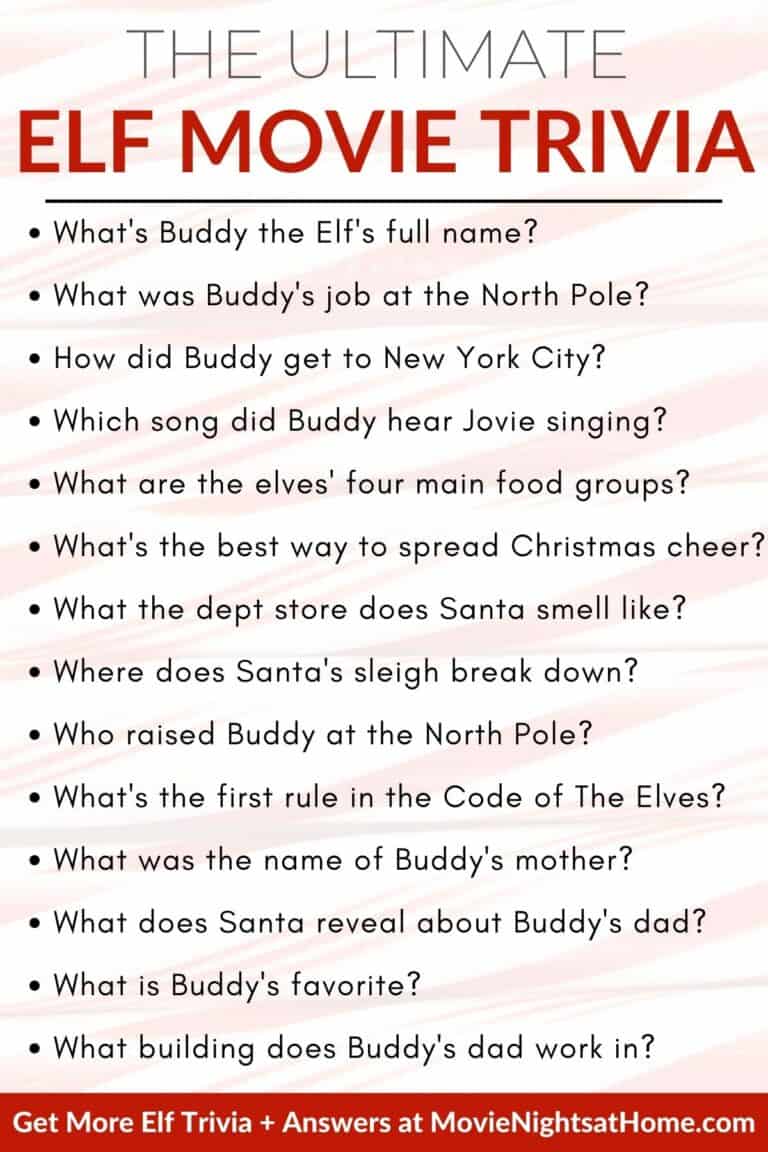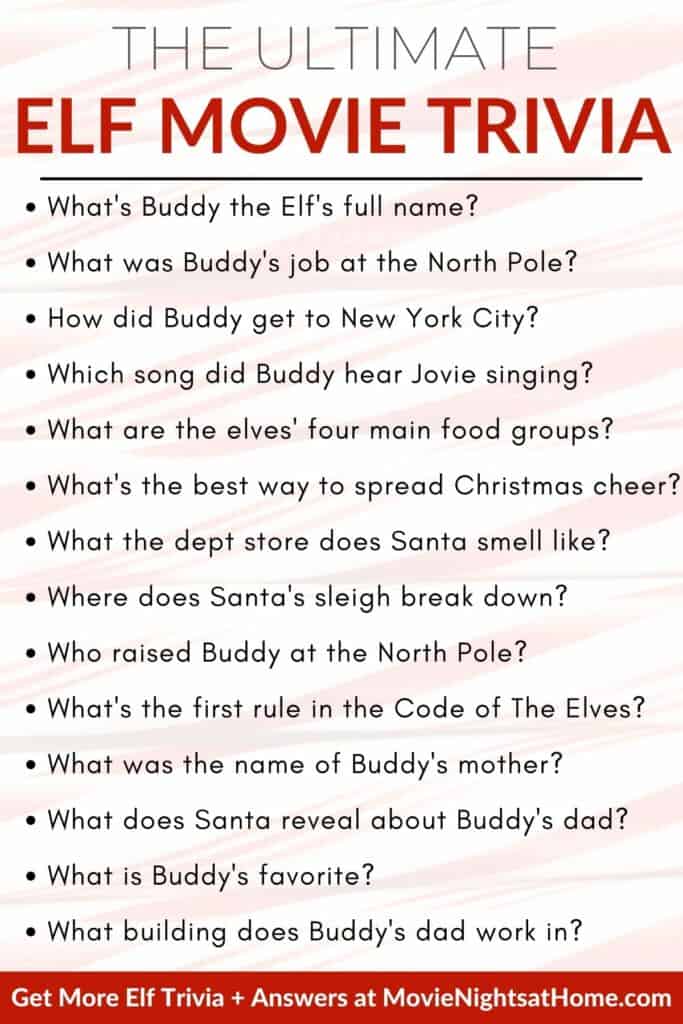 When it comes to picking the best Christmas movies, Elf is often at the top of the list!
Whether you're looking for a heartfelt holiday story or funny Christmas classic, this Will Ferrell hit fits the bill. And that makes it perfect for Christmas movie trivia night!
With the help of these Elf movie trivia questions and answers, as well as some Christmas-themed snacks, you'll have everything you need to host the best game night of the holiday season.
Elf Movie Trivia Questions and Answers
Whether you're hosting a holiday party or just putting together a Christmas movie night for your family, you can't go wrong with some trivia questions! Use these Elf movie questions and answers to test your knowledge of the classic Christmas comedy.
What's Buddy the Elf's full name? Buddy Hobbs
What was Buddy's job at the North Pole? Toy tester
How did Buddy get from the North Pole to New York City? By walking through the six levels of the Candy Cane Forest
Which Christmas song did Buddy hear Jovie singing in the shower? Baby, It's Cold Outside
What are the elves' four main food groups? Candy canes, candy corn, and syrup
What is the best way to spread Christmas cheer?

Singing loud for all to hear

What does Buddy say the department store Santa Claus smells like? Beef and Cheese
Where does Santa's sleigh break down on Christmas Eve? Central Park
What does Walt's secretary think Buddy is when he arrives at his office? A Christmasgram
Who raised Buddy at the North Pole? Papa Elf
In addition to being the director, Jon Favreau also had a role the movie. Who was he? Dr. Leonardo
What's the first rule in the Code of The Elves? Treat Every Day Like Christmas
Where did Buddy get his name? From his diaper
What toy was Buddy working on when he failed to meet his quota? Etch-a-Sketch
What store does Buddy get a job at when he arrives in New York? Gimbel's
What does Buddy eat during his visit to the doctor's office? Cotton balls
What did Buddy give to his dad as a gift when he visits him at his office? Lingerie
What is written on the tag attached to the gift that Buddy gives his dad? For that special someone
What animal attacks Buddy in the park when he tries to give it a hug? A raccoon
What does Buddy drink at dinner that makes him burp? An entire bottle of Coca-Cola
Which toy in Santa's Workshop scares Buddy while he's working as a toy tester? Jack-in-the-Box
What does Buddy build out of LEGOs to celebrate Santa's arrival? New York City
What shocking thing does Santa reveal about Buddy's dad? He's on the naughty list
What was the name of Buddy's mother? Susan Wells
What does Buddy call himself when he fails making his daily quota of Etch-a-Sketches? A cotton-headed ninnymuggins
What song does Jovie start singing in the park to help Santa's sleigh fly? Santa Claus is Comin' to Town
What building does Buddy's dad work in? Empire State Building
What is Buddy's favorite? Smiling
Where does Buddy's dad send him to work to get him out of his office? The mail room
What does Santa tell Buddy to do if he sees gum on the street? Leave it there
What famous painting did Buddy recreate on his etch-a-sketch? The Mona Lisa
What did Buddy apologize for in the letter he leaves the Hobbs family? For ruining their lives and cramming 11 cookies into the VCR
Where did Buddy and Michael get the family's Christmas tree from? Central Park
What did Buddy and Jovie drink on their first date? The World's Best Cup of Coffee
What word does Buddy use to describe the toilets in New York City? Ginormous
What did the newscaster want for Christmas according to Santa's list? A Tiffany engagement ring and for her boyfriend to stop dragging his feet and commit already
How does Buddy answer the phone at his father's office? Buddy the Elf, what's your favorite color?
What does Santa's sleigh need on to make it fly on Christmas Eve? Christmas spirit
What does Buddy shout to the department store Santa when he realizes the Santa is a fake? You sit on a throne of lies.
What does Buddy build out of the wooden furniture in the Hobbs' apartment? A rocking horse
What flavor Pop-tarts does Buddy put on his spaghetti? Chocolate
What was Santa doing when baby Buddy crawls into his bag at the orphanage? Eating a cookie
Why does baby Buddy crawl into Santa's bag? He saw a teddy bear
What did the girl at the doctor's office tell Buddy she wants for Christmas? Susie Talks a Lot
What type of spray does Buddy try to eat as he's walking through the department store? Passion fruit spray
What is the name of the children's author Walter consults with to help his company meet their deadline? Miles Finch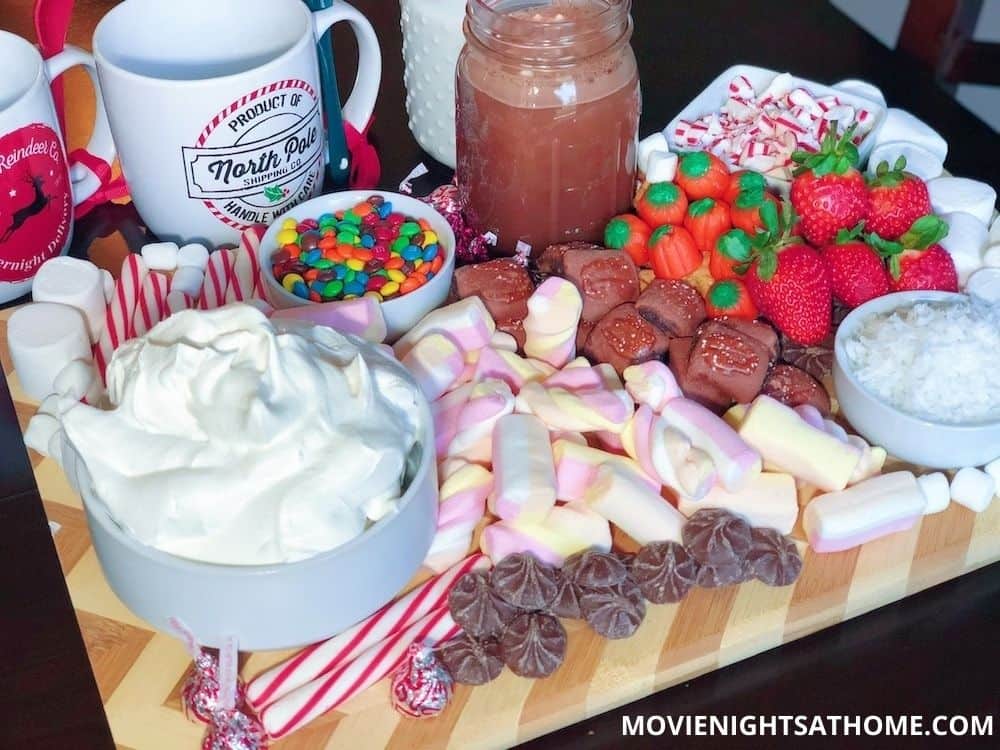 We hope these fun Christmas movie trivia questions helped you have a great time with your whole family! If you love trivia, also check out our Ultimate National Lampoon's Christmas Vacation Trivia!
Don't forget your Buddy the Elf Hot Chocolate Bar with candy canes and lots of maple syrup!
Planning a full-on Christmas night? You may also like these ideas!