Whether you're feeling nostalgic for your childhood and playing with Barbie dolls or just looking for a cute Instagram caption – you'll love these fun and inspirational Barbie quotes.
Get ready to be inspired, enlightened, and entertained as you scroll through these powerful Barbie Quotes!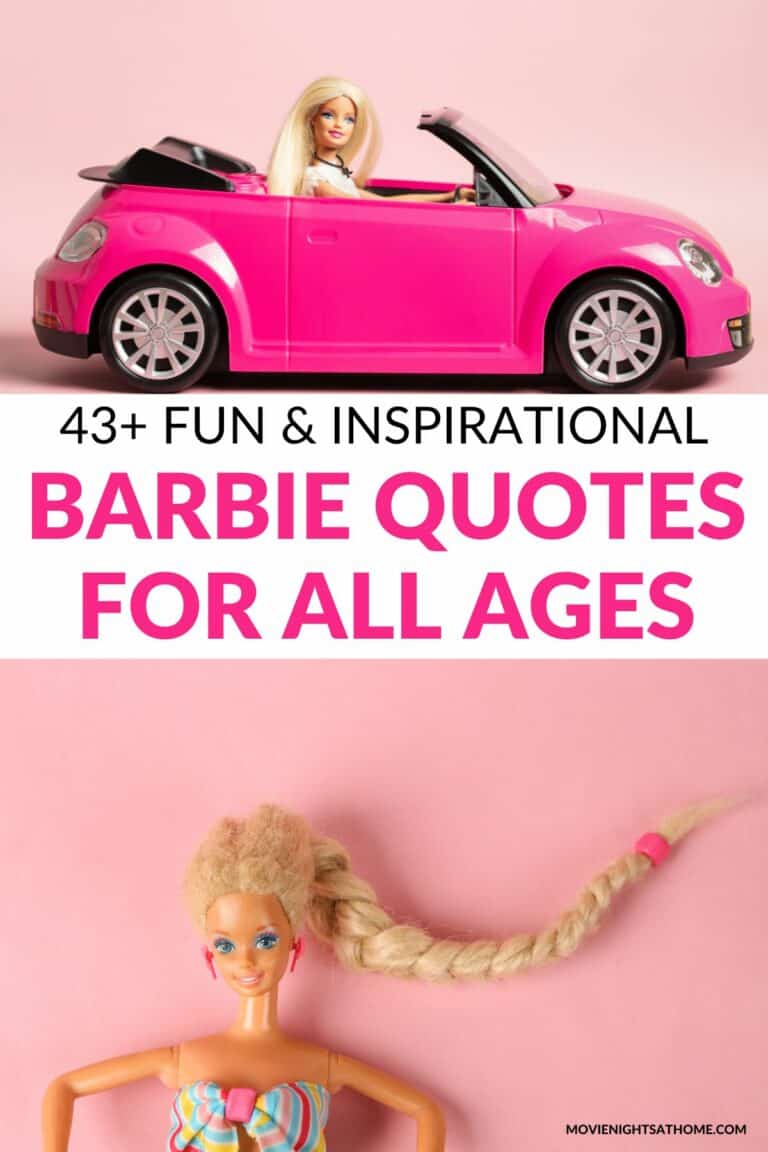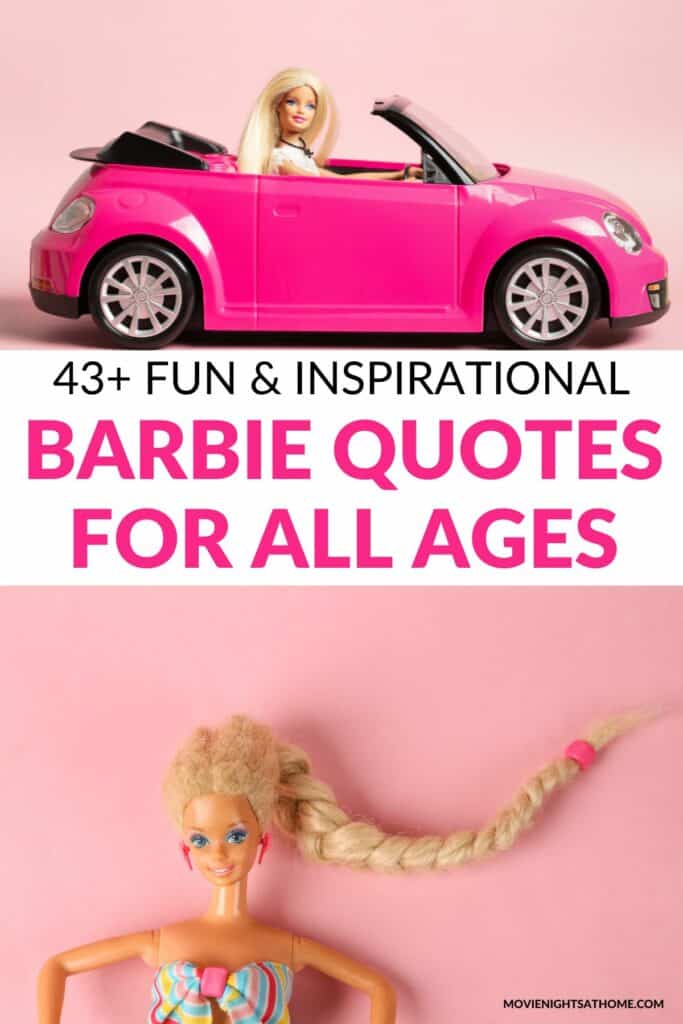 With the instant success of the new blockbuster movie starring Margot Robbie and Ryan Gosling, Barbie has never been more popular. That's because whether you're a kid or an adult, Barbie is amazing!
From inspirational quotes from the Barbie movie to cute quotes from Barbie fans, you'll find plenty of ideas for your next social media caption on this list.
Favorite Barbie Movie Quotes
Fight the patriarchy and show your love of all things Barbie with cute and inspirational quotes from the new Barbie movie.
You can show off your love of the new movie by spouting off these quotes or use them as captions for your next Barbie-themed social media post. Whatever the reason, you're going to want to remember all of these amazing Barbie movie quotes.
"It is the best day ever. So was yesterday, and so is tomorrow, and every day from now until forever." – Barbie
"We fixed everything in the real world so all women are happy and powerful." – Barbie
"Barbie is all these women. And all these women are Barbie." – Narrator
"We have to always be extraordinary but somehow we're always doing it wrong." – Gloria
"I'm trained to stand confidently here." – Ken
"Humans only have one ending. Ideas live forever." – Ruth
"By giving voice to the cognitive dissonance required to be a woman under the patriarchy, you've robbed it of its power." — Barbie
"Thanks to Barbie all problems of feminism have been solved." -Narrator
"We mothers stand still so our daughters can look back to see how far they have come." – Ruth
"What can't Barbie do?" – Narrator
"Every night is girls night." – Barbie
"Barbie has a great day every day. But Ken only has a great day if Barbie looks at him." – Narrator
"I just don't know who I am without you." – Ken
"Basically, everything that men do in your world, women do in ours." — Barbie
"I want to be a part of the people that make the meaning, not the thing that is made." – Barbie
"I don't have anything big planned. Just a giant blowout party with all the Barbies, and planned choreography, and a bespoke song. You should stop by." — Barbie
"Women hate women. And men hate women. It's the only thing we all agree on." — Sasha
"Here I'm just a dude and that's enough." – Ken
"I would never wear heels if my feet were shaped like this." – Barbie
"I am Kenough." – Ken
"You have to never get old, never be rude, never show off, never be selfish, never fall down, never fail, never show fear, never get out of line. It's too hard!" – Gloria
"I'm just so tired of watching myself and every single other woman tie herself into knots so that people will like us." – Gloria
"You guys are not doing patriarchy very well." — Ken
"I'm a man with no power, does that make me a woman?" — Aaron Dinkins
Inspirational Barbie Quotes
While the Barbie movie was released recently, love for all things Barbie has been around for decades. That means there are plenty of Barbie quotes that don't have anything to do with the Margot Robbie flick!
If you're looking for some old school Barbie inspiration, you're going to love these fun quotes.
From cute quotes from animated Barbie movies to inspirational quotes from famous Barbie fans, you want to add all of these Barbie quotes to your list of caption ideas!
"You're braver than you think." – Barbie, Swan Lake
"Love and imagination can change the world." Barbie as Rapunzel
"We Barbie Dolls are not supposed to behave the way I do." – Sharon Stone
"Even the smallest person can make a big difference." – Barbie Presents Thumbelina
"Barbie is my fashion icon. People think I'm Paris Barbie – and it's a compliment." – Paris Hilton
"Magic happens when you believe in yourself." – Barbie: A Fashion Fairytale
"Best friends, today, tomorrow, and always." – Barbie and the Diamond Castle
"You want a perfect girl? Buy a Barbie." – Unknown
"The most beautiful thing you can be is yourself." – Barbie: Mariposa
"I'm the Barbie, keep a lotta plastic. Little pink stars, put 'em on my jacket." – Nicki Minaj
"It feels good to be part of something bigger than yourself." – Barbie, A Mermaid Tale 2
"Barbie always represented the fact that a woman has choices." – Ruth Handler
"Listen to the beat of your heart and keep dancing." – Barbie, The Pink Shoes
"I think your Barbie can go shopping, and go out with Ken, and also have a productive and satisfying career of her own." – Sarah Dessen, Dreamland
"There's a princes in every girl." – Barbie: Princess Charm School
"True courage is pursuing your dream, even if everyone else says it's impossible." Barbie and the Three Musketeers
"Life in plastic is fantastic." – Aqua, Barbie Girl
"I thought the Barbie doll would always be successful." – Ruth Handler
"The power to change the world has been inside you all along." – Barbie, Princess Power
We hope you enjoyed this collection of the best Barbie movie quotes!
​If you're hosting a movie night in, you may also like these fun Barbie recipes and decorations!!
We also have a Pinterest board full of Barbie party ideas!